The Upper Bay in astern Baltimore County has long been a haven for powerboaters, with rivers and creeks aplenty, and a myriad of fuel docks, marinas, and dock bars dotting the shoreline. Whether you've yet to explore this locale or frequent certain rivers on a regular basis, there are still plenty of hidden gems just waiting to be discovered. Here's a look back at the history of some of the Upper Bay's favorite haunts.
Dundalk, Sparrows Point, Edgemere
The peninsula comprising Dundalk, Sparrows Point, and Edgemere was once occupied by Susquehannock Indians, before it was explored by Captain John Smith in 1608. The area remained mostly rural until the late 1800s when the Pennsylvania Steel Mill was established in Sparrows Point. Bethlehem Steel purchased the mill in 1916, and the town of Dundalk was formed a year later to accommodate the shipyard workers.
The park, which consists of about 1300 acres, includes more than six miles of shoreline along the Chesapeake Bay, Back River, and Shallow Creek. The property was once home to the Bay Shore Amusement Park during the early 1900s. From 1906 to 1947, Bay Shore Park provided an escape for city dwellers to get some R&R and was accessible by trolley from Baltimore. Today the park features two fishing piers, hiking trails, water access for swimmers (no lifeguard), a visitor center, the Black Marsh Wildlands, and the original trolley station and fountain from Bay Shore Park. Entrance fee: $4 per vehicle weekends and holidays, $3 per vehicle weekdays.
And the Winner Is…
Numerous locals tout Hard Yacht Café on Bear Creek as their favorite Dundalk dock bar. The prime waterfront location boasts "A little piece of Key West in Dundalk," with live music, a killer happy hour, and a tiki bar open year-round.
Favorite Raft Up
Sandy Beach in Old Road Bay, Sparrows Point, home to the annual Sandy Beach Day, draws hordes of revelers looking to raft up and soak up the summer sun.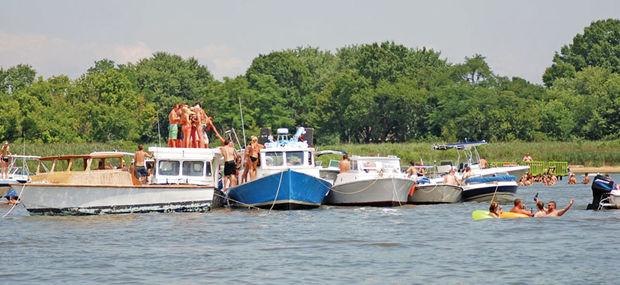 Essex
In 1909, The Taylor Land Company established Essex as a community for individuals wanting to work in Baltimore City but live outside of city limits. The community is bordered by Back River to the west and Middle River to the east, and is interspersed with numerous creeks and coves.
Favorite Raft Up
Sue Creek: "the water is deep, making it great for anchoring out and swimming!" ~Megan Kellner
Dock Bars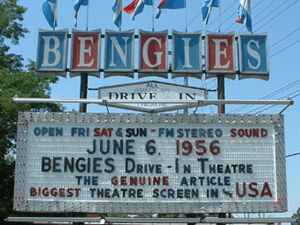 Middle River and Bowleys Quarters
The town of Middle River formed in the late 1800s and expanded rapidly during the 1930s and 1940s with the arrival of the Glenn L. Martin Aviation Company in the 1920s. "Aero Acres" was established as a housing community for individuals working at the aerospace company, and the community grew out from there. The community of Bowleys Quarters lies just to the southeast of Middle River. During the 1800s the area was very popular with duck hunters and drew such notables as U.S. presidents and baseball legend Babe Ruth.
Visit on Land
Dock Bars

Raft Up
"I live on Seneca Creek so I'm biased, but you can't beat it for a protected place to kayak, wakeboard, or simply tuck in for the night to anchor out." ~Kaylie Jasinski
Gunpowder River
The 6.8-mile long Gunpowder River is formed by the joining of two freshwater rivers, Gunpowder Falls and Little Gunpowder Falls. The predominately fresh river is a popular spot for watersports, from water skiing to kite boarding, and best of all, no jellyfish!
Locals say...
"I love going up into the gunpowder and kayaking. I take my boat up as far as I can and then unload the kayak and paddle further up. I love fishing the river and seeing the occasional deer." ~Doug Hock
The Hammerman Area Beach of Gunpowder Falls State Park features a protected swimming beach (with lifeguards), food concessions, playgrounds, picnic pavilions, a boat ramp, and hiking trails. Park fee: $5 per person weekends and holidays, $3 per person weekdays. Ultimate Watersports is located in the park and rents kayaks, stand-up-paddleboards (SUPs), windsurfers, and Hobie catamarans. Dundee Creek and Saltpeter Creek are very popular with paddlers, offering unobstructed views of the neighboring marshes with little development along the shoreline. There is a soft launch for kayaks and SUPs along Dundee Creek or launch your boat from the ramp at Dundee Creek Marina. Paddle or drive to Marshy Point Nature Center within the Dundee Natural Environment Area which encompasses more than 3000 acres of protected land. The park is home to miles of hiking trails and features a wildlife viewing platform, canoe launch and pier, butterfly garden, and native wildlife at the nature center.
Hart Miller Island State Park is located near the mouth of Back River and Middle River, making it accessible only by boat. The 3000-foot sandy beach and sheltered anchorage makes this one of the most popular boater hangouts in the Upper Bay. In May 2016, the south cell of the island officially opened for public access, opening up 300 more acres of land. The south cell contains over eight miles of trails that circle a large pond and offer breathtaking views of the Chesapeake Bay. Beach-goers will now be able to rent bicycles in the summer to explore this newly opened area. The state park also includes Hawk Cove and Pleasure Island, open year-round. Camping is available on the main island May 1 to September 30.