Located 12 miles from the Eastern Shore and just south of the Maryland-Virginia state line, Tangier Island is one of only two remaining inhabited offshore islands in the Chesapeake Bay. It has a population of just under 500 full-time residents, most of whom depend on the bounty of the Bay for a living and descend from generations of watermen. If you can navigate the narrow channel and don't mind a general lack of resources and provisions, Tangier is well worth the trip.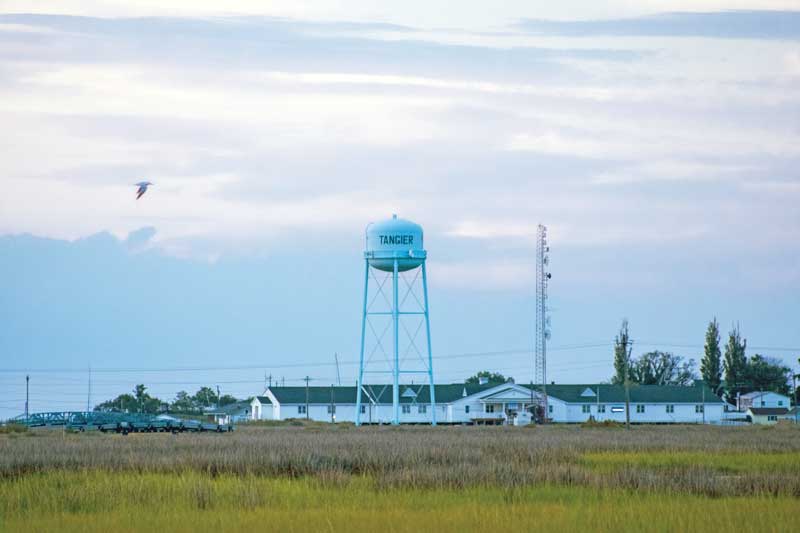 A visit to Tangier is an opportunity to step back in time and immerse yourself in Chesapeake Bay watermen's culture and history, see gorgeous white sandy beaches and plenty of wildlife, and enjoy fresh local seafood. You can also hear the iconic Tangier Island accent, which some historians believe is the closest living example to what some of the original English colonists may have sounded like, preserved over centuries due to the island's isolation.
If coming into Tangier on your own boat, be aware that you won't find fuel or pump out services, and groceries, sunscreen, and other essentials are hard to come by; so make sure that you're fueled up and have everything you might need. If you do need to make a pit stop before your day or weekend on the island, Crisfield, MD, is the closest option. You should also be aware that​​ Tangier is a dry island, so you cannot purchase alcohol there. You are allowed to bring your own but be respectful if you choose to drink.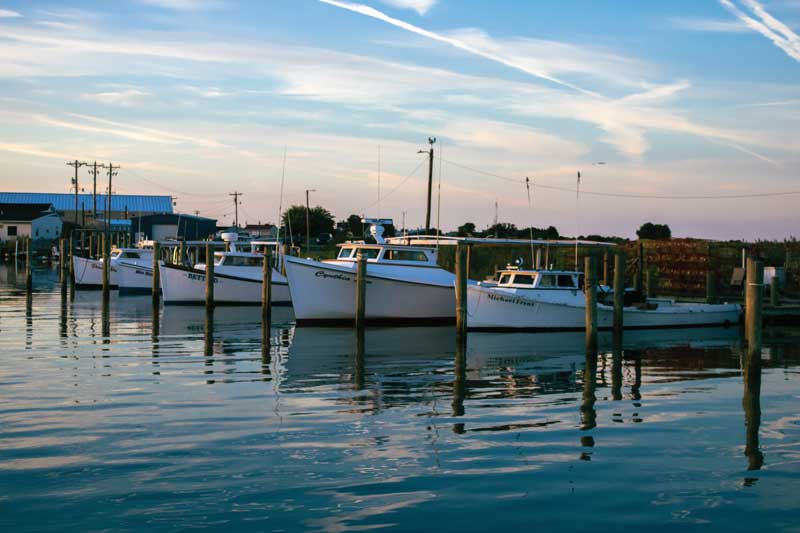 There are two channels into the island: one from the Eastern Shore side and one from the Bay side. The Bay channel was seven feet deep or more all the way through as of September 2022, and the work boats and tour boats utilize both channels. The tidal swing is only one-and-a-half feet, but the current is strong through the narrow channels and sometimes forms unexpected eddies. 
There is only one marina, Park's Marina, which is located closer to the Bay side of the island. Park's Marina has a row of 25 slips, but these are suitable only for boats drawing four feet or less. The marina has two alongsides that can support deeper drafts, one on the side of the white building running north to south and one on the front of the building running east to west. If you're going for the one on the side, make sure you enter it between the dock and the free piling to avoid a three-foot shoal.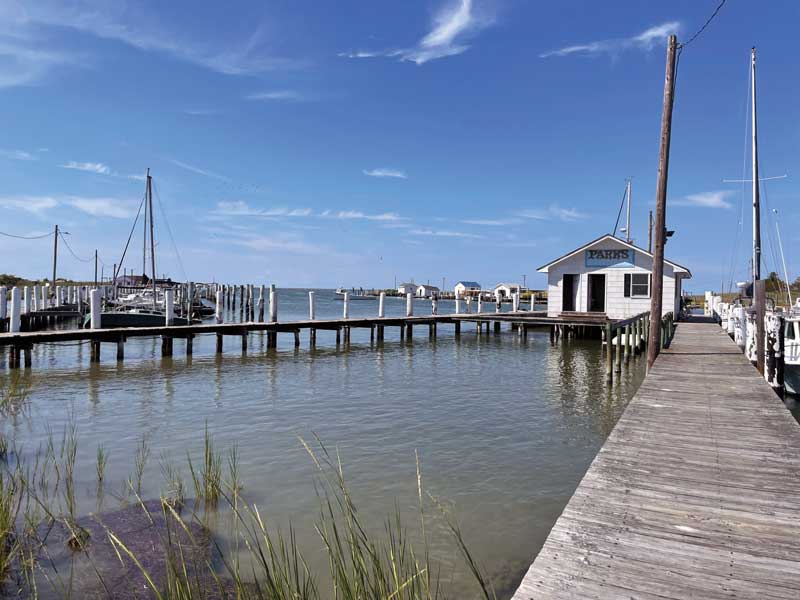 The marina has 30- and 50-amp power, water, and showers. A brief stay costs $5, and an overnight stay costs $25 for boats up to 30 feet and $30 for boats over 30 feet. Milton Parks, the marina's builder and long-time owner, unfortunately passed away this past year at age 90, so the obligations of the marina are now in the hands of his family. If no one is there to greet you, make sure you leave your slip fees in the labeled lockbox in front of the brick house.
You can also visit the island via one of several tour boats. Cruises depart from Reedville, VA, aboard Chesapeake Breeze, from Crisfield, MD, aboard the Steven Thomas, and from Onancock, VA, aboard the Joyce Marie II. Most cruises operate from May through September or October, although the Joyce Marie II operates year-round by special request. Cruises are usually one-day trips, arriving on the island in the morning and departing in the afternoon, but if you'd like to stay longer, you can usually book your return trip for the next day.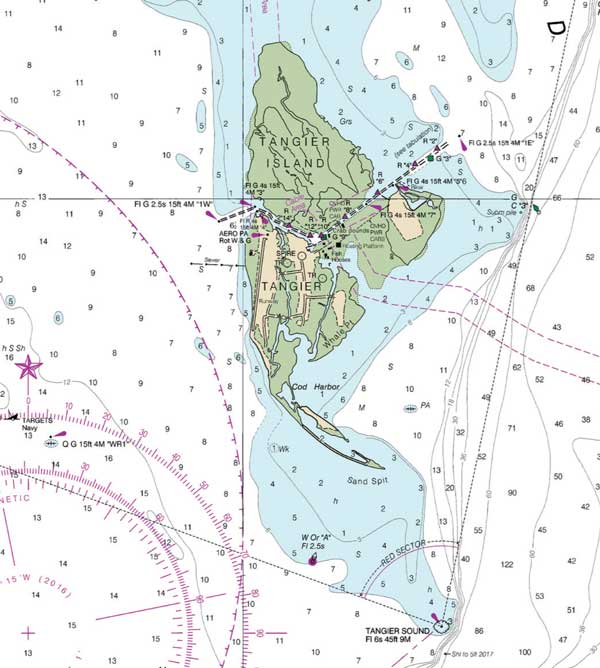 If you'd like to stay the night, or you're coming on your own boat but would rather sleep on land, there are several bed and breakfasts available. Watermen's Hideaway and Brigadune Inn are both lovely, quaint options, along with a few more options on AirBnB.
Once on the island, the walk into town from either Park's Marina or the tour boat docks takes only a few minutes. You'll quickly notice that there are very few cars—instead, most people get around the narrow streets with bikes or golf carts. If you'd like to rent a bike or golf cart of your own, you can do so at Four Brothers Crab House and enjoy an ice cream, soft serve, soda, or crab cake sandwich on their large, shaded deck while you're there. Or, you can get a guided tour of the island from one of the residents that will likely be waiting in their golf carts nearby.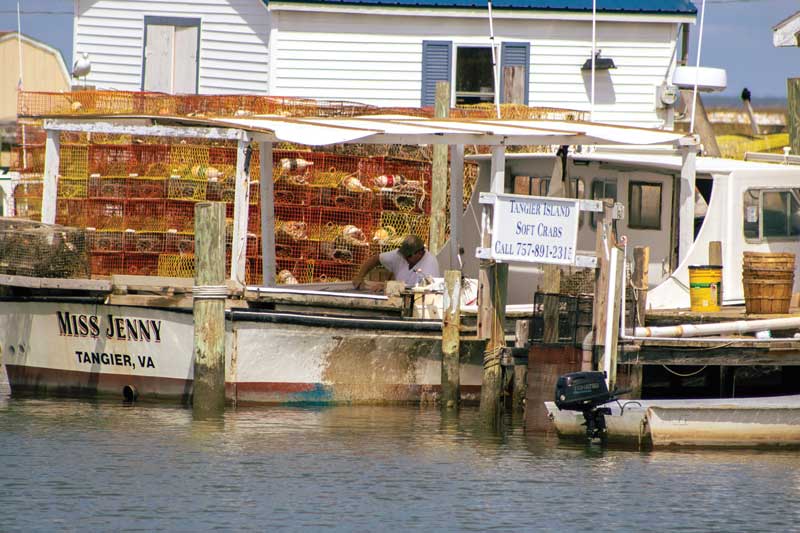 If you want to sit down to a meal, head over to Lorraine's Seafood for fresh crab cakes, fish, shrimp, sandwiches, pizza, wraps, and salads. For tee shirts and other souvenirs, there are several small gift shops a few minutes' walk from the docks. Keep in mind that many of these businesses close when the last tour boat leaves for the day—the gift shops, especially, will likely be closed by 3 or 4 in the afternoon. Lorraine's Seafood is open until 8, and Four Brothers Crab House is open into the evening.
To learn more about the island and its residents, make sure you pay a visit to the Tangier History Museum. The one-room house can take anywhere from 30 minutes to several hours to go through, depending on how much you want to read. The museum features exhibits on the island's prominent families, its role in American history (especially the War of 1812), the lives of watermen, and the islanders' ongoing battles with erosion, sea level rise, and extreme weather. There is a 12-minute video that you can ask a volunteer to play for you. Admission is $3, and free for children and active-duty military or veterans.
To get off the beaten path, you can explore the island's water trails via kayak with rentals from Cameron Evans, who offers single and double kayaks out of his photography studio located right next to the tour boat docks. There are several water trails to choose from that can take you around town or into the marshes. These trails are a great way to see wildlife—Tangier is home to a variety of waterfowl and aquatic life that you can get up close and personal with via kayak. You can also take your rental bike, golf cart, or kayak to the beach on the southern end of the island. If you have the time, hike down to the end of the spit, where you'll get a great view of the Tangier Sound Lighthouse and get to watch the waves converge between the Bay and the Sound. You may also see a small plane or two headed to the Tangier Island Airport.
While Tangier is certainly well-known for its watermen, fresh seafood, unique accent, history, and wildlife, it may be best known for its erosion. The island has lost about 67 percent of its landmass between the 1960s and the present day, and some researchers anticipate that it will be uninhabitable by around 2050. The highest points on the island are less than five feet above sea level, putting residents at high risk of flooding and storm surges even without climate change. A visit to Tangier can help raise awareness of their plight, support their economy, and spread knowledge of the island's unique history and culture before it is lost to time.
By Kelsey Bonham
---
To read about another Chesapeake Bay island, check out our See the Bay on Smith Island, MD.