When FishTalk angler in chief Lenny Rudow calls you up and asks if you want to come along on a three-day fishing trip to Smith Island, there's only one answer—heck yes!
Packing list: several bags of ice, full fuel tank, as many rods that will fit, jumbo size bag of pretzels, Twizzlers (the best boat snack), and three anglers crazy enough to make the roughly three-and-a-half hour run from Annapolis in a 22-foot boat.
Smith Island
Smith Island is a three-by-five-mile island chain located about 12 miles west of Crisfield, MD. It is comprised of three villages: Ewell, the largest of the three, is joined by a bridge to Rhodes Point. Tylerton is on a neighboring but unconnected island. You can only get here by boat, either on a private vessel or the ferry from Crisfield.
Captain John Smith first discovered the island in 1608, but Native Americans had occupied the land seasonally going back some 12,000 years. Both Maryland and Virginia claimed the island as their own, and it wasn't until 1873 that the dispute was finally settled.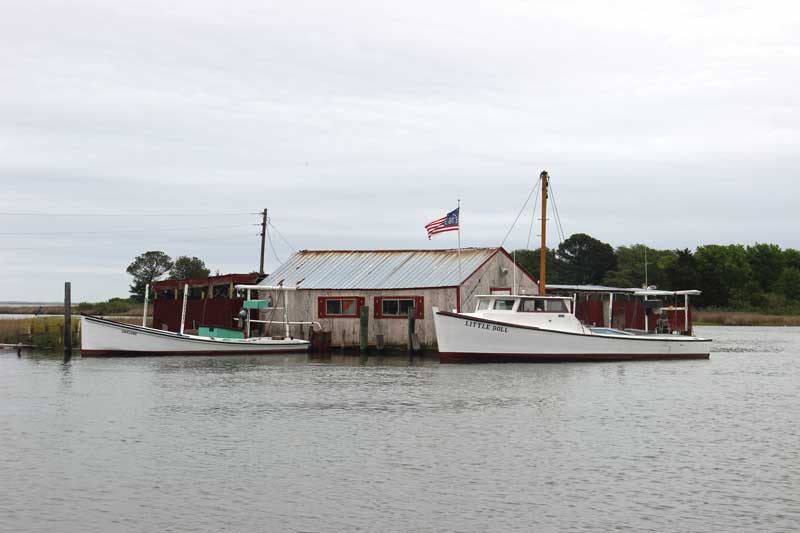 Today, Smith Island is home to less than 300 full-time residents and has lost over 3000 acres of wetlands in the last 150 years due to rising sea levels. It is projected to be completely eroded by 2100.
With these sobering facts in front of me, I knew I needed to see Smith Island for myself. I wanted to experience the place I had read about in "Beautiful Swimmers" by William W. Warner and "An Island Out of Time" by Tom Horton. I knew I had time, but clearly the island would not be around forever.
All I can say is that the visit far exceeded my expectations.
The Pearl
Our host, Chris Harte, put us up in his rental house on Smith Island. The Pearl is a completely restored Waterman's house built in 1900 with a classic pitched roof, three bedrooms, and a private dock; a rarity on Smith Island. (You can rent the property on VRBO.)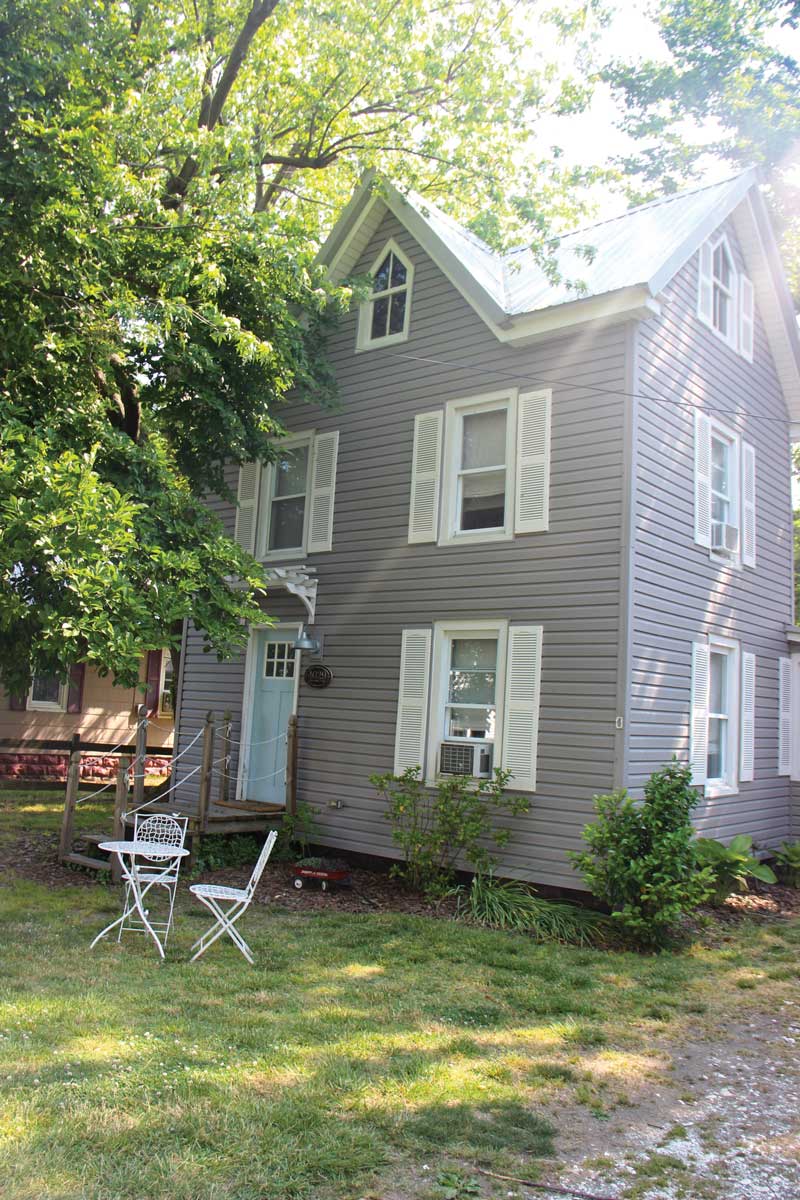 We met Chris on the Pearl dock where we loaded our gear into a golf cart and made the short drive to the house. Lenny was very disappointed (not really) to see a minivan parked down by the water (he didn't expect there to be any cars on the island). And while there may have been more golf carts than cars, there were more cars than I had expected to see, given that it's a small island.
Throughout our stay, the golf cart and boat were our only modes of transportation. Driving around the island felt like stepping back in time. It was both bigger and smaller than I expected. While you could make an easy loop of Ewell and Rhodes Point, we never made it to Tylerton, which would have entailed traveling by boat to the neighboring island. We saw homes of various shapes and sizes, along with a few restaurants, bed and breakfasts, a gas dock, the bakery, and the Smith Island Cultural Center. Driving across the bridge from Ewell to Rhodes Point, wetlands stretched almost as far as the eye could see on either side of the road.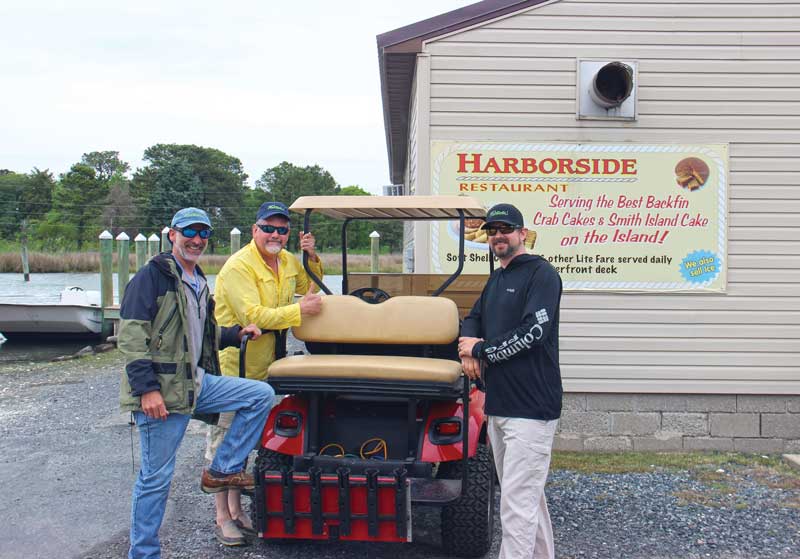 Day One
If it's your first visit to the island, I would recommend a similar itinerary to the one we followed. Your first stop should be the Smith Island Cultural Center in Ewell. The museum provides a great overview of the history and culture of this unique place, and Laura Evans is a great resource for any questions you may have.
Next stop: food. Chris took us to Harborside Restaurant, which serves "the best backfin crab cakes on the island," and it did not disappoint. The six of us in our party completely ate them out of their crab cake special.
After the museum and lunch, we headed out on the water to fish. If it was up to Lenny, it would have been cold sandwiches on the boat and fishing all day, but even he couldn't deny how good the crab cakes were.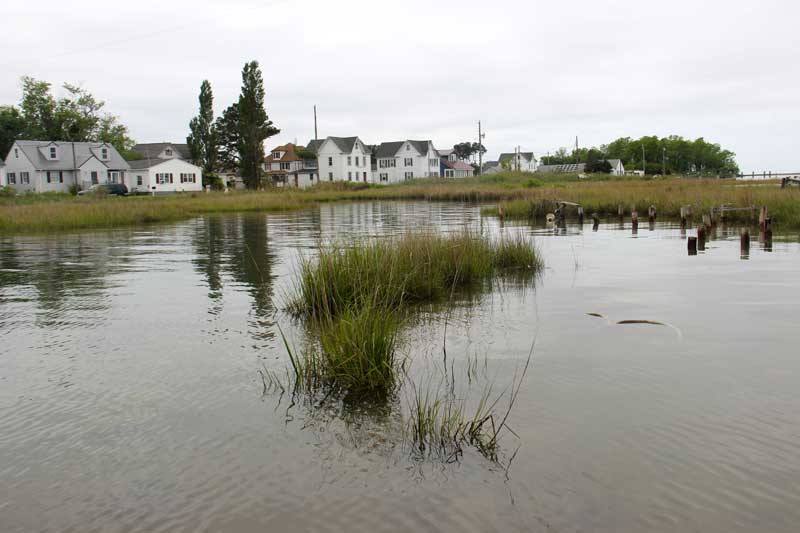 It was chilly that first day with temps in the low 60s and a light drizzle. We didn't have the highest expectations given the weather, but almost from the start, we were pulling in one speckled trout after another, along with a few catch and release rockfish. We couldn't wipe the smiles off our faces.
Not wanting to quit on a hot bite but also getting rather hungry again, we reluctantly headed back in after a full afternoon of fishing and were greeted with a homestyle feast prepared by local Smith Islander, Donna Evans—sweet potato casserole, crab imperial, scalloped potatoes, fresh corn bread, pie… it was amazing.
After dinner, we took the golf cart a few minutes down the road to watch the sunset from the prettiest vantage point in town.
Jack and Pickles, owned by Danielle Linton and Captain Terry Laird Jr., is a newer establishment on Smith Island. Danielle and Terry had planned to get married the year before, until Covid threw a wrench into the mix, so they decided to put the money they had saved for the wedding into building a hangout spot for locals and visitors alike. They built a shanty over the water with seating, a beautiful view, snacks for purchase, and vintage-style arcade games (Frogger!) that can be played to your heart's content for a small cover charge. When they do eventually get married, they've decided to do it right on the deck of Jack and Pickles at sunset.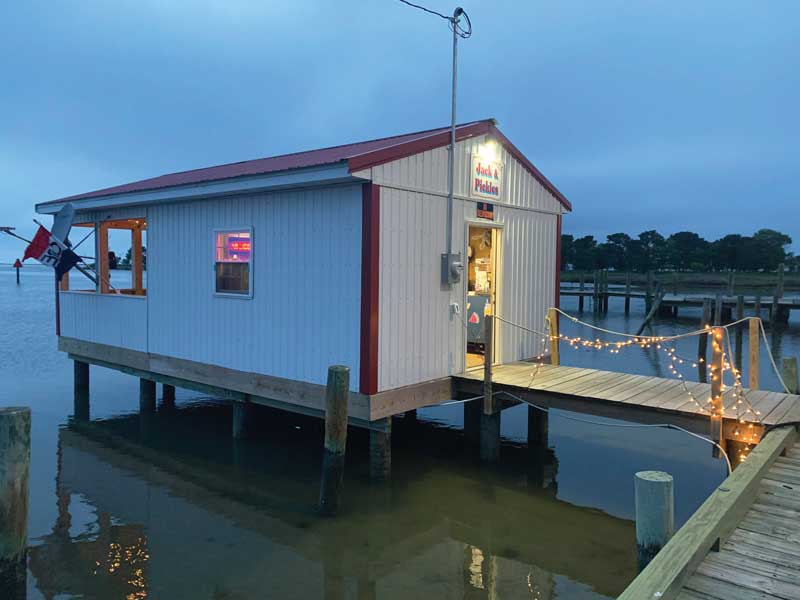 After a long day of travel and fishing, it was so nice to sit around and relax, just talking, while the sun disappeared below the horizon. Apart from the voices and the sound of waves softly lapping against the pilings, it was so quiet after the sun went down. 
Sitting there as the sun set, I remembered thinking, this is a moment I will remember. Sitting around under the full moon with old and new friends alike, feeling as though we had all known each other for years.
Day Two
It was another early start because now we knew there was great fishing to be had just a short boat ride away. Speckled trout were again the target, along with rockfish, and even one, accidental, cownose ray which was caught and released.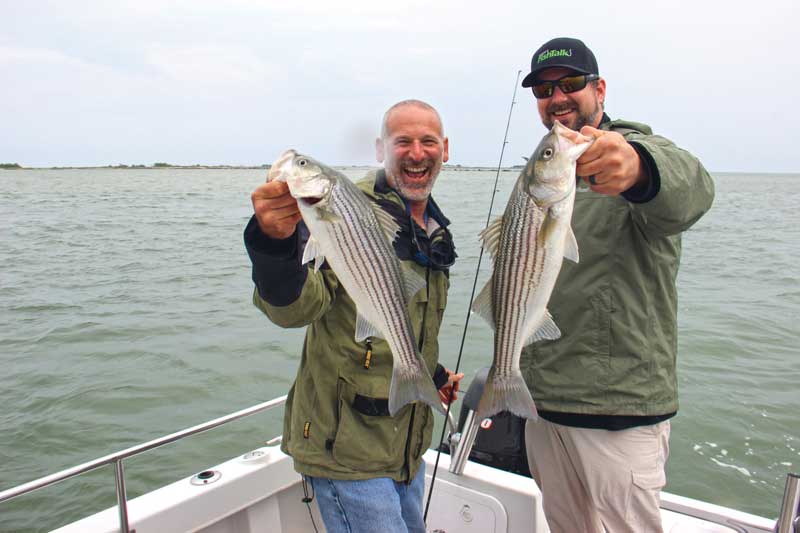 After fishing in the morning, we cruised back in to meet up with Mark Kitching, whose grandmother, Francis Kitching, wrote the definitive Smith Island cookbook. Mark is a waterman, a crab scraper, and he showed us around his boat and his peeler crab tanks before taking us on a golf cart tour of the island.
Mark and his family have lived on Smith Island their whole lives. There aren't many full-time watermen left, and even fewer crab scrapers. Mark told us stories about the island, how it's changed, and what has stayed the same as we drove from Ewell to Rhodes Point. Here and there you could see where the island had reclaimed homes, partially but not fully destroyed by hurricanes and rising sea levels. They stood peeking out of the reeds eerily like a sentry from a lost time.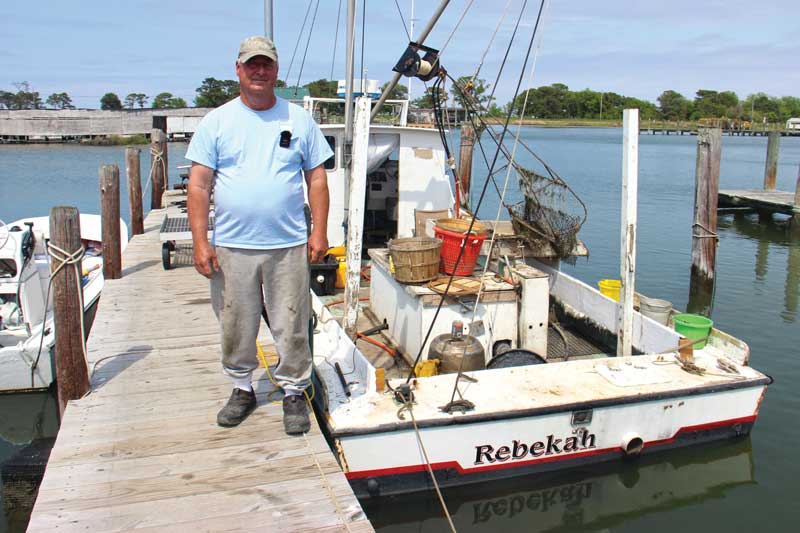 I learned more on that tour from Mark than anything I could have hoped to learn about the island online. Afterwards, it was back out on the water for more fishing. (Stay tuned to FishTalk for Lenny's angling expertise on our experience.) The sun came out for the first time that day, and I could finally take off my winter hat (it was late May, but you'd have never known from the gray, cold wind the day before).
Back at the house, Mark delivered fresh oysters, steamed crabs, and corn on the cob for dinner. For dessert, do you even need to ask? We had a Smith Island cake. Our host wanted to make sure we tried a flavor we hadn't before, so he set us up with a lemon cream cake and it was to die for.
None of us wanted the day to end, to have to go back to the hustle and bustle of our real lives on the mainland. We stayed up far too late for the early start we needed to get the next day, but we just wanted to soak up a little bit more of the peace we had experienced during our stay.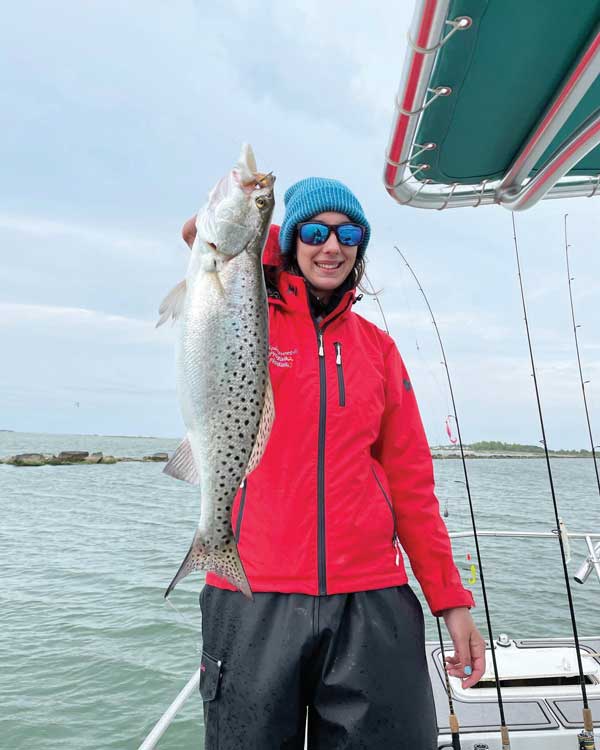 It's Not Goodbye
The next morning, we made one last stop at the Smith Island Bakery (I never knew there were so many flavors of Smith Island Cake!). We each took one for the road and then sadly packed up the boat for the long ride home.
As we left the island in our wake, it began to slowly disappear into the haze of a humid summer morning. Tom Horton called this place "an island out of time," and as it faded from view, it felt as if the secret of this place was once again shrouded from the outside world. We felt fortunate to have spent even a few days here.
The hospitality we were shown far exceeded anything I was expecting. I knew Smith Island was small and I knew they had tourists, but I expected, potentially, a little bit of aloofness from the locals. We didn't experience that at all. Everyone we met treated us like family.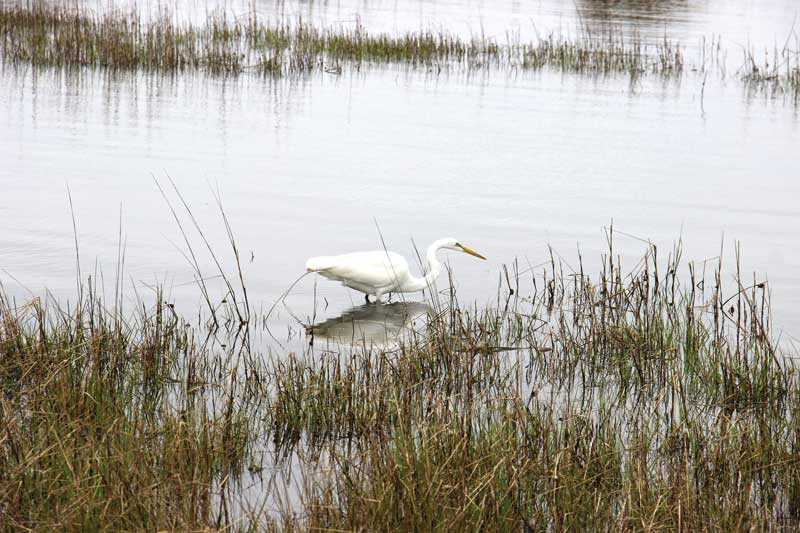 This island really gets under your skin. I felt it from the moment we stepped on shore. And it's not just me. So many of the people we met had such amazing stories, whether generations of their family lived on the island, or they moved there later in life.
Laura Evans, at the Smith Island Cultural Center, moved to the island as an adult and only later learned that she had some distant relatives who were born there. Kathy Jones told me how she and her husband Darren spent a few weeks on the island and then simply decided not to leave. Now they run the Smith Island Bakery in Ewell. Danielle Linton had fond memories of visiting the island as a kid and she too decided to make the leap and move their full time. She just loved the island so much. Little did she know, she would meet the love of her life and is now engaged to be married to a native Smith Islander and together they run Jack & Pickles. And waterman Mark Kitching, who has always lived on the island, along with generations of his family, told me how he took off one summer to do other work when he was younger, but "it just didn't seem right not being out on the water when the sun came up."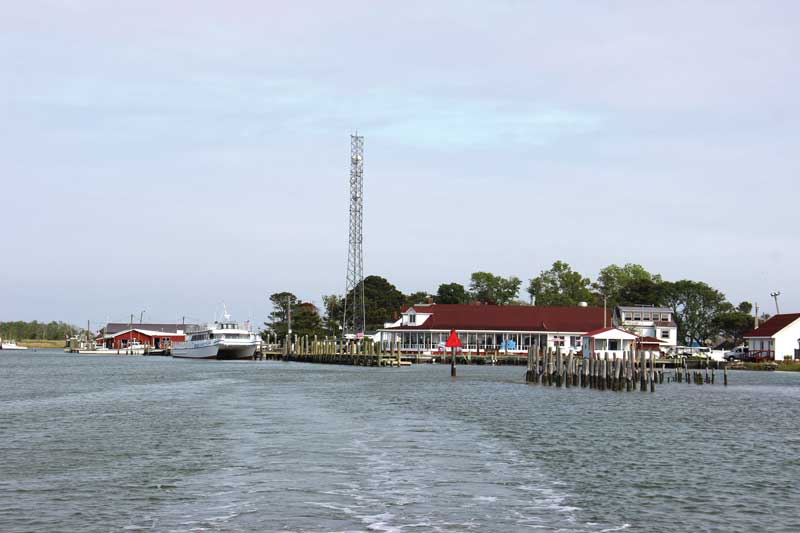 So, it's not goodbye, Smith Island. We'll be back.
I already mentioned the gear we set out with on our journey. Curious what we left with? Three sunburnt, happy anglers; enough fish fillets to share with our families at home, three Smith Island cakes, and less ice than we would have liked—needless to say we gunned it home. Had to protect the state cake of Maryland! And the record for number of people who got to enjoy one Smith Island goes to Zach who shared his cake with 13 people! Lenny and I were less generous…. 
By Kaylie Jasinski