Still Pond is a family-friendly, protected deep-water anchorage in the Upper Chesapeake Bay, with clear, clean, sea nettle-free water, and a sandy bottom.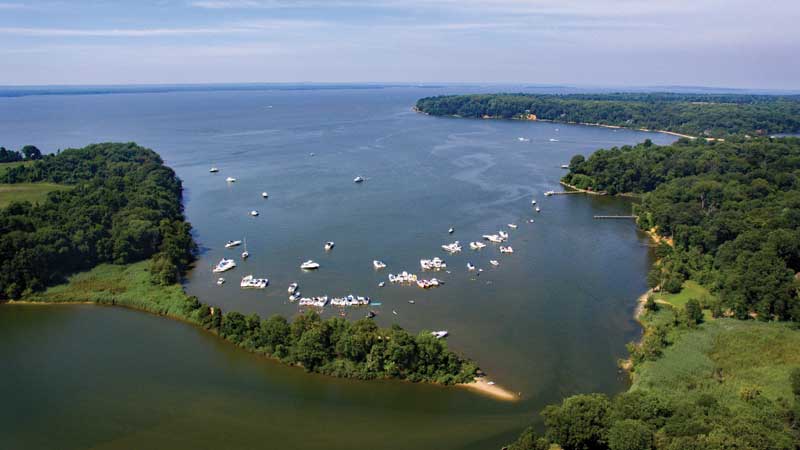 In case you haven't noticed, the Memorial Day Weekend will be here before we know it. Hopefully, the "weather gods" have allowed you to get the spring commissioning projects well underway or better yet, completed, so that your boat is back in the water for the unofficial kickoff to summer. With that first three-day weekend right around the corner, have you planned where you are going to go?   
If you haven't yet decided, you might want to consider traveling to Still Pond. If you haven't heard about this cove, it is a very popular destination on the Eastern Shore of the Upper Bay, located approximately two miles south of Howell Point on the Sassafras River. It's a deep water protected anchorage that is fed by two substantial creeks allowing it to offer something for every type of boater. If your boat can cruise at 20 to 25 miles per hour, you can reach Still Pond in less than two hours from Annapolis and Baltimore and less than an hour from all the rivers located in the Upper Bay. Distances like these make it great for a day trip or weekend cruise.
Your first impression when entering Still Pond will be that it lives up to its name. There is plenty of protected water for deep-draft cruisers and sailboats on the outskirts of the cove, and it only gets calmer as you travel closer to the beach. Only wind from the northwest direction will make the anchorage less calm (more on that later).  
The Sandbar
One of the best features of Still Pond is the crescent-shaped sandbar that runs along the northeast corner of the cove. It rises up from water depths of three to five feet, somewhat abruptly, allowing even larger boats to be positioned so that their sterns are a few steps from knee- to waist-deep water. Bow and stern anchors will keep your boat safely positioned when the tidal current flows in and out. Finding a place to anchor can be tight, but other boaters are quick to wade out and lend a hand when needed.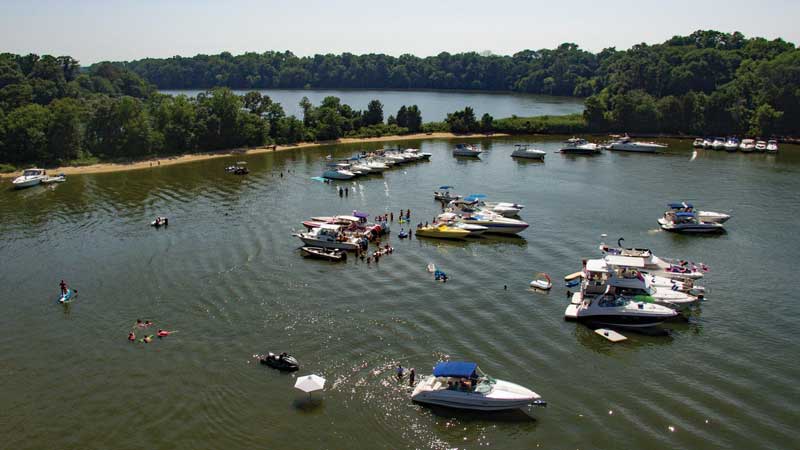 On any given weekend, dozens of boats raft up in front of that sandbar to take advantage of the sandy bottom and clean, clear, sea nettle-free water. It is not uncommon to be able to see your feet when standing in waist-deep water. Parents like it because it offers a safe place for small children to play in a family-friendly atmosphere. Dogs seem to like frolicking in the shallow water with their owners. Frisbee throwing and other assorted water games are popular as well. Countless adult groups gather in this area to socialize while consuming their favorite beverage. 
Churn Creek
Another fun activity is "riding the lazy river." Churn Creek feeds into Still Pond through a narrow opening and provides quite a strong current during an outgoing tide. Many boaters will take their rafts and float toys of all sizes to the mouth of Churn Creek and ride that current out into Still Pond proper. It is a nautical version of old-fashioned sledding. The ride is easy, but walking back against the current to the entrance for the start can be tiring for the parents and grandparents dragging those toys when the kids can't seem to do it often enough. 
Fifty yards on the other side of the sandbar is a beach that offers a place to lay your beach towel under one of the many shade trees, walk your dogs, build sandcastles, and look for sea glass and other nautical treasures. Occasionally, campers will pitch tents on the point of land located right at the entrance to Churn Creek, and fishermen frequent that same point of land taking advantage of the current to catch perch, catfish, and rockfish. Churn Creek is reasonably navigable for runabout style boats, but local knowledge is required to get back into the creek and is therefore used primarily by waterfront homeowners. If you have a kayak or SUP, it is a very calm area to paddle the shoreline looking at beautiful waterfront homes and the abundant wildlife.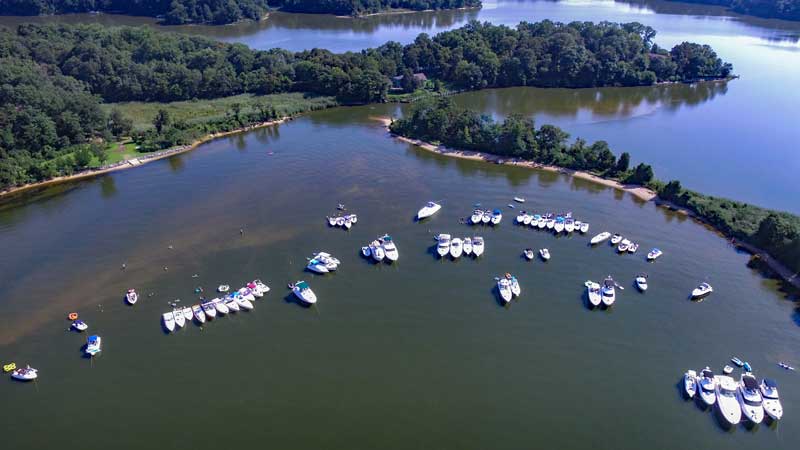 Still Pond Creek
Still Pond Cove is also fed by another creek on the north side called of all things, Still Pond Creek, with a narrow but deep opening that is protected from winds that blow in any direction. An outgoing tide through the narrow entrance will cause a strong current. It's not a big deal, but knowing what the conditions are going to be will eliminate any potential surprises. If you are not into larger crowds, this is a place where fewer boaters hang out. When entering the creek, you will see a number of buildings off to port that used to be an active Coast Guard station for the Upper Bay where a 40-foot patrol boat was stationed until budgetary constraints caused a downsizing in the 90s. The Coast Guard still uses the dock for a much smaller hard bottom inflatable. The channel is well marked until the creek takes a 90-degree turn to the east. Stay close to the shore on your starboard side when making that turn. Water depths to port become shallow, and that area offers a sandy bottom for swimming, too.   
When those northwest winds blow or the weather forecast calls for thunderstorms, Still Pond Creek is a great spot to ride out that kind of bad weather. Many captains will leave the main Still Pond Cove and anchor overnight in Still Pond Creek to avoid any surprise storms. Highly unusual, but one of those freak storms with hurricane-force winds caught a crowded anchorage by surprise and caused quite a few large boats to be blown up onto the beach and sandbar, a lesson many Still Pond "regulars" have not forgotten! Not only is it a great protected anchorage, but its two miles of really flat water is great for waterskiing, tubing, and wakeboarding. Boaters that carry kayaks, SUPs, motorized tenders, and Jet skis like these conditions for taking "mini-cruises" from Still Pond Cove. Bass fishermen frequent this part of Still Pond to fish along the undeveloped banks where trees and logs are prevalent.
Still Pond is a family-friendly, protected deep-water anchorage, with clear, clean, sea nettle-free water, and a sandy bottom, that isn't too far from where you keep your boat, no matter what the type. It's not a big deal but knowing what the conditions are going to be will eliminate any potential surprises. When you get there, you will experience why it is the favorite of many boating enthusiasts for all the reasons mentioned above. See you at Still Pond on Memorial Day Weekend!
By Dave Nestel
---
For more on the Upper Chesapeake, check out Dave Nestel's other article and map on Upper Bay Anchorages.