Everyone loves a shortcut. That's what many boaters consider Knapps Narrows to be: simply a drawbridge and a quicker route to get from the Chesapeake to Prospect Bay and the Choptank River than going all the way around Tilghman Island. But boaters would be wise to slow down and explore this part of the region, stay for the pretty sunset, and spend a night or two.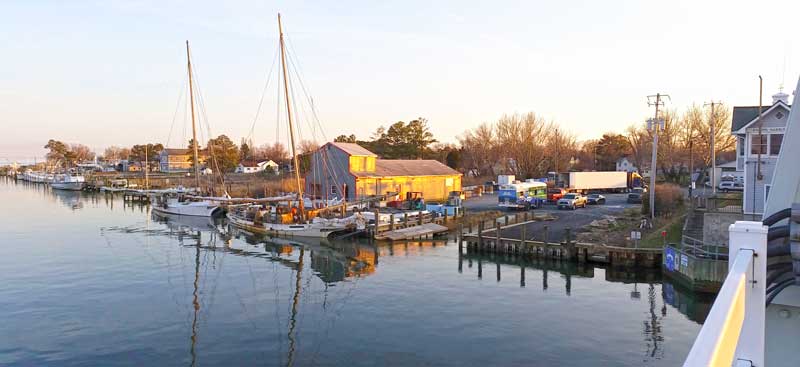 Since its establishment in 1650, Tilghman Island has been a quiet waterman's village at the southernmost tip of Talbot County on Maryland's Eastern Shore. Since the early days when oystermen bought parcels of land and formed the town, it has never been the place you go for fancy shopping or lively nightlife; yet there's much to be said for its views, natural resources, maritime heritage, great access to fishing, and marinas and inns. Here are seven things to do near Knapps Narrows.
1. Visit the Tilghman Island Watermen's Museum.
This 11-year-old museum celebrates, documents, preserves, and shares the history, traditions, heritage, and culture of Tilghman Island. When it first opened, the focus was primarily on capturing, on audio and video, the stories and experiences of the watermen before the old way of life on Tilghman disappeared. That effort produced an initial video, "Growing up on Tilghman," recording the memories of island residents who grew up in a place they considered "paradise."
The museum soon expanded into collecting art. Local and "come here" artists, including celebrities such as John Barber and Marc Castelli, celebrate Tilghman's history, natural beauty, and residents through art. The museum houses a boat model collection and examples of watermen's tools past and present, as well as explanations of their craft and the different techniques used in harvesting the Bay: pound netting, tonging, dredging, and crabbing. Open weekends from 10 a.m. to 3 p.m.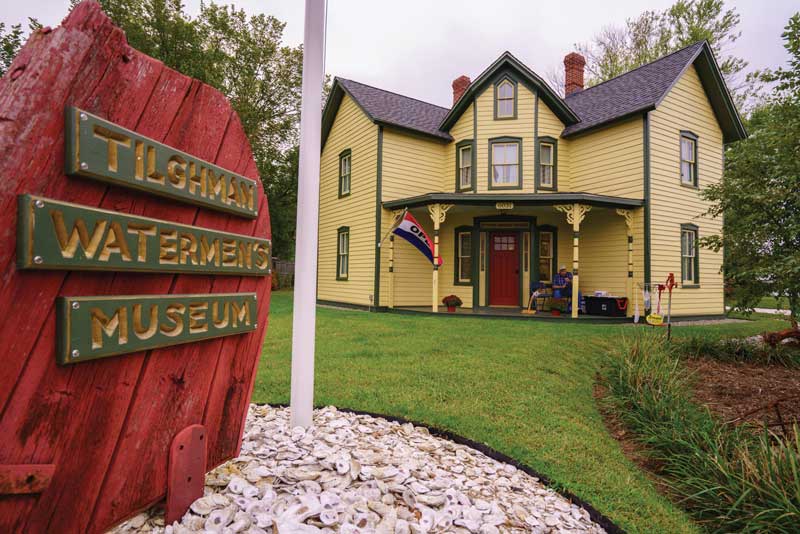 2. Explore the Phillips Wharf Environmental Center:
A non-profit organization created to provide a hands-on experience and education with the animals and plants that inhabit the Chesapeake Bay region. Visitors also learn about watermen and how they harvest the Bay's resources. 
The center's mission is "nothing short of saving our precious Chesapeake Bay as a natural resource and as a source of healthy seafood and productive jobs for our residents along its shores. It is through our many programs that we can help others understand how the daily decisions we make each day can impact the Bay and its health and well-being."
Phillips Wharf is open to the public throughout the year and offers activities for children, families, and adults, including a winter lecture series, oyster planting day (June 1), "tidy up Tilghman" (April), and an oyster and brew festival in the fall. 
3. Charter a boat
For the day to sail, fish, or crab. We know PropTalk readers prefer powerboats over sailboats as a rule, but to have the opportunity to sail aboard the Rebecca T. Ruark, the oldest working skipjack on the Chesapeake Bay (1886), and to listen to nautical tales from Captain Wade H. Murphy, Jr. are worth the trip. 
You may also rent powerboats, pontoons, jet skis, kayaks, and standup paddleboards, or charter a fishing boat through Tilghman Island Marina and Rentals. You may charter fishing boats out of Knapps Narrows Marina, among others. If you do go fishing, make sure to gear up at Fairbank Tackle, one block from the Tilghman Island Drawbridge on the island.
4. Find a marina and/or inn:
The area boasts a number of inns with marinas, such as Knapps Narrows Marina and Inn, the newly renovated Wylder Hotel Tilghman Island, and Lowes Wharf Marina Inn.
5. Enjoy the great outdoors
With a stroll through the community, or rent a bike from Tilghman Island Rentals to take advantage of the flat roadways and paths with a leisurely ride around the three-mile island. 
6. Bridge- and boat-watching:
A friend traveling with toddlers recommended boat-watching near the bridge (she stayed at the Knapps Narrows Marina and Inn, because of the pool and need to keep her children occupied and cool on a hot day). Her toddler was awed by the variety of barges, sailboats, powerboats, fishing machines, and workboats, not to mention the action of the Tilghman Island Drawbridge, which can go up as many as 50 times on a busy summer day. This activity is fun for boat-loving grownups, too.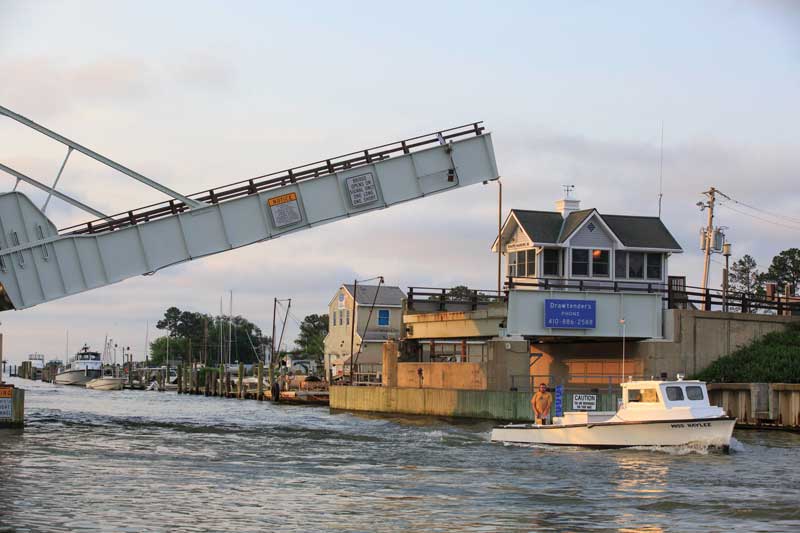 7. Tilghman Island Day
This favorite event, slated for October 19 and organized by the Tilghman Island Fire Department, includes a boat-docking contest, rowboat race, anchor throw, workboat races, crab-picking and oyster-shucking contests, seafood (including raw and steamed oysters, oyster fritters, and oyster stew), crabcakes (as well as crab soup and steamed and softshell crabs), hot dogs, burgers, ice-cold beer, wine, sodas, nautical artisans, and live music. Entry costs $5. 
---
For more information, visit Talbot County Tourism.