The Choptank River is unique among the Chesapeake Bay tributaries. As you enter from the Bay you will notice that the water is distinctly different, clearer, brighter, bluer than the Bay itself. As of the summer of 2014, the channel through Knapps Narrows has been a challenge, and more boats are now opting to enter the Choptank at Blackwalnut Point, which only adds three miles to your trip. Summer southerlies waft through the broad waters of the mouth of the river and through more than 30 discrete Choptank anchorages and two towns which are very much worth your visit
To call Oxford a quaint, scenic village is an understatement. Old homes, mature trees, lovely landscaping, and a town park facing the open Choptank make this an inviting place to spend an afternoon. Oxford, whose founding dates back to 1670, boasts several marinas to accommodate visitors, and the three Campbell's Boatyards have earned a reputation for excellence in workmanship and service. The settlement was founded as a port of entry, developed as a seafood processing center, and has always been a water-oriented settlement, now catering to the fleets of cruising boats that visit each summer.
The restaurant scene in Oxford includes five longstanding establishments to satisfy the most discriminating palette. It is hard to pick a favorite; however, Latitude 38 near the head of Town Creek seems to be the locals' hangout. Wherever you dine, you must end your meal with a serving of fresh homemade ice cream at Highland Creamery down on the waterfront.
For a slightly more urban experience, we headed over to Cambridge. As you proceed up river give the well-marked shoals at Castle Haven, Chlora, Howell Point, and Hambrooks Bar plenty of room. The water is every bit as shallow as the charts indicate. While the townsfolk of Oxford might disagree, Cambridge is emerging as the jewel at the head of the Choptank Bay. With the development of the Hyatt Resort and River Marsh Marina and the influx of retirees, this town is on an upswing. This new prosperity brings great options and amenities of interest to cruisers.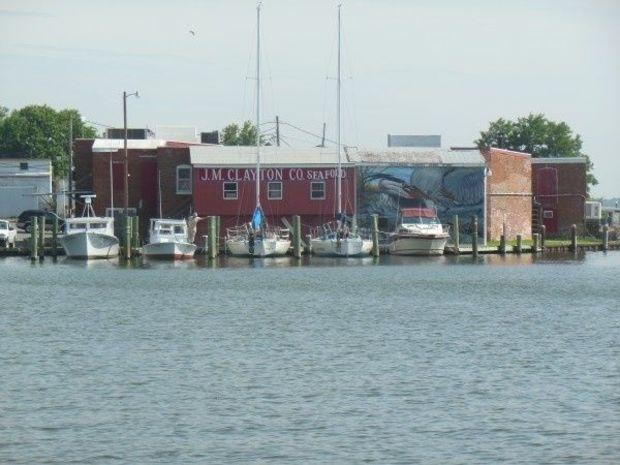 Dockage options range from the full resort amenities of River Marsh Marina, to a free public wall just past Snappers Waterfront Grill in Cambridge Creek (there are no electrical or water hook ups here). The friendly members of Cambridge YC give a warm welcome to transients, and the municipal marina has lots of space and can handle large cruising groups. The entrance to the basin for these two marinas is overlapping floating piers which comprise the wave barriers. It is narrow. Be patient and wait your turn. Once inside the basin there is plenty of room. The museums, shops, and restaurants of Cambridge are easily reached from either of these marinas.
High Street is a grand entrance to the town, and you will be walking up from the marinas as sailors and travelers of old would have approached the town. High Street, wide with broad shaded sidewalks, leads past renovated and nicely kept homes. Walking up High Street is reminiscent of old Charleston and the refined southern towns which exude charm and grace. The fine homes along the street reflect many of the architectural styles which evolved as America grew. Some of the early homes were simple Chesapeake-style houses, but as prosperity came to Cambridge, the homes were built in an evolving range of styles beginning with Georgian and the Federal style which developed after the Revolutionary War. By the mid 1800s Italianate-style homes were the fad, and by later in the 19th century, Gothic or Queen Anne-style homes were preferred. The walk into town will show many lovely homes of each of these architectural styles. It is only a half-mile walk to the center of town where at the corner of High and Poplar where you will find a unique collection of shops, galleries, restaurants, and museums that grace the block between High Street and Race Street.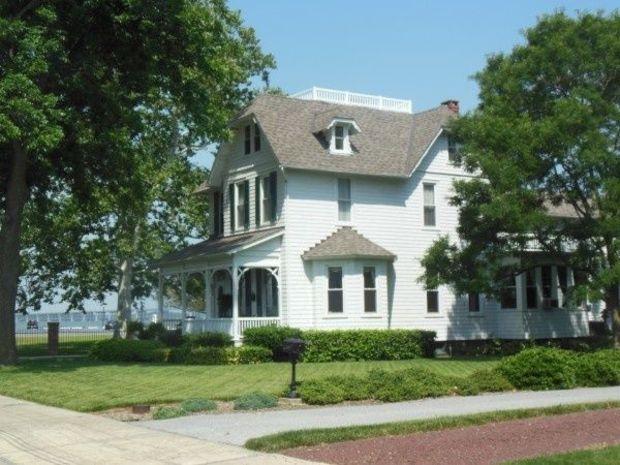 Our tour of Cambridge started with a visit to the Richardson Museum. The small museum is staffed by Herm Kramer, a seemingly tireless proponent of Cambridge, boat building and "Mr. Jim." A revered Cambridge boat builder, Mr. Jim sought to preserve the wooden boat building traditions of the Chesapeake and to teach others so that the timeless skills would not be lost. We spent an hour with Herm learning about Mr. Jim, the museum, and its artifacts. Herm seems to be able to quickly assess his audience and adjust his spiel to meet the expectations of his guests. Skipjacks, pungies, buy boats, bar cats, deadrises: they all came out of his shop over his 60 years of boat building. Mr. Jim built Maryland Dove, a recreation of one of the two ships who brought settlers to establish a British colony on the lands granted to Lord Calvert. Two of his final projects were the oyster buy boat Mr. Jim, well known to visitors of the Chesapeake Bay Maritime Museum in St. Michaels, where for decades she took visitors on tours of the Miles River, and Nathan of Dorchester, the last sailing skipjack built on the Chesapeake. After consuming more than an hour of Herm's time, we reluctantly bid adieu and continued to wander the streets and window shop the many stores and galleries along Race and Poplar Streets.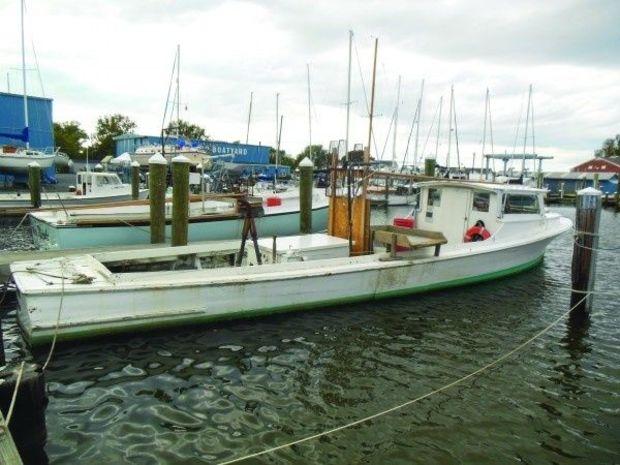 Just half a block later, we entered Gina's Ice Cream Shop. It being a warm July afternoon, a stop here was mandatory prior to completing our meanderings along Poplar Street. We perused a wide variety of shops. Cristina found a hat of her liking in Maggie's Hat Box. We continued along Race Street to Simons Center Market where we picked up a few provisions for the boat.
Returning to the marina we came across the regular Thursday afternoon farmer's market at Long Wharf Park. Here we picked up some cheese dinner rolls from Elliot's Bakery and locally grown delicious yellow beets. In the marina, we ran into some other boaters who were making plans for dinner in town.
The number of restaurants in town is outsized for a town the size of Cambridge. The range in offerings is broad and explains why recently Cambridge has caught the attention of foodies. As our cluster of cruisers returned to Poplar Street, we broke into smaller groups to try a variety of restaurants. One contingent went to RAR Brew Pub and had an excellent time. Another boat's crew dined at the ever popular Cambridge icon, Jimmy and Sooks, while the crew of Marlene could not resist a restaurant named Leaky Pete's.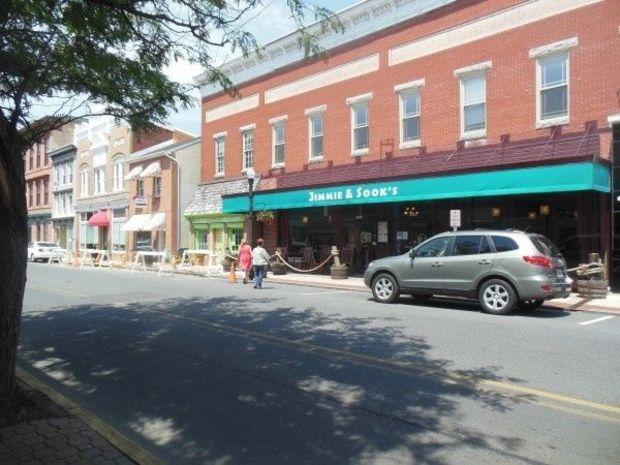 We had arranged to have dinner with friends from Illinois who persuaded us to try the highly recommended High Spot Gastropub. The buffalo oysters were excellent, spicy but not overpowering. Returning to the marina after dinner, it was clear that everyone had enjoyed their evening and that there are many fine restaurant options in Cambridge. Who knew? In the morning, we took off to explore further on our bicycles.
On the Cambridge Creek waterfront we came across J.M. Clayton Seafood. If you want to pick up some fresh Maryland crab meat, this is the place! Later in the day as we wound our way further up the Choptank River, we dined on crab salad and reflected on our time in Cambridge, which was quite a pleasant surprise. It far exceeded our expectations.
We plan to take a slip and stay in Cambridge for a month or two later in the season. Put it on your cruising itinerary when you set out to explore the exceptional Choptank River.
by Tom Hale