Maryland's southernmost city, Crisfield, has been known by a myriad of different names. It was founded under the name of Annemesex, the moniker of a nearby creek. Sometime later, the town's name was changed to Somers Cove to more accurately portray the forgiving harbor that gave many a mariner solace from the Bay's tempestuous nature.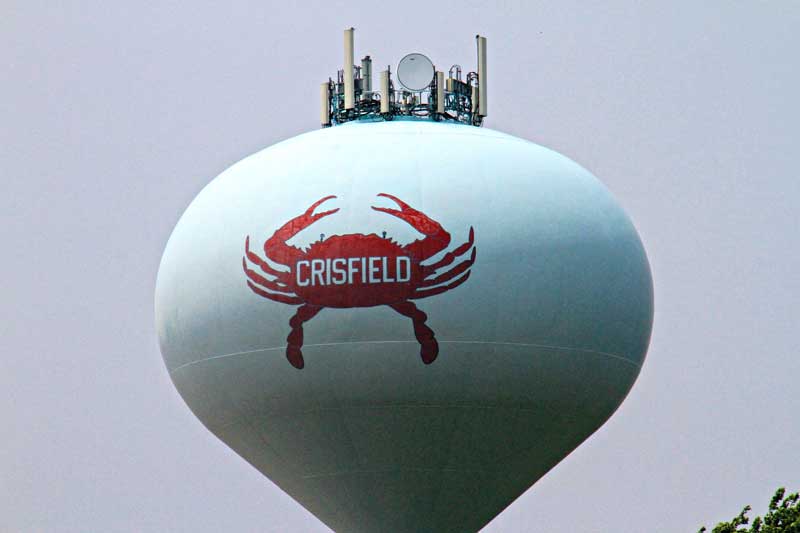 Then, the little hamlet became known as Crisfield, an homage to John W. Crisfield who recognized the importance of the nearby Tangier Sound oyster beds and by whose efforts the Eastern Shore Railway Line connected the seaport with the world via a spur line to Salisbury.
The oyster beds brought a new breed of watermen to the area: oyster pirates who would soon dredge oysters by day (illegally as it were) and spend their nights carousing in the town's bars, brothels, and gambling dens.
In the early 1900s, the town was known as the seafood capital of the world as it boasted the largest home-port fleet of sailing vessels anywhere in the United States. At that time, Crisfield was shipping millions of gallons of oysters, crab meat, and soft-shell crabs to processors far and wide. In fact, in 1904, Crisfield was the second-largest city in Maryland.
Today, Crisfield is known alternatively as the "Gateway to the Chesapeake" and the "Crab Capital of the United States."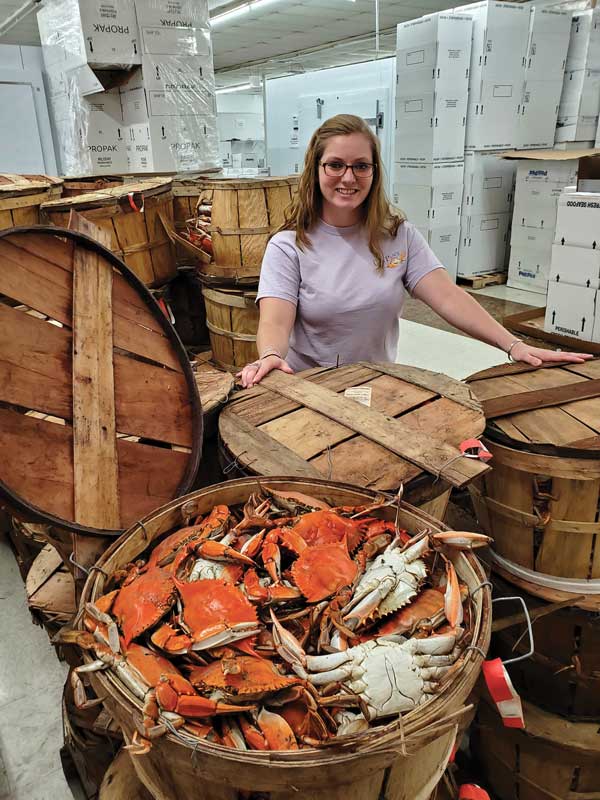 Handy Seafood Company Chairman Terry Conway, who bought the struggling seafood company in 1981 and built it with the help of a loyal workforce of local watermen, food scientists, and factory workers into the world's largest purveyor of fresh and frozen blue crab products, puts it like this: "Crisfield and the waters around it are the perfect environment for the production of crabs. When we say we are the 'crab capital of the world,' we mean it."
"We sit right in the center of the confluence of perfect water and temperature conditions in just the right point in the Bay where blue crabs (Callinectes sapidus) tend to congregate. The world's love affair with the crab started right here. Crisfield introduced the soft-shell crab to the world. The community pioneered crab cakes and pasteurized crab meat. Everything we do here is authentic." Conway ought to know. His company has produced and sold over 200 million crab cakes in the past 25 years. 
Former Mayor and Crisfield Chamber of Commerce booster extraordinaire Kim Lawson agrees.
"We are unique among all the Eastern Shore communities. Our Bay heritage runs deep, and even though the number of watermen has fallen by more than 75 percent over the past decade, we still produce an immense amount of quality crab and oyster products for the domestic and international market."
The town has faced its share of adversity. Hurricane Hazel's storm surge almost dealt the town a death blow in 1954.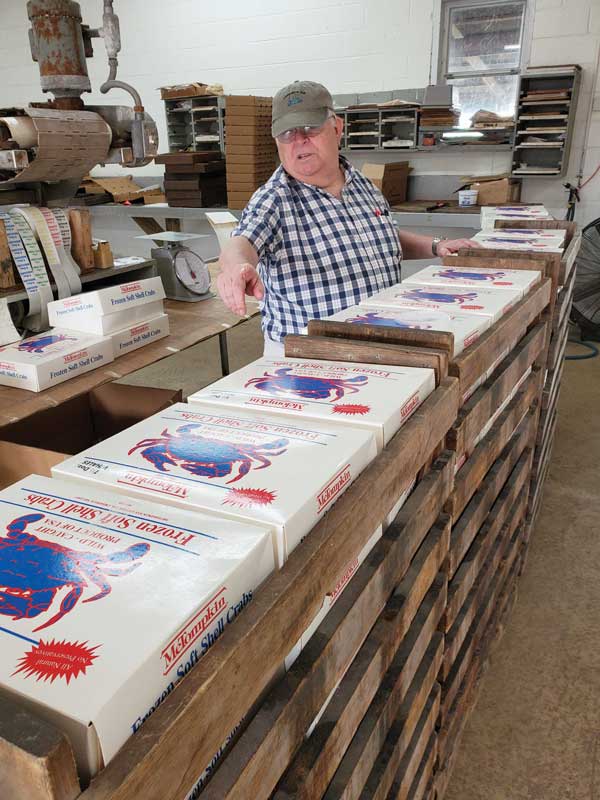 "I was five years old when Hazel hit," Lawson recalls. "The storm surge nearly sunk us."
Then, there was Superstorm Sandy in 2012. More than 300 structures were damaged. Over 100 families packed up and left for good.
Today, there are more shuttered storefronts along Main Street than Crawford and city fathers would like to see. And the median running through town that once carried boxcars full of seafood is now populated by park benches and flower beds.
Covid-19 took its toll on a number of eateries and businesses, most notable was the demise of Crisfield's iconic Waterman's Inn, a white tablecloth restaurant in the heart of town that was the creation of New York chef Brian Julian. Another Crisfield institution, Captain Tyler's Restaurant, has also closed, the result of the death of the venerable Captain Tyler himself.
And, for the first time in recent memory, last year's traditional summertime festivities such as the Fourth of July Fireworks, the National Hard Crab Derby, and the Millard Tawes Crab and Clam Bake were all cancelled.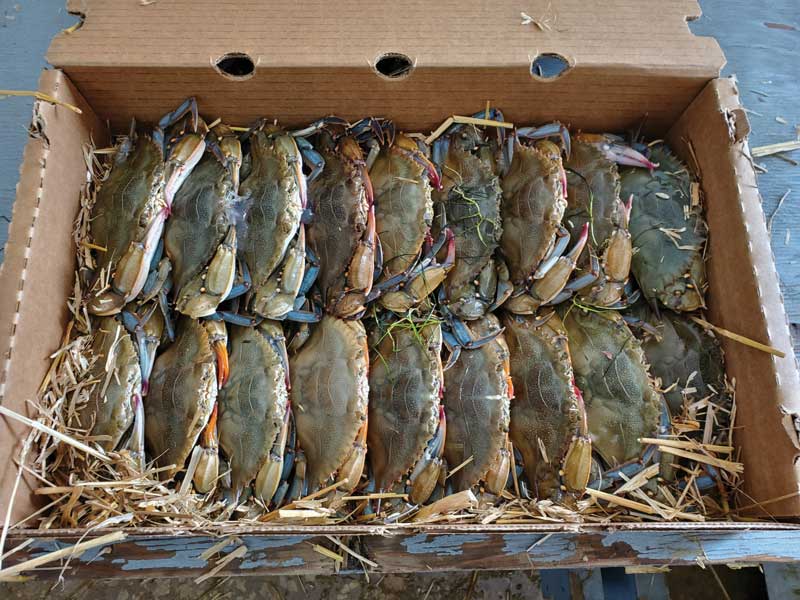 "2020 was a tough year for us. Transient boat slip rentals were off 20-30 percent, but we're coming back in a big way," says Somers Cove Marina executive director Tom Schisler. "Our Fourth of July fireworks will be one for the ages, and plans are well underway for a return to Crab Racing and the Waterman's Docking contest to take over the waterfront over Labor Day. Then, there's the traditional J. Millard Tawes Crab and Clam Bake, this time held in October when the weather is cooler, and the crabs are fuller. The Crab and Clam Bake is a Maryland must-attend, see-and-be-seen political institution, equal parts seafood, and schmooze. It's the state's largest seafood festival. Both of these events are going to be barnburners."
For the lowdown on these two popular events, go to: facebook.com/TawesCrabAndClamBake or nationalhardcrabderby.com.
Schlisler advises PropTalk readers that if they want a good slip for either of these events, they should give him or Mary Taylor a call at (410) 968-0925 to make arrangements for accommodations in the 550-slip Somers Cove Marina.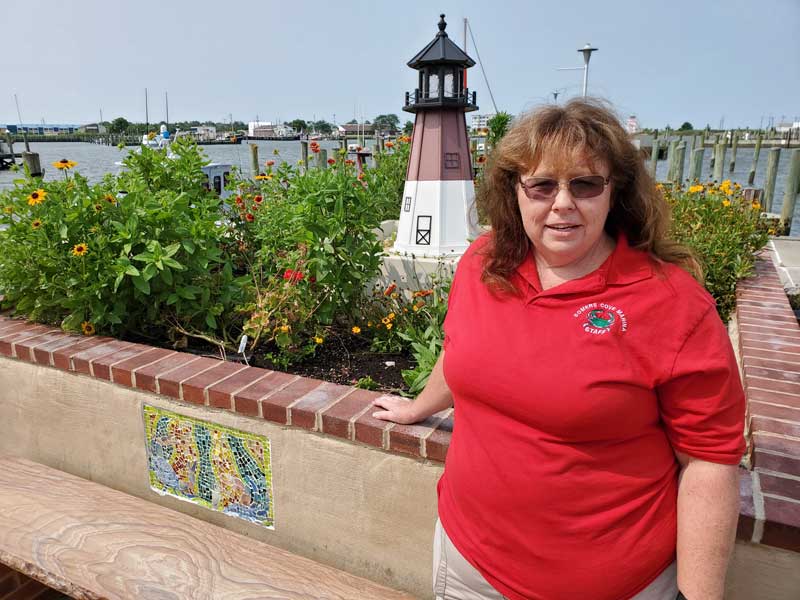 "We generally have plenty of space, but this is a big marina and if you want to be close to the action, early is better than later," says Schlisler.
Schlisler is also quick to point out that there's plenty to do during the lazy hazy days of a Crisfield summer as well.
"We have some of the best sunsets on the Bay. Just get yourself a mess of crabs and a bag of oysters, grab some cold beers, and relax on the deck of your boat while you watch the sun disappear over the horizon."
Adding to the enjoyment of a stay at the marina is the addition of the Red Shell Shanty Restaurant, featuring live music most weekends and sometimes during the week as well.
Locals also recommend a visit to the J. Millard Tawes Museum, located at 3 Ninth Street, open from May through October on Thursdays, Fridays, and Saturdays from 10 a.m. to 1 p.m. with museum tours available outside these hours by appointment. Or, take a peek into the Metompkin Seafood Company early in the morning to watch the ladies pick crabs. Then, round it all off with a trip to Smith Island Baking Company for a slice of the Eastern Shore's favorite desert.
"And don't miss an early breakfast at Gordon's over on West Main Street," Schlisler concludes. "They've been serving up great food and great stories since 1924. You have to listen closely, some of those watermen speak a language that you'd be hard pressed to identify as English. But they're all genuine folks and are eager to share their love of the Bay with visiting boaters. Be sure to ask for a genuine Coke—real Coke Syrup plus carbonated water. A Gordon's classic!" 
If feasting on crabs and listening to music is in your blood, you can't go wrong by booking a Crab Feast and Cruise at the Crab Place. Here Greg Cain and his brother Matt put together a moveable feast that starts with an all-you can eat seafood dinner onshore and then adjourns for a two-and-a-half-hour cruise on Tangier Sound while you listen to tunes and continue your Chesapeake Bay seafood bacchanal. Check crabplace.com for available dates and times.
A new edition to the culinary scene, the Fisherman's Grille, is now open at the site of the former Captain Tyler's, 923 Spruce Street. And the venerable Linton's out on Crisfield Highway is a good bet for fresh seafood and a mess of steamed crabs served in a relaxed picnic-table atmosphere.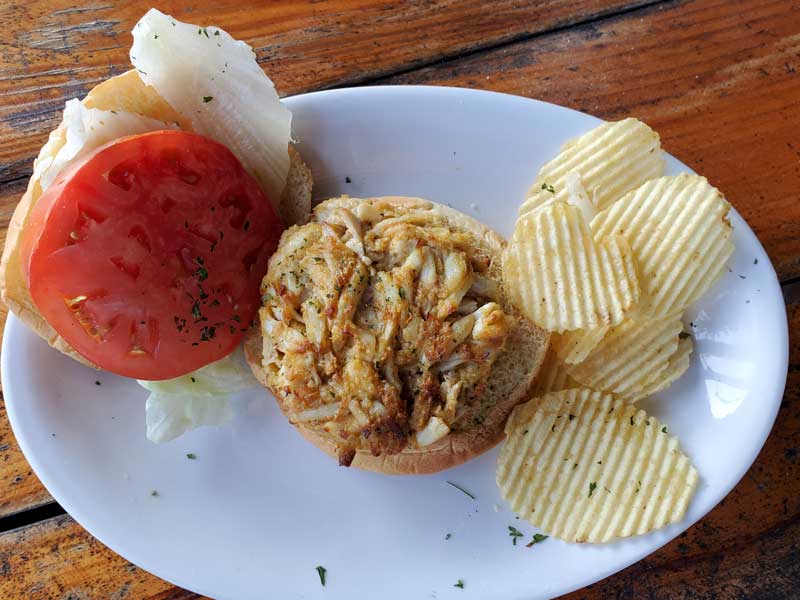 For the history buffs in your crew, just ask Schisler or the folks at the Chamber of Commerce about the heritage and watermen's tours conducted by locals in the know. Be sure to ask about the Tangier waterman who rowed to Crisfield in April of 1814 to warn of an impending British foray into town to scavenge for supplies and the audacious Somerset Countians who, finding themselves outnumbered by the marauding Red Coats, bluffed the British back into their boats by brandishing cornstalk and broomstick rifles. 
Janes Island State Park
If life in the slow lane is more to your liking, get yourself out to Janes Island State Park and rent a kayak or paddleboard. Located just outside of Crisfield on Maryland's Eastern Shore, Janes Island State Park offers visitors a unique opportunity to enjoy the beauty and bounty of the Chesapeake Bay. Within the mainland portion of the park are the campground, with 103 campsites, rental cabins, a lodge, picnic areas, pavilions, and the boat ramp and marina. 
The marina can accommodate boats up to 25 feet on a first-come, first-served basis. You must have a campsite reservation to overnight at the marina. If you want to access the area with your own boat, call (410) 968-1565 and ask about the possibility of a short-term tie-up at the kayak dock. A word of caution: the state park is an alcohol-free zone!
The park and the surrounding area have recently been designated as one of the best kayaking destinations on the East Coast. There are more than 30 miles of marked trails through the nearby salt marshes. The Park rents kayaks, standup paddleboards, and canoes but only on weekends. Crisfield Kayak and Canoes (kayakcrisfield.com) offers a number of guided tours. They will also deliver a kayak or canoe to the location of your choice if you prefer to go it alone.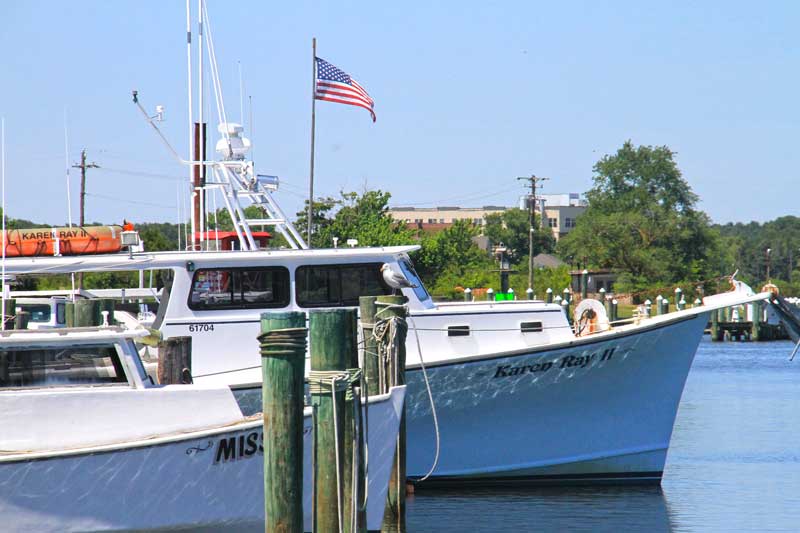 Crabs. Oysters. Great sunsets. Laid back vibe. Crisfield has it all if a trip to the Southern Bay is in your summer or fall plans.
And if you run into Crisfield booster Kim Lawson, just tell him PropTalk said to say "Hi." He'll no doubt regale you with Crisfield lore galore; just be sure to pull up a stool and be prepared to sit a spell. 
Story and Photos By Craig Ligibel