I knew my waistline was in trouble when I pitched a story about Crisfield, the Crab Capital of the World, to my editor.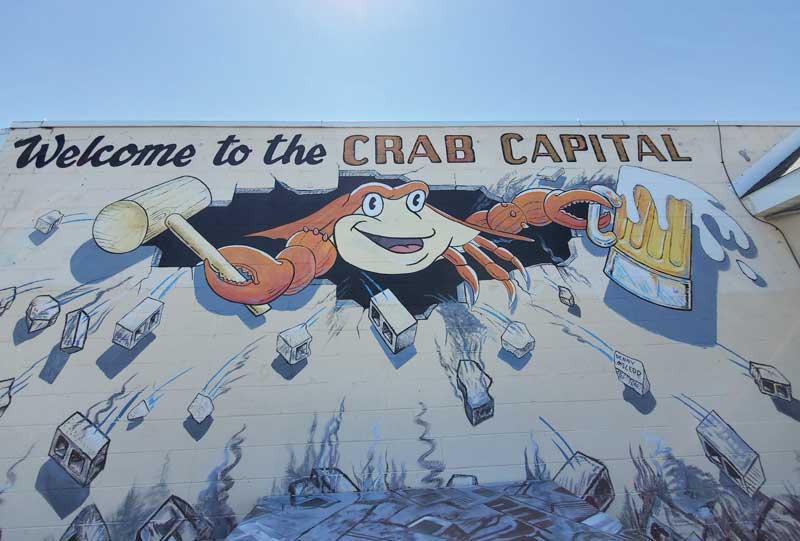 "Crabs, crabs, and more crabs," I promised.
"Go ahead. Just don't come crying to me when your shorts pop a button," she retorted.
But a funny thing happened when I was midway through my crab eating bacchanal: not only did I fall in love with Crisfield's cuisine, I also fell in love with the Crisfield spirit. Sure, there are more shuttered storefronts than the mayor and Chamber of Commerce would like to see. The 400 watermen who used to ply the waters in search of crabs and oysters now number fewer than 100. And the crab processing houses that use to line the waterfront are reduced to a handful.
But the throb of diesel engines as the remaining watermen head out before first light; the clicking of the crab picker's knives as the ladies at Metompkin Seafood start another four-hour shift; and the whoosh of the crab steam pots as the processors relieve the pressure in their 200-gallon pressure cookers… all these sounds and more reaffirm the fact that here is a town full of genuine people who have been brought up in a culture of hard work and sacrifice and to whom doing anything else, anywhere else, would just not be considered. 
Former mayor and current Chamber of Commerce spokesman Kim Lawson puts it this way: "In 1950, the population of the United States was 150 million people, and we harvested 95 million tons of crabs from the Bay. Now, we have twice the population and one third of the seafood production. Something's got to give. That makes it hard for seafood processing towns like ours to survive."
But survive Crisfield has. The self-proclaimed crab capital of the world, Crisfield has not so much reinvented itself but rather has looked at what it is known for and expanded on it.
The July Crab and Clam Bake and the Labor Day Hard Crab Derby and Boat Docking contest draw thousands of visitors to the community each year. For the Clam bake alone, 4500 guests pay $50 each to hobnob with politicos while scarfing down 300 bushels of #1 jimmies and 40,000 steamed clams.
Terry Conway is the executive chairman of the 125-year-old Handy Seafood Company which has its domestic seafood processing plant in Crisfield. Handy ships seafood products to wholesale outlets all over the United States and internationally and runs a robust online consumer business as well. Company literature touts the fact that in the past 25 years Handy employees have handmade over 200 million crabcakes.
The soft-spoken Conway, a former executive with Purdue Farms, bought the company in 1981. Since then, he and his family have become 100-percent Crisfield boosters.
"When we say we are the crab capital of the world, we mean it," Conway says. "We sit right in the center of the confluence of perfect water and temperature conditions in just the right point in the Bay where blue crabs (Callinectes sapidus) tend to congregate. The world's love affair with the crab started right here. Crisfield introduced the soft-shell crab to the world. The community pioneered crab cakes and pasteurized crab meat. Everything we do here is authentic."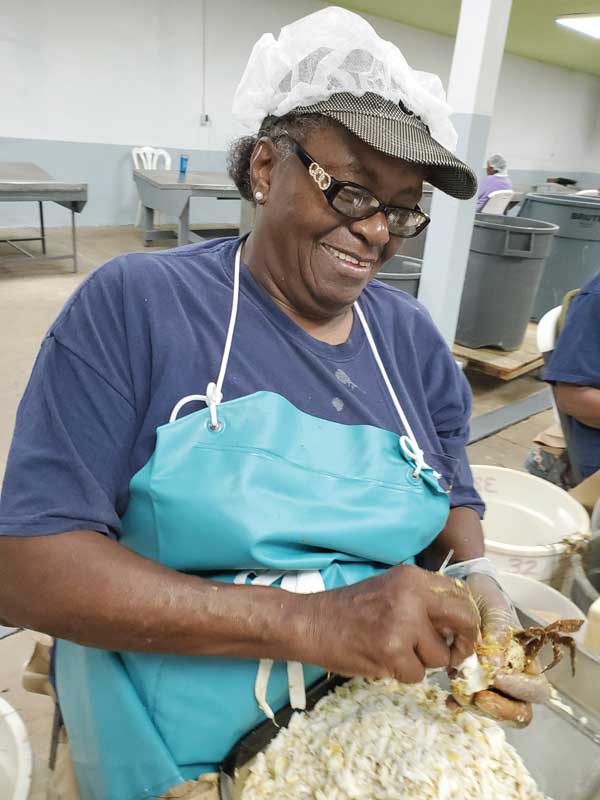 You can't get more authentic than 73-year-old crab picker Joyce Fitchett. She's been plucking savory meat out of the bodies of crustaceans since she was little. "I make a good living doing this. Wish there were more crabs and we could pick longer," she says with a smile. As a girl, Fitchett would hide under the picking tables engulfed in the folds of her mother's skirt.
Fitchett and three other crab picking ladies, all in their 70s and 80s, were hard at work seated around a stainless-steel table piled high with crustaceans. A man with a scoop shovel replenished each picker's supply. Four more tables of women filled the high-ceilinged room. 
I made a late appearance in the picking shed and had missed the "Lord's Prayer" that the ladies say together at the start of each day. But I wasn't too late to hear each woman hum a gospel tune as they quickly filled their plastic pint containers with succulent crab meat.
"I can get about three to four gallons a day if the crabs are full," says Fitchett. That translates into a little more than $50 for a long morning's work. The crab picking season runs from June to the first of November. Fitchett fondly recalls the times when she would routinely pick 15 to 18 gallons a day. "Not anymore," she says, massaging her hands that suffer from arthritis and carpel tunnel. 
Back in the day, before many homes in Crisfield had telephones, the crab houses all would let the steam out of their pressure cookers around 4 p.m. each afternoon. Each house had a distinctive whistle when the steam rushed out. The crab pickers all over town knew that when they heard those whistles, that there would be crabs to pick in the morning. 
Forty-four-year-old waterman Jody Tull is a third-generation crabber/oysterman. His son crews the boat with him. "It's a tough life, but a good life," the stocky waterman says, yellow paint from his newly refurbished crab pots speckling his shoes and clothes. "Weren't nobody could talk me out of crab potting. I've tried other ways to make a living, but I've always come back to this.
"The catch this year is looking pretty good. Up before the sun. Run out. Pull up a couple of hundred pots. Take the catch into town. Do maintenance on the pots or the boat. Go to bed early. Repeat."
Tull runs about 1000 pots. Each rig sets him back about $40. He loses about 50 to 60 pots a year to storms and powerboats.
"My GPS marks all my spots. I've been crabbing since I was four years old. Some of the places I go today are spots I would crab pot with my grandfather back then."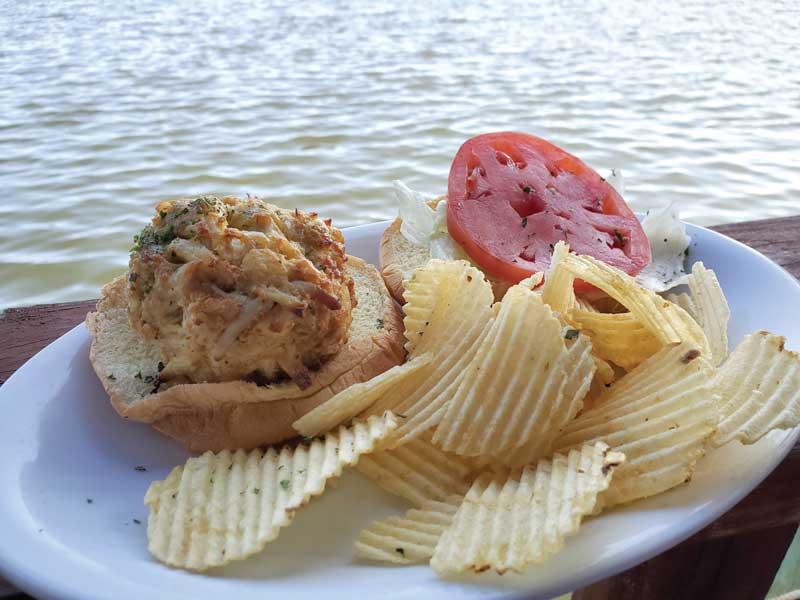 Greg Cain and his brother Matt are two Crisfield "crab-preneurs." About 25 years ago, Greg got the "crazy idea to use this new thing called the internet to sell crabs to people all over the country. Crabs and computers. People thought that was the dumbest thing there was. We were the first online business to sell a product on the internet. We've come a long way."
Today, the Crab Place processes 20,000 orders of steamed crabs annually. Their sales exceed $4 million. Their weekly "all you can eat" crab cruises, each themed with a different music genre, are a sellout. (If you want to climb onboard, pick some crabs, drink some beer, and have some fun, you've got to make a reservation. Just go to crabandcruise.com to grab a spot.)
 "Our best crabs are selling for almost $380/bushel, plus shipping," says Cain. "I know there's an upper limit to what people will pay… but we haven't hit it yet." You can order your steamed Crisfield crabs and other Crab Place offerings at crabplace.com.
Down the road near the water, Josh Todd of Metompkin Bay Seafood is in the middle of a major remodeling project as he raises the floor of his processing facility "a foot or two so we don't get flooded out as much." The plant sits on compressed oyster shells which are gradually sinking into the Bay.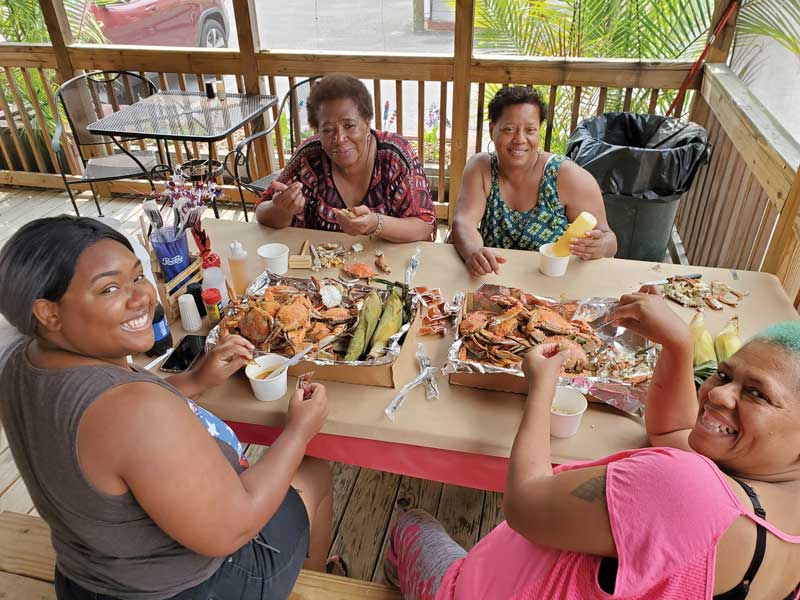 Todd and his family have been in the crabmeat and soft-shell crab business since 1945. They provide product primarily to East Coast distributors. He credits the longevity of his business to sticking to the basics. "Back 20 years ago, there were seven crab houses doing what we do. Now, there's only us," he says.
Visitors who want some fresh soft shells can stop by the processing shed and pick up a case or two. The line out back where the crabs are sorted and placed in straw-lined boxes, ready for shipment, runs like clockwork. 
One of my last stops was the kitchen of Watermen's Inn Restaurant's owner and classically trained chef, Brian Julian. There, we fried up a mess of soft-shell crabs with a simple side of steamed veggies and washed it all down with a nice chardonnay.
Julian has been a fixture of the Crisfield dining scene since 1988. That's when he renovated an old storefront and started serving some of the best seafood you can find anywhere on the Bay.
"It's a good life here in Crisfield, "Julian says. "I had done the New York thing. Too much stress. Here, we can go out sailing in the morning and come back and get ready for the dinner crowd."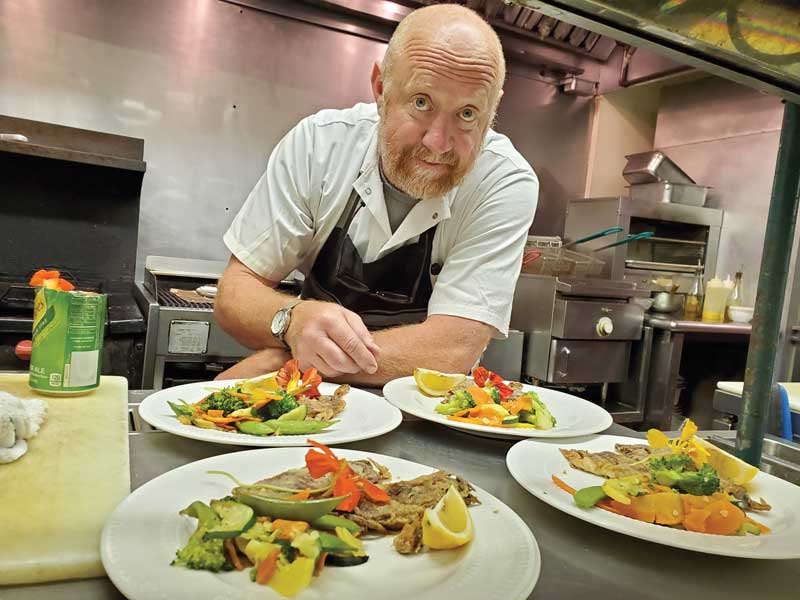 Mary Taylor runs the 550-slip Somers Cove Marina. They have 100 transient slips. Rates start at $1.75/foot but can be discounted depending on the length of your stay. There's a tiki bar with music on site and a nice playground area for kids. It's a stone's throw from downtown.
Visiting boaters can walk, bike, or take a golf cart into town. There is no Uber service. Taylor says if you make arrangements ahead of time, the staff will transport small groups to nearby eateries for dinner and bring them home when they are finished. 
"We have plenty of water at the docks, and the approach holds eight to 10 feet all the way in," Taylor says. "We generally have space for transients, but if you're coming in for either the Clam Bake or the Hard Crab Derby, you should call ahead for a slip."
Taylor recommends a stop at the Crisfield Heritage Foundation on Ninth Street as well as hopping aboard a tour ferry to visit nearby Smith and Tangier Islands. And, there's always a stop at Smith Island Cakes on Chesapeake Avenue. 
Okay, okay, so, what's the calorie count of my two days in Crisfield? Hard to tell.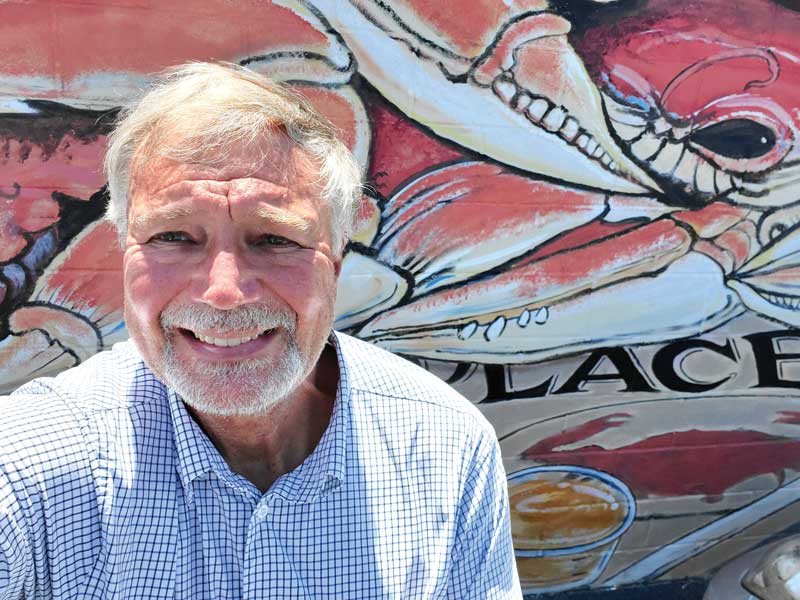 But I can recommend…
The crab pretzels at Bubby's wing shack with extra lump crab meat nestled between a creamy crab spread and a heaping layer of cheese.
The dinner-size crab cake at Captain Tyler's by the water: all crab, no filler.
Steamed crabs at Linton's; I pushed away at six. 
Pan fried soft-shells at the Waterman's Inn (see above!)
Three egg crab omelet at The Gathering Place: the breakfast place. 
Tahitian Vanilla Bean ice cream from Smith Island Cakes. (I bought a cake and fudge to take home to my family.)
The good news is… I can still manage to fit into my clothes. 
By Craig Ligibel