About 35 million years ago, give or take a millennium, all "eyes" were on what is now Cape Charles, Virginia, as a two-mile-wide meteor crashed into the earth. The nation's largest asteroid sent a tsunami wave as far west as the Blue Ridge Mountains and dug a crater 56 miles wide and thousands of feet deep. That collision helped create the Chesapeake Bay, coaxing rivers like the Potomac and Rappahannock to flow southeast, and disrupting groundwater aquifers in Virginia's tidewater communities still to this day. Sediment and water would soon fill in the Chesapeake Bay Impact Crater and hide it from view until it was discovered in 1999.
While the hidden crater may be Cape Charles's geologic novelty, the revitalized business district and rebuilt town harbor are attracting today's boaters and tourists. A decade ago, the town used state (really commonwealth) funds to rebuild the docks in the harbor, stipulating that 30-40 percent of the slips would have to be for transient boaters. "We have always been a commercial fishing port," says Harbormaster Matt Outland. "And with the nearby concrete plant, have always had lots of boat and barge traffic. But with a large percentage of our slips reserved for transients, we're now seeing a huge number of boaters."
The new docks are just one of the attractions for boaters to Cape Charles. This past year, the town contracted with the Cape Charles Yachting Center (on the harbor's southside) to manage the town's facilities on the northside. Boaters can easily reserve a slip at either location, both online (capecharlesharbor.com) or by calling the harbormaster at (757) 331-2357. "I'm a people person and encourage boaters to call me directly so I can better understand their needs," says Outland. "Our sunsets are so spectacular that often boaters request a slip that gives them a good view. I always try to make that happen."
Cape Charles Harbor has 36 fixed docks and 78 floating ones. The facility can accommodate boats up to 175 feet long and has slips as long as 60 feet. Outland explains that 2021 has been his busiest season ever and that boaters need to reserve slips early. Anchoring is not allowed in the harbor, so docking is the only option for those wishing to stay in town.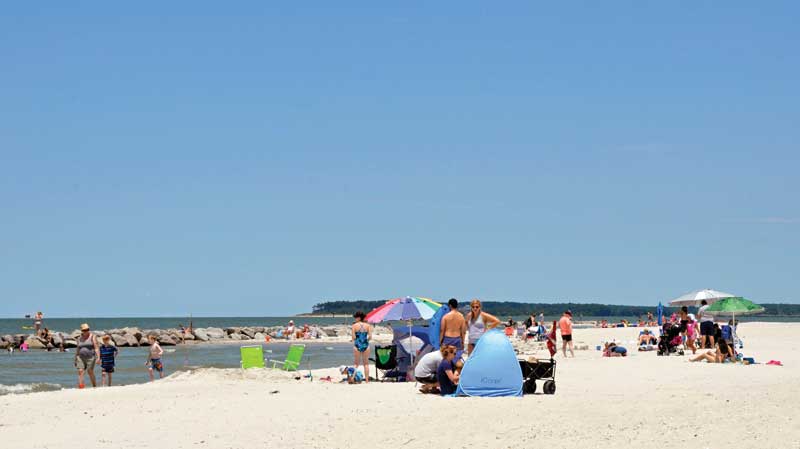 The new harbor facilities were not the only improvements the town has made in the past decade. Visitors once had to cross a dozen sets of railroad tracks to get to town—a town with plenty of boarded-up homes and storefronts. The reclaimed railyard is now park-like, and the main street is beckoning with new restaurants, stores, and lodging.
The highly regarded Ambrogia Caffe is an "intimate little spot" that serves northern Italian cuisine. Run by restaurateur Cristina Carollo who once worked as an oceanographer, Ambrogia is named after her Italian mother who taught her to cook dishes that had been in the family for generations. The restaurant encourages people to make reservations early, either online or by calling directly (757) 607-3026.
Hook @ Harvey is another popular eatery featuring fine, casual dining and those spectacular Cape Charles sunsets. Located right on the harbor's southside, the restaurant specializes in locally sourced seafood and produce, serving such specialties as honey rubbed rack of lamb, spicy Ahi tuna sashimi, and of course, Chesapeake crab cakes. Open Tuesday through Saturday for dinner only, they strongly suggest reservations at hookatharvey.com.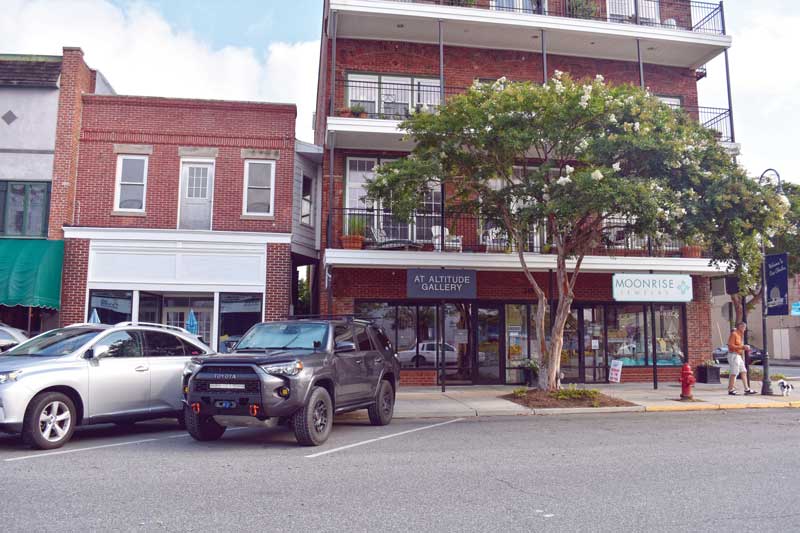 Some places remain eternal, however. The Brown Dog Ice Cream Shop has long attracted lines of hungry ice cream seekers and the Shanty Restaurant, right on the town docks, has been a favorite of boaters and tourists for years.
For those visitors wishing to bring a bit of Cape Charles home, the Gull Hummock Gourmet Market on Mason Avenue offers a wide selection of wines from around the world, as well as locally roasted coffee and gourmet chocolates. And if beer is more to your liking, the Cape Charles Brewing Company offers everything from Tangier Island Double IPA to Smith Island Oyster Stout. Their tasting room menu will keep you sated with pub food while you listen to live music on Friday nights.
A tour through Cape Charles wouldn't be complete without a visit to At Altitude Art Gallery. It showcases the work of artist Gordon Campbell who specializes in photographing the Eastern Shore from his ultralight plane called a Dragonfly. His video segments have been featured on local PBS stations and many of his images are available for sale.
Even though Cape Charles is a compact little town, it continues to expand and grow. So, if you get tired of exploring on foot, check out one of the golf cart rental companies there—like Eastern Shore Custom Carts. They can be rented for about $50 per day and greatly expand your "cruising territory."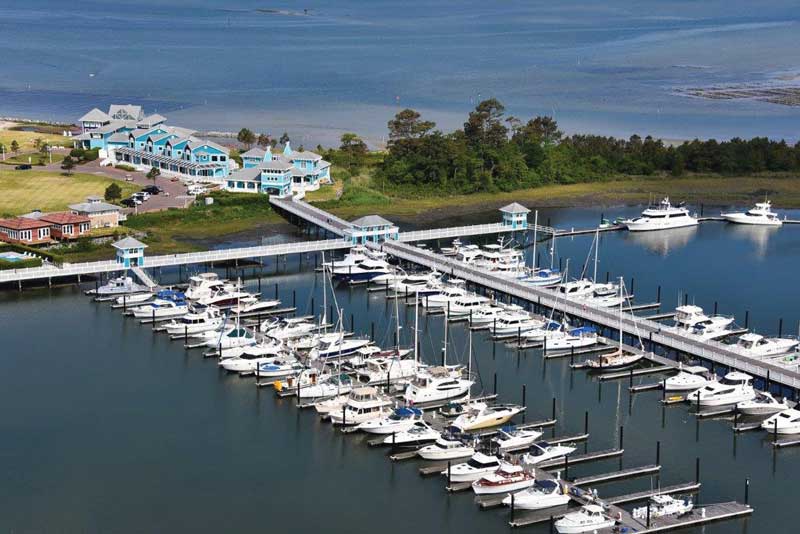 Finally, if you have your heart set on visiting Cape Charles and all the town slips are taken, there is one other option. The Oyster Farm at Kings Creek resort features an upscale marina complete with pool, laundry, and fishing boat charters. Located less than one nautical mile north of the town harbor, the approach there is marked by private aids. The channel gets shallow so best come in on a rising tide. The resort includes the full-service Seafood Eatery and features luxury villa accommodations if you want to spend a few days off the boat. 
During the summer months, Cape Charles's magnificent beach is a big draw for tourists. But even in the fall and winter, locals and visitors alike walk to its sands to enjoy a late afternoon picnic or glass of wine. They'll bundle up against the brisk winds that blow at the southern tip of Virginia's Eastern Shore and marvel at those magnificent sunsets that never disappoint. 
By Karen Soule