In the June issue of PropTalk, we highlighted certain locales around the Bay perfect for day and weekend excursions. Here we've highlighted two Lower Bay favorites. For Middle Bay favorites, click here.
Summer Days in Solomons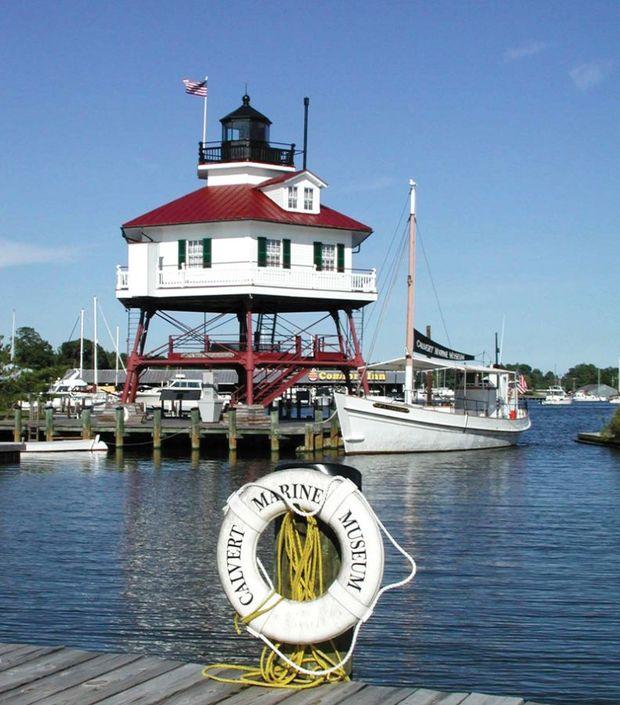 Some boaters visit Solomons for the seafood along Main Street or the availability of small fishing boats for rent (bunkyscharterboats.com) or good fishing charters (fishsolomons.com). Others visit because they like marinas with great amenities and a pool, such as Zahniser's Yacht Center or Solomons Yachting Center. But there's one place in Solomons we here at PropTalk think you should have on your list at least once every season: the Calvert Marine Museum (CMM).
CMM's calendar is jam-packed with community events, festivals, boatbuilding, children's activities, standing and visiting exhibits, boat tours, and big-name outdoor concerts in the PNC Outdoor Pavilion—as in Steve Miller Band and Peter Frampton June 28! Thomas Rhett and the Cadillac Three play on July 14, and Brothers Osborne and Tucker Beathard finish the summer concert series on August 25. (Ticket prices vary from $35 to $350 for VIP packages depending on the musician.) If a quieter museum experience is what you seek, don't worry; there are plenty of quieter hours to explore the standing exhibits or Drum Point and Cove Point Lighthouses and maybe take a one-hour river cruise on the sailing bugeye turned powered buy-boat Wm. B. Tennison.
If you're the kind of visiting boater who doesn't like to have any plans, Solomons is great for that, too. You can grab a coffee or sandwich at the Lotus Café on Main Street, sit on the shaded porch, and watch the world pass by. If you like to shop, there are interesting shops and galleries to peruse. If you like a good crab cake, just ask one of the shop owners or your ship store staff for recommendations. It's a small, friendly town that aims to please and takes to heart its Coastal Living Magazine's vote as one of the country's "happiest seaside towns."
Cape Charles Sunsets and a Party!
If you like laid-back towns with some of the best sunsets on the Chesapeake Bay, you're going to love Cape Charles, VA. Located near the tip of the Delmarva Peninsula, Cape Charles stands near the eastern entrance to the Chesapeake Bay as the southernmost town on the Eastern Shore. First developed in the 1880s and a bustling railroad town through the 1950s, Cape Charles has experienced a renaissance in recent years. Its historic buildings now house restaurants, shops, and an old-fashioned soda fountain. The town harbor marina maintains plenty of well-kept floating docks, a fuel dock, a pump-out facility, and the popular on-site seafood restaurant The Shanty.
Nearby, the brand new Cape Charles Yacht Center has full amenities (such as access to the Bay Creek golf course, beach club, and pool) and slips big enough to accommodate boats up to megayacht size, which makes it an ideal location for transient ICW and bluewater cruisers. A mile north, along on Kings Creek, boaters can also find amenities and a waterfront restaurant at the Oyster Farm Marina at Kings Creek. You might want to put August 4 on your calendar as a great time to visit for the annual Shuck-n-Suck Oyster Festival at the Oyster Farm Marina, which features a steamed clam-eating contest, live music, skiff races, boat docking contests, and fireworks.