Calvert Cliffs State Park in Lusby, located six miles north of Solomons, MD, is a must-see Bay destination, millions of years in the making.
The "Shark man" of Calvert County, Douggie Douglass, has been combing the rocky shoreline below the iconic Calvert Cliffs since he was seven years old. "I'm out on the beach two or three times a week," the 66-year-old Lusby, MD, native tells PropTalk. "I've found thousands of fossils of all shapes and sizes. Man' o man… I would have liked to have been around six million years ago when those giant sharks were out there in the water. Imagine a shark 50 or 60 feet long with three rows of teeth top and bottom… whooie! Sure wouldn't want to get crossways with him!"
Douglass combs the cliffs and beaches around them year 'round. "I wade out until I'm knee deep in the water. Best hunting is after a storm. Lots more people here now. These cliffs used to be a secret. Now, they're the fossil capital of Maryland!"
Douglass sells megaladon teeth—even megaladon necklaces—out of the back of his truck, which most days is parked across from the entrance to Calvert Cliffs State Park. Prime specimens go for upwards of several hundred dollars.
The animal the seasoned fossil-hound is describing is the otodus megaladon, commonly referred to as a Megalodon. It has been extinct for at least three-and-a-half million years. The name megaladon means "big tooth."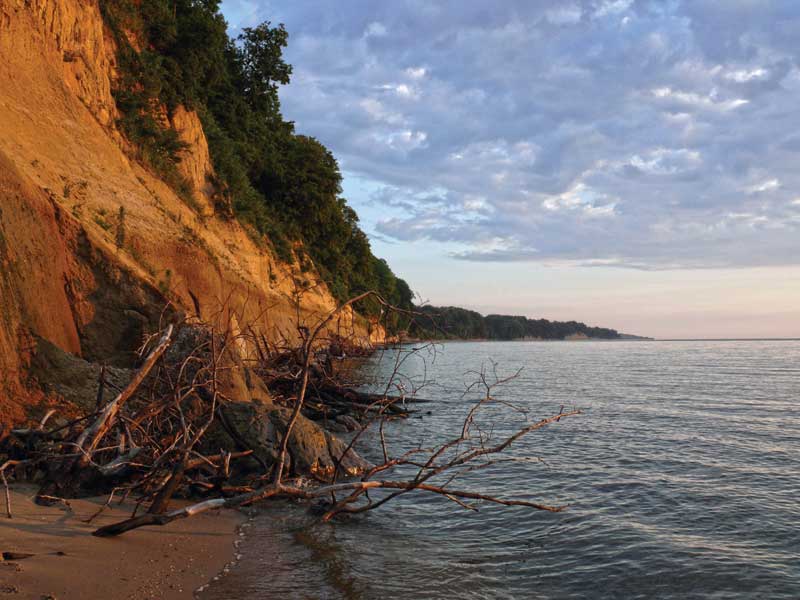 But even today evidence of its existence in the waters of what is now the Chesapeake Bay can be found embedded in the Calvert Cliffs or scattered along the pebbly shoreline in a 35-mile stretch of beach located south from the area of Chesapeake Beach in northern Calvert County to Drum Point at the southern end of the county. Three geologic formations of the Miocene age (approximately six to 20 million years old) are exposed in Calvert Cliffs. The layers of sediment are inclined slightly to the south so that progressively younger beds are exposed from north to south along the cliffs. The oldest is the Calvert Formation on the northern end, progressing to the younger Choptank Formation and finally the youngest St. Mary's Formation in the southern part.
The lure of finding giant megalodon shark teeth draws hundreds of fledgling fossil hounds to this western shore location each year. "People just keep coming," says Douggie. "There's always something to find—little shark's teeth, big shark's teeth, dolphin skulls, even diamond rings!"
Calvert Cliffs and the state park that bears their name are in a stretch of Chesapeake Bay shoreline between the Calvert Cliffs Nuclear Power plant to the north and the Dominion Cove Point LNG Plant and offshore loading facility to the south. Mariners need to be aware of restrictions entering these waters.
Calvert Marine Museum
Five miles south of the Cliffs, the Calvert Marine Museum (CMM) in Solomons, MD, prides itself on its collection of shark's teeth as well as thousands of other fossils from the Miocene period that were once encapsulated in the towering cliffs.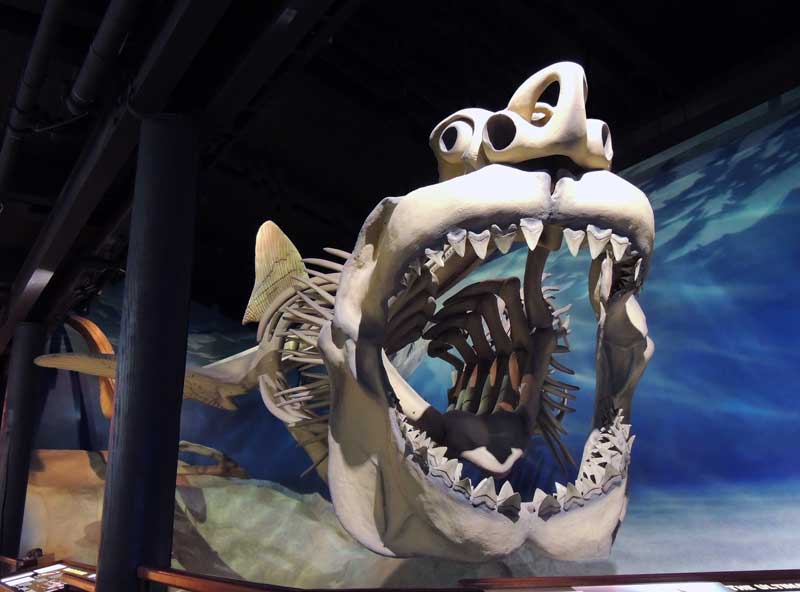 Dr. Stephen Godfrey has been the Curator of Paleontology at the museum since 1998. "We have more than 100,000 fossil specimens in the collection," the 62-year-old paleontologist says. "Even though our display spaces are significant, we only have room for less than one percent of our fossils to be out for people to see."
A life-size, 37-foot replica of a giant megalodon greets visitors as they enter the 27,000-square foot gallery. "Because a shark's body is composed of cartilage, no skeletons of the megalodon exist. To construct our replica, we extrapolated dimensions from a 20-foot great white shark and projected what an animal 50-percent larger would look like. What we know for sure is that the megalodon's jaws and three rows of three- to four-inch-tall teeth are its defining feature. These fellows were apex predators, eating the equivalent of a full-grown cow each day to sustain their metabolism."
Three years ago, the sci-fi movie "The Meg" painted an exaggerated picture of a megalodon which threatened a fictional undersea expedition. "I had to laugh at some of the scenes," says Godfrey. "But overall, I found the movie entertaining even though a lot of it wasn't based on science. I would love to go back in time and see what these big sharks really looked like and how they behaved. Reports about the real-life existence of a 21st century megalodon are totally false."
Visitors to the Calvert Cliffs and the Calvert Marine Museum are transported back in time to the Miocene Era, approximately 23 million years ago.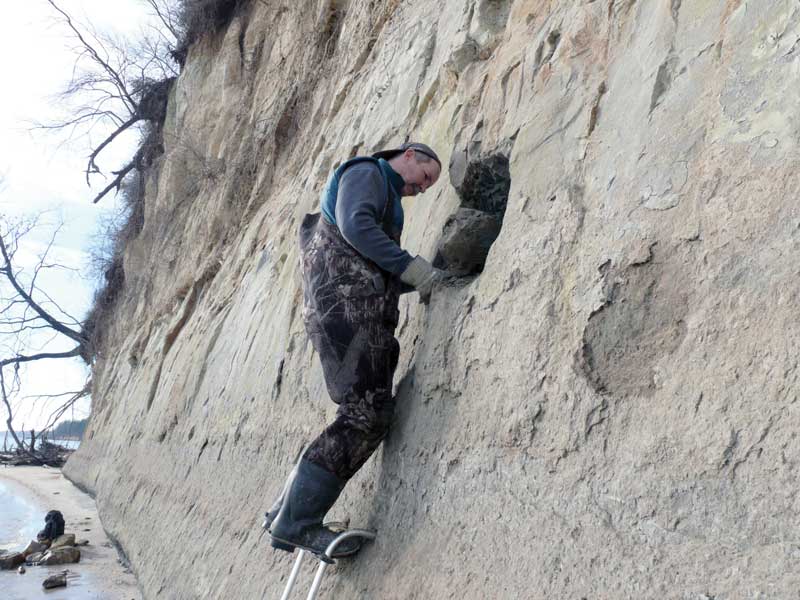 At that time, much of the Atlantic coastline was underwater in a shallow sea reaching inland as far as Washington, DC. The Chesapeake Bay had yet to be formed. Water temperatures were about seven to 10 degrees warmer than today. "This was an ideal environment for marine life to develop. There were hundreds of marine animals existent… only a handful of which survive today," says the museum's curator. 
Godfrey goes on to explain that as the water level rose and fell, the result of the natural cycle of global warming and cooling, remains of this abundant sea life were deposited in the area we now call the Calvert Cliffs. "We can look at the cliff and determine approximate dates for each layer we can identify. The deposits of fossils that we have uncovered date back to as far as 10-15 million years ago. The higher the sediment layer, the "younger" the fossils tend to be. What makes the cliffs special is that natural erosion continually exposes new specimens."
Godfrey takes a long view of climate change. "The earth has been warming and cooling for millions of years. Ice caps freeze and melt. Water levels rise. And fall. Species go extinct. Species evolve. Life on earth is complex. My work helps preserve the past and give us hints of the future."
It is this continual uncovering of fossils of all shapes and sizes that provides the incentive for fossil hunters to explore the beaches below the cliffs.
The Shark Man agrees. "The best time to hunt for fossils is after a storm. Erosion exposes specimens in the cliffs, and wave action brings up some from the shore."
Immerse Yourself in the Miocene Period
There are a number of ways to immerse yourself in the mysteries of what our Bay was like millions of years ago. One way is to explore the cliffs by boat. Just cruising by from the shoreline gives you a good overview of the majesty of the Calvert Cliffs area.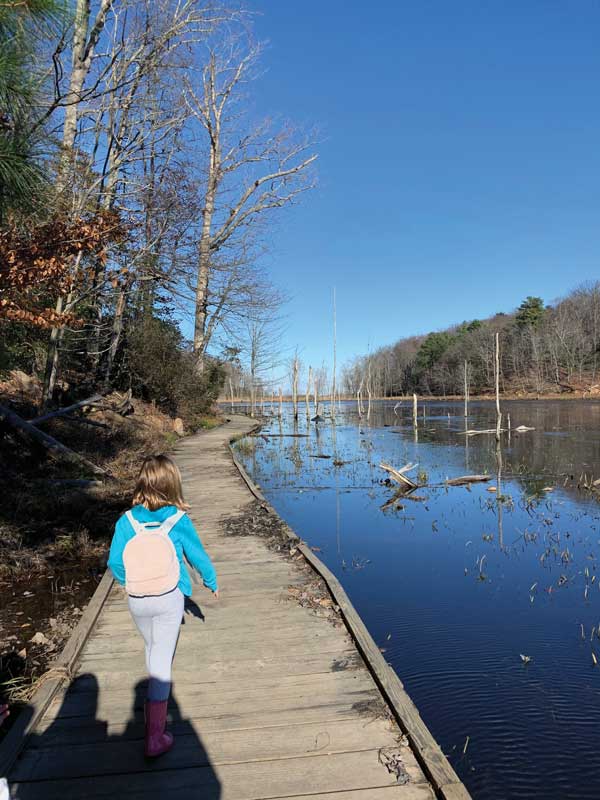 More adventurous boaters may choose to drop the hook some distance from shore and kayak or dinghy in for an up-close and personal exploration. Both Dr. Godfrey and Douglass caution about tenuous holding and a rocky shoreline. Park area manager Danny Jones discourages such an approach. "People sure can anchor well off the shoreline and come in by small boat, but they need to be aware of the No Go Security Zone that fronts the Calvert Cliffs Nuclear Power Point. Just last week, some folks wandered onto the beach there and were promptly met with gun-toting security forces. Best for people to check into the park by land and walk to the beach. The cliffs themselves are cordoned off. Too much danger with erosion."
Another way to hunt for fossils is to enter the area though the Calvert Cliffs State Park accessible by car just off Route 2 north of Lusby. A three-and-a-half-mile walking circuit leads you from the parking lot to the water's edge. It is an easy walk along a well-maintained path. My daughter, Katie Grey, and her daughters Caroline (seven) and Emmy (10) made the trek last spring. "We didn't find any big shark's teeth," Katie told me, "but the girls had a good time sifting the sand for little shells." The park is open from dawn to dusk year-round. There is a $5 charge per vehicle. Visitors are invited to search for shell and fossils on the beach. They are prohibited from digging into the cliffs to retrieve a specimen.
The most complete experience would be to boat down to the Calvert Marine Museum, take a slip at a nearby marina, and then spend a couple of hours touring the Paleontology Gallery. To cap off your trip, make prior arrangements to accompany museum staff on a guided "dig" to nearby Cove Point. "We offer these guided trips several times during the year," says Dr. Godfrey. Contact Melissa McCormick at (410) 326-2042, ext. 8083 or [email protected] for information.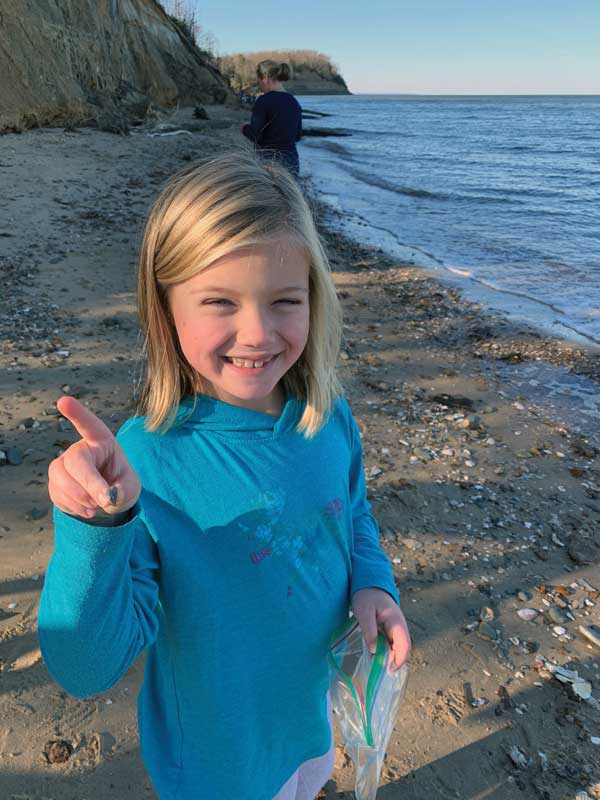 As a young boy growing up in Québec, Dr. Godfrey was "fascinated by skeletons of animals I found in the woods. My room was filled with dead creatures. My mother tolerated my addiction. Later, I went to university where I leveraged my love of collecting with my search for how animals were put together. This led me to paleontology and my career at the Calvert Marine Museum."
Dr. Godfrey says that his work at the museum "helps fossils tell their stories. Some of what we do in excavation of fossils is backbreaking work. And some is time sensitive. If a fossil is uncovered by a storm, we need to act quickly to excavate it with small tools and then encapsulate it in plaster of Paris… before the next storm or high tide wipes away all our work."
Dr. Godfrey says that anyone finding what they think is an unusual fossil at Calvert Cliffs should not move it, but rather record the GPS coordinates and then let the museum know of your discovery so that they can place it in time relative to where it was found. Dr. Godfrey can be reached at: (443) 624-7610 or at [email protected].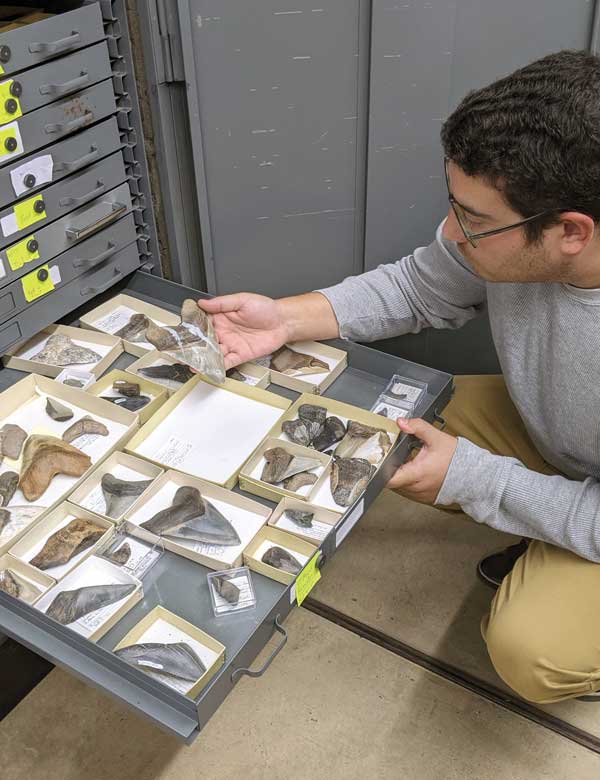 Where to Find Fossils:
1) Bay Front Park (formerly known as Brownie's Beach) is located south of the town of Chesapeake Beach on MD Rt. 261. Limited parking is available. Open daily, year-round. Fee charged Memorial Day through Labor Day. Tel: (301) 855-8398 or (410) 257-2230.
NOTE: Access currently restricted to Chesapeake Beach residents only.
2) Breezy Point Beach is located at the end of Breezy Point Road just off MD Rt. 261. Open daily from April 15 to October 15. Fee. Tel: (410) 535-0259.
3) Matoaka Beach Cabins is located just east of St. Leonard on Calvert Beach Road. Open daily, year-round. Fee. Tel: (410) 586-0269.
4) Flag Ponds Nature Park is located 10 miles north of Solomons on MD Rt. 4. Open daily Memorial Day through Labor Day and open weekends Labor Day through Memorial Day. Fee. Tel: (410) 586-1477 (direct line) or (410) 535-5327 (reservations, groups).
5) Calvert Cliffs State Park is located six miles north of Solomons on MD Rt. 4. It has nature trails through a wooded park leading to the beach. The beach is a two-mile hike from where you park your vehicle. Open daily, year-round. Tel: (443) 975-4360
WARNING!
Digging in the cliffs is dangerous and prohibited on all state and federal lands. On private land, permission must be obtained from the owner before digging. If you see a skull, bone, or unusual fossil in the cliffs, please report it to the Calvert Marine Museum. The museum appreciates getting this information and, if justified by the importance of the find, will obtain the necessary permission and have trained personnel collect the specimen, giving full credit to the finder.
By Craig Ligibel