There's much more to the quiet town at the mouth of the Patuxent River than meets the eye upon your first drive down Main Street. Solomons Island, which sits on the southern tip of Calvert County at the mouth of the Patuxent River, has been known as Bourne's Island, Somervell's Island, and Sandy Island. In 1865, an 80-acre tract of land was sold to Isaac Solomon. A causeway connected it to the mainland in 1870, and in time, as the town grew beyond the island into the land surrounding Back Creek, and perhaps with some help from the U.S. Postal Service (confusing Maryland grammarians who question missing apostrophes), it's now most commonly referred to as Solomons.

Anyone who enters Solomons by boat would be wise to check his or her nautical chart first and keep it handy, as there are a couple of shoals to avoid, but they are well-marked. Transient boaters have no shortage of very nice marinas to choose from: Zahniser's Yacht Center, Solomons Yachting Center, Calvert Marina, or Spring Cove Marina among others. There are two Mill Creeks in Solomons (one in town, one across the Patuxent River). Both have ample anchoring space for those who prefer the privacy of anchoring and taking a dinghy into town to explore.
Here are seven reasons to stay in Solomons for more than one day.
1. Strolling and riding around. The top marinas are walkable to town, and some offer bikes for slipholders. If you like to stroll or cycle around an attractive town—with a long, flat promenade along the river—and meet the locals, have an ice cream cone or a beer, maybe catch a fish under the big bridge, this is your place.
2. A relaxing vibe. When Coastal Living Magazine voted Solomons one of its 15 happiest seaside towns, no locals were surprised. Solomons prides itself on its blend of interesting, worldly residents (the Patuxent Naval Air Base is nearby), southern Maryland hospitality, and a relaxed state that appeals to vacationers. Any place that offers boat rentals and ice cream at the same place on the main drag is okay by PropTalk.
3. The Museum. If you love boats and waterfront life, don't skip it. The Calvert Marine Museum's (CMM) calendar is jam-packed with community events, boatbuilding, children's activities, standing and visiting exhibits, boat tours, and big-name outdoor concerts. If you've never been to this gem of a facility, we guarantee that after your first visit, you will say, "What took me so long?"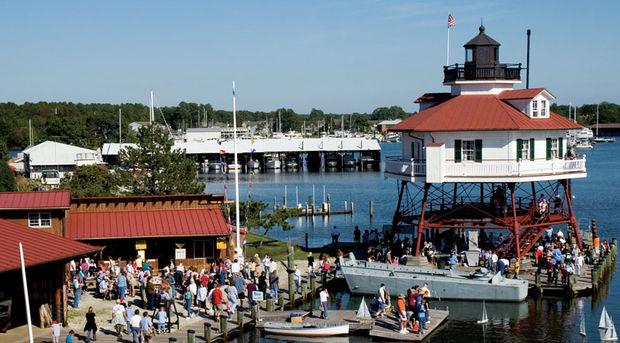 4. Key lime pie. A dessert native to Key West may seem a weird thing to travel to Solomons for, but if you visit the Lotus Kitchen on Main Street, you'll see why it's a favorite for healthy food, good coffee, and Kim's Key lime pie, all with a water view. The café features live music and interesting local artwork. We've also tasted excellent Key lime pie at the CD Café, also on Main Street, a must-visit for foodies.
5. Quiet anchorages. For those ready to peace out, "There are wonderful quiet anchorages nearby," notes local captain and Sail Solomons owner, Jeff Carlsen. His favorite is Cuckold Creek, two creeks north of the other Mill Creek, north of the bridge on your left. He suggests staying to the middle of the creek because of the sand bar. To the south you'll find Myrtle Point Park and to the north, Greenwell State Park; both make this creek a destination for family cruisers seeking hiking trails. St. Leonard Creek and farther up the river, Battle Creek, score high points among cruisers.
6. Sharks' teeth. If you're leaving Solomons by car (as there is no boating access for these parks), find Calvert Cliffs State Park and Flag Ponds Nature Park, where you can search for fossilized sharks' teeth, pieces of ancient scallop and whelk shells, and corals.
7. The Taste of Solomons. The Solomons Business Association will host the Taste of Solomons on Saturday, March 25. New tastes abound in the historic Solomons Town Center as restaurants showcase selected food and beverages during the one-day food festival, from 11 a.m. to 4 p.m. Tickets cost $4 each and may be purchased at The Island Hideaway or any of the participating businesses (see solomonsmaryland.com). The event benefits the Solomons Business Association's annual July Fourth Fireworks Display. For more details, call Chris Donaldson (443) 722-5955 or Charles Chappell (240) 577-1002 of The Island Hideaway.
Getting on the Water in Solomons
You don't have to bring your own boat. In Solomons you have options for exploring the river and beyond:
Want to go fishing? Find charter captains for groups: Fish Solomons or Marli Sportfishing.
Want to rent a boat? Bunky's Charter Boats rents 16- to 18-footers, as well as Waverunners, standup paddleboards, and kayaks. Find the office on Main Street. You may also rent kayaks and SUPs at Pax Adventure Center.
Want to take a boat ride? Do a tour on a Chesapeake Bay workboat - the bugeye Wm B. Tennison or skipjack Dee of St. Mary's - through the Calvert Marine Museum. You may also take a sunset cruise through Bunky's.