Annapolis has no shortage of restaurants that serve oysters, but what if you're looking for a local supplier where you can buy right from the source? This oyster lover went on the hunt for just yet.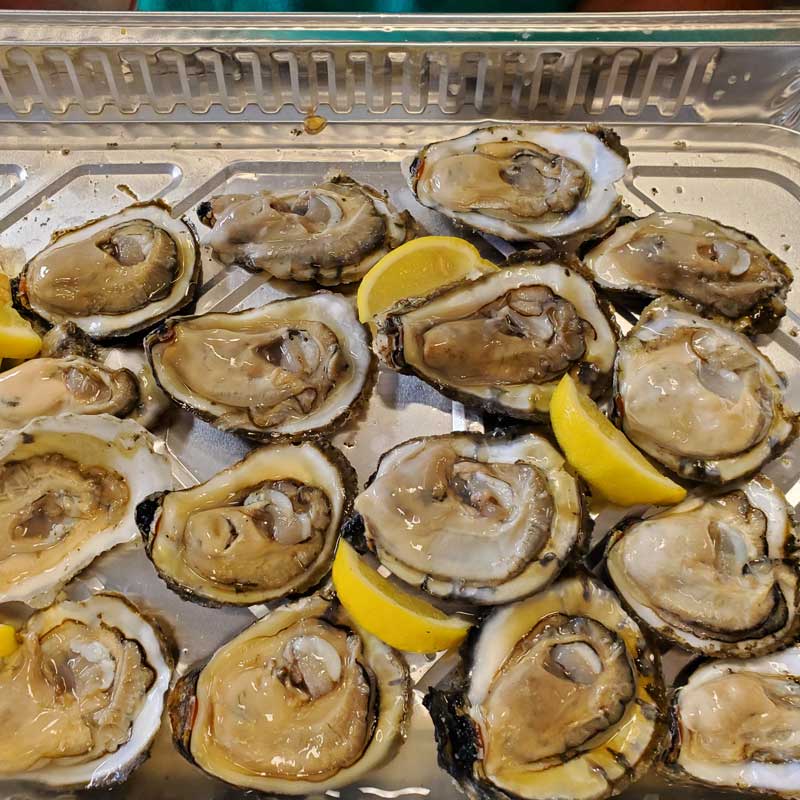 When the Annapolis Seafood Market on Forest Drive abruptly closed its doors on May 15, 2022, many seafood lovers were in shock. How could an Annapolis institution that had sold fresh seafood along with steamed crabs, boiled shrimp, and mouthwatering fish sandwiches for over 44 years suddenly disappear from the landscape? 
Today, more than a year later, speculation about labor shortages, long hours, and too much business to handle are all possible reasons for the company's demise.
No more stops to buy shrimp. No more oysters that you'd have to dig out of the ice to find the best ones. No more friendly banter with the market's voluble staff.
As an ostrephile (oyster lover) with a dozen-a-week habit, I immediately set about trying to find a reliable source of local oysters that was both consistent in availability and reasonable in price. Bear in mind, there's no shortage of Annapolis and area restaurants that serve up a tempting variety of fresh shucked, raw, or baked bivalves.
Close to Home
The Market House offers Blue Points from Connecticut for $3.50 each; Middletons Tavern's famous oyster shooter goes for $4.95; Mike's Crab house on the South River sells a dozen locals for about $2 each. Baked oysters at the Choptank Restaurant include appetizer sizes of Oysters Rockefeller and crab and chili crusted oysters for $19; and the Boatyard Bar and Grill has been a staple for oyster lovers for years with generally five oyster brands on ice including Wellfleets from Cape Cod, Patty's Fatty's and Chincoteagues from the Bay, Raspberry Points from Canada's Prince Edward Island, and Henderson Bays from Washington State. Prices range from $2.25 each for locals to $3.75 for the more exotic. 
But for the home shucker like me who likes to serve up a couple dozen oysters either raw on the half shell or baked on the grill with a variety of accouterments and sauces, the options to walk into a seafood purveyor and walk out with enough oysters to feed a crowd are limited. Some local sources are good… but are constrained by the season and oyster harvesting methods.
Ryan Mould's at the Riva Market and Zang's Farm Stand in Harwood is a good seasonal choice. Because these oysters are wild caught, they are only available starting October 1. The oyster beds Ryan frequents are in the Shady Side area of the Bay and as far south as Solomons Island. The 34-year-old has been oystering most of his life. He catches the seafood; his mother handles the sales. Check out his Facebook page @RyanMouldsFreshCrabs. Don't want to fight the crowds at the market? Call or text (443) 822-9913 to order your oysters and pick them up at your convenience. Prices start at $10 per dozen.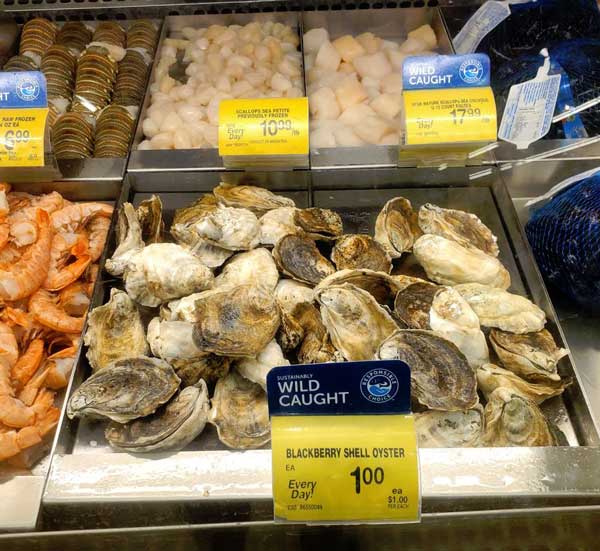 I have never been disappointed in the oysters I buy at Mayo Road's Chesapeake Seafood Market. Depending on the time of year, offerings include local Bay oysters or Chincoteague's for about $12/dozen. Recently manager Tim Fath has been sourcing salty Canadian Malpeque oysters to fill in the gaps caused by local supply. "When the Bay waters heat up, I like to go north to get a quality oyster I can sell with confidence," he says. Chesapeake Seafood has been serving up oysters and a variety of seafood for over 20 years. Fath says he's seen an uptick in business since the Annapolis Seafood Market closed. "Folks who are really into oysters can stop by and we can order most anything they want," he says.
Whole Foods Annapolis sells a variety of oysters including the farm-raised Rappahannock Oyster Company's River Oysters which go for around $2 each. 
As an oyster aficionado I have been known to ship in oysters from two well-known Virginia oyster farms: the aforementioned Rappahannock Oyster Company and the lesser-known White Stone Oyster Company. I have visited both of their operations and have in the past ordered oysters from both. In each case, the oysters arrive in cold packs within two days of ordering. Prices for any of the Rappahannock oyster brands are $1 each plus shipping. A starter pack of 100 White Stone oysters goes for $145 plus shipping. Bay oyster eaters will immediately notice the deep cups of these cage-grown oysters. Both companies sell several types, each well worth exploring. 
The Little Wicomico Oyster Company
Closer to home, I have recently been enjoying Blackberry oysters from the Little Wicomico Oyster Company in Heathsville, VA. I find these sweet little jewels at none other than my local Safeway on Forest Drive. Intrigued by the uniformity, clean finish of the shells, and consistently slurp-worthy quality of the oysters from Little Wicomico, I journeyed down US 301 and then took a number of backroads state routes to tour the operation and speak with owner Myles Cockrell and Dr. Lynton Land, a local grower who has lent his expertise to the Little Wicomico Oyster Company and other fledgling oyster farmers in helping them set up their oyster farming operations.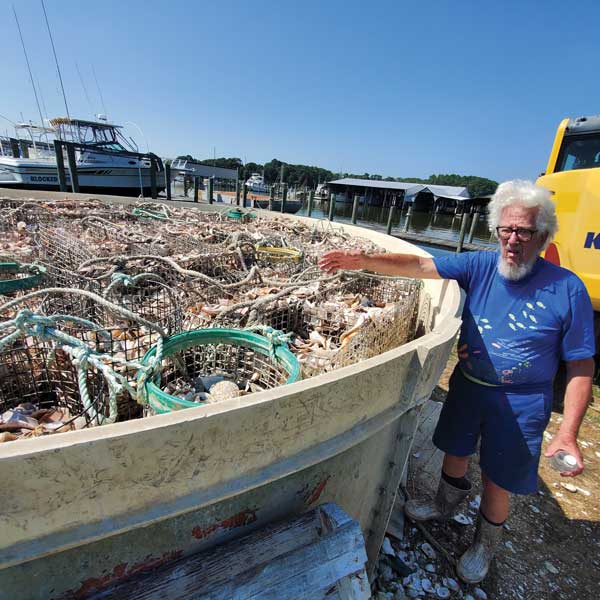 Dr. Land is an environmentalist and oyster farmer whose vast aquaculture expertise. I call him the "Virginia Oyster Whisperer." His mantra is "oysters are good for the environment. They filter gallons of water daily; they don't rely on fertilizer to grow and reproduce, they are sustainable and, coincidentally, are a great source of protein and are good to eat."
Dr. Land applauds oyster farmers who have branded their oysters with a variety of exciting names. "Olde Salts, Little Peach Tree, Rochambeau. I can't tell much difference in the taste of the local oysters," he says sheepishly. "I guess my tastebuds are little soft after all these years. But I can tell the difference in saltiness."
Land notes that all oysters grown in the East Coast of the United States are the same variety: Crassostrea virginica. The differences consumers see in the configuration of the oyster and the subtle differences in taste are due to the environment in which they are grown and the method by which they are grown as well. Oysters that are cage grown take on the essence of their environment. One local oyster company calls it their "merroir." Oysters that are grown in cages that float on the top of the water's surface tend to be plumper and have deeper cups due to the wave action that constantly moves the cages back and forth.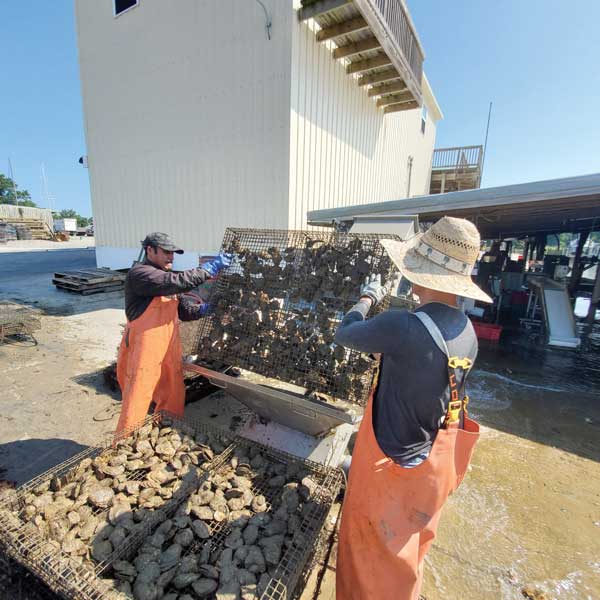 I asked Dr. Land about the admonition not to eat oysters in months that don't contain an "R." He laughed and explained it this way: "Used to be the warmer summer months made shipping oysters difficult. That, plus the fact that back then all oysters were non-sterile diploids or capable of reproducing… which resulted in a watery product when the male oyster was busy producing sperm. Now, refrigeration has eliminated the possibility of spoilage during the summer months and most oysters we sell now are sterile triploids, which mean they do not reproduce and hence spend all that time making meat rather than making babies."
Forty-one-year-old oyster grower Myles Cockrell has been growing oysters for about 15 years. His ancestors came to this part of Virginia in the 1650s. They were a hardy lot making a living from the waters of the river and marine construction. Today, Cockrell's Little Wicomico Oyster Company holds about 1000 acres of leased river bottom ground and sells about 10 million oysters annually.
I caught up with Myles just as the sorting shed in which he was working was shutting down. It was 10:30 in the morning. Water that was used to clean the oysters streamed everywhere. Piles of culls were heaped around the conveyor belt. Oysters ready for the 45-degree packing shed moved in a continuous flow from cage to wash to conveyor to palate. "We start bringing in the flats at around 5:30 a.m.," Myles says. "This time of year, we must be quick about it. Every oyster we harvest is in the packing shed by 11 a.m. and most are on their way into a refrigerated truck for shipment across the United States by no later than 1 p.m."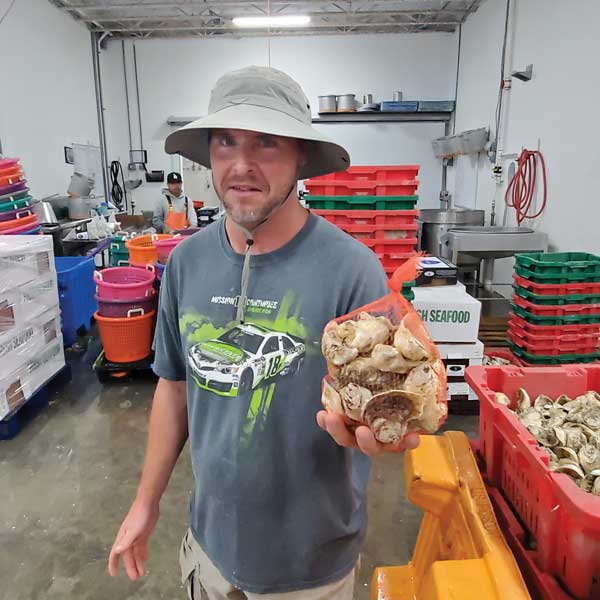 I commented to Myles about the quality of his product. I asked him what was so special about the river where the oysters are grown and the method he uses to grow them. He just smiled, but then his wife, Kristen, piped up with what I am sure is a true statement: "It's 'cause we work so hard to grow them… and fill each box we ship with love."
Oyster farming is a labor-intensive process. From seed to finished product the oysters are handled, moved, washed, shaken, sorted, and boxed in a two-to-three-year ballet that sees each oyster touched in some way 20-30 times. Multiply that times 10 million oysters a year and that's a whole lot of TLC.
In honor of my wife's birthday, Myles presented her with a Little Wicomico Oyster Company T-shirt (that says, "Our oysters are shucking good") and a flat bladed oyster knife. She is not an oyster lover, but she loves me and puts up with my oyster-eating idiosyncrasies. On my way out of the sorting shed I asked Myles if he could spare a dozen or so oysters that I could enjoy that evening at home. He gladly obliged and counted out two dozen Little Peaches while he and I shucked a dozen before lunch and slurped them right there on the packing room floor. I've eaten lots of oysters in my day, but few compared to those few oysters I shared with Myles with the hum of machinery and the clacking of oyster sorters in the background.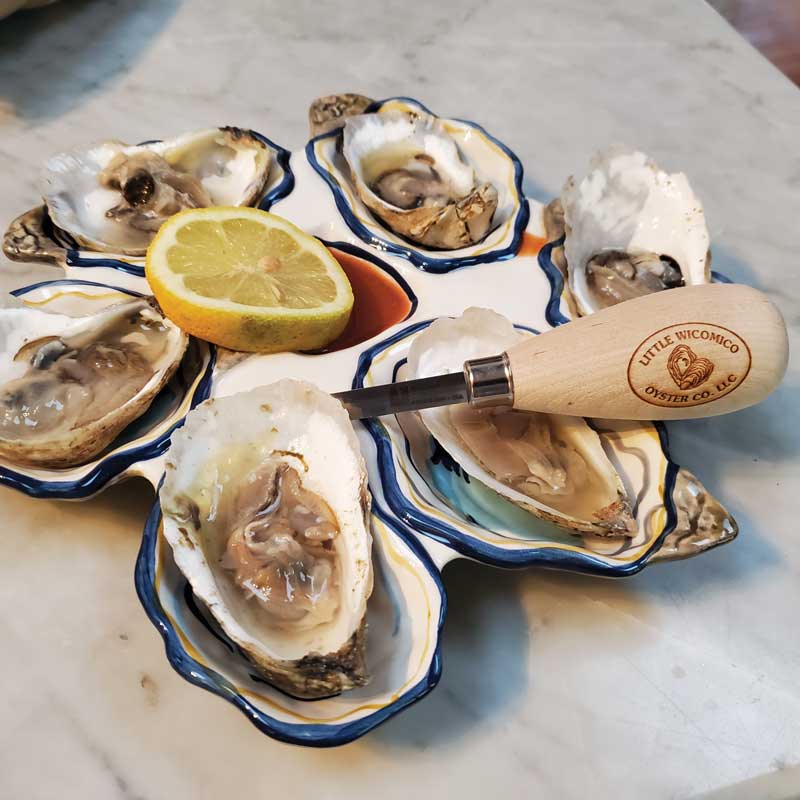 Four hours and 150 miles later, I toasted Myles with a glass of champagne as I savored my dozen Little Peaches, secure in the knowledge that only 12 hours previously they had been peacefully growing in the welcoming environment of the Little Wicomico riverbed. 
Patty's Fatty's
No discussion of local oysters would be complete without mention of Patty's Fatty's, the unique oyster brand developed by Pat Mahoney, the self-proclaimed 'last waterman' of Eastport. Pat grew up on an oyster boat; his dad worked for Annapolis Seafood for 18 years, and for the past 15 years, he has "oystered, crabbed, and fished" to stock the modest seafood counter at his Eastport eatery and seafood shop appropriately named Wild Country Seafood located right behind the Annapolis Maritime Museum.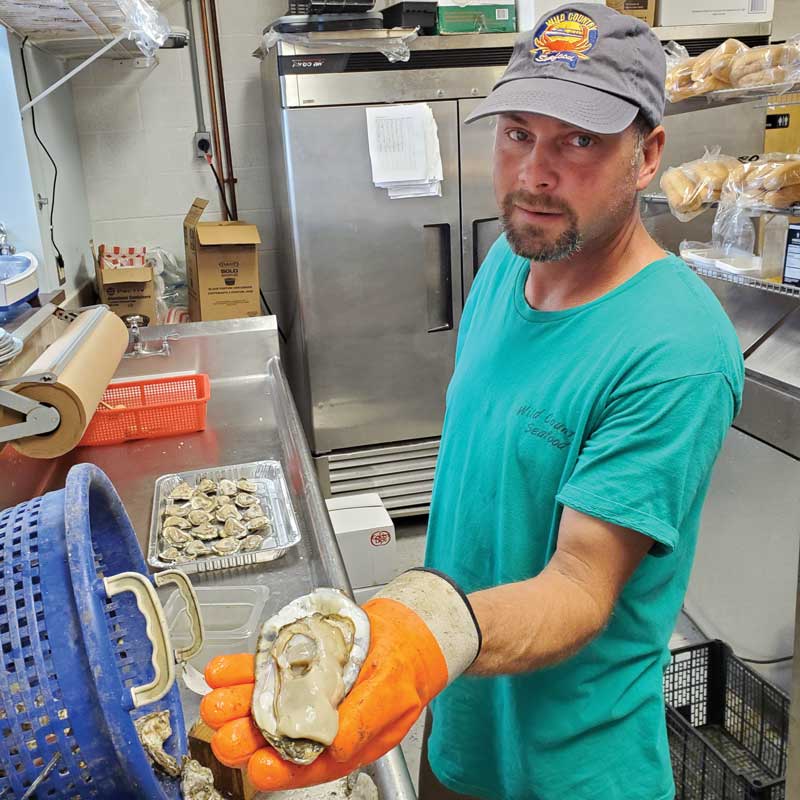 The 43-year-old waterman keeps his boats and runs his aquaculture operation on the Rhode River on ground that's surrounded by the Smithsonian Environmental Research Center (SERC). Most of his farmed oysters are spat on shell although he does plant some micro set larvae over top of the spat on shell beds. "Those micro set larvae tend to produce a better product. Because we dump them in the beds with the other oysters, they live in a good environment, and we don't have to be constantly turning them to keep them clean."
When I told Pat about my quest for fresh seafood, his eyes lit up, he grabbed my shoulder, and almost screamed in my ear, "Fresh? You want fresh? You can't get it any fresher than this."
On that hot July morning, Pat had already been up since 3 a.m. pulling oysters off the bottom with his hand tongers, then checking his pots, and finally running out to his pond to net some fish.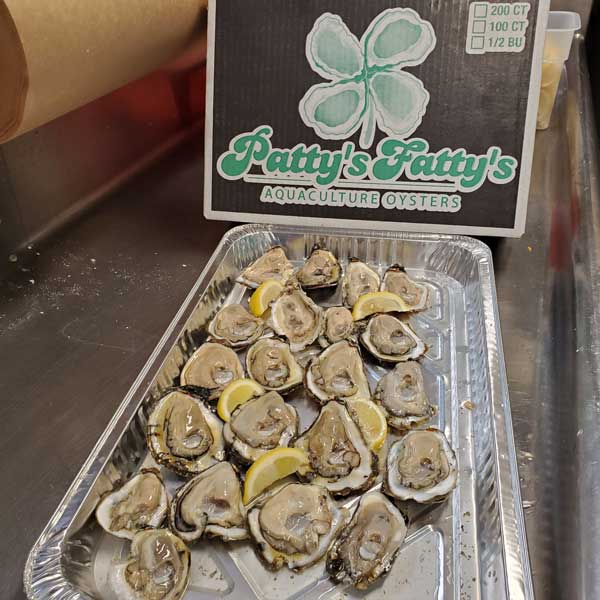 "This time of year, it never stops," he said. "My nephew, two sons, and my daughter were all up this morning helping out. I don't know if any of them will follow me in the business. They admit it's pretty hard work."
Pat's claim to local fame is his branded Patty's Fatty's oysters.  He says, "They are a fleshy, sweet Choptank-type oyster, sort of mild on the palate. Not too salty. Hell, if you want salt, use the shaker!"
He sells his oysters for $10 a dozen at the shop. Annapolis's Boatyard Bar and Grill also features his oysters on their menu.
Pat admits to keeping strange hours. The restaurant and seafood shop states its hours as 3 to 7 p.m. on Wednesdays and Thursdays, 11 a.m. to 7 p.m. on Fridays, and 11 a.m. to 5 p.m. on Sundays. "Any other time, we are out on the water," he says. If a customer wants a special order, Pat says just to call and leave a message. He'll get back to you as soon he can. A visit to its Eastport location is certainly worth the time.
Pat admits to "liking oysters any which way I can get 'em, although I am partial to fried."
The humble oyster has been extolled in many a poetic verse. My favorite is Jonathan Swift's pronouncement: "He was a bold man, that first ate an oyster." There are few delicacies that spring from such humble—and sometimes slimy—origins. The oyster purveyors identified in this story are only some of the hardworking watermen who provide hundreds of thousands of succulent bivalves to an adoring oyster loving public. Go ahead. Pop the shell, splash on some lemon or a more exotic accouterment, and slurp away. 
Story and Photos By Craig Ligibel
---
More Oyster Resources:
Maryland Oyster Aquaculture Dashboard