It's a funny paradox, but the most sophisticated piece of safety equipment aboard a powerboat is the captain. Beyond that, safety technology and equipment, surprisingly, don't change dramatically in basic form from year to year; a lifejacket is still a lifejacket, for example. But the improvements and innovations in equipment continue to advance. Improvements are invariably in the areas of better communications and higher reliability, even though basic concepts remain the same.
Consider, for example, a simple set of binoculars. How many skippers consider binoculars to be safety equipment? And yet they are. According to legend, an officer aboard RMS Titanic was reassigned at the last minute and mistakenly took the key with him that accessed a locker where the Titanic's binoculars were kept. On the night of the collision with the iceberg, the lookouts had no binoculars. If you're under power cruising at speed, you need them. I have delivered expensive yachts to the Caribbean that for all their fancy electronics had either no binoculars aboard or had cheap plastic junk instead.
Orion 09332 Scenix 
That's why we begin with a focus on a good set of 7×50 binoculars by Orion, the Orion 09332 Scenix with its great definition made possible by the BAK-4 Porro prism, a wide field of view, which should be a given for marine binoculars, and good fog-proofing enabled by two watertight O-rings, and a durable metal body. The Orion 09332 Scenix Wide 7.1 Degree Field 1000 Yard linear view binoculars stand up to being knocked around the cramped confines of a motorboat in perpetually corrosive and salty air. I've seen too many that begin to deteriorate rapidly in this environment.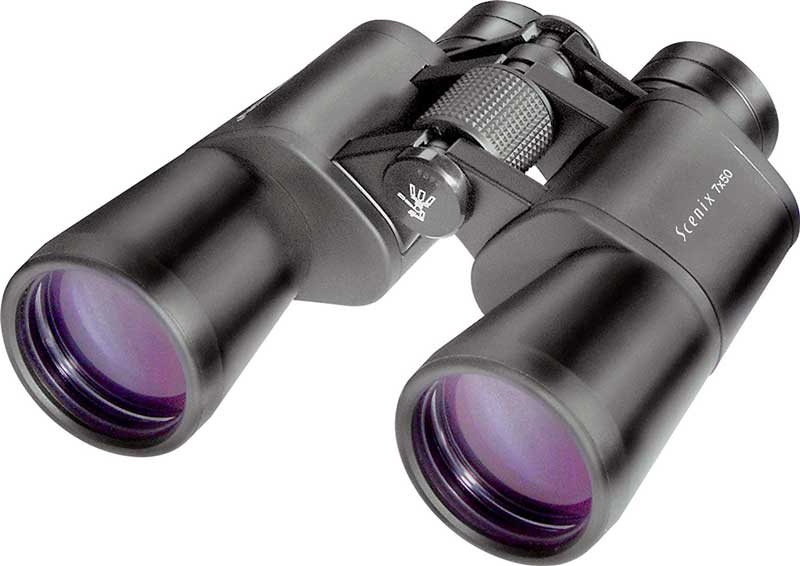 The BAK-4 Porro prism provides crystal clear images, and in addition to a wide exit pupil diameter, the brightness level of its image is supplemented by a light-absorbing coating, which prevents glare and also adds color correction. At only 1.8 pounds, the model is light enough to be held to eye level without creating fatigue (and consequently shaking). Online reviews of this product have been exceptionally positive. The price is quite reasonable at $103.
Dockmate Wireless Remote Control
It has been said that boaters in general don't fear rough weather as much as they fear docking. That has, on many occasions, been true for me, especially in Bermuda, where for the most part, public docks and piers are basically chunks of stone. One has the urge to jump off onto the pier to fend off while still 10 yards away. Now it is possible to walk away from the helm to a different vantage point, even from the dock itself, and remotely control and dock your boat using an advanced handheld wireless remote controller from Dockmate U.S. We all know that docking, particularly on a vessel with limited visibility from the helm, can be a very stressful and possibly even a mildly dangerous experience; not all miscalculations will buff out.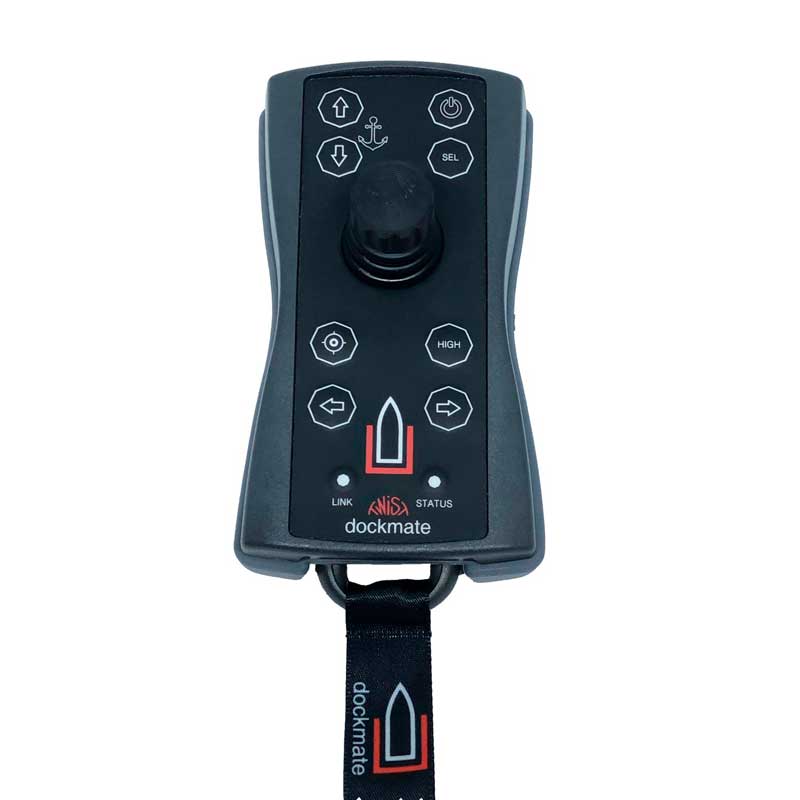 Dockmate is a wireless handheld remote-control system that offers the ability to control a boat's engines, thrusters, anchor and horn—all from a small handheld device. With Dockmate, boaters can walk away from their helm station to a safer vantage point where they can have better visibility and easily handle lines while docking. Retail price for Dockmate is $6800 for a five-function system that controls two engines, a thruster, an anchor, and a horn. It's described as a reliable, easy-to-install and -use solution. If you're docking a big powerboat in a tight slip and know that you would be best able to do so from the vantage point of up on the bow, at the transom, or even from the dock itself, now you can, especially since it's wireless. 
West Marine's Offshore Performance Inflatable Lifejacket with Harness
For a long time now, people concerned with boating safety, from the Coast Guard on down, have recognized that the only problem boaters have with lifejackets is that they are usually not wearing them when they drown. By and large, folks in boats don't like to wear them, even the compact inflatable ones. Realistically, personal floatation devices (PFD) aren't really fashion attire, and they can be uncomfortable or hot. As a result, PFD makers have adopted a new philosophy similar to the old advice about breaking in a pair of new hiking boots; wear them around the house, wear them a lot, and eventually you will get used to them. The same goes for lifejackets. Try wearing them as often as possible until you forget that you have one on.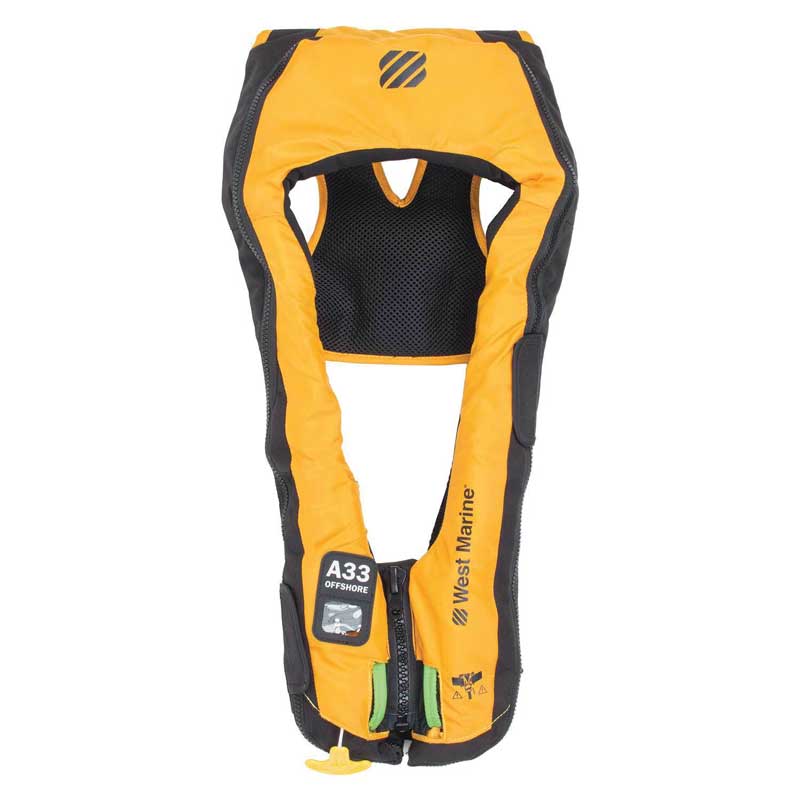 To be fair, it's not like the old days with the non-inflatable big puffy kapok jackets that made you feel like you had two bed pillows strapped to your gut. Nowadays manufacturers have made them more comfortable, inflatable, thin profile, highly reliable, and technically advanced. Even though they may never take the place of a good Hawaiian shirt, they're starting to look a lot more stylish while delivering positive buoyancy performance when needed. West Marine's new Offshore Performance Automatic Inflatable Lifejacket offers 35 pounds of positive buoyancy to keep the wearer face up in rough water. It must be immersed in water to inflate; it won't prematurely inflate due to rain or humidity. A built-in indicator window will show green if your lifejacket is properly armed and ready to use. 
The PFD also incorporates a sturdy, integrated harness that includes stainless steel D-rings for attaching a safety tether (sold separately). Of course, this is something that sailors like, but it is equally important on a motor vessel underway offshore in sloppy seas. Made from ultra-high molecular weight polyurethane webbing, this harness provides exceptional strength. The conveniently integrated harness and stainless steel D-rings are accompanied by dual stainless-steel slide adjustments for adjustable durability.
The Offshore Performance's V-back design minimizes bulk, so it fits well over your offshore jacket. A neoprene neckline offers added comfort and support. With its freedom of movement, you can wear this lifejacket comfortably for extended periods of time without noticing it. Isn't that the whole idea? Fits a wide range of chest sizes from 30-65 inches. $250.
Simrad BoatConnect
If you've ever gone on a business trip to the other side of the country and wondered how your boat was faring on her mooring, this while watching a stormy national weather report on your hotel room TV, you understand Boater's Anxiety. Like any boat owner, you realize that when you're away, your boat is vulnerable because boats simply can't help themselves if, for example, they spring a leak, get stolen, chafe off their mooring bridle in a storm, or some other mishap.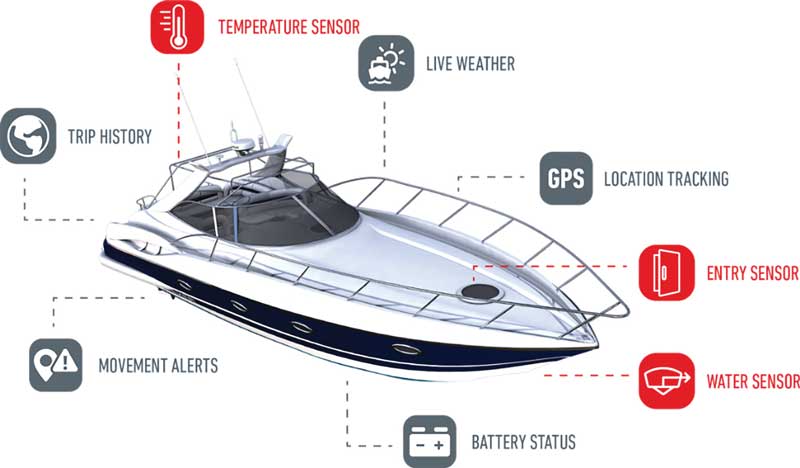 Simrad BoatConnect is an app that allows the boat owner to monitor their boat's location and battery and track trips and movement. You can receive alerts if your boat leaves a designated area and know when your battery is low. With BoatConnect, you can stay close to family or employees out at sea, track a stolen boat or ensure that your battery is ready for planned trips. Features include access to the boat's location from a smartphone; receive alerts if the boat leaves a designated area; receive remote access to the battery status of the boat; access a history of the boat's recent trips; and see weather status at a boat's location. Reportedly easy to set up, it requires purchase of a hub (hardware) and operates with a subscription plan. Hub: $99, Monthly subscription $20.
Return Link, a Major PLB and EPIRB Improvement
Quite possibly the most significant improvement or advancement in Emergency Position Indicating Radio Beacon (EPIRB) or Personal Locator Beacon (PLB) satellite distress beacon to come along since they were invented is the very recent development of Return Link Service (RLS). At the time of this writing, January 2020, the technology is still awaiting final approvals and adoption and may not be for sale yet; it made its debut in essentially a soft rollout at the recent METS show (the world's largest exhibition of marine equipment, held in Amsterdam in November). Basically, it's a return signal from the satellite(s) that received your EPIRB transmission, a little blue light or signal that tells you that, in fact, your emergency transmission has been received.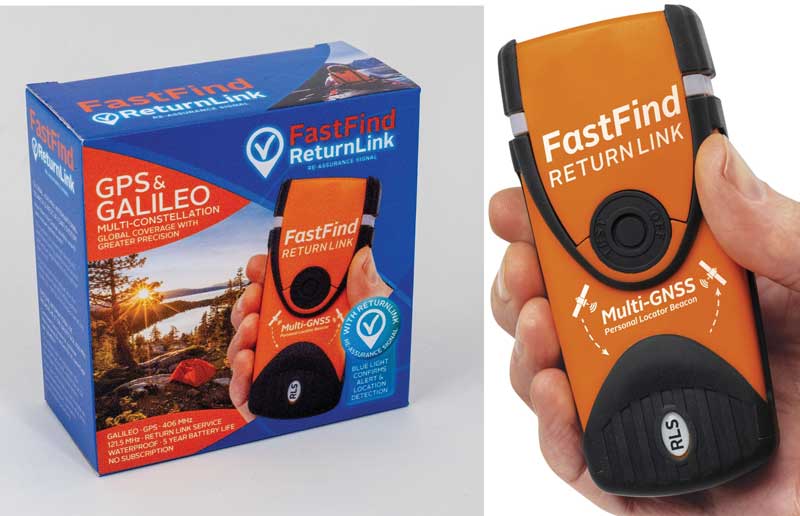 Think for a moment how important that is. Survival at sea has as much to do with your mental state and morale as it does your physical condition, sometimes even more. We've never had this before; you got into your life raft, tripped the EPIRB, and hoped and prayed that someone received the signal and that rescue would be on its way. Now you can actually know that your distress signal has been received, and that's huge.
Orolia introduced Return Link Service at METS, illustrating how the small blue LED on its new FastFind ReturnLink PLB will tell a user that the International Satellite System for Search and Rescue (Cospas-Sarsat) has received their distress message and knows where they are. 
The feature will reportedly be equally available to all distress beacon manufacturers just as the Cospas-Sarsat communication services are available to all beacon users without cost. 
The operation of RLS and cooperation among the various distress beacon manufacturers is a complex issue that there isn't room to discuss here, but we expect it to eventually iron out, with functioning models available for purchase by the end of Q1 2020. No reliable price figures appear to be available yet. 
About the Author: Capt. Mike Martel holds a 100-ton Master's license and is a lifelong boating and marine industry enthusiast. He enjoys delivering boats to destinations along the East Coast and to the Caribbean and writing about his experiences.
---
To read Part I in our three part Safety Series, visit Preparing to Cruise Offshore. Stay tuned for the final part of our Safety Series in our April issue.