The Fordham & Dominion Brewing Company has announced the September re-release of Rosie Parks Oyster Stout, with a portion of the proceeds benefiting the Chesapeake Bay Maritime Museum (CBMM) in St. Michaels, MD.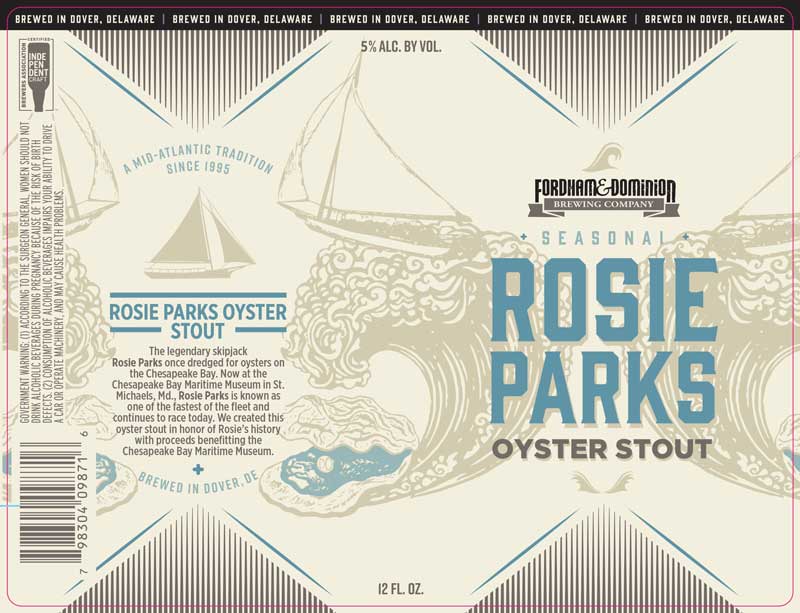 Making a triumphant return, the Oyster Stout was formerly in the Fordham & Dominion portfolio and retains a loyal group of followers. Containing Chesapeake Bay oysters and shells, contributing to a slight briny taste in the beer, this stout contains pale, torrified wheat, caramunich, roasted barley, and chocolate malt. In addition, it is hopped with Bravo and Glacier hops. Black and 5.2 percent ABV, this beer is very distinctive, and designed to pair well with oysters.
Fordham & Dominion Brewing Company made the decision to bring back their popular oyster stout recipe to promote an important cause. CBMM maintains the 1955 skipjack Rosie Parks, which once dredged the Chesapeake Bay for oysters, and recently underwent a three-year restoration. The skipjack is part of the largest collection of Chesapeake Bay watercraft in the world, with all of CBMM's boats in need of continual maintenance. Originally built by in 1955 by Bronza Parks, Rosie Parks is one of the least altered skipjacks still in existence. 
"The decision to honor Rosie Parks and support CBMM with a portion of the specialty beer sales was easy," commented Fordham & Dominion Brewing Company's vice president of sales Giuseppe Desilvio. "CBMM is a world-class museum doing important restoration work on Rosie Parks and others in its floating fleet. We decided to brew Rosie Parks Oyster Stout in response to consumer demand, but also to help future generations understand the cultural history of our Chesapeake maritime community."
"We are grateful to again be partnering with Fordham & Dominion with the re-release of Rosie Parks Oyster Stout," said CBMM president Kristen Greenaway. "CBMM's festival-goers will be thrilled to have the oyster stout back at OysterFest, especially knowing the proceeds will help us in maintaining our floating fleet of historic Chesapeake boats. It's a win-win for all."  
Rosie Parks Oyster Stout will be available on draft and in cans in locations throughout Maryland, Delaware, and Virginia, and will also be served at several of CBMM's fall festivals and events, including its October 26 OysterFest.