If you're an oyster lover who appreciates a freshly brewed craft beer, or if you're a beer lover who yearns to sink your teeth into a buttery bivalve, there's not a better spot to pull up a stool and savor these Chesapeake Bay delicacies than St. Michaels' Eastern Shore Brewery.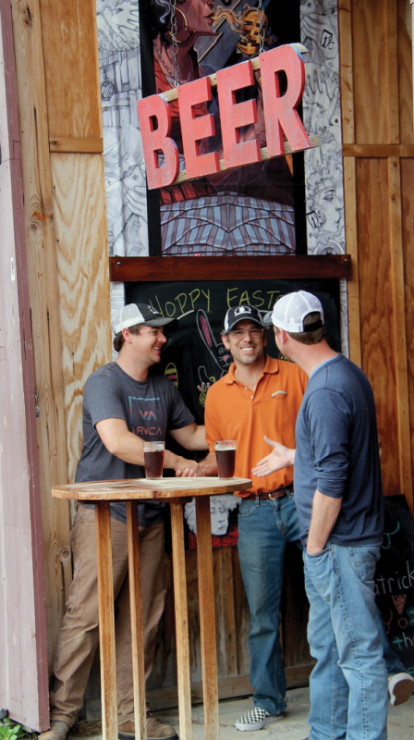 This is a flip flops and tank top kind of place, a place where you can bring your kids to play air hockey while you engage in some sophisticated beer-speak with Eastern Shore Brewery's loquacious founder Julian "Ace" Moritz. Moritz and his wife Lori opened the brewery in 2008. It was the first micro-brewery on the Eastern Shore. Today, its sales rank it in the middle of the pack of about 20 craft breweries in the area.
In addition to the brewery, Eastern Shore beers can be found at a host of nearby restaurants. The brewery does not sell cans or bottles of beer, but they do a nice business in filling—or refilling—64-ounce "growlers" which give consumers the taste of a keg beer… without the hassles. Ace's business card reads "head dishwasher," but this reporter suspects the entrepreneurial microbeer baron has a lot more skills than running suds through his suds lines.
"Just tell me where else in the world can you feast on an oyster that was in the water six hours ago… and wash it down with a beer that was kegged just that morning. That's pure heaven, and we serve it up seven days a week."
Ace's unofficial partners in oyster and beer pairings are Derek Wilson and Nick Hargrove, a pair of 20-something oyster divers who scour the rivers around St. Michaels and parts of the Middle Bay in pursuit of some of the fattest, buttery-est, and most succulent oysters this side of the Bay Bridge. Derek and Nick have been pals since high school. They got together to form the Wild Diver Oyster Company two years ago. And even though the work is hard and the hours are long, the two are unabashed in their appreciation for the oysterman's life and the fringe benefits of having a best friend who also happens to own a bar.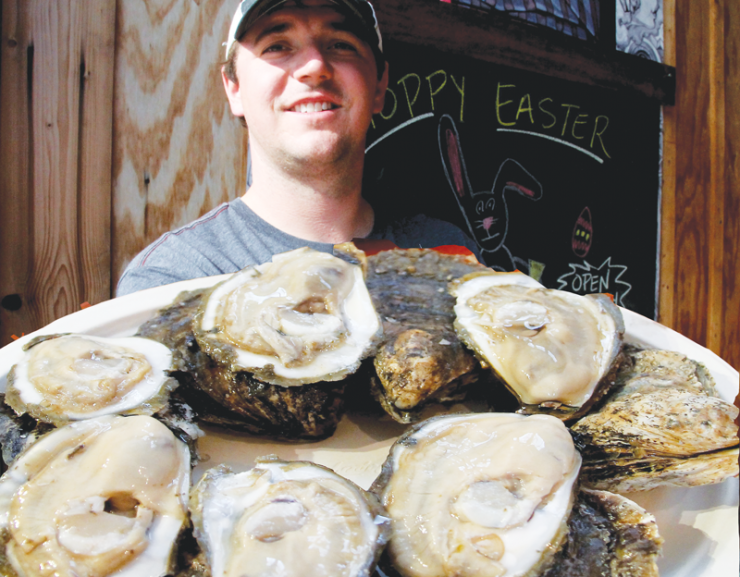 Any given weekday afternoon and most weekends during oystering season (October-March), you'll find the duo shucking oysters and talking spat in a designated corner of Ace's place. The boys are building their Wild Diver Oyster Company brand one oyster at a time. After delivering their daily catch to restaurants and wholesalers in the St. Michaels area, they settle into their spot, oyster knives at the ready, to talk oysters with anyone who throws a couple of bucks into the tip jar. The duo own two licenses, which entitle them to harvest 15 bushels per license per day.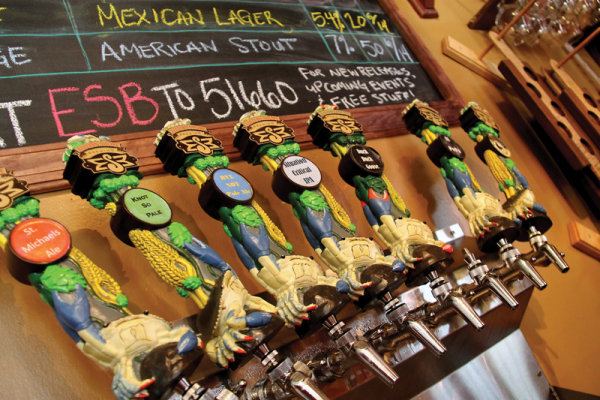 "We shuck oysters at Ace's for the fun of it," says Hargrove, whose deep tan underscores his role as boat captain and "top-man" on the oyster boat. "We get around $40-45 per bushel from our wholesalers when we sell our oysters… a little more from the restaurants. Letting people sample the product at Ace's is our way to introduce more people to our brand and get them into enjoying oysters fresh from the water."
So what's the best beer to pair with Eastern Shore oysters? Ace is an oyster purist. He slurps 'em unadulterated right out of the shell. He doesn't want the beer to overpower the delicate flavors of the oyster. So, his go-to brew is also the company's standard bearer: St. Michaels Ale, a full-bodied amber ale with nice malty notes balanced with a touch of hops.
"If you jazz up the oyster with some hot sauce, then you want to go with an IPA. And if you put the oyster with a sweet chutney, then you'd want to go with a lighter beer like our hefeweizen wheat beer or our seasonal El Pepe Mexican-style Vienna lager. The beer can never overpower. You want to taste the nuances."
Eastern Shore's brew master, Zach Mylash, has as different take on it. "I'm a beer guy, not so much an oyster guy, so I want to cover that oyster in Sriracha sauce… and reach for a good brew that can stand up to that heat, something like our Not So Pale Ale does the trick."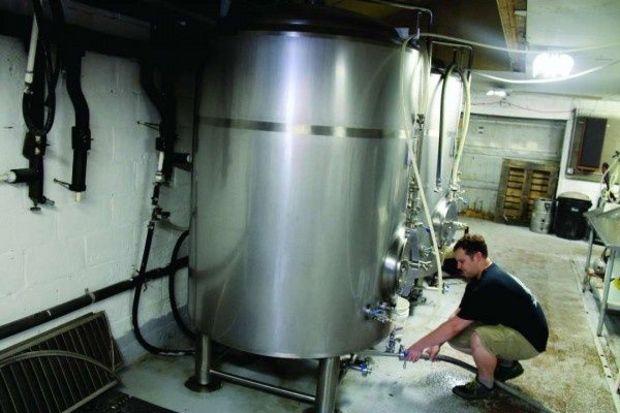 Derek Wilson, who did a stint down the street as manager of Ava's Pizzeria and Wine Bar, has a sophisticated oyster palate: "The oysters we catch are 'wild' oysters. They are bigger and sweeter than farm-raised. I like their buttery flavor paired with an acidic beer like an IPA or a Belgian like Ace's 7 Year Twitch, with all those great spice notes from the yeast. That combination hits the taste buds just right."
When oyster season is done, Derek and Nick head their separate ways for the summer. But fear not. That oyster-shucking spot in the corner is still busy as other local watermen continue the tradition of oyster sampling with bivalves from private ground which does not have a "closed" season.
Ace proudly displays the current issue of PropTalk at his establishment's front door. "Oysters, beer, and boaters. How great is that?" he says and beams. The only problem is deciding which of Ace's dozen or so craft beers to start with… and which ones to take back to the boat in my "growler" for later consumption. Decisions. Decisions. Pretty tough duty for this boating journalist. Thanks, PropTalk, for the assignment. How about moules et frites paired with a nice white burgundy for my next gig? Paris, anyone?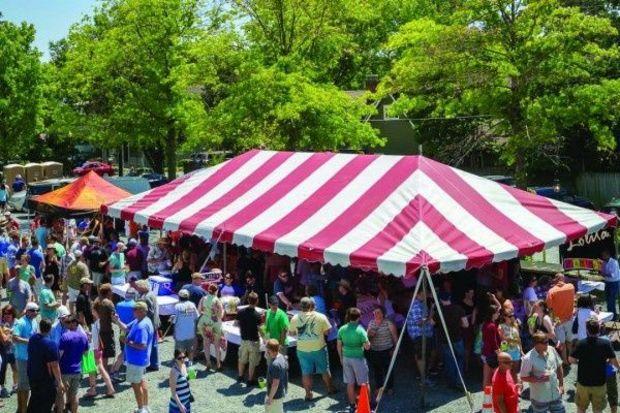 St. Michael's Brewfest serves up more suds! If craft beer is your thing, be sure to check out the annualSt. Michaels Brewfest. For a modest fee ($40), you'll be able to partake of unlimited samples of hand-selected local and regional craft beers. This event has been sold out the past two years. For all the details, go to: stmichaelsbrewfest.com.
Story and photos by Craig Ligibel