After Halloween often comes the unwanted task of disposing of old pumpkins. Whether carved or not, there are plenty of ways to reuse or recycle pumpkins after the holidays that can benefit you, wildlife, and even your garden. But this only applies to unpainted pumpkins, as the toxins in paint can be harmful to wildlife.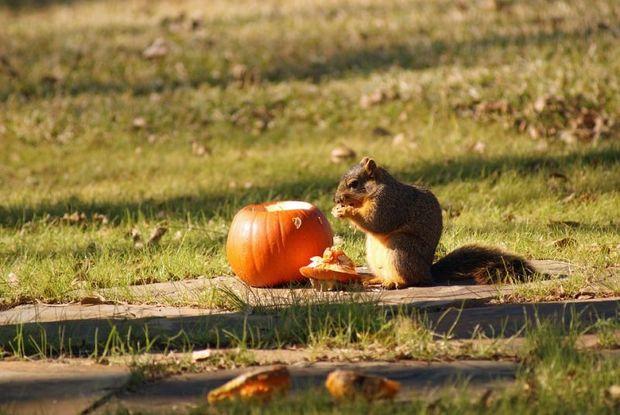 Several of these suggestions (and the photo above) are courtesy of the National Wildlife Federation.
1. Compost your pumpkin.
Pumpkins are 90 percent water, meaning they break down quickly. Prevent unwanted pumpkin plants from sprouting by removing seeds, then chop them up and place them in the compost pile/bin. If you don't have a compost pile, check with nearby farms or community gardens to see if they collect old pumpkins.
2. Make a pumpkin planter.
If your pumpkin is uncarved, cut off the top and remove the seeds and flesh from inside. Then fill with potting soil until it is about one-third full. Place your plant into the pumpkin then add more soil. If your pumpkin is carved, you may have to come up with a creative way to keep soil from escaping out of the carved face. You can leave your pumpkin plant on the porch for a few days or plant the whole thing right away. Over time the pumpkin will naturally break down, providing fertilizer for your plant.
3. Make a pumpkin feeder.
You can easily turn your jack-o-lantern into a snack-o-lantern for the birds. Simply cut the pumpkin in half, scoop out the seeds, insert sticks across the open pumpkin to serve as perches, and knot lengths of rope together and attach to bottom of pumpkin to hang the feeder. Then fill with birdseed and enjoy! Below is a simple how-to video from Audubon.
4. Leave pumpkin seeds for wildlife.
After removing seeds from your pumpkin, let dry (do NOT add salt or seasoning), and lay on a shallow bird feeder in your garden. You can even mix with existing bird seed.
5. Plant pumpkin seeds.
Pumpkins for next year! Need we say more?
6. Cut into pieces for wildlife.
If you live in the suburbs or a more rural area, you can cut your pumpkin into smaller pieces and leave it for the animals, away from your house. Deer, rabbits, mice, squirrels, and chipmunk will all enjoy munching on your pumpkin. Just remember that only non-painted pumpkins should be left for the animals.
7. Roast pumpkin seeds.
For you! Not for the animals this time. Cut the top off of your pumpkin and separate the seeds from the guts. Rinse them thoroughly and place them in a single layer on an oiled baking sheet. Stir them around to coat them with oil. You can add salt for a classic roasted taste, or if you have a sweet tooth you can sprinkle them with brown sugar and cinnamon before roasting. Don't leave salted or sugared pumpkin seeds for the animals.
8. Make pumpkin serving bowls.
This one comes from Earth911. Place your hollowed out pumpkin on a baking sheet lined with aluminum foil. Brush the insides and top with a little vegetable oil and season as desired. Bake for 35 minutes at 350 degrees and these pumpkins will be ready to serve your favorite soups or dips at your next dinner party.