In Part One, published in the February 2016 issue of PropTalk, I wrote about the acquisition of my new-to-me boat, a 1948 Chris-Craft 25-foot Sportsman, and the move to Wooden Boat Restoration in Millington, MD. In this issue, I'll update the restoration progress thus far, but first, I want to give some background history on this boat.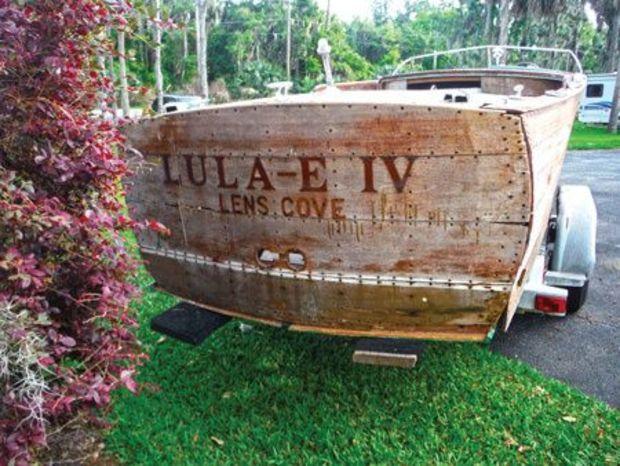 Construction by Chris-Craft was completed on November 24, 1947. The boat was delivered to the sales showroom located at 247 Park Avenue in New York City and then moved into the Grand Central Palace and put on display for the 38th New York Motor Boat Show from January 9 to 17, 1948. After the show, she was delivered to her owners in Len's Cove, Ontario, where she was well used and cared for over the next 60 years.
In 2008, F. Todd Warner purchased the boat and added it to his collection (one of the nation's largest private collections) at Mahogany Bay in Mound, MN, until he sold her in October 2010. Shortly thereafter, she was moved by the new owner to Florida where I acquired her in 2014.
Why did I choose this year and model boat to preserve? She was the flagship model, the most expensive and prestigious wooden runabout Chris-Craft built after the war—all mahogany, with center decks, a drop shear line, extensive hardware, leather upholstery, powerful engine options, and advertised as capable of 40 miles per hour.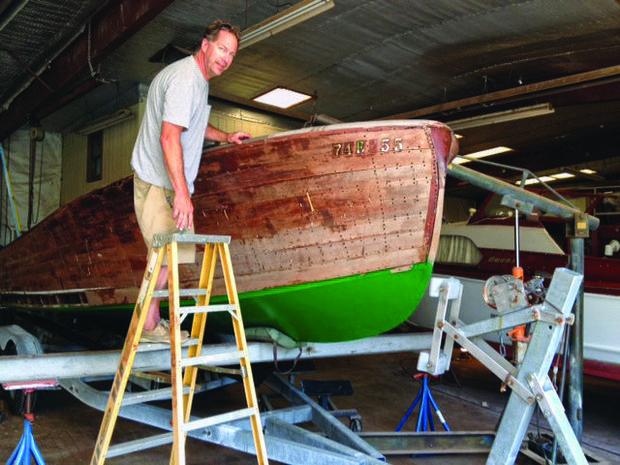 The 1948 25-foot was based on the 1940-42 25-foot Sportsman, which was an evolution of the 1936 24-foot Sportsman. Like the 18- and 22-footers, the post-war 25-foot used a rolled and rounded stem and bow cap, updated hardware, and a slightly different windshield design, but otherwise was very similar to the pre-war design.
Engine options included (for those willing to pay) a large single 225-hp Scripps and twin "MLs" for a total of 290-hp for both the open and hardtop Sportsman. Only 208 of this model were produced through 1950, at a cost of upwards of $7765 each. You could have parked both a new Cadillac and a Chrysler Town and Country convertible in your driveway for the same money!
Out of winter storage, move-in began June 3, 2015, from Severna Park to George Hazzard's Wooden Boat Restoration (WBR) shop in Millington. Once inside the shop, a detailed log and photos were kept as I began sorting out the interior, chrome, and stainless rub rails. All were marked for location and condition and entered into the log book. For now, the loose parts were stored on the second floor of the shop.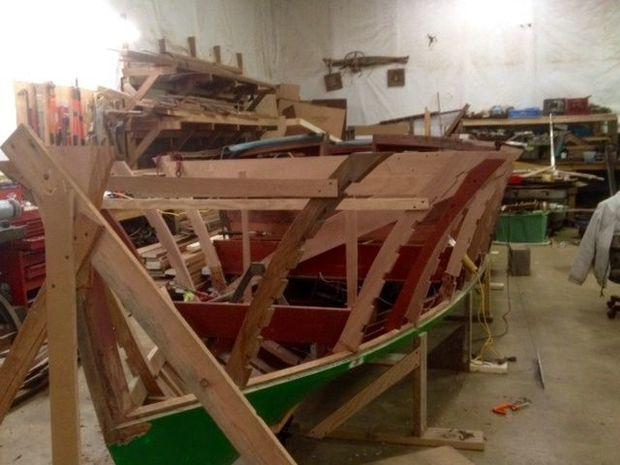 Next, a road trip to the lumber store was in order. No, you won't find mahogany at your local Home Depot or Lowe's, but we do have an exotic wood supplier nearby, Exotic Lumber, Inc., off Rt. 50 and Whitehall Road in Annapolis. There I met with owner Bill van der Westhuizen, who had just gotten in my order of beautiful Philippine mahogany. Delivery was arranged, and this project was one giant step closer to being underway.
With the cold-molded bottom complete and sealed, the first of two coats of Pettit Marine bottom paint has been applied. All the inside ceiling planks and hull planks were marked with their locations before removal. I began removing chrome and gauges and stripping the boat down to bare bones. The planks were stored for future patterns. It was now time to plumb, level, square off, and temporarily brace the boat, making sure it hadn't racked.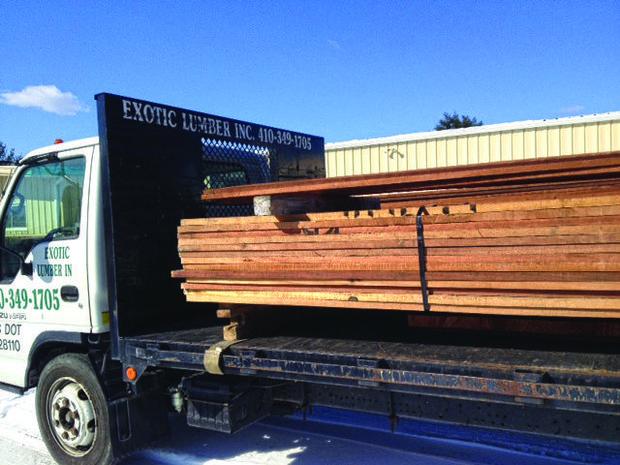 It's now finally time for George and staff to start making sawdust, as the restoration process moves forward. In my next article, I'll update the progress of the restoration. Maryland Public Television recently included a video entitled "Return to the Classics" as part of their "Outdoors Maryland" television show. It not only covered the history of Chris-Craft but my boat restoration project.
(ClassicBoats-PBS from Linda Kempin on Vimeo.)
By Ralph Cattaneo
---
If you missed Return to the Classics: Part I, click here.
Click here for the next part in this series, Return to the Classics: Part III.