In Part Three of "Return to the Classics," I'll update the progress being made on my 1948 Chris-Craft 25-foot Sportsman boat restoration project by Wooden Boat Restoration in Millington, MD. With a full set of plans from The Mariners' Museum Library in Newport, VA, for my Sportsman, Wooden Boat Restoration (WBR) owner George Hazzard was ready to make sawdust.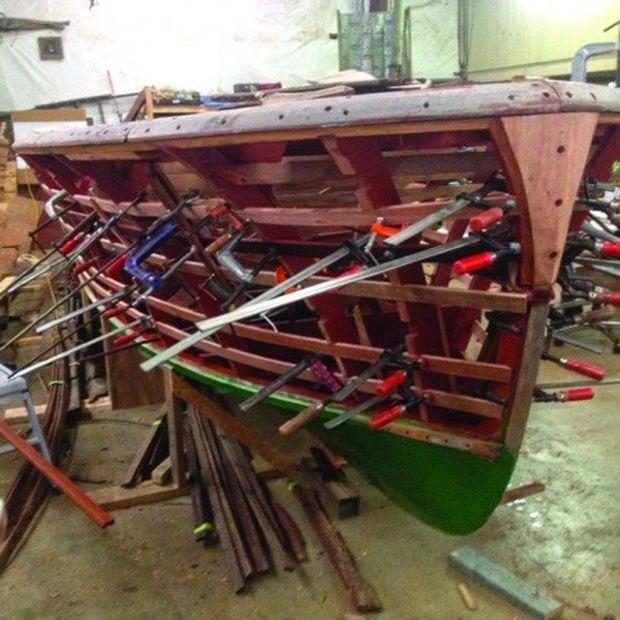 After selecting the best of the Philippine mahogany wood purchased from Exotic Lumber in Annapolis, Hazzard and I began cutting and milling the battens and side planks, using the originals as patterns. Hazzard painstakingly shaped each plank to a close tolerance fit, drilling and counter-sinking the Marine Silicon Bronze F/H Frearson wood fasteners, sourced through Bill Griffin at Fawcett Boat Supplies in Annapolis.
Hazzard steam-bent the forward top two planks of both sides using a steam box. Next, WBR artisan Ken Phillips drilled out bungs to cover the fasteners from the same planks used on the sides to insure a grain match.
While the professionals at WBR worked on finishing new hull planks, I was busy detailing the bilge. This meant removing all the excess 3M 5200 that oozed out from under the stem, keel, and ribs of the new bottom. A sharp utility knife, razor blades, a scraper, and a multi-tool got the job done. Once the clean-up was complete, I sanded and prepped the bilge for staining. Granted, no one will ever see the bilge, nor will many understand why I put the effort into detailing it, but it's what I wanted to do, and now was the time to do it!
Hazzard had replaced several hull side planks to correct repairs made with short pieces of incorrect wood some 40-plus years ago. We will replace the transom for the same reasons. The decks and covering boards are also new. About 75 percent of the rest of the wood in the boat is original. We are using modern glues and epoxy for the extensive re-fastening, which will in no way detract from the original appearance or feel of the 1948 craftsmanship.
Meanwhile, we had an oops! Holly, Hazzard's daughter Rachel's six year-old spaniel, decided she could help by chewing one of the forward deck ribs. With her boundless energy and tremendous curiosity about everything, Holly typically spends her day running around the old 15-acre spinach farm chasing birds and squirrels. That day, she just wanted to be helpful inside working.
After giving her a big hug and explaining to her how we needed to use the rib for a pattern, I substituted the 68-year-old boat part with a scrap of mahogany to keep her happy and occupied. That's life inside a wooden-boat shop.
By Ralph Cattaneo
---
Click here for Return to the Classics: Part I.