Well, more than two years have passed since Return to the Classics, Part Three was published in PropTalk. Back then the planks were being prepped to be installed and I had rehabbed the bilge. With the skeleton of the boat ready we were ready to start the process of re-planking the hull.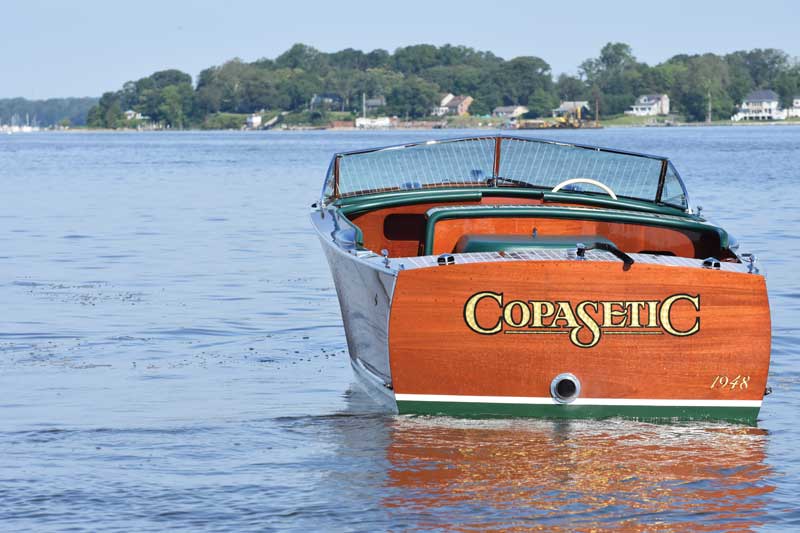 I truthfully had no idea of how much work was involved, nor the scope. George Hazzard and his crew from Wooden Boat Restoration in Millington, MD, fortunately did! As the sayings go… "the pit crew wins the race;" "it takes a village…" You best believe it takes a whole lot of folks to bring a boat back from the dead. After being on the job witnessing and helping in every step of the restoration for the first two and a half years, the whiskey plank was finally installed (this plank traditionally is the last plank fastened to the hull). Although the boat was far from being finished at that point, for me it marked a major milestone and a cause for celebration (and the solo cup didn't contain soda)!
I knew at the onset that restoring this 1948 Chris-Craft 25-foot Sportsman was going to take a lot of effort due to her 25 years of neglect. There were certainly a lot of challenges that we had to contend with because of all the rotten Mahogany wood that wasn't even suitable as patterns to make replacements from. Working from a set of original Chris-Craft plans made it all possible. That kind of attention-to-detail effort makes the result that much more astonishing when you look at everything it took to restore Copasetic.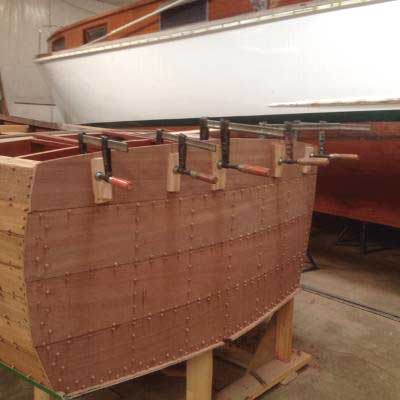 Next steps included installing nearly 5000 silicon bronze screws and mahogany bungs in the side planks, transom, and topside decks (I know because I drilled each and every one from indexed plank material). After trimming the bungs, the painstaking process of longboard sanding was completed. The staining process was next, followed by 15 coats of Captains varnish. The bottom got the final coat of Kirby #13 Blind Green accompanied with a white boot stripe.
It was now time to choose just the right name and have it painted on the transom… and "Copasetic" just fit! The word is one my dad often used and that I picked up on. The dictionary defines the word as "good, excellent, fine," and she is all those things! I was blown away by artist Tim Grant, Sinking Spring, PA, who worked closely with me on the design and nailed it… and yes, it's gold-leaf!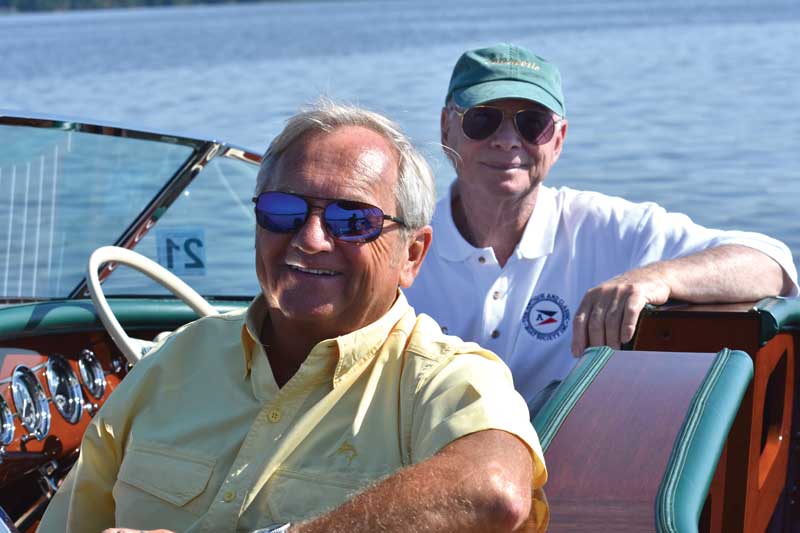 It was time for a new 60-gallon 3/8-inch thick aluminum fuel tank from Carter Fab, Inc., in Millersville, to be installed. Chrome was meticulously done by Donald Burch at Polished Treasures in Chesapeake City, and then bedded and installed. With the new Mercruiser 5.0L EFI engine now in place, I decided to fabricate a two-into-one exhaust system in keeping with the original thru-transom appearance. The wiring and dash instrument panel installation followed. All gauges were rebuilt and converted to electronic by Clawson Classic Instrumentation. Upholstery was done in the traditional style by Bruce Wilson Upholstery in Williamsburg, VA, using kapok and Poseidon #31—very eye catching and elegant. Keith Gunther at GPS Marine in Edgewater worked his magic reconditioning the propeller. Jack Thuman of Boat Cover Inc. off RT 50 in Grasonville, MD, meticulously crafted a full Sunbrella protective cover to protect Copasetic for years to come.
Many thanks to PropTalk for letting me document my restoration "journey" and to Fawcett Boat Supplies in Annapolis for having everything in stock, which proved to be invaluable during this five-year project. None have been more important or more appreciated than Kyle, Chris, and Jennifer at Wooden Boat Restoration and especially George Hazzard, who has an incredible eye for detail and meticulous workmanship, which ensured a restoration of the highest quality. I was privileged to have worked under his supervision and guidance… as the resident amateur!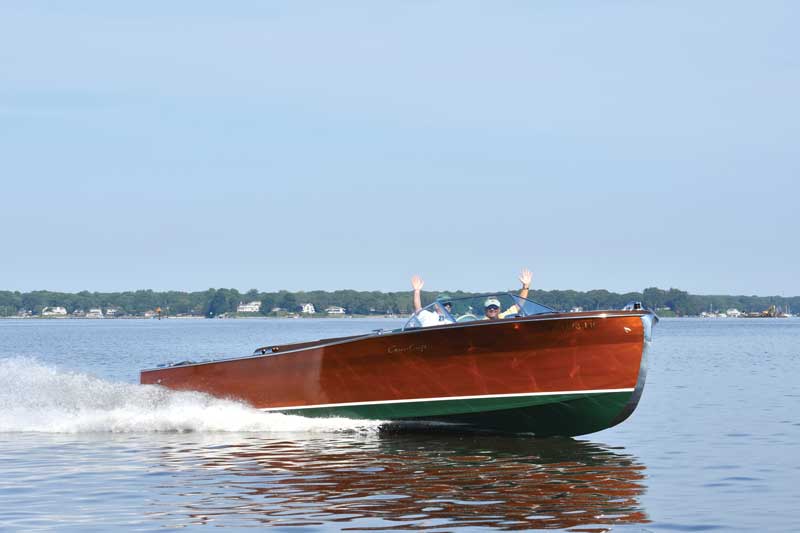 The joy, pride, and pure enjoyment of working on her surpassed my hopes and expectations, and I am humbled to be the next owner to assume stewardship of this beautiful craft. I can't help but smile when I sit behind the steering wheel and take her for a spin on the Magothy River. As seen on the front cover of this issue of PropTalk, the only thing left to do is enjoy the ride!!!
By Ralph Cattaneo
---
Click to Return to the Classics, Part One to read this restoration series from the beginning.