The catamaran hull form has been around for a long, long time. Think of two logs with a platform on them and you have a catamaran. In more modern times recreational sailors were experimenting with sailing catamarans in the 19th century. In the post-World War II boating boom the use of racing and cruising sailing catamarans increased exponentially. The latest chapter in this story seems to be powercatamarans. While powercats have been used in commercial, small boat, and high performance applications for years, we seem to be entering the era of the powercatamaran motor yacht. The catamaran platform offers many advantages compared to a traditional monohull of similar size including more usable space, high stability, a smoother ride, and lighter weight resulting in lower horsepower requirements and lower fuel consumption.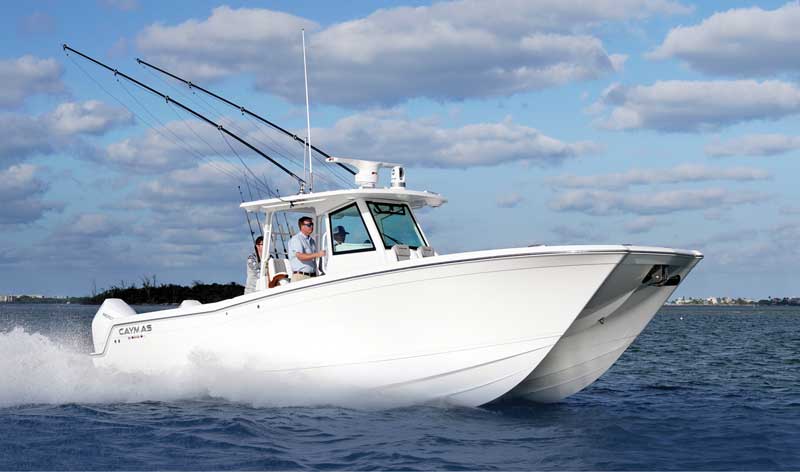 I asked Ken Comerford of North Point Yacht Sales in Annapolis, MD, dealer for Caymas Boats, including the 34 CT, an outboard powered catamaran, if he saw an increase in interest in these designs. "I think rather than a spike in interest in any one kind of design, there has been a broad groundswell, so to speak, of interest in what a catamaran can do," he answered. "And powercats have sort of evolved from small center console applications. When I hear the term 'powercat' I think of a larger cruising boat, rather than a runabout or a fishing boat. Even in that world we are seeing such a diverse understanding of what catamaran technology is. But we are definitely seeing a swell in the conceptual thinking about the idea of a cat and what a cat design can do. People look at sail-powered cruising cats and think 'I could do that with power.' It's very difficult right now to see a large trend. That's why I called it a groundswell, but interest in catamaran-based designs is definitely increasing."  
Jay Nolan of Makai Performance Power Catamarans, represented in Annapolis, MD, by S&J Yachts, shared some interesting facts about the popularity of multihull yachts. "The whole multihull market is growing 14 percent per year, so that's the fastest growing part of the boating market. Within that category, powercats are the fastest growing segment. So multihulls are the most active segment of the boating market, and powercats are the most active category within that segment. And there is plenty of market research online to back that up."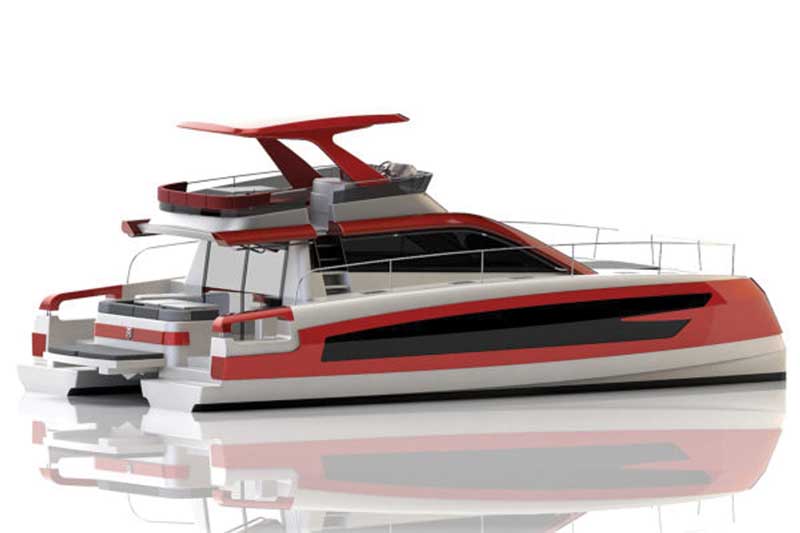 Jay further explained the source of their potential buyers. "In the US market I would say about half come from some other catamaran experience, often in sail, and are interested in a premium multihull yacht like ours. The other half come from monohull owners both power and sail. Our sales strategy aims at buyers who are accustomed to either an open or an enclosed cruiser and are looking at the upper end market. That focus on the upper end rules out most powercats because they were adapted from existing sail cruisers or fishing boats. So the standard available fit and finish in most powercats isn't super high. We are producing a yacht that is well above what's currently available in today's market. There are a lot of technical advantages that are built into our boats. The hull is vacuum infused, and all the small parts and the furniture are as well. That enables us to save quite a big weight margin over hand laid up parts. That, in turn, enables us to offer extras not available elsewhere. For example, our Makai 37 features a tempered glass windscreen, as well as tempered glass side windows unlike the acrylic plastic found on most boats. We make the supports and stringers for the beds and seats all each one solid piece which makes the hull light, strong, and stiff so that it doesn't creak and groan in a seaway. All of this is what an upscale buyer is looking for, and we provide it."
Josh White of Chesapeake Yacht Center (CYC) in Baltimore, MD, shares his experience with the latest catamaran offerings from Prestige Yachts. "I would love to discuss the Prestige Multihull Yachts M48 and the all new M8. I have spent time on them both and most recently on the M8 in Trieste, Italy. One thing to note is that we are referring to them as multihull yachts versus powercats. Most every one of the competing yachts are simply sailing cat hulls that the builder simply uses another mold to build the deck component and the same hull mold. Prestige designed these multihull yachts specifically as powerboats, so the hull design started from the ground up to support the specified power, upper deck weight, and balance, etc. These two boats are truly revolutionary. When we ran the M8, we were cruising a 65-foot yacht that has the space of an 85-foot yacht at 20 knots and only burning 60 gallons per hour. The M8 allows a couple to truly be owner/operators of the square feet of living space of an 85-foot monohull."
Ian Dimka, also from Chesapeake Yacht Center, explains that the M line of multihull yachts is a new venture for Prestige. CYC is expecting delivery of their first M48 in the spring of 2024. "I think we are going to get a lot of interest in the M line locally in the Chesapeake Bay area. I don't think the interest is just because it's a catamaran. There are a lot of those around. I think it will be because of the things Prestige has done specifically, from the original engineering and design of the yacht to the fit and finish. The feedback from visitors to the M48 at the Miami Boat Show was extremely positive. Prestige designed the boat from the ground up to be a powered catamaran yacht. This is not a redesign or adapted older design. Prestige built the M line from the very beginning to be a powerboat. The M line boats are designed to be owner operated vessels, not charter boats where the standards are not as high. Up here on the Chesapeake you want a beautiful yacht that is easy to operate and provides the owner with as much comfort as possible. Prestige builds the M line specifically for ownership, not charter fleet use. We have a lot of customers with monohull experience who are looking into getting a larger yacht, but not a bigger yacht. I have several customers who are interested in the M48 who have had Prestige 460s and 520s and their reasoning behind that desire is that they want to get into a larger yacht with more space, but they don't want to get into a 65-foot boat. They want something that can offer more living space than their current boat."
Big cats or multihull yachts have a lot to offer, especially at the top end of the market. The whole field is rapidly developing and new models and innovations are announced almost daily. If you have never had any experience with a cruising catamaran you might want to consider a "test drive" by chartering one from one of the many charter companies who have them in their fleets. For example, The Moorings Charter Company website lists six sizes of powercats, ranging from 40 feet to 53 feet available for charter at 14 locations worldwide. Or, closer to home, you might check out what C&C Charters in Grasonville, MD, has to offer for cruising on the Chesapeake. 
By Capt. Rick Franke