What's in Season? The 34th annual National Oyster Cook Off was held October 19 at the St. Mary's Oyster Festival, bringing in over 50 chefs from as far as Oregon to compete. When the final results were tallied, it was the Oysters and Chipotle Grits recipe, cooked to perfection by Debbie Reynolds of Waldorf, MD. It's the kind of recipe we can appreciate: light on the fuss and pretention, heavy on the down home deliciousness.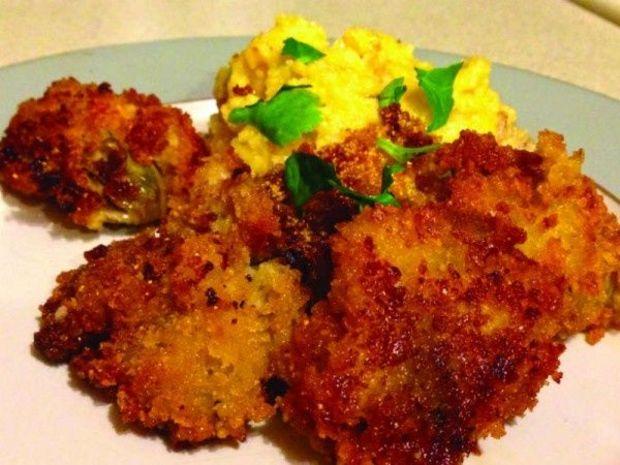 Oysters and Chipotle Grits Chipotle Grits
Ingredients:
1/2 onion diced
1/4 cup pancetta diced
2 cloves garlic minced
2 cups chicken broth
2 cups milk
1 cup grits
2 tsp. salt
1 tsp. pepper
4 chipotle peppers in adobo sauce, diced
1 cup pepper jack cheese
1/2 cup corn off the cob Brown pancetta in a sauce pan;
Directions:
Remove reserving 2 tbsp. of drippings.
Add onion and garlic sautéing until soft.
In a stock pot heat chicken broth and milk, add grits, salt, pepper, peppers and corn; cook until done (about 25 minutes), add cheese, pancetta and stir.
Fried Oysters
12 large shucked oysters
1/2 cup flour
2 eggs beaten
1 cup panko bread crumbs
1 tsp. salt
1/2 tsp. pepper
1/2 tsp. garlic powder
1/2 tsp. paprika
3 tbsp. chopped parsley
Mix flour, pepper, garlic powder, and paprika in a shallow dish.
Mix parsley and panko in a shallow dish.
Beat eggs and pour in a shallow dish.
Dredge oysters in flour shaking off excess then dip in egg and panko.
Place on a cookie sheet and let rest at least five minutes.
Heat oil in a frying pan and fry oysters until golden brown.