"It was hot, but not oppressive, generally smooth, not much seaweed. Great racing: no excuses at the 2019 Cocktail Class Nationals August 17 at Rock Hall Yacht Club (RHYC)," says Charlie Iliff. (The Kent Island Race in July was stiflingly hot and racers had to contend with extra thick sea grasses wrapping around props.)
Race directors, Todd Steffes, and Vice Commodore Capt. Peter Urbani kicked off this year's CCWBRA Nationals Regatta on Friday, August 16. Racers and members began showing up at the Rock Hall Yacht Club for testing and registration from Maryland, Pennsylvania, Virginia, Georgia, and Tennessee. Benji and Anneliese Cantera brought the Muriel Eileen down to the RHYC with their fleet of four boats, "The Mosquito Fleet," and showed up ready to race.  
Saturday started with a fog over the Bay, but sunny skies were the order for the day. Twenty-two cocktail class boats and 29 racers made for exciting and competitive Cocktail Class racing. Racers competed in 12 events in five different motor classes. 
We kicked off the day with the Early Classics class with Fred Keer taking first place in the Mixed division with his boat 1891, 2 Cycles Gladiator; Tara Carew taking first in the Women's division with Russ Bowler's boat, 40, Flying Kiwi; and Frank Cantera, taking first in the Youth class, in his boat 115 Ball Breaker.
Late Classics had seven racers competing in the Mixed division. Russ Bowler in 40 Flying Kiwi took home the first place title. Tara Carew claimed first place in the Women's division in Jack Pettigrew's 82 Havin' Fun. Also in Havin' Fun, CCWBRA Commodore Keith Carew took first place in the Heavy division, and Morgan Carew took the Youth class. Thanks to Havin' Fun, the Carews took home possibly the first-ever hat trick of a family racing team bringing home three first-place titles in the same engine class.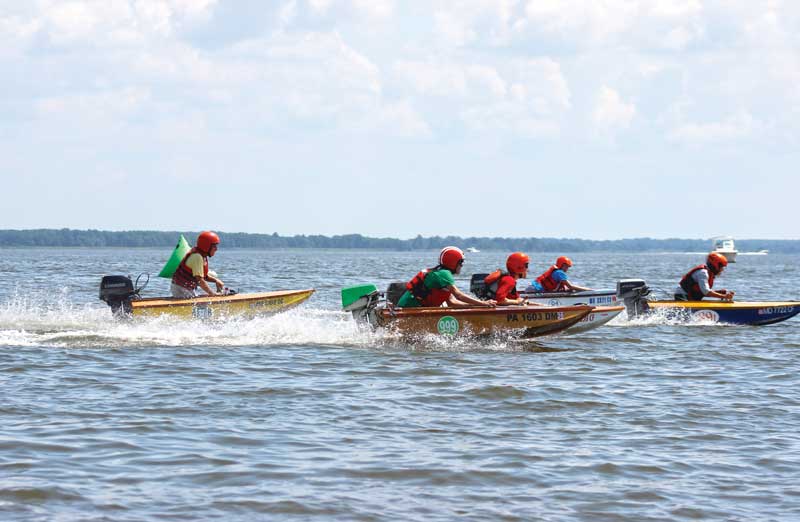 In the Post `79 class, 10 racers competed in the Mixed division, with Steve Brendlinger in 999 Kamikaze taking the title. Sara Orthwein took first place in Women's in 1314 SNAFU, and Zach Ditmars pulled off another first place victory in the Heavy class with PropTalk's 67 Molotov.
In the Tohatsu 6 HP Mixed class, we had six racers competing in our first ever Nationals race for this class. The racers all compete in one Mixed class and are required to ballast up to 200 pounds. Annaliesse Cantera ran a race with great starts and great skill and proudly walked away with a first-place victory in 100 Con Con, with Keith Carew taking second in Rich Faulkner's boat, 13 Mother's Ruin, and Jax Shubert with third place in the newly rebuilt (paint barely dry) 35 Ms. Stoli NFL, owned by Urbani Family. 
We ended the day with the 8 HP Mixed class with nine racers competing for the coveted title in the fastest motor class. Similar to the Tohatsu 6 HP Mixed class, racers compete in one class and must ballast up to 200 pounds. With six racers moving on to the finals, it was a nail bitter around some of the buoys but a clean race. Darryl Kepler, who has been our longest reigning National Champion in the 8 HP class, was not about to give up his title and clenched a first place victory again in 777 Silver Bullet, with Steve Brendlinger giving him a run for his money and taking second in 999 Kamikaze. Todd Steffes brought home the third-place award, pulling off his first placing at Nationals since his 2011 first-place victory. It was a long time in the making but some new motor additions this year for 20 Hot Toddy paid off!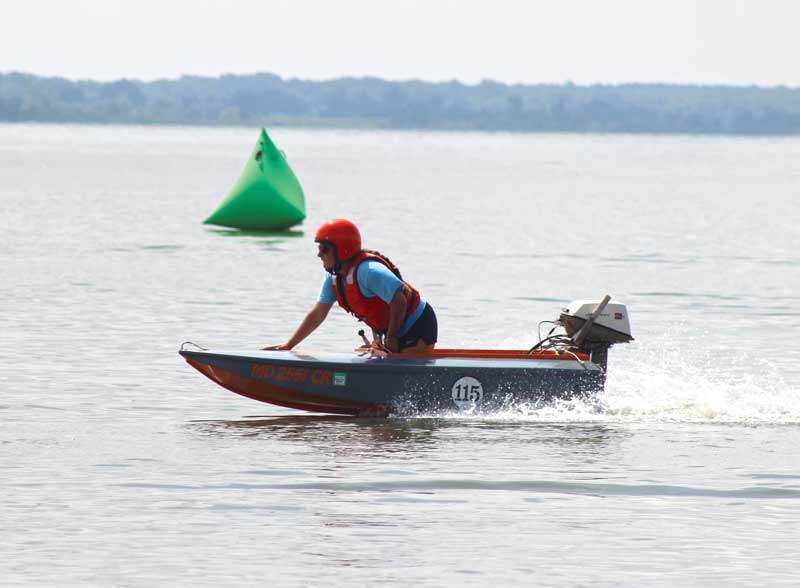 Other than a small break for a storm that was looming on the horizon, we had a fantastic day! Thanks to Capt. Lee Urbani for running the safety boat and Todd Steffes for donating his Grady White 24 for safety boat duty. We stress safety at our Skipper's meeting, and we had a safe race with only SNAFU needing a tow due to motor issues after two boats could not avoid a minor collision around the second buoy. There were no injuries and no protests.
At the awards ceremony, our Nationals winners were presented with special pewter cup awards from Camelot Pewter in Virginia engraved by our very own Jack Pettigrew. Huge thanks to Jack for all of his hard work again this year! 
Once again we thank all of the volunteers who make these races possible: Todd Steffes and Peter Urbani, co-race directors; Sue Steffes for organizing the dinner event; Kimberly Shubert, Jim Schmicker, and Keith Carew on Race Committee calling all the starts and finishes; Jeff Weeber for running the pit area and keeping the races on schedule; Lena Cantera for capturing the day for us with her camera; Dawn Urbani with scoring committee; Tom Kerr on inspections; Jax Shubert; Rock Hall Yacht Club for hosting our event, and so many others that make these events fun! For more information, visit ccwbra.com.
By Kimberly Schubert
---
Don't forget to watch our video recap!
Results:
Early Classic Mixed
1. Fred Keer, 2 Cycles Gladiator (1891)
2. Russ Bowler, Flying Kiwi (40)
3. Art Gompf, SNAFU (1314)
Early Classic Women
1. Tara Carew, Flying Kiwi (40)
2. Annaliesse Cantera, Ball Breaker (115)
Early Classic Youth
1. Frank Cantera, Ball Breaker (115)
2. Morgan Carew, Flying Kiwi (40)
Late Classic Mixed
1. Russ Bowler, Flying Kiwi (40)
2. Jack Pettigrew, Havin' Fun (82)
3. Tom Kerr, Rajic (46)
Late Classic Womens
1. Tara Carew, Havin' Fun (82)
2. Kaylie Jasinski, Molotov (67)
3. Sara Orthwein, SNAFU (1314)
Late Classic Heavy
1. Keith Carew, Havin' Fun (82)
2. Zach Ditmars, Molotov (67)
3. Mike Serio, Battle of Hastings (1066)
Late Classic Youth
1. Morgan Carew, Havin' Fun (82)
2. Frank Cantera, Ball Breaker (113)
Post '79 Mixed
1. Steve Brendlinger, Kamikaze (999)
2. Art Gompf, SNAFU (1314)
3. Fred Keer, 2 Cycles Gladiatior (1891)
Post '79 Womens
1. Sara Orthwein, SNAFU (1314)
2. Kaylie Jasinski, Molotov (67)
3. Annaliesse Cantera, Rolling Thyme (114)
Post '79 Heavy
1. Zach Ditmars, Molotov (67)
2. Mike Boyle, SNAFU (1314)
3. Todd Steffes, Flying Kiwi (40)
Tohatsu 6-hp 4 Stroke Mixed
1. Annaliesse Cantera, ConCon (100)
2. Keith Carew, Mother's Ruin (13)
3. Jackson Shubert, Stoli NFL (35)
8-hp Mixed
1. Darryl Kepler, Silver Bullet (777)
2. Steve Brendlinger, Kamikaze (999)
3. Todd Steffes, Hot Toddy (20)