Most everyone liked the July 20 Cocktail Class races at Kent Island Yacht Club. It was a lot like summer: heat index 114, or so (millennials will probably have to Google the movie reference in the title). Fourteen boats and 21 drivers put on a show for the spectators, who had enough shade, breeze, and iced beverages to be comfortable, not to mention a water slide: a first at a CCWBRA regatta. Lots of competition there, but no scoring.
The Cocktail Class Wooden Boat Racing Association (CCWBRA) racers are approximately eight feet long, powered by 6-hp motors. There is an 8-hp class, but no entrants at this year's Kent Island Regatta.
CCWBRA secretary Kimberly Shubert summarized the event:
"Some of the toughest competition our racers faced was from the sea grass, which broke a few winning streaks. We had our first photo-confirmed finish of a neck-and-neck race between Morgan Carew and Frank Cantera in the youth class. We also had a few new drivers, including Capt. Lou Linden, who is racing 66 Mrs. Smirnoff, Nyree Wannell, racing with John Sanguinetti in 810 Dark & Stormy, and Molly Moran, racing with the Wilmot team in 109 Pink Lady. For her first race, Molly came in second place in the Early Classic Women's heat!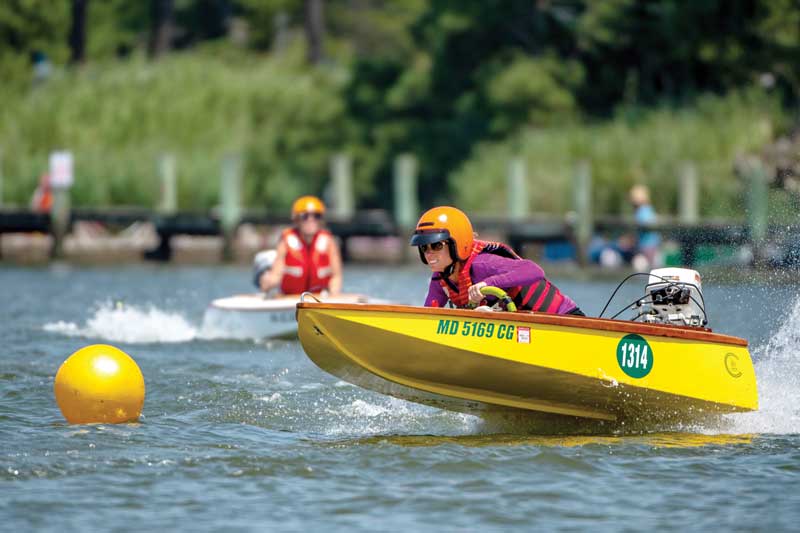 "Several teams, and in some cases several boats, showed up ready to race in multiple engine classes, including the Canteras Mosquito Fleet, PropTalk's Molotov, the Carews Blue Hawaiian, Sanguinetti's Dark & Stormy, and Art Gompf's SNAFU. The largest class was by far the Post '79 class with eight engines registered to race, with Tom Kerr taking first place in Post '79 Mixed in 46 Rajic, Benji Cantera taking second place in 114 Rolling Thyme, and Frank Cantera taking third place in 100 ConCon. Sara Orthwein led the pack each heat in Post '79 Women's in 1314 SNAFU, Kaylie Jasinski in Molotov taking second place, and Morgan Carew taking third in 81 Blue Hawaiian." 
Everyone loves to see the increase in seaweed, a sign of improving Bay health, except when it's wrapped around the prop and the rest of the class is a leg ahead. The seaweed balls aren't always dislodged by reversing, and are completely oblivious to swear words and other appeals to the racing gods. Removal requires leaning over the transom or standing in the shallow water and manually unwinding the mess. But class winners skillfully avoided the weed, leaving plenty to decorate Pete Urbani, who spent most of the race time in the water, clearing props, repairing minor malfunctions, and directing racers around the worst patches.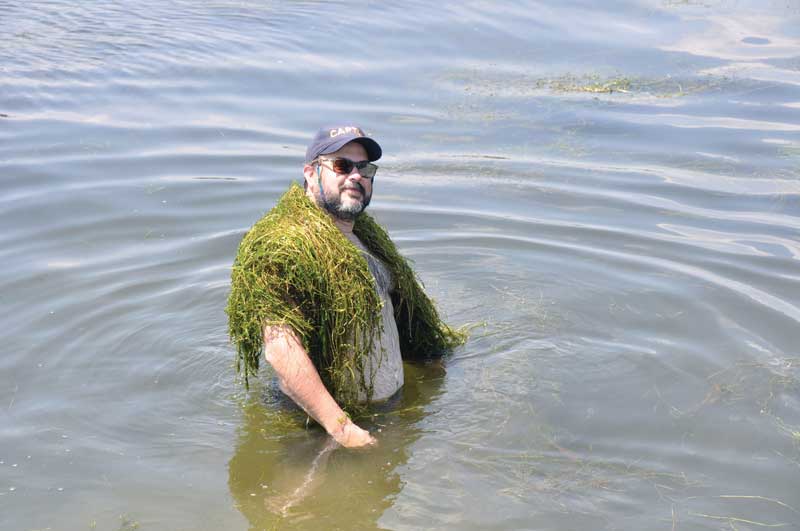 For the last three years, weather discussion has characterized the CCWBRA Kent Island Regatta. Two years ago, it was a water spout, which interrupted the races and drove everyone inside until it was clear. Last year it was rain and this year a bit of heat. The consistent theme, however, was the superb hospitality of the Kent Island Yacht Club and hosts Bob and Marie Wallace, who this year also supplied the safety boat, crewed by their son and daughter-in-law: Brendan and Kate. Special thanks to them. It was hot out there, but not boring; they had ringside seats for some great racing.
So, the hot seaweed regatta is in the record books. Next up are two new races this year: the Tennessee Cup September 7 and the Commodore's Cup September 21 at Maryland Yacht Club in Pasadena, MD. Spectators are welcome! 
By Charlie Iliff
Results
Early Classic Mixed
1. Spencer Feeney, Pink Lady (109)
2. Art Gompf, SNAFU (1314)
3. Benji Cantera, Ball Breaker (115)
Early Classic Women
1. Sara Orthwein, SNAFU (1314)
2. Molly Moran, Pink Lady (109)
3. Annaliesse Cantera, Ball Breaker (115)
Early Classic Heavy
1. Tim Wilmot, Pink Lady (109)
Early Classic Youth
1. Morgan Carew, SNAFU (1314)
2. Frank Cantera, Ball Breaker (115)
Late Classic Mixed
1. Russ Bowler, Flying Kiwi (40)
2. Tom Kerr, Rajic (46)
3. Benji Cantera, Iceman (113)
Late Classic Women
1. Kaylie Jasinski, Molotov (67)
2. Sara Orthwein, SNAFU (1314)
3. Annaliesse Cantera, Iceman (113)
Late Classic Heavy
1. Zach Ditmars, Molotov (67)
2. Mike Boyle, SNAFU (1314)
Late Classic Youth
1. Morgan Carew, Flying Kiwi (40)
2. Frank Cantera, Ball Breaker (115)
Post '79 Mixed
1. Tom Kerr, Rajic (46)
2. Benji Cantera, Rolling Thyme (114)
3. Frank Cantera, ConCon (100)
Post '79 Women
1. Sara Orthwein, SNAFU (1314)
2. Kaylie Jasinski, Molotov (67)
3. Morgan Carew, Blue Hawaiian (81)
Post '79 Heavy
1. Zach Ditmars, Molotov (67)
2. Mike Boyle, SNAFU (1314)
3. Keith Carew, Blue Hawaiian (81)
Tohatsu 6HP 4 Stroke Mixed
1. Benji Cantera, ConCon (100)
2. Peter Urbani, Stoli NFL (35)