The Woodland Beach Volunteer Fire Department (WBVFD) and the Anne Arundel County Fire Department (AACoFD) announce that the WBVFD has placed a new fireboat in service. The announcement culminates a multi-year project by the WBVFD to supplement existing county marine resources and significantly reduce response times to water rescue, emergency medical, and fire incidents on the South River.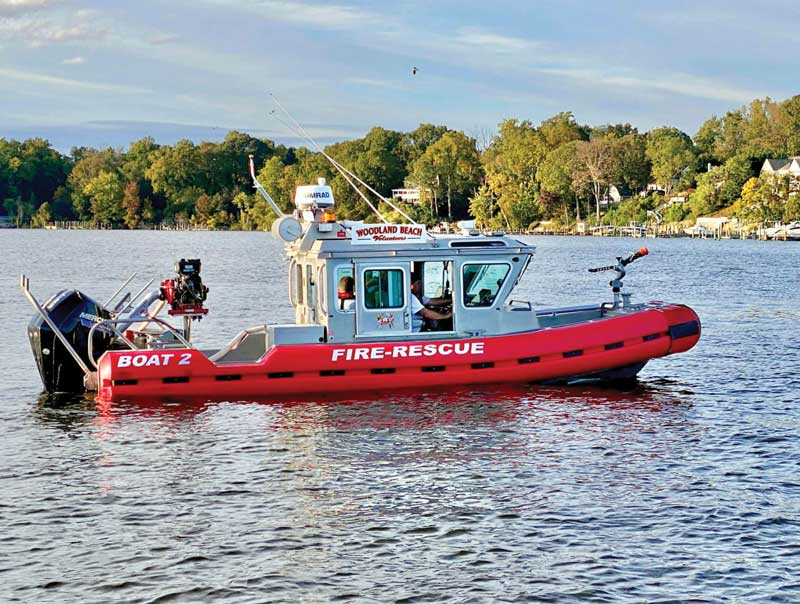 "This is a much-needed asset to the South River and the surrounding area," said WBVFD chief John Sweeney. "It was an honor to be able to work in conjunction with the Anne Arundel County Fire Department to assist in making our waterways safer."
Fireboat 2 is a surplus Coast Guard 25-foot Defender-class boat featuring new twin 225 Mercury outboard motors, a Simrad NSS 12 Chartplotter, two marine VHF radios, a marine hailer horn, an emergency light package as well as fire department radios, and a fire department Automatic Vehicle Locator (AVL).
WBVFD has installed a pre-piped fire pump with a 400-gallon-per-minute capacity for marine firefighting capabilities or to supply water to land-based fire units. It also carries a complement of Basic Life Support equipment, including an AED, for providing emergency medical care.
The boat will be moored at the Turkey Point Marina, which has donated a lift to the WBVFD. It will be staffed with a minimum of two members, either WBVFD volunteers or career personnel assigned to the Woodland Beach station.
The final cost of the project is $105,000. The WBVFD received a $40,000 508 grant through the Maryland Volunteer Company Assistance fund. WBVFD paid the balance from their proceeds of the county EMS Transport Billing Volunteer Grant program. 
According to Chief Sweeney, the project was moved along with the assistance of WBVFD members and local businesses. 
"I'd like to recognize Miller's Auto, PYY Marine, Rhode River Marina, and Bobby Deale for all of their hard work in rehabbing the boat and the United States Coast Guard for donating the hull," Sweeney said. "Thank you to all the members of our department and Fire Chief Wolford and her administration for providing the support to make this happen."