The Bowleys Quarters Volunteer Fire Department operates the largest emergency response team in the Upper Bay area: Marine Emergency Team 21. MET21 is one of the few teams north of the Chesapeake Bay Bridge that can make year-round emergency responses in any weather condition. Their coverage area comprises roughly 90 square miles, with up to 6000 boaters on the water in that area on any given weekend.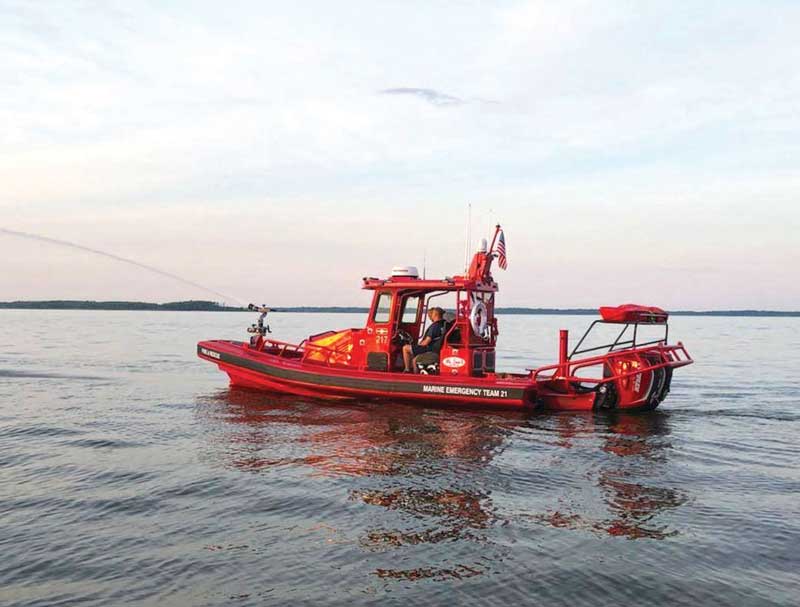 The team had previously been operating a 23-foot fishing boat, converted into a fire/rescue boat, but last November, that boat suffered catastrophic engine failure. Shannon Stallings, chief of MET 21, knew it was time to find a replacement, and also knew, "We weren't going to buy a fishing boat again," says Stallings. They needed a true rescue boat. Thus began a project to find the perfect boat and raise the money to acquire it. 
MET21 applied for and received two $50,000 Waterway Improvement Fund Grants from the State of Maryland. After matching the first $50,000 grant with their nonprofit funds, MET 21 then they launched a capital campaign to raise $50,000 in 50 days. MET 21 called on the local community to help, and they were able to raise $50,000 in 53 days. Donations poured in from generous local businesses and organizations including: the Bowleys Quarters Improvement Association, Deckelman's, S&S Marine Canvas, John Heagy Construction, Ravens Roost 139, Key Title, Sunset Cove, the Oliver Beach Improvement Association, Bay Country Concrete, Bri-Bet Security, Charlie and Ray's Automotive, Wal Mart Carroll Island, Eastern Watersports, Bowleys Quarters Marina, and Sullivan's Garage (which donated a whopping $10,000!). 
MET 21 also called on local community members; no donation was too small. Smaller donations of a dollar here or five dollars there made up $5000 of total donations. The team picked out the boat they wanted, a Silver Ships, Inc. true fire/rescue boat, and Silver Ships even offered to give them a $49,000 discount, but they still had a long way to go. Hearing this, the Bowleys Quarters Volunteer Fire Department Ladies Auxiliary stepped in with an amazing $12,000 donation. This was followed by a $52,000 donation from Baltimore County Government, which effectively allowed MET 21 to pay off the vessel and own it free and clear. The final step was acquiring a loan that would hold them over until the grant money came in and allow them to purchase the vessel. Howard Bank agreed to give them a bridge loan, with payment not due until all of the grant money came in. "It was a non brainer. The team had a need and we were able to meet it," said Marc Czosnowski, VP of business banking at Howard Bank. Chief Stallings commended Marc and his team at Howard Bank for "thinking outside the box and deviating from standard practices" to get this accomplished. 
The support, donations, and dedication of the Bowleys Quarters Volunteer Fire Department, community members and businesses, and local government officials made it possible for the largest marine emergency team in the Upper Bay to purchase free and clear the $276,000 fire/rescue boat. The Boat, Marine Unit 217, is 32 feet long and is powered by twin 250-hp Evinrude outboards. She is named the Mrs. Linda II after Linda King, who had recently passed away but devoted so much to MET 21. Her husband, Max King, did the honors as he broke the bottle of champagne over the hull during the dedication.