The Marine Trades Association of Maryland is proud to announce that on-the-job trainees Shane Laureska (far right) and Cain Knopp (far left) have been promoted to full time positions at Hinckley Yacht Services.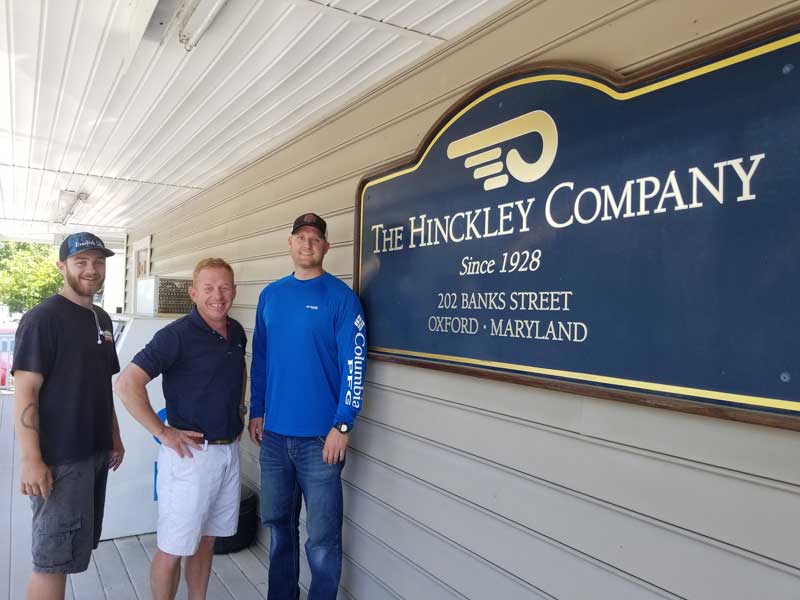 Shane is the current Dockmaster at Hinckley in Oxford, MD, and Cain has taken on detailing work. Shane first became interested in the marine industry watching the boats come in and out of the waterfront restaurant he worked at before applying for MTAM's six week on-the-job-training program. Through the training, Shane learned nautical terminology, the ins and outs of launching and blocking boats, and what goes into the general maintenance of a boatyard. He has recently started learning Hinckley's computer systems to provide purchasing support and will be moving into a carpentry position.
Cain entered the program with a background in painting boats and gained skills in basic boat carpentry, body work, and fiberglass through the training program. He reports learning the processes and procedures of the service shop in the first few weeks of that program and is currently working on a teak restoration project. Cain plans on pursuing a Yamaha outboard certification at the end of the summer.
Hinckley Yacht Services' Eliott Anderson (center) remarks, "In today's challenging labor market, we are thankful to be working with MTAM to find talented and hardworking apprentices. We are excited to share in the success of the program and future accomplishments of our new hires."
This Project is funded by the State of Maryland's EARN Maryland Grant Program, administered by the Maryland Department of Labor, Licensing and Regulation.
Click here for more on MTAM's Workforce Development program. For another MTAM success story, click to our article on David Howell, who interned with Tidewater Yacht Service in Baltimore.