Personable Annapolis and Kent Island resident Phil Besche sat down with PropTalk recently to talk all things waterskiing.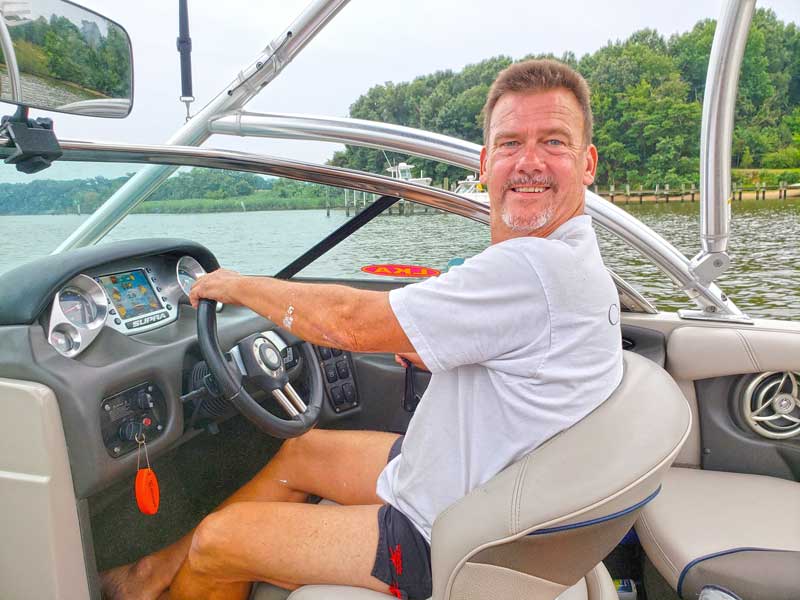 How did you get started as a kid?
My father, Chuck Besche, was a true outdoorsman and athlete from wrestling, ice skating, hunting, and fishing to boating. He and my uncle owned a Bay-built Edwards, the Maryellen that my uncle chartered for 35 years. In the early 60s a neighbor had a small fiberglass V-hull, the Dunn Flyin, and we skied nearly every weekend for decades on the wooden Cypress Gardens, Dick Pope skis.
Where did you ski? 
Most often on Whitehall Creek. Mill Creek had a nice long straightaway, and Jimmy Cantler's Riverside Inn sold gas at 36 cents a gallon. On calm days we would occasionally ski out to and under the Bay Bridge. At my first real job at Ski Haus (route 50 Annapolis), we traveled to the finger Lakes in Newcomb, NY, to sell our skis, ropes and T-shirts at the "I Love New York State Championships." 
World champion and world record holder Alan Cerasani asked me if I had ever run a slalom course. Embarrassed, I had to answer "no." He immediately grabbed a rope, taught me the baseball bat grip, discussed punching at the boat with one hand as you crossed the wake to slow the ski into the turn and the dynamic of slowing to eight to 12 miles an hour thru the turn and accelerating up to 60 miles an hour, crossing the wake, punching at the boat, and slowing the ski far in advance of rounding the next buoy. I still get goose bumps.
Tell me about your equipment.
Working at Ski Haus, I had tremendous benefits regarding equipment, all the best the industry had to offer from Connely, HO, Kidder, and even the old MAHA. The slalom skis that were dominating in all the tournaments were often too stiff for skiing in the Bay, especially on weekends and holidays. My ski of choice was the Connelly TEAM-1, a little softer under foot to absorb chop, but could still run a slalom course and hit all six  buoys at 36 miles per hour.
Regarding boats, most of my skiing was done on the family 20-foot Mako, which provided a nice wake for jumping and clearing the wake; a little rough for cranking slalom runs, but we had enough power to pull four skiers at once. The occasional run behind a Ski Nautique seemed nearly effortless in comparison with virtually no wake... again, goose bumps!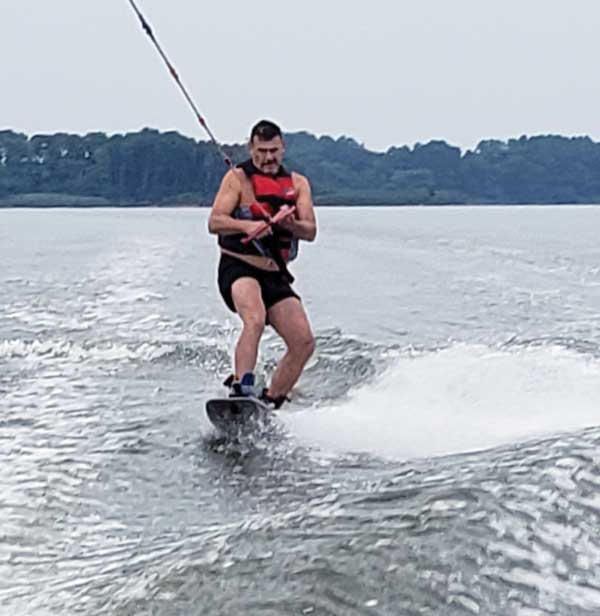 Did you win any awards?
I only competed in the one tournament in New York, but took first place in Trick and third place in Slalom (novice division). The best award I ever got was teaching skiing (what an amazing feeling) by doing on-land prep with the new skier and getting in the water with my swim fins, helping them get the skis on, establish correct body position, and telling them to yell at the captain: "Hit it!"
Do you have any funny memories to share?
At the New York State Championships, one of the most renowned skiers
in the world, Warren Witherall, was arriving in his personal sea-plane (I believe at the time he was skiing in Mens II or Senior). As he turned and landed on the pristine lake setting, the tail of the plane hooked one of the slalom buoys and pulled the course out of line (all the buoys were attached to each other and the bottom of the lake.) We had to reset the course before the tournament could resume.
What's your dream equipment?
On my bucket list would have to be Kite boarding and Heli-(snow) skiing. Also, I love the training equipment that is available now for young skiers.
Want to learn to ski?
Phil Besche has been a certified GLM ski instructor, certified binding mechanic for nine companies, 10-year volunteer EMT for the National Ski Patrol at Roundtop, Wisp, and Alpine Valley East; and is available for lessons in snow skiing, waterskiing, trick skiing, wakeboarding, and windsurfing. His specialty is dry land prep and instruction before hitting the water or slopes, saving time, gas, and learning frustration, and maximizing fun! Reach him at (443) 852-5674.
Interview by Dan Brougher
---
You can meet Phil Besche in person at the PropTalk booth at the United States Powerboat Show! Phil will be at our booth, F6/F7 Saturday, October 5, in the afternoon to talk waterskiing with parents and kids. He'll be bringing tow ropes and handles to talk positioning and will share tips with parents on how to get their kids out waterskiing. Stop by and see us!