Seventy-one-year-old Washington College math professor Gene Hamilton has been waterskiing in one form or another since 1957, when he started at the age of nine. If it involves watersports, Gene knows a thing or two about it.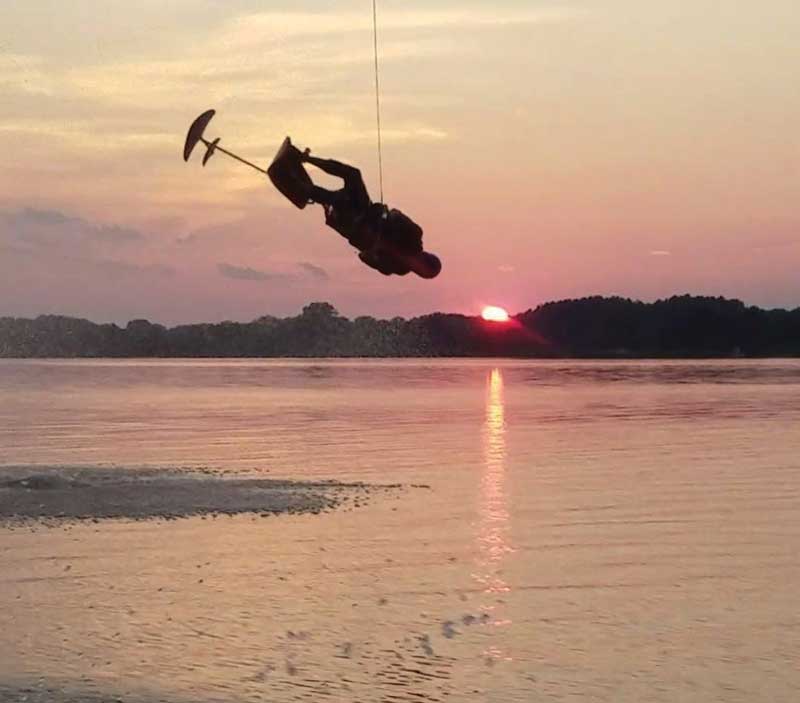 This season, when not doing mathematics, he plans to ski "as often as possible." New upgrades are planned for his 20-foot Supra that include a heater "capable of 35,000 BTU/hour" and hot water shower that will allow for more comfortable skiing in cold weather conditions. 
How did you get started as a kid?
I first tried waterskiing on a lake in the Poconos but could not get up. Later that year while above the bridge on the Sassafras River, a snow skier eventually taught me how, and I got up for the first time. Since then I have slalom skied, used trick skis, wakeboarded, went over a jump (four times in one evening), and have now settled into hydrofoil skiing. 
Where do you (ski/wakeboard)?
(On the Chester River) between Conquest beach and below Chestertown along Devils Reach.
Do you belong to groups? 
I used to belong to the Upper Chesapeake ski club, probably like 50 years ago, and Washington College maintains a ski club that I have been involved with. But now I maintain my own substantial list of potential skiers.
Have you won any awards?
I don't compete, so there are no awards, I just do it for fun. (However, Gene's accomplishments include turning over 5000 "flips," including 2200 alone in 2018.)
Can you tell us something embarrassing you've done? 
(While riding on trick skis) I was attempting a "step over" trick where you lift one of your skis and step over the ski rope while turning around. This results in skiing backwards with the rope between your legs. During the step over, the ski became entangled in the toe loop of the tow rope. I fell but the ski remained tangled, came off and continued to be pulled by the boat, until it broke in two!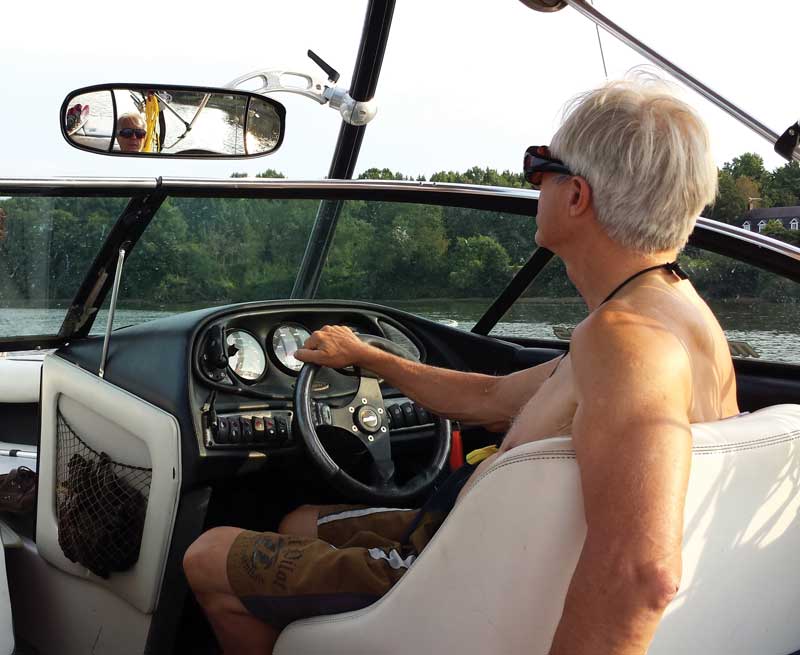 Ski Boats and Gear
Gene operates two ski boats: a 2003 21-foot Malibu and a 2010 20-foot Supra. Both boats are inboards with 335-hp motors. Both have the unique feature of being equipped with custom towers for attaching the ski rope to create the extra "lift" that helps to perform "flips" with a hydrofoil ski. The Malibu has an 11-foot "stiffy tower" that is mounted to the boat's standard seven-foot arch, thus providing 18 feet of total height. The Malibu also has a "sail" that can be rigged to reduce strain on the tower. The Supra has a seven-foot "fly-high tower" mounted to the eight-foot arch that provides a total of 15 feet of height above the water. 
The boats also have a number of options (wedges, trim tabs, and ballast tanks that can be filled with ambient water pumped from outside the boat) that can be utilized to vary the wake height as desired for the day's activities, ranging from small flat wakes for skiing to large monster wakes that wakeboarders prefer.
Hydrofoil skis have evolved dramatically from the early styles that were affixed to regular standup skis of years gone by. Today's versions basically come from two companies: Sky Ski and Air Chair. Both styles now involve the skier being strapped in while sitting on the ski. Gene prefers the Sky Ski models (typically used by more serious riders) and is currently riding one with a 38-inch T-bar foil. Safety equipment includes a helmet, gloves, padded wet suit, neck brace, and lifejacket. When submerged the foil itself draws about three feet of water, so deeper waters are required for this type of skiing. For hydrofoiling Gene uses boat speeds ranging from 21 to 22 mph for flips, and increasing to about 23 to 24 mph for jumps and straight ahead skiing.
Interview by Dan Brougher
---
For more waterskiing profiles, check out Dan Brougher's interview last article: Julie Heikes-Still Waterskiing on the Streaker.