Julie Heikes of Easton, MD, began waterskiing at the age of 11. Like many young children of the day, she learned to ski thanks to her dad. She cut her teeth on the Miles River in Talbot County behind her dad's "20-foot Shamrock center-console fishing boat. The family 'ski' boat was built in 1974 and affectionately named after the 70s hit song 'The Streak' by Ray Stevens," she says.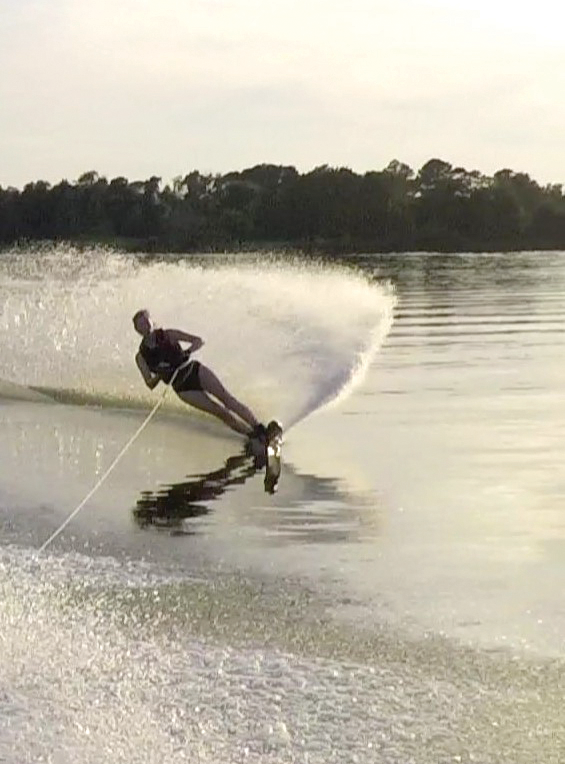 These days, Julie can still be found shredding the water on the Miles River, and amazingly she's still being pulled by Streaker! Julie keeps Streaker in the water for quick after-work getaways when the water is "calm and glassy." 
She says, "We run the boat from Memorial Day through October and sometimes into early November. I use swim pants and rash guard shirts to provide protection from nettles in the summer months."  
Not a competitive skier (yet), Julie has won no awards to date, but has previously attended ski schools, and is constantly refining her craft in order to improve.
Equipment
Not long after purchasing, "Dad quickly repowered Streaker from the stock Ford 302, to a larger Ford 351. One summer Dad used Streaker to pull nine skiers at once." As most young people today are gravitating toward wakeboarding, Julie is something of a throwback rarity along the waterways and prefers slalom skiing. She's currently running two slalom skis.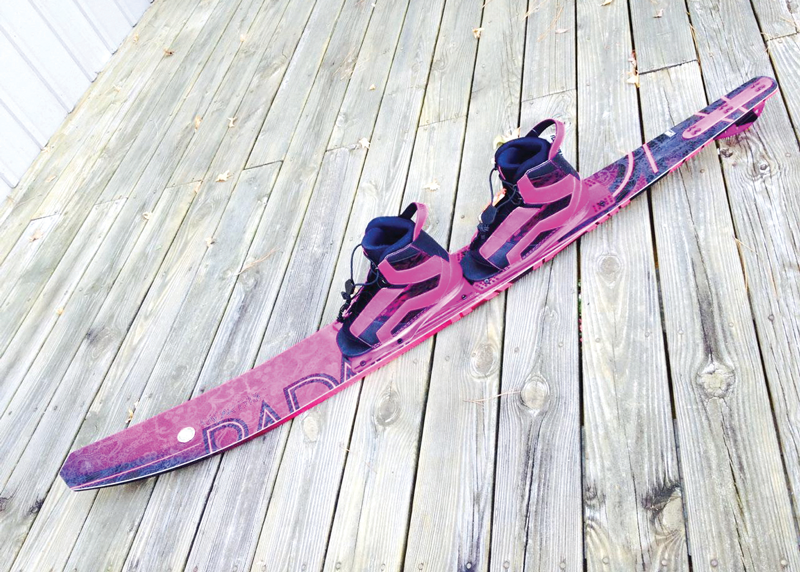 "I'm skiing on two different skis (not at the same time)—a blue 65-inch HO model TX and a hot pink 63-inch Radar, both with double boot bindings." For a vest she uses the Coast Guard-approved Liquid Force Diva vest: a modern, light, form-fitting neoprene vest in purple.
Summer plans
"Weather permitting, plans for the summer are simple: ski as much as possible! I love the feeling of freedom while on the water, and the rush from the speed of slalom." For the summer she is debating whether to attend another ski school and plans on enlisting the help of video coaching.
Something embarrassing?
Julie says, "As a teenager, I backed the boat out of the slip one day and then put it in forward, not realizing the bowline was overboard. The line immediately got wrapped around the prop, and I had to go swimming. Untangling the inboard prop under the boat was way easier than the walk of shame later to tell my dad what I'd done." 
Dream equipment
Like all good skiers who don't have one, "a real ski boat" tops Julie's dream equipment list. Other dreams would include a "year round ski season, lessons or instruction, and maybe a personal trainer for providing motivation for better physical conditioning."
Interview by Dan Brougher