The Marine Trades Association of Maryland (MTAM) would like to recognize the continued success of former on-the-job trainee Kaleb Vonmoose, who began MTAM's On-the-Job Training Practicum at Fairwinds Marina in February of 2019. He had learned about the opportunities in the marine industry afforded by the program through a presentation from MTAM to North County High School's Fishing Club. Vonmoose started the program during his senior year and moved into a full-time position as a service technician after graduation.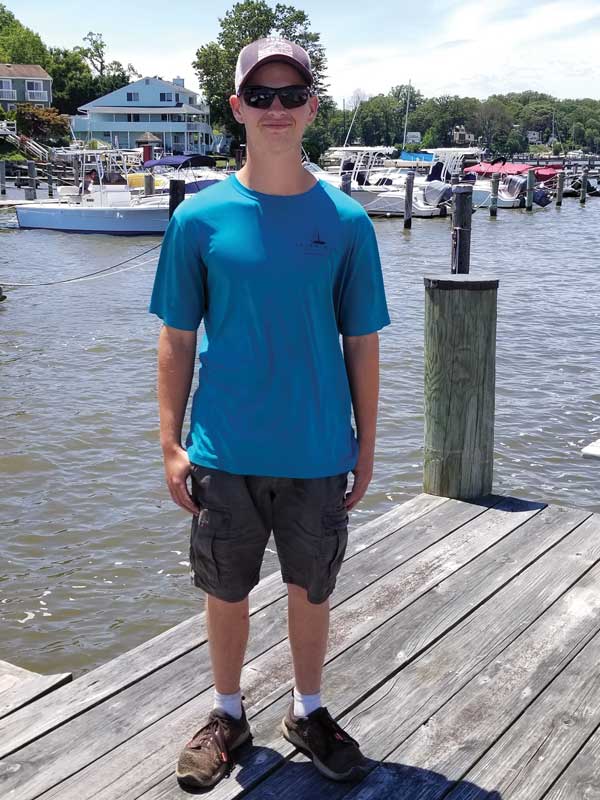 Vonmoose spends most of his time at the marina rigging, servicing, and troubleshooting Evinrude and Yamaha engines. He enjoys the troubleshooting aspect of his job because, "It's kind of like solving a puzzle," he said. 
Vonmoose completed Yamaha's service skills training in Georgia last fall and is currently working on Mercury's online training course. His goal is to eventually become both a Yamaha and a Mercury Master Technician. 
Taylor Lemnios began MTAM's On-the-Job Training Practicum at Port Annapolis Marina in June of 2019. He recently graduated from Broadneck High School and is now working at the marina full time.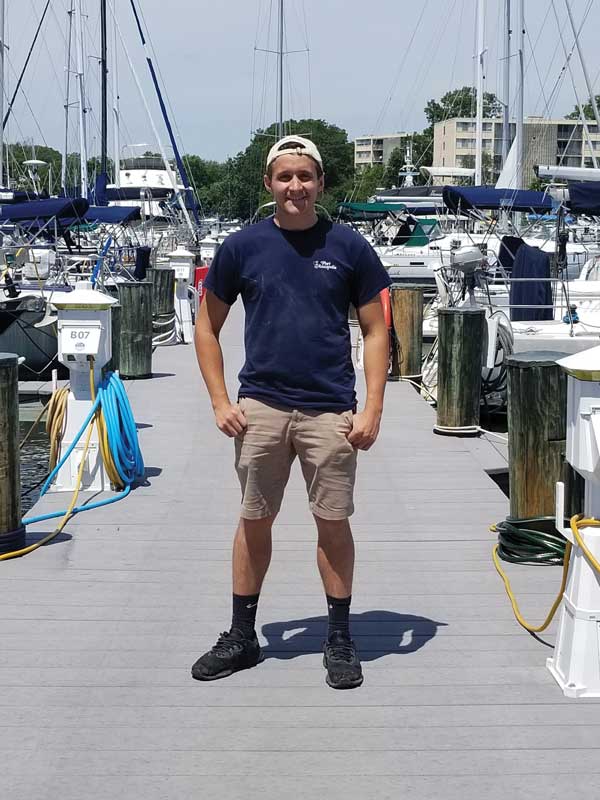 The six-week on-the-job training consisted of cleaning boats, running dock checks, and working in the ship store. Soon, he was helping different technicians around the marina with various tasks. 
"Most days, I go from person to person—our systems tech, our engine guys, our fiberglass guy—and help them with different things, but sometimes I have a project that lasts the whole day," he said. These projects included installing turbos and exhaust systems and glassing in bow thrusters. 
When Lemnios started in the industry, he thought he would like to pursue engine work, but recently he has developed an interest in fiberglass. He now spends much time in gel coat repair, filling voids, laying glass, and replacing through hulls. He plans to pursue further training in order to become a composite technician. 
Lemnios says, "My favorite part about my job is being outside and on the water all day. It definitely beats being stuck inside." 
MTAM would like to congratulate Matt Siems on the completion of his six-week on-the-job training with Harbor East Marina in Baltimore. Siems grew up sailing on the Chester River and after working at a sailing camp in the Poconos, began to think about what career opportunities may be available in the boating industry. Through a family friend he heard about MTAM's On-the-job Training Program and found a place at Harbor East Marina, close to his home in Baltimore City.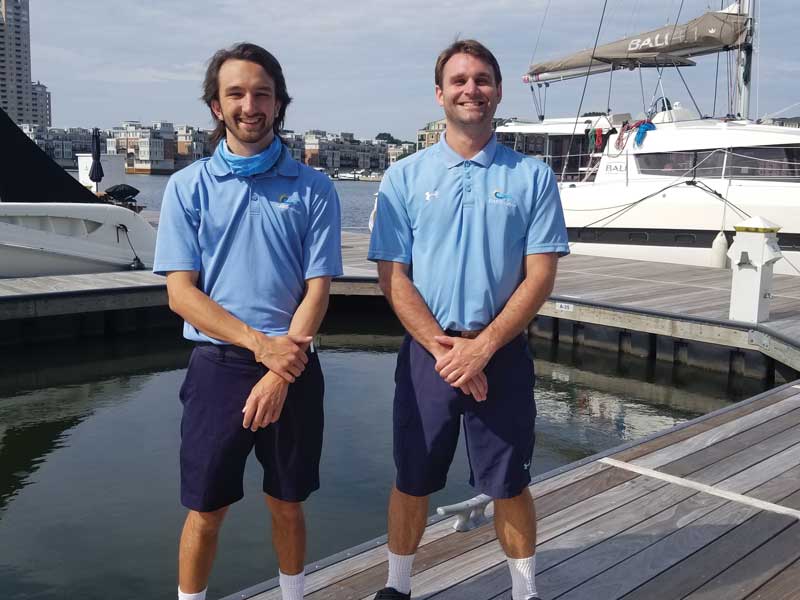 During his training, Siems learned about dock maintenance, pump outs, tying cleats, taking slip reservations, and the high-end customer service that is expected at Oasis Marinas. According to his supervisor, general manager Andrew Riina, Siems was taught "how to dock boats from 30 to 130 feet—center consoles to mega yachts." 
Siems, an economics major at Washington College and member of the American Marketing Association, expressed an interest in learning the financial side of marina operations. Through Oasis's Propel Program, designed to prepare new employees to take on more responsibility and grow within Oasis Marinas, and guidance from his supervisor, Siems learned about the business management aspects of running a marina. 
Riina is also a completer of both MTAM's On-the-job Training Program and Oasis' Propel program. "We are excited to see that past participants on our on-the-job training program are now in a position to mentor incoming trainees," said Susan Zellers, executive director of MTAM. "This is what we envisioned from the start of our program. The support and engagement of our Marine Trades Industry Partners has made it a reality." 
This Project is funded by the State of Maryland's EARN Maryland Grant Program, administered by the Maryland Department of Labor, Licensing and Regulation. For more information, visit mtam.org.