As we work our way through the dark ages of winter it is good to remember that spring is not very far away. All indications are that the upcoming boating season will be a good one, about the only good thing you can say about the effects of the pandemic.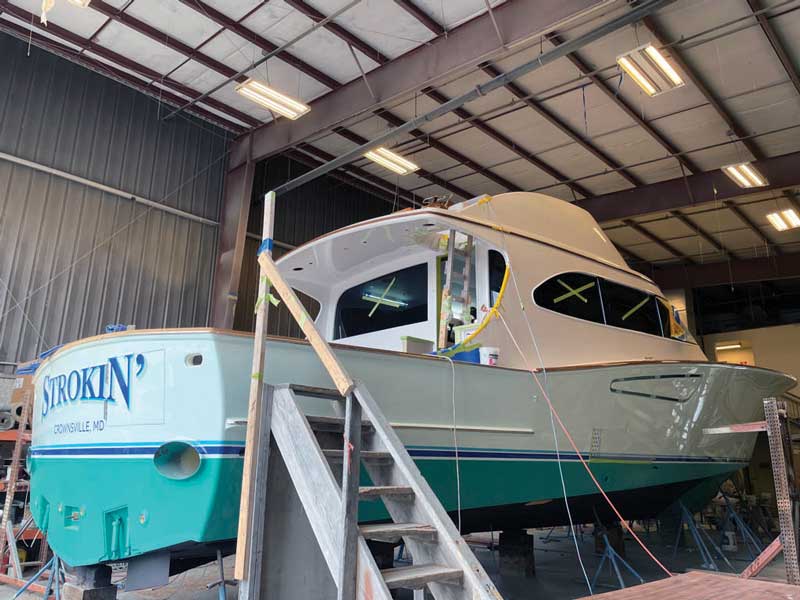 Alex Brewer sends us this update from Virginia Beach: "I wanted to send you an update on Anchor Boatworks' shop in Virginia Beach, VA. We have not slowed down this winter in the shop! As the Covid virus has continued to cause hardships such as: shortages, delays, and lack of manpower, we have managed to continue productivity to the best of our ability in house. From major fiberglass repairs to full electronic installs and Sea Keeper installations… it is anticipated that our boaters will be looking better than ever this spring/summer! As we prepare for the spring season ahead, we would like to reiterate the amazing services, products, and technologies we offer our customers. We are a certified Suzuki Re-power center, Sea Keeper dealer, Garmin, Fusion, and Lumitec Installers, as well as a dealer/installer for the Optimus 360 Joystick steering with Seastar and certified Awlgrip applicators. Check us out abwrx.com."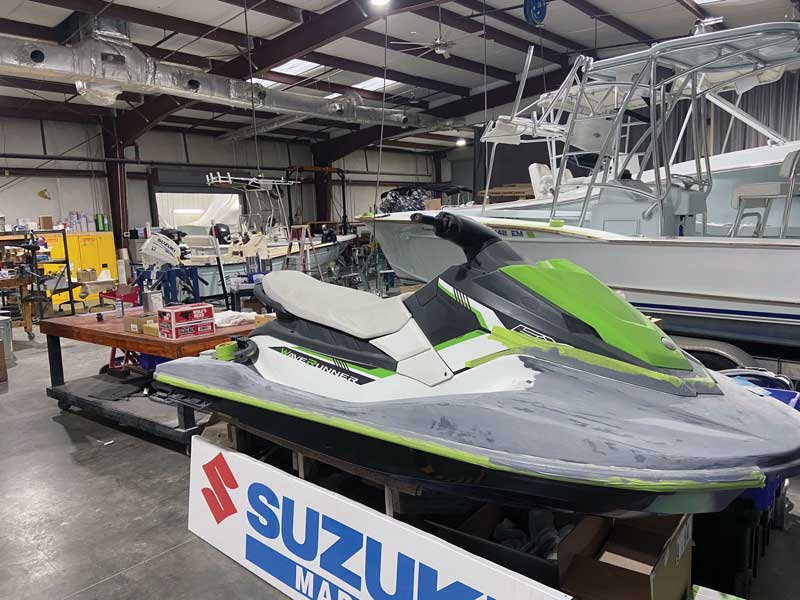 We came across this interesting report in the latest newsletter from Annapolis Sailing School in Annapolis, MD. "When most people think of wrapping, they're thinking about birthday and holiday presents or cool-looking cars. Not at Annapolis Sailing School! Our new fleet manager Scott Anderson decided to try something different when touching up some of our Rainbows this winter: using vinyl car wrap on the hulls instead of touching up the paint job! Using the vinyl wrap makes keeping our more than 60-year-old boats in tip-top shape a breeze. Scott can wrap a boat within a few hours, and the finish is shiny and durable. Check out the pics!"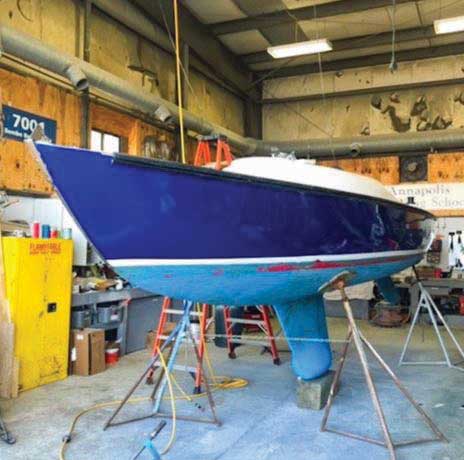 Alex Schlegel checks in with an update on winter at Hartge Yacht Yard Galesville, MD. "We filled our two-acre yard with 80 boats again with no room for anymore. I hear most yards are full for the winter, as usual. Unusual this fall was the number of low tides. That made handling deep draft boats difficult. We are booked up for winter work. Larger jobs for the mechanics include two generators out and one apart onboard for refurbishing. They run fine but need accessories like pans, mounts, paint, hoses, and heat exchangers. Two are getting fiberglass pans to replace rusting metal. One has a stripped ring gear and starter. The owners would buy new gensets if they were available, but they aren't. We had three transmissions out for repairs; one is back in and two are waiting for parts. A pair of Cummins QSBs are getting all new hoses, a bigger job than it may seem like. This month we send our mechanics to Yanmar School for continuing education. The riggers are busy with many small jobs and a large electronic job where monitors in the engine room and in the wheelhouse keep track of everything you can think of and more: the normal chartplotter features, bilge pumps, fans, cameras, AC and DC voltage, engine gauges including fuel flow, freshwater tank levels, alternator, converter/charger, weather including barometric pressure and humidity, wind speed and direction. There is an 'On Deck' hub so that the owner can monitor what is happening onboard and control up to five switches with his phone.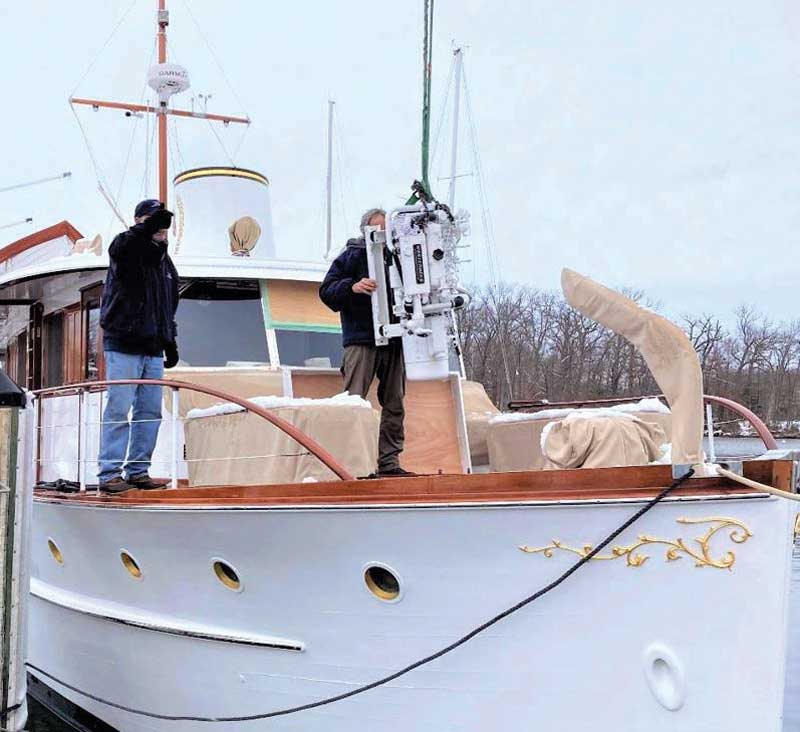 "Our fiberglass work includes making two generator pans, repairing some storm damage on a couple of boats, fixing accidents, and some water intrusion damage repair. Two big jobs for the brush painters are a Fortier 26 getting a 'makeover' and refinishing the brightwork on a Herreshoff. The Fortier is having all brightwork stripped; there is a lot of it, and finished with varnish or Sikkens Cetol, depending on the location. All the Awlgrip gets repainted—hull, decks, cabin, cockpit, and engine box. The interior gets new vinyl liner, new upholstery, and appliances. Other work on the Fortier includes soundproofing, cockpit hatch, stern seat, shift and throttle, cutless bearing, pulpit, windlass and rode, navigation lights, re-bedding deck hardware, a radio with AIS, chartplotter, autopilot, refrigerator, and air conditioning."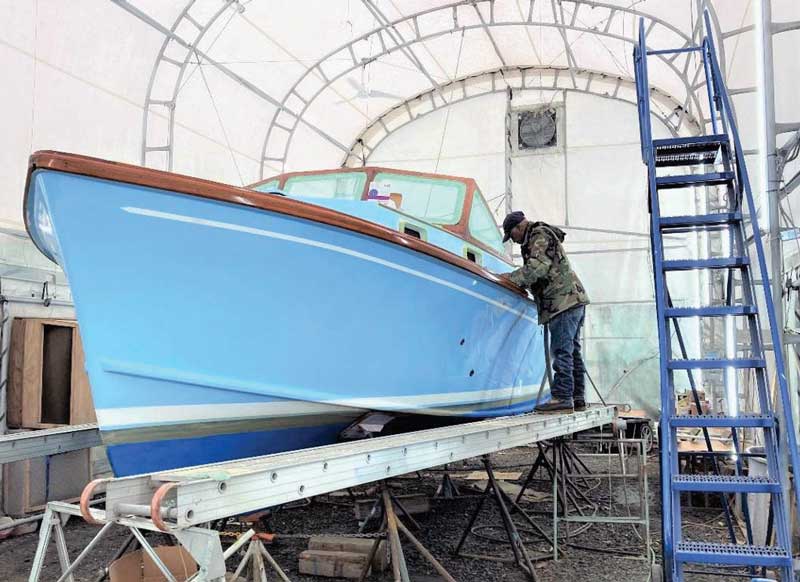 "This is a new one for us: We pulled a buyboat mast for refinishing and found insects in it. It was stripped of paint and varnish and fumigated. The mast is solid, one piece, and shaped from a pine tree. It naturally checks, and the checks will be filled with the owner's formula of pine tar, beeswax, and Japan drier. The flexible material will move as the mast changes shape, expands, and contracts with the weather. We will paint the head and base and varnish the middle with as many coats as we can by spring."
Mark Wilkinson of the Calvert Marine Museum in Solomons, MD, was featured recently in a profile in the Calvert County Times newspaper. The following report is reprinted with permission of that publication: 
"It was 'a kind of mini-van of the 19th century.' That's how Calvert Marine Museum curator of maritime history and the new chief boatwright Mark Wilkins describes the keeper's boat that hung by the davits of Drum Point Lighthouse off the Calvert County shoreline in the Chesapeake Bay. The description comes from the fact that the lighthouse keeper used the vessel 'to get mail, buy groceries, visit friends, to go to the doctor, etc.,' Wilkins explained.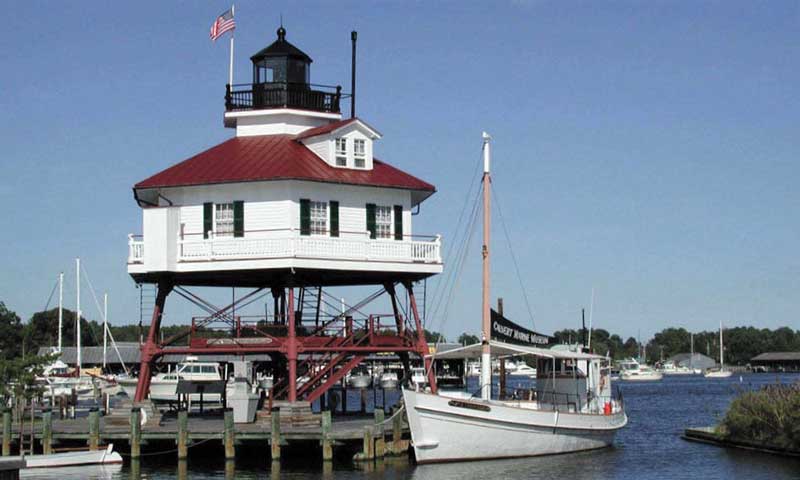 "Now Wilkins and a band of dedicated volunteers have set about to rectify the absence of that boat at the relocated lighthouse, which is now the focal point for the harbor at the Solomons museum owned and operated by Calvert County. The replica is being constructed in the museum's boatshop near the lighthouse with a launch anticipated for late summer or early fall.
"Wilkins brought his boatbuilding skills to the Calvert Marine Museum three years ago from Cape Cod where he was a boat builder at Cape Cod Maritime Museum and then director and curator of Atwood House Museum, operated by Chatham Historical Society. He's originally from Northern Virginia. 'I grew up here and never made it down to Southern Maryland.' He added that in the DC and Maryland area, 'My father would bring us into the museums, and it's kind of where I got interested in museums.'
"Of coming to the Maritime History part of Calvert Marine Museum, he said, 'It looked like a great job, a great fit for all the things that I'm interested in.' Of the museum, he said, 'It's a fascinating institution with three disciplines: history, paleontology, and maritime history. This is home to what is called the Patuxent Small Craft Guild, which is a dedicated group of volunteers that I manage and lead. They are a wonderful group of people. There's no task too small or too large that they won't tackle. They are willing to learn just about anything you want to teach them.' Of the dozen or so, they are largely retirees. 'Some of them have some boat building experience. Others have none and we try to find a place for everybody. If you don't have any skills, we'll teach you. If you want to learn, we're not going to turn you away.'
"With information in hand from the U.S. Coast Guard historian about what such boats might look like, Wilkinson said they decided, 'This would be a great fit for our next big project because it would've hung on the davits of Drum Point Lighthouse.' They have photographs of the vessel hanging on the lighthouse. When finished they will likewise hang it on the davits for a photo-op and then, he said 'Those davits are old, so we don't want to keep it on them. They may break. So, after we do that ceremonial picture, we'll put it in the harbor, and it'll become part of our culture.'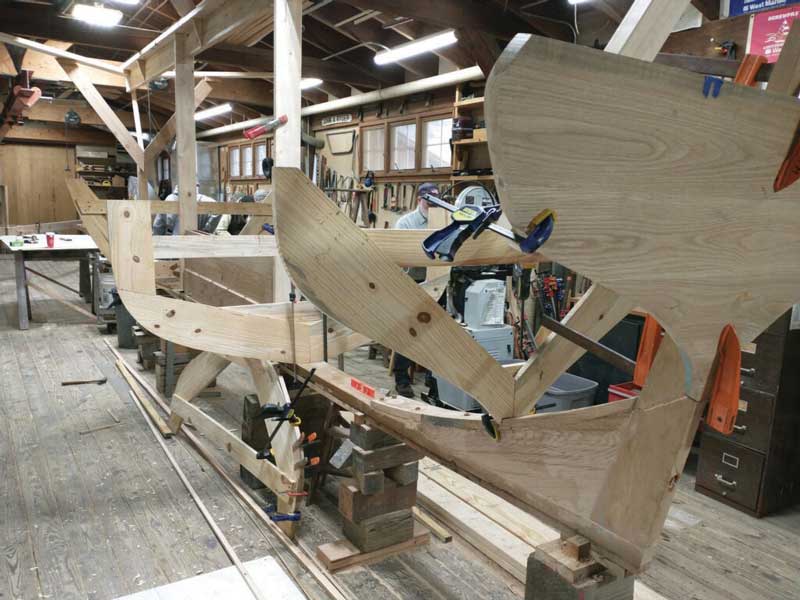 "After the decision to build it, he said, 'The next step was what did it look like? You can't build a boat from nothing. So anyway, we began speculating.' That led to the thought they may resemble North Carolina shad boats, shallow draft fishing vessels. They don't know who built it, and all local wooden boatbuilding shops in Southern Maryland are long gone. He said, though, 'We're reliably informed from the curator of the Coast Guard that it was a small shop on the Southern Maryland shore or in Virginia. That's all we know.'
"Building it is a challenge. 'This is the first round-bottom, what's called Carvel planked boat ever built here.' He added, 'It's not a flat bottom Bay boat, like a deadrise boat. This is a round bottom boat. And this is something that I have a lot of experience with.'
"The type of construction was prominent in the Baltimore/Annapolis area, 'a type of boat building that is very different from flat bottom boats. Because flat bottom boats are basically planes, they're flat. They bend this way. They bend this way, but they don't compound curve like this will.' He explained, 'This is all new stuff, new information for the Guild. And they're thrilled because they love a challenge.'
"'Their skills are going up; their enthusiasm and excitement are going up and the community's getting excited too because a lot of people are coming through now with the 'how's that boat coming along' type of thing. Like they want to see progress.' And that unique hull is taking shape in the boat shop."
Boaters on the South River are probably familiar with the classic yacht Widgeon, frequently seen on those waters. Broker John Kaiser at Yacht View Brokerage in Crownsville, MD, has listed her for sale and shared her interesting story with us. Widgeon is a 1930 Dawn Boat Company Luxury Cruiser/Commuter. She was built at the sunset of the Jazz Age and epitomizes the luxury and exuberance of that long gone era. She is not currently in a boatshop, but the history of her restoration, as reported in Yachting World, gives us a glimpse of what it takes to restore such a floating treasure. She was built at the Dawn Boat Company in Brooklyn, NY. Her hull is white cedar over oak planks and was rebuilt at Cutts and Case in Oxford. The following description of the Cutts patented Kevlar Cording Procedure is taken from the Yachtworld write up: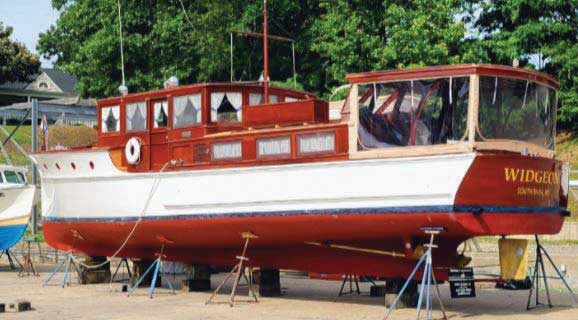 "Widgeon was corded in 1996 at the Cutts and Case Boat Yard in Oxford, MD. The process consists of first completely drying out the entire hull. After four months of drying, her entire bottom was faired down to bare wood. All her seams were reefed out (cotton calking removed) and filled with West Micro-Fiber Epoxy. Kevlar Cords, (quarter inch thick) were inserted into the hull after grooving out a channel to accommodate each cord. Cords were placed every four inches starting at the boot stripe, down the side, through the keel, and up the opposite side stopping at the boot. Every cord was saturated with West Epoxy and when completely dry, faired to a smooth finish. The final procedure involved coating the entire hull with West Epoxy prior to bottom painting.
"In addition to the cording of Widgeon, many other upgrades have been done over the years. The entire hull has been refastened, her super-structure has been restored to her original bright work, cabin sides, doors, windows, hatches, and stem have been repaired or rebuilt. The aft deck and transom have been completely rebuilt including solid oak framing. The aft sleeping area has also received extensive restoration including new ribs, floor beams, strut plates, and several planks. This work was done just prior to installing the Kevlar Cords.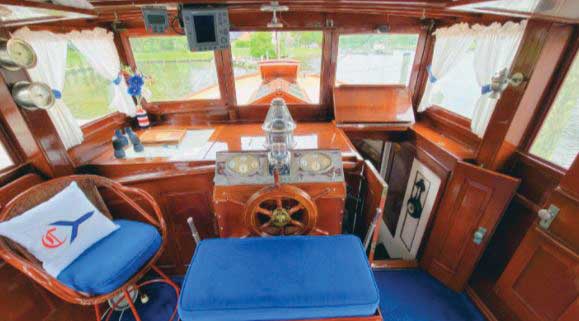 "The resulting procedure has produced an extremely strong and extremely tight hull. Widgeon no longer has to be hauled on a railway but can easily be lifted using traditional straps. In fact, many have mistaken her hull as being fiberglass. 
"In 1990 her original Sterling engines were replaced with new Cummins 4BHT four-cylinder turbo diesels (150 HP each) turning 22 X 22 bronze four bladed props. This upgrade enables Widgeon to cruise at 11 knots, burning a very economical 10 gallons per hour. In addition, the entire engine room had soundproof material installed. Her Monel fuel tanks were removed, and pressure tested. New copper fuel lines installed along with extra-large fuel filters."
That's it for this month. Let's all "Pull for better weather" as the old sea shanty says.
By Captain Rick Franke