At this time of year on the Chesapeake, especially during a cold winter when all you hear about are snow forecasts, it's hard to believe that spring awaits right around the corner. Have faith, boating friends. These six signs of spring are coming your way soon:
1. Ospreys come home.
Chesapeake boaters' favorite migratory birds take flight from southern climes as far as Venezuela and Columbia back to the Bay, sometimes as early as March 1 or the next two weeks thereafter. Ospreys return to the same nests to reunite with their mates, breed, and fish for the season. Emmy Nicklin on the Chesapeake Bay Foundation blog writes, "Often called the 'osprey garden,' the Chesapeake Bay has the most concentrated population of osprey in the world!" When you see your first osprey this spring, please send a photo to [email protected]. 
2. The sounds of sanders.
Marinas are abuzz with activity come spring, as boaters and marine service pros sand, patch, prep, and paint their boats' hulls in preparation of splash day. As you make your way across the marina lot, be mindful of trucks backing up with trailers (some of us might be out of practice), forklifts, and workers climbing ladders. These are all positive signs that we'll all be back on the water soon.
3. The torching of the socks.
What started as an Annapolis marine worker's spring rebellion of burning his odiferous and overworn socks on the first day of spring has become a tradition among boating friends and boat and yacht club members ever since. Take a tip from the pros: don't burn fleece socks; a nasty stench and burnt plastic ball will be the result. Better to burn your holey gym socks. If you host or attend a sock burning in Chesapeake country, send a photo to [email protected].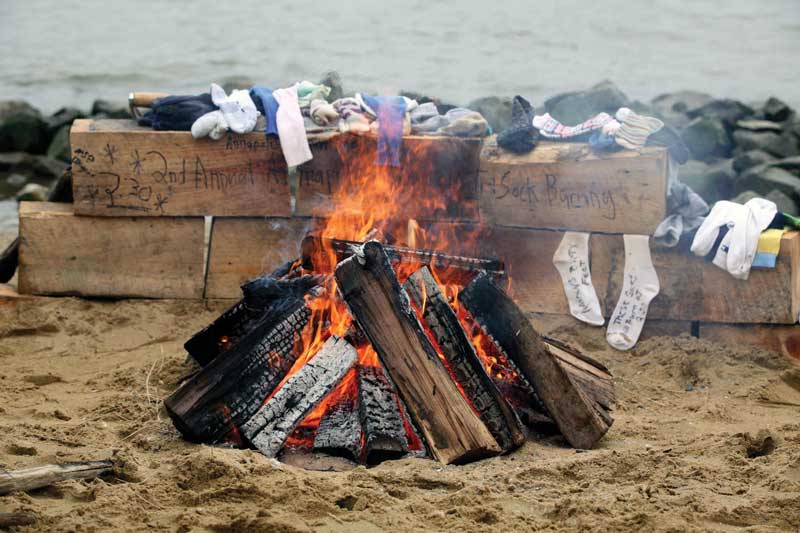 4. Padders splash early.
Because they don't require much maintenance, kayaks, canoes, rowboats, dinghies, and standup paddleboards (aka SUPs) are easy to splash, which is why you see them emerge in the creeks on a warm day in winter. Remember: since the water temperature remains frigid through April, be extra mindful of it and cautious. Wear your lifejacket. Wear a drysuit or wetsuit. File a float plan. Familiarize yourself with hypothermia and how to avoid it. Dress according to the water temperature, not that of the air. When in doubt, don't go out.
5. Crocuses and daffodils bloom.
Even if you aren't a big gardener, we bet you smile when you see your first crocus pop up through the soil or a daffodil, especially if spied at your marina along the pathway to your dock… 
6. Spring forward.
Daylight savings begins at 2 a.m. on Sunday, March 13, giving you more time to ready your boat for spring commissioning (see our April issue for tips).