If you haven't yet been to Kiptopeke State Park in Cape Charles, VA, you simply have to put it on your fishing excursion to-do list.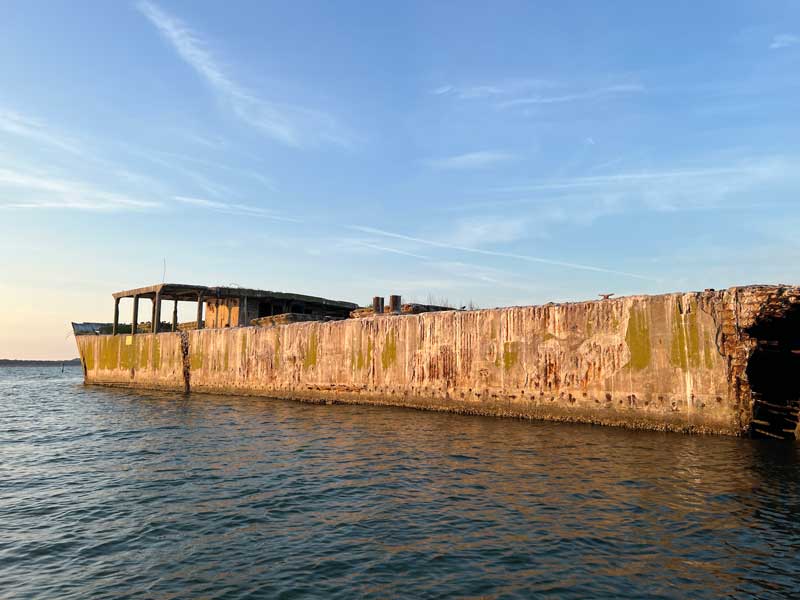 Many of my great fishing stories from the past year or two begin the same way, with an excited call from FishTalk angler in chief Lenny Rudow. And when Lenny calls you with an idea for a fishing adventure, how can you say no?
This particular excursion began with a text from Lenny on a Tuesday:
"So…. I just talked Zach (Ditmars) into hauling the skiff to Kiptopeke tomorrow eve, crash in an Airbnb, fish the cement ships Thursday, then drive home. Eric Packard will probably go, too. Want to join in the adventure???" How can you say no to that?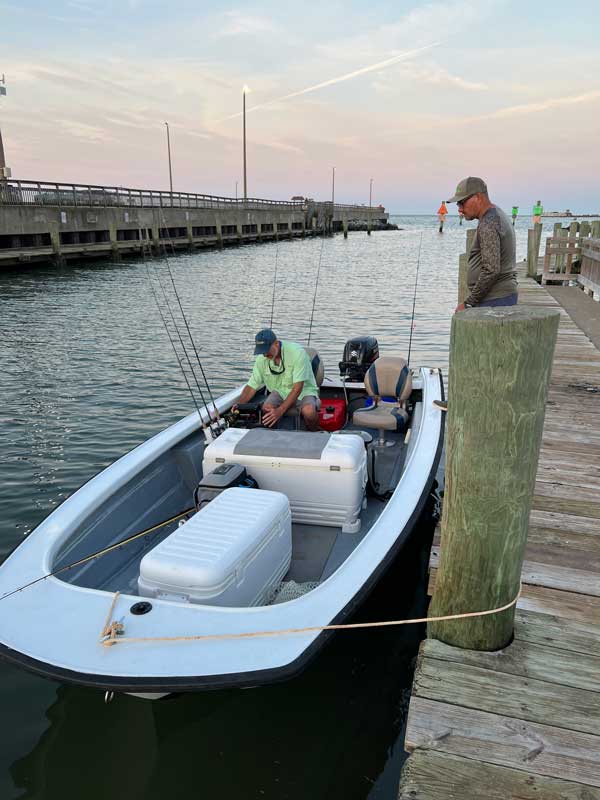 Kiptopeke State Park in Cape Charles, VA, is about three and a half hours from Annapolis, located on Virginia's Eastern Shore. We packed up the truck and trailerable boat on a Thursday after work and stopped into Anglers in Annapolis for bait. Sand fleas were our primary target, but since they are not a typical Upper Chesapeake bait, there was only one bag still in stock. In fact, the bag was so old, the folks at Anglers didn't charge us for it.
After Anglers we drove south towards Cape Charles, crashed in a lovely Airbnb about 30 minutes away in Nassawadox, VA, and then woke at o-dark-thirty to hit the boat ramp at first light.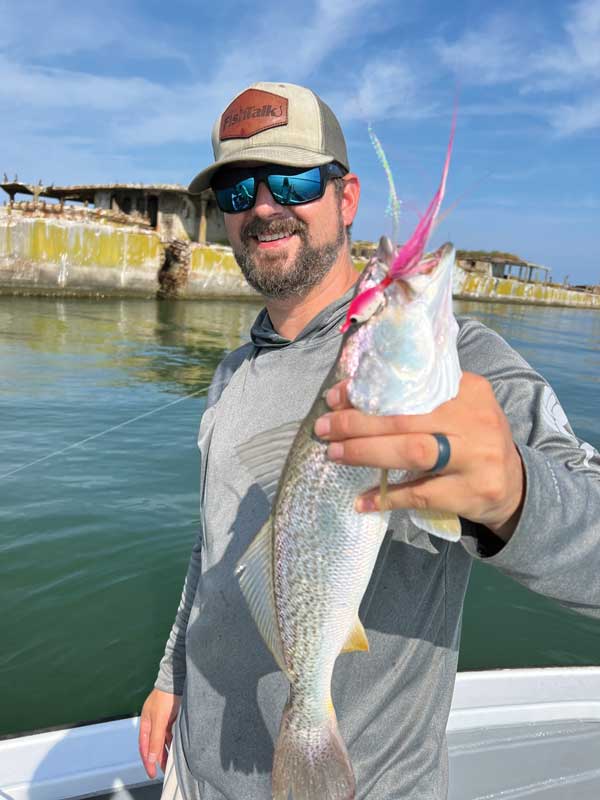 If you're not familiar with this state park, Kiptopeke is most famous for its fleet of concrete ships, the Kiptopeke Breakwater. Nine concrete ships are lined end to end just west of the former Chesapeake Bay Ferry Terminal and not far from the fishing pier and boat ramp (it's close enough that you can paddle to the wrecks, though preferably on a calm day). 
In 1942, the U.S. Maritime Commission ordered 24 concrete ships to be built due to a steel shortage, as concrete was inexpensive and readily available. After the war ended, nine ships were scuttled off Kiptopeke in 1948 to form a breakwater. All the scuttled ships served as transport and training vessels in the South Pacific, and two even saw combat.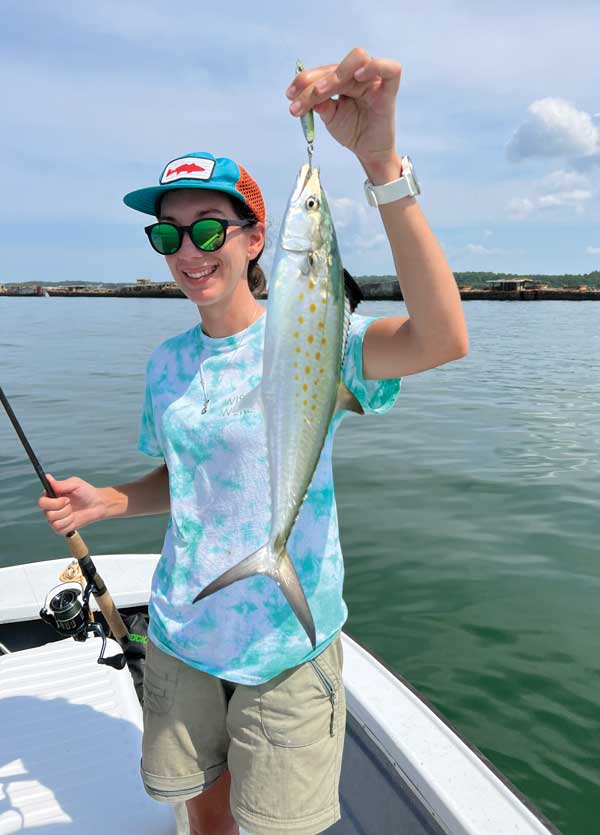 Today, the ships make for excellent fishing structure. So excellent in fact, that we caught 12 different species of fish in one day: toadfish, flounder, kingfish, bluefish, Spanish mackerel, weakfish, puffer fish, grunt, croaker, black sea bass, red drum, and sheepshead.
But what we really came for was sheepshead. That was what started this adventure in the first place. When Lenny heard reports that Sheepshead were being caught at the concrete ships, a plan was formed.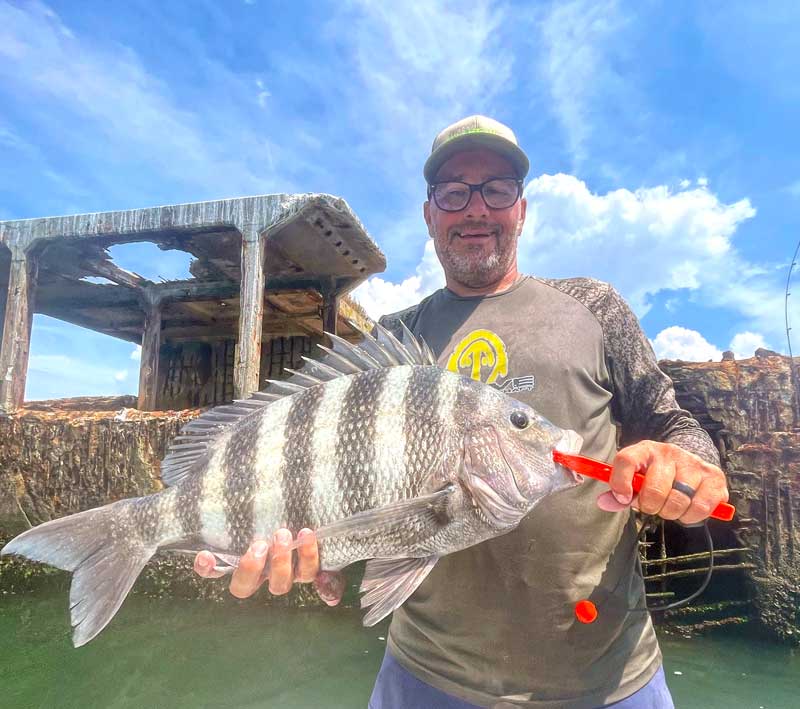 The four of us settled into Lenny's 16-foot Flounder skiff with a variety of bait and rigs. Shrimp and sand fleas were our primary choices, fished on bottom right up against the ships using fish finder rigs. That's where we caught the majority of our species, all generally smaller catch and release fish. In the morning we worked the side of the ships facing the fishing pier and by afternoon moved around to the other side. 
In the afternoon, the Spanish mackerel bite just off the far side of the ships was on fire. The water, so calm in the morning, became a frenzy of leaping fish and diving birds. I lost track of how many macks we caught. Casting spoons in silver, white, and olive green were the hot ticket, though be sure to keep your casts low. Remember when I said we caught 12 species? Technically we caught 13 if you count the gull that got wrapped in Zach's braid… It was safely released but not without a few chomped fingers.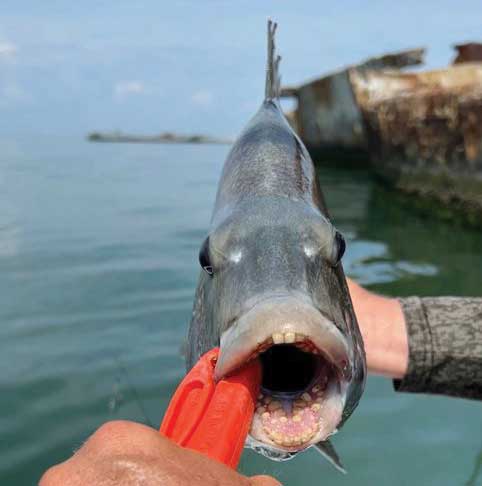 After we had caught our fill of Spanish mackerel, we headed back towards the ships, still on the opposite side from the fishing pier, and finally caught what we had come all this way for. FishTalk contributor Eric Packard reeled in a sheepshead, caught on bottom using a sand flea. If you're not familiar with these fish, they have a beautiful striped body and some of the creepiest teeth you've ever seen. We were all pretty ecstatic that one of us had actually done it.
Just a few minutes later, Lenny hooked up. What we thought was another sheepshead turned out to be a slot red, also caught on bottom using those ancient sand fleas we mentioned earlier. As Zach said, the fleas must have aged liked a fine wine because somehow, they caught the two biggest species of the day.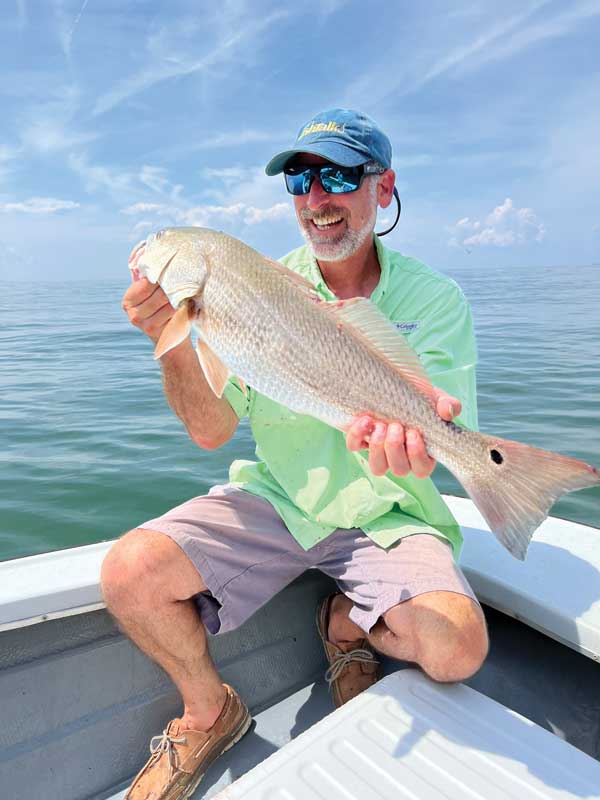 And what a spectacular day of fishing! When Lenny Rudow says it was the best fishing day of the year, you know it's good. We should all take more opportunities to play hooky and get out on the water when we have the chance. And even if you're not an avid fisherman, Kiptopeke State Park is a beautiful place to go boating. The history of the concrete ships is fascinating, we saw dolphins and even a sea turtle in just a few hours of fishing, and there's also a lovely white sand swimming beach.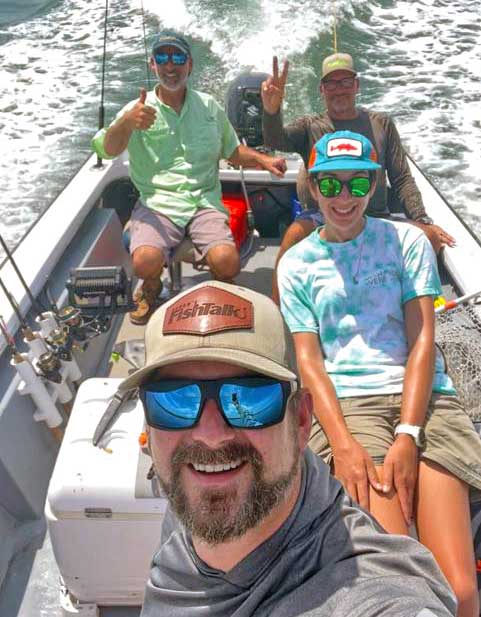 Moral of the story, when a friend asks you to drop everything and go fishing, there's only one right answer: YES! 
By Kaylie Jasinski