Okay, so all of your rich friends have gone down to Florida for the winter and keep sending photos of tarpon, dolphin, snapper, jacks, permit, bonefish, and grouper while you huddle around the fireplace trying to keep warm. While I can't guarantee warm climes, I can recommend a pretty good chance of connecting with some big fish for a whole lot less money than even a one-day charter trip in the Florida Keys if you head north.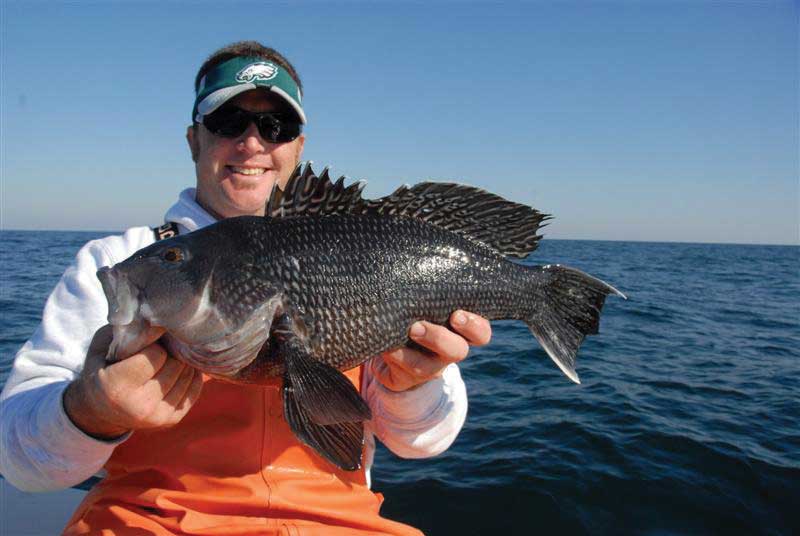 There are several head boats running from North Jersey that will take you out for tog, sea bass (until 12-31-2018), porgy, ling, winter flounder, cod, and pollock. The trips run from eight to 24 hours and are priced accordingly.
Winter fishing does take a bit of preparation. First, you will need clothing that will keep you warm and dry. A quality set of long underwear is standard followed by heavy pants and shirt. I have a wool fisherman's sweater that my mother brought me back from Scotland that I wear over my shirt. Quite a few folks wear coveralls over their regular clothing, but I prefer a set of foul weather gear. I have had Helly Hanson and currently own a set of Grundens; both performed well.
Rubber boots are a necessity. I wear white tube socks with my boots. Do not wear hunting boots, as they do not have soles capable of gripping a slippery deck. I have seen more than one nasty fall caused by this style of footwear.
Neoprene gloves are another must-have item, as they keep your hands warm when wet. Believe me, when your hands get cold, the rest of the trip will be miserable.
I also always carry an extra set of socks just in case water gets inside my boots. Hasn't happened yet, but you never know when it will.
On the fishing equipment side, I am a tackle junkie. For this reason my son Roger gave me a huge bag that holds everything I take on a head boat trip. This includes, but is not limited to, sinkers, rigs, jigs, spool of 50-pound mono, hooks, rags, socks, gloves, camera case, soft cooler with my lunch, and foul weather gear.
As for tackle, I always take two outfits. The first is an Ambassadeur reel spooled with 60-pound Stren braid on a Fenwick rod. The second is my jigging stick—a hybrid 20 Max GL reel with 40-pound braid on a Berkley Lightning rod.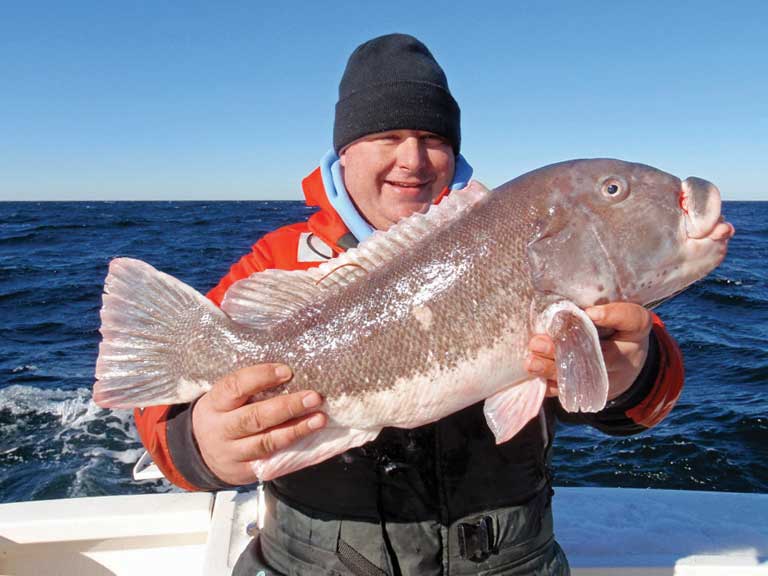 I tie up at least a half dozen rigs before leaving the house. They are simple top-bottom rigs with a perfection loop on the top followed by three double surgeon's loops. The bottom loop is for the sinker while the circle hooks go on the two middle loops. The weight of the sinker is determined by the mate. He or she will tell you what size sinker to use to hold bottom and keep away from the other lines fishing near you. Do exactly what they say.
Baits depend on the target species. Black sea bass will eat just about anything. Most head boats will dole out small containers of cut squid or you can bring your own. Tog like crabs and here, too, the boat will have some. I like Gulp! peeler crab in the new penny color. Ling aren't real picky, but you have to let them eat before setting the hook. Winter flounder have small mouths and like bloodworms.
I like to use metal jigs when fishing for sea bass, cod, or pollock, but make sure to use one heavy enough not to tangle with the other anglers. AVA, Diamond, and others will all attract strikes.
You will need a cooler to store and carry your catch. I have a Coleman with wheels that serves that purpose well and can also carry my bag, leaving my other hand free to carry my rods.
When it comes to winter head boat fishing in New Jersey, you have several choices. Point Pleasant, Brielle, and Bellmar all have boats running during the winter months. Your best bet is to Google each town followed by party boats and go from there. Costs run from $85 to $190 per trip depending on the time at sea. The longer trips have more fishing time in deeper water where there is a better chance of catching a cod or pollock.
Figure on a two-hour drive from the Delaware Memorial Bridge up 295; then on 195 to either of the three ports. I would strongly suggest making reservations with whatever boat you choose and plan to spend at least one night.
---
If you're in search of warmer weather, check out Eric Burnley's article: Florida Keys Fishing Escape.
By Eric Burnley