Here's a fishing tip for anglers: travel light. We've all seen him coming down the dock loaded down with tackle boxes, coolers, rods, and wearing enough clothing to open a haberdashery. And of course, he is headed for your 20-foot center console.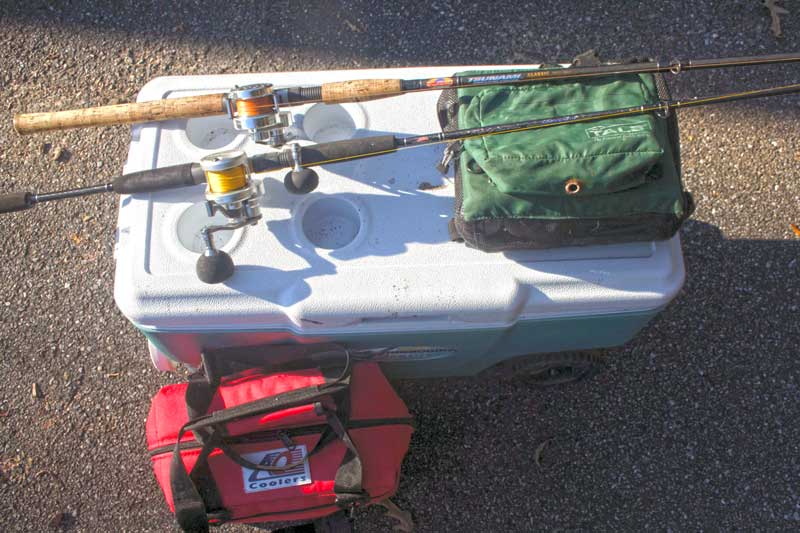 I know this guy because I used to be this guy. I thought I couldn't go fishing unless I was prepared for everything from perch to marlin and every type of weather from slick calm to hurricane force snowstorms.
If there is one good thing about old age, and there aren't many, it's the knowledge you acquire along the way. One of those things was to travel light especially when fishing as a guest on another boat and certainly when going on a head or charter boat.
It is not impolite to ask a friend what you will be fishing for and what type of tackle he or she has onboard. If you feel there is a need for something you have, offer to bring it. I still bring a favorite rod and reel that is appropriate for the target species. If we are bottom fishing, I will toss in a few sinkers and rigs.
Head boats do not supply much other than bait, and on some boats the bait may not be in the best condition. Here I bring plenty of rigs and sinkers as well as fresh bait or Fishbites, Gulp!, or FISHGUM. You will also need a cooler for your fish and something to keep your lunch fresh and your drinks cold. I have a Coleman cooler on wheels for the fish and an AO soft cooler for my lunch and drinks. The fish cooler will fit under the bench along the outside of the cabin so as not to be in the way.
Charter boats supply everything from rods and reels to baits and coolers. I still bring my favorite rods and reels and my lunch in the soft cooler.
I have a small soft tackle bag that will hold anything I may need on these trips. I dress for the day and pack my Frogg Toggs in case of rain or spray. 
By Eric Burnley