As Team FishTalk/PropTalk showed during the Fish For a Cure tournament, you can enjoy fast and furious hand-over-fist action on invasive blue catfish in Chesapeake tributaries like the Potomac River in Washington, DC. Want to get in on the fun? These five tips will help make it happen.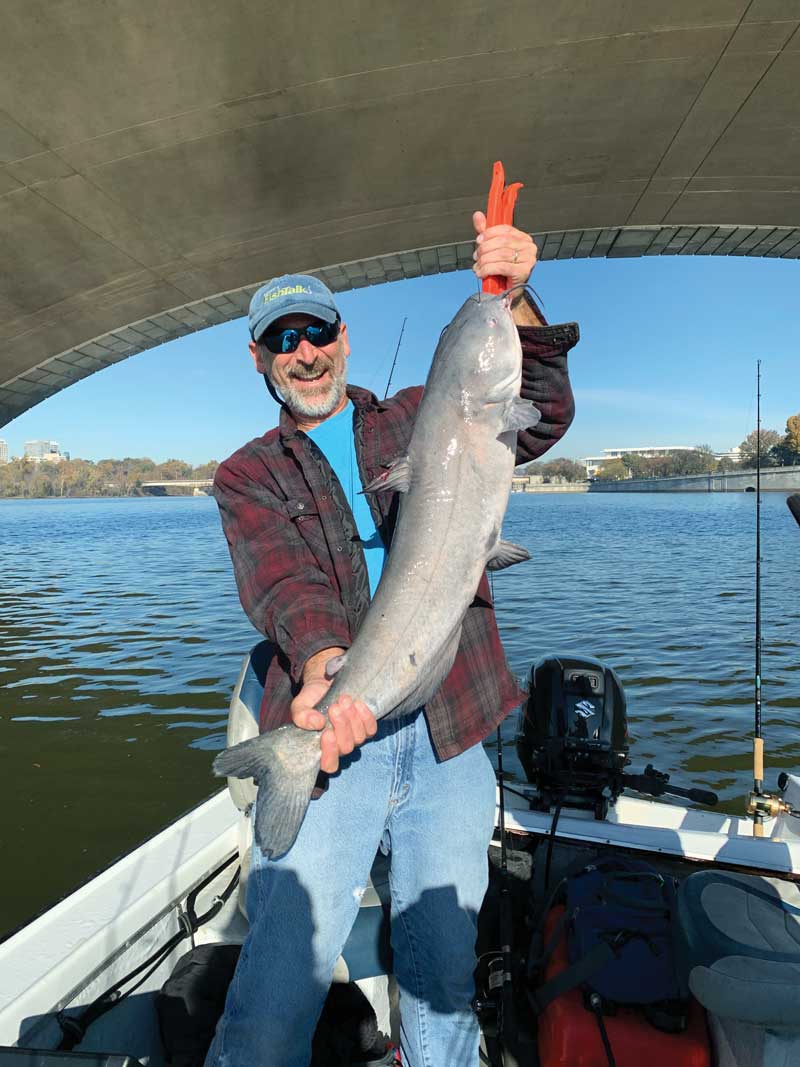 Blue Catfish Tips
1. Rig up 20- to 30-pound gear with a 40-pound test monofilament leader, an 8/0 to 10/0 circle hook, and an egg sinker or fishfinder rig and enough lead to keep the baits right on bottom. Exactly how much weight you'll need depends on the strength of the current where you fish but in most areas an ounce or two will be plenty.
2. Bait up with fresh cut fish such as menhaden, gizzard shad, or herring. Frozen fish will work in a pinch but if you can't get fresh bait, remember that chicken liver also works quite well. Live minnow or small bluegill do, too, and trophy hunters often claim that a kicking bluegill will catch the real lunkers.
3. Find an area where there are deep channels or holes, preferably with some sort of structure nearby. If you don't have any specific hotspots in mind already, as a rule of thumb, fishing near bridge pilings is almost always a good bet.
4. Anchor your boat, fan-cast your lines all around, and sit the rods in holders. When one gets a nibble, wait for the rod to bend over on its own before you pick it up and force yourself not to set the hook. Remember, circle hooks work best when you allow the hook to set itself in the fish without any added angler input.
5. If you have a good run of bites and then the action slows markedly, pull anchor and move to a slightly different spot. Since catfish don't move around too terribly much, it's possible to catch the ones in your immediate vicinity fairly quickly and then go for a long while between bites. But if you move just 30 or 40 yards, your baits will then be exposed to new territory and hopefully, a new batch of fish.
Where should you try your luck for blue cats? They're in virtually every Chesapeake tributary that has a good amount of freshwater flow, on both the western and eastern shores. In all cases, fishing in areas of the rivers from slightly below the fall line down to where salinity is around 10 psu or lower is generally best (though they may be found in water up to 17 psu). The James is legendary for producing the biggest fish, while the Potomac and Susquehanna are known for producing epic numbers of blue cats. 
By Lenny Rudow