All boaters have a dream. For some it's chartering in the Caribbean. For others it's teaching the grandkids to waterski. For Bill Bogutski, his bucket list dreams included making a DelMarVa circumnavigation.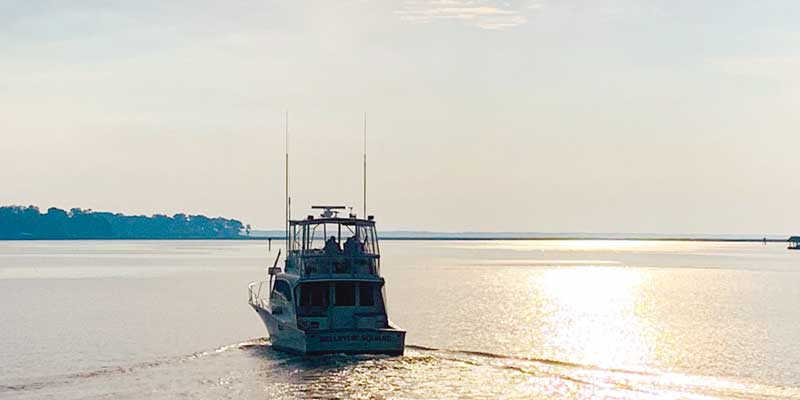 Bill and his wife Dotty each grew up boating. Bill was raised in the New York City suburbs, where he took a Power Squadron class and got a job around the age of 10 at a fishing station near where Long Island Sound meets the East River. "The job didn't pay much. I worked for tips and adventure," recalls Bill.
In 1984 Bill and Dotty purchased their first boat, a 25-foot Sea Ray. Still in the New York City area, they kept her at various marinas on the coastline of Connecticut and would cruise the local waterways. They circumnavigated Long Island twice and even participated in the Statue of Liberty's 100th birthday celebratory boat procession in New York Harbor. 
In 1990 the couple moved to Fairfax County, VA, for Dotty's job. They brought with them their 34-foot Sea Ray Express Cruiser, which they had purchased in the fall of 1986. They explored the waters of the Chesapeake in that boat until 1996, when they moved up to their current boat, Bellevue Square, a 43-foot Post, which they keep at Herrington Harbour South (HHS). 
A sportfisher or a cruiser?
The 43-foot Post was really built as a sportfish model, so you might wonder why two cruisers were drawn to it. Bill says, "When we were shopping for this boat, we both were still working. We had careers. We didn't want to waste our precious time off work in transit to our destination. We just wanted to get there, so we bought a fast boat. Since then, every couple of years we've taken another step to make it more suited to our needs, and now it's more like a fast trawler."
Bill put in an inverter and six golf cart batteries for running the refrigerator and TV while underway and at anchor, and they added a 12-volt house water pump that eliminates the need to run the generator every time you want house water. Bill also separated the charging of the house bank of batteries from the starting bank by connecting each bank to the port and starboard Detroit Diesel engines. "By upgrading the alternators, the batteries are almost completely topped off when we come in," he says. "And I added autopilot, which runs the boat while I look for other vessels and floating hazards. We also added a washer/dryer to do laundry on extended trips."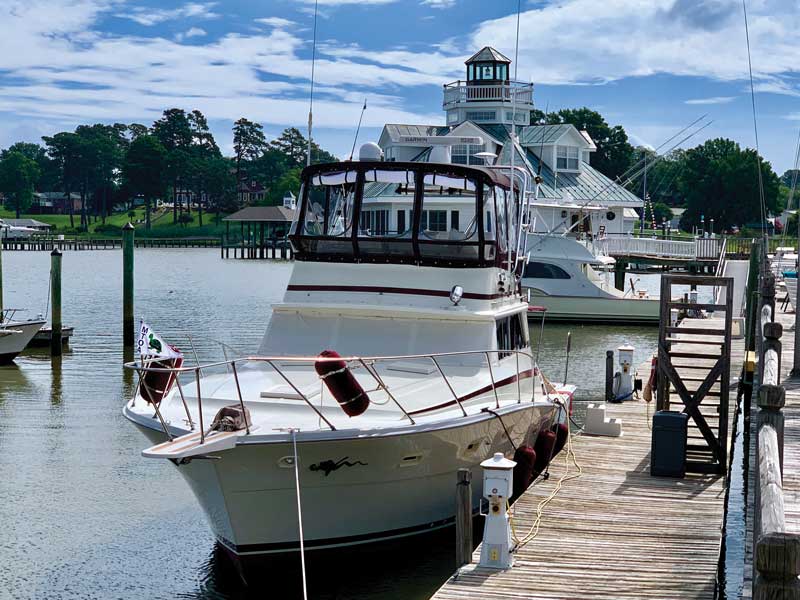 In 1997 a chance meeting at their dock led Bill and Dotty to join the Marine Trawler Owners Association (MTOA). The couple struck up a conversation with the owners of a transient boat docked at HHS. They explained the benefits of membership, and the Bogutskis followed up and joined the group. Not long after, they were asked to facilitate some MTOA events and eventually became leaders of the local group.
A DelMarVa circumnavigation
The Bogutskis completed their 2019 clockwise circumnavigation of the DelMarVa peninsula with boating friends Joe and Dawn Costa aboard Sol Mates, a 48-foot Sea Ray sedan bridge. Another pair of boating friends, Dom and Liz Spano, joined up at the south end of the Bay aboard their 40-foot Viking sportfisherman Special Delivery.
Bill, who enjoys planning their trips, says, "My planning starts about four to six months ahead of the trip and takes about 24 total hours to accomplish. Early planning enables the participants to reserve slips since we'll be coming in with multiple boats. All the plans get recorded on an excel sheet and shared with my wife and other captains and crews for review, comment, and input. This way it isn't 'Bill's cruise.' 
"Our general schedule is to travel in the morning of day one, arriving in the early afternoon to fuel up, clean up, and enjoy the facility. Day two is for sightseeing and dinner, and on the third day, we get up early and do it all over again.
"In the past I used hardcover cruising guides, past issues of the MTOA Turtle Times newsletter, and paper charts for my planning," says Bill. "Now I use web-based technologies, such as Active Captain and Google Earth to preview new harbors and inlets. That's very important. I also refer to articles clipped and kept in a drop file in my office from publications such as PropTalk. In addition, I have Navionics software on my large iPad and my Garmin chart plotter. To identify attractions and restaurants at each stop we'll make, I use TripAdvisor."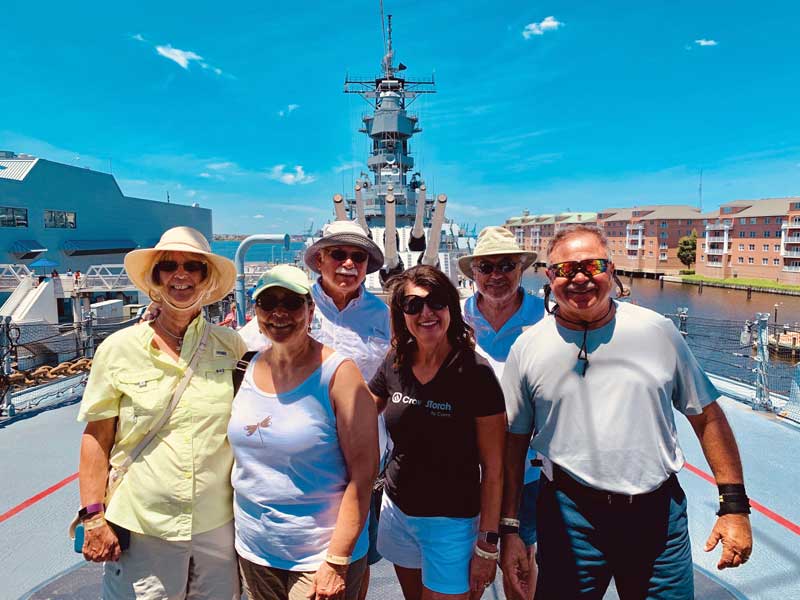 All the planning paid off, as the boats pretty much stuck to the plan. "The trip went 95 percent as planned," says Bill. Favorite spots included Cape May, NJ, and Assateague and Smithfield, VA. "Everyone was enjoying Smithfield so much that my wife and the other crews said they wanted to add an extra day there, so we did," recalls Bill. "Since we'd be arriving a day later than planned to the York River, we simply called ahead to York River Yacht Haven and alerted them, and it was no problem."
After many years of planning and executing trips for multiple vessels, Bill has learned the art of structured flexibility. "I've learned that you can never do too much homework and yet you always have to be flexible," he says. "Things can get complicated if, for example, your spouse and the other crews don't like to anchor as much as you do. Generally speaking, our boating friends used to like anchoring and rafting, but now my wife and friends mostly prefer to tie up and plug in. While I like anchoring and think it is becoming a lost endeavor, I understand that some very hot summer nights have been detrimental to its cause. So, although we continue to provision the boat to be ready for potluck dinners, in reality we end up going to restaurants a lot." 
Docking: what they've learned
Every boating couple knows that docking, especially in an unfamiliar slip, can be challenging. "Parking can be tough sometimes," Bill admits. "During our DelMarVa rounding, at our stop in Chincoteague, VA, we ended up in an unanticipated slip that was not easy to get into as it was too small for our boat, and the tide wasn't helping matters. Luckily we have a docking routine and years of experience that we could fall back on."
Dotty says, "When we belonged to the Post owners' organization, we took a docking class. The men and women broke out into separate groups. I recall how they emphasized that husbands are in control of the big engines and should never yell at their wives while docking."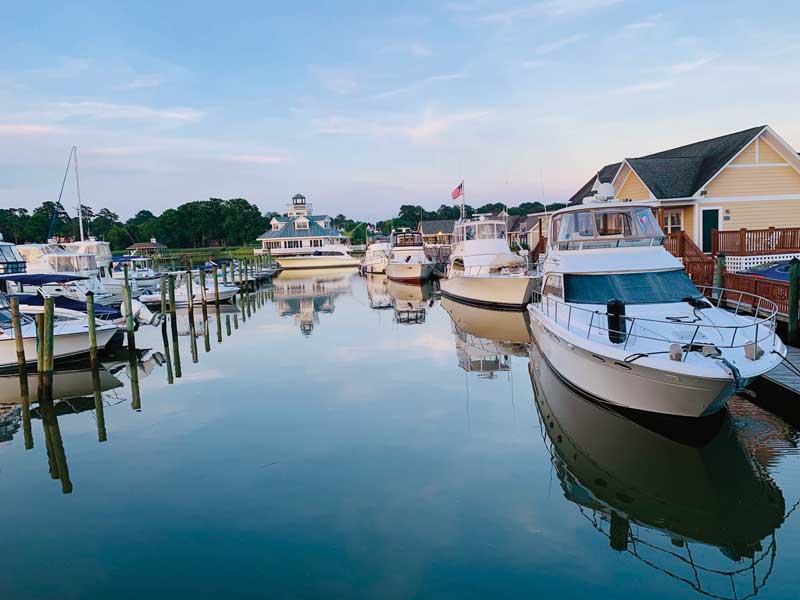 Bill adds, "Now I call ahead to the marina and ask about what to expect, including what side the finger pier and power will be on. Then, we can discuss ahead of time how things will go. We have built from experience a routine that works for us. As I back in the boat, Dotty will grab an outside piling with a spring line and walk back to a midship cleat on whichever side we've determined will be the one where we'll get off the boat. Maintaining tension on the spring line keeps the boat in place with the stern next to the finger pier so that additional lines can be set."
The biggest challenges and the best reward
"Boating entails a lot of weather management and handling of mechanical issues. If you can deal with them, you'll have a good time," says Bill. "Assuming the boat is running well, the biggest challenge of the trip will usually be weather management. When the afternoon is forecast to be juicy, we try to run just after first light and get settled before the weather becomes nasty. Seeing the sun come up while in open water is beautiful. I recommend trying to avoid becoming too reliant on iPad and iPhone weather apps. One time when we were threading our way through severe weather, I looked up and saw lightning pop up directly off our bow. Keep an eye on the sky!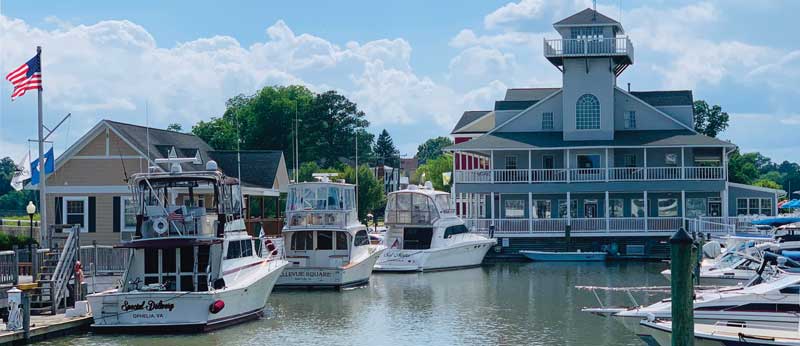 "On our DelMarVa rounding, the ocean passage was probably the most challenging leg of the trip. We were running about six miles off the coast of Ocean City, taking four- to six-footers on the nose. This was the first ocean passage for Sol Mates. They followed about a quarter mile behind us. I kept watching the course lines and anticipating the entry buoy, as I'm sure they were also doing, and both boats handled it well."
Regardless of the challenges that may arise, the real payoff often comes when the cruise is over. "The most rewarding moment of any trip is when my fellow cruisers say they really enjoyed it and want to do it again next year," Bill concludes.
By Beth Crabtree