CCA Maryland's Kent Narrows Chapter presents, Holiday Soiree: Habitat for the Holidays, a fundraising event benefitting CCA Maryland's Living Reef Action Campaign and its expansion to Maryland's Eastern Shore. The event will help support many initiatives that protect our local waters and fisheries, specifically the Living Reef Action Campaign (LRAC) which helps create and restore underwater marine habitat, provides education and outreach to the local communities, and supports scientific studies to advance the science of habitat restoration. The benefit will be held at the Chesapeake Bay Environmental Center, Saturday, December 14, 2019, from 6-10 pm.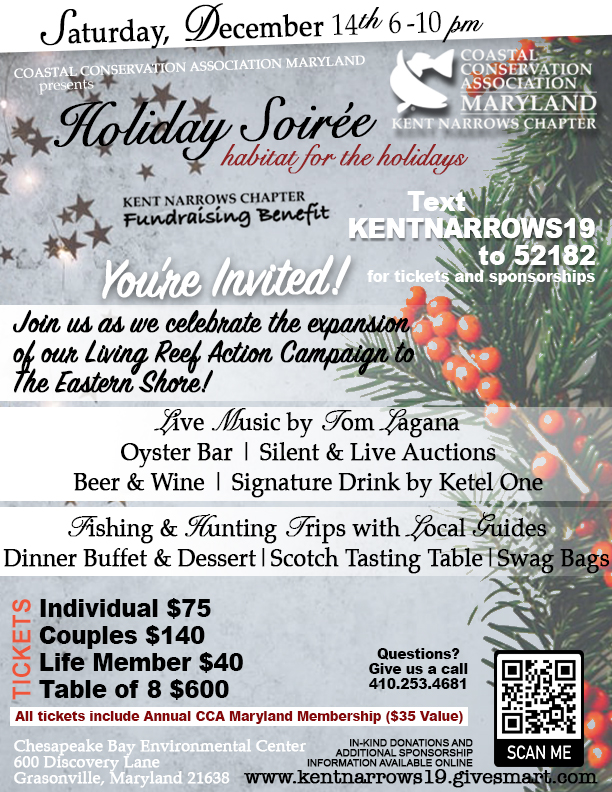 With the support of local partners, Koons of Easton and Chesapeake Light Tackle—The Books, Kent Narrows Chapter will be hosting their first fundraising benefit since the resurgence of the chapter this year. Funds raised will directly benefit CCA Maryland's Living Reef Action Campaign—which began with their Central Region Chapter in 2015 and has since expanded to Southern Maryland and now, with continued support to Queen Anne's County on The Eastern Shore.
"What happens upstream affects downstream and vice versa, the resource belongs to all of us, we should all be stewards," says executive director, Dave Sikorski. CCA Maryland plans to build more than 200 reef balls over the next two years with students from Queen Anne's County Public Schools. The reef balls will become a part of a shoreline restoration project outside of the Chesapeake Bay Environmental Center.
The benefit features live music by Tom Lagara. Tom is known as a jazz guitarist and bandleader. He is well known for his talents in clubs, festivals, and recordings, as a classical guitarist in masterclasses with orchestras and as an educator, and as a composer. Lagana has garnered respect for his creativity, musical integrity, and devotion to his craft. Enjoy Tom's music while you sip a holiday cocktail and browse the silent auction, mingle with friends, and learn more about CCA Maryland's efforts on the Shore as well as across the state.
Ketel One has sponsored a holiday-themed signature cocktail for the event: The Holiday Mule. Ingredients include; Ketel One Vodka, ginger beer, cranberry juice, and fresh rosemary garnish. Talisker will also be there providing guests with tastings of their single malt scotch whisky. And SweetWater Brewing Company is sponsoring the event with some delicious seasonal craft brews.
Koons of Easton is sponsoring the event's oyster bar where there will be freshly shucked Honga Tonk Oysters with all the fixins, and Chef David Perry and his team at Casual Caterers will serving up a buffet-style dinner and dessert.
The event will also feature a live and silent auction with exciting local hunting and fishing trips for guests to bid on featuring Traeger Grills, JLS Custom Rods, and more!
Sponsorships, tables, and individual and couples' tickets are still available! Tickets for this event are $75 for individuals, $140 for couples, and $600 for a table of eight guests. Tickets can be purchased online by visiting kentnarrows19.givesmart.com or by texting KENTNARROWS19 to 52182. If you prefer to order your tickets via phone, please call Maggie at (410) 253-4681.
The Kent Narrows Chapter is looking to build a solid and inclusive foundation of anglers who have two things in common: a desire to become better anglers and a passion to protect the waters in which they fish. Their vision is a vibrant chapter filled with members from all walks of life, backgrounds, and fishing styles who join together to learn, build friendships, advocate, and most importantly, HAVE FUN!