Our Intracoastal Waterway (ICW) trip was made in three segments. The Belvedere Yacht Club in Arnold, MD, to Fernandina Beach, FL. Then Fernandina Beach to Ft. Pierce via Lake Okeechobee and the Everglades and back on the ICW to Ft. Pierce. The final leg was Ft. Pierce to the starting point, the Belvedere Yacht Club. This is part of one of our journey.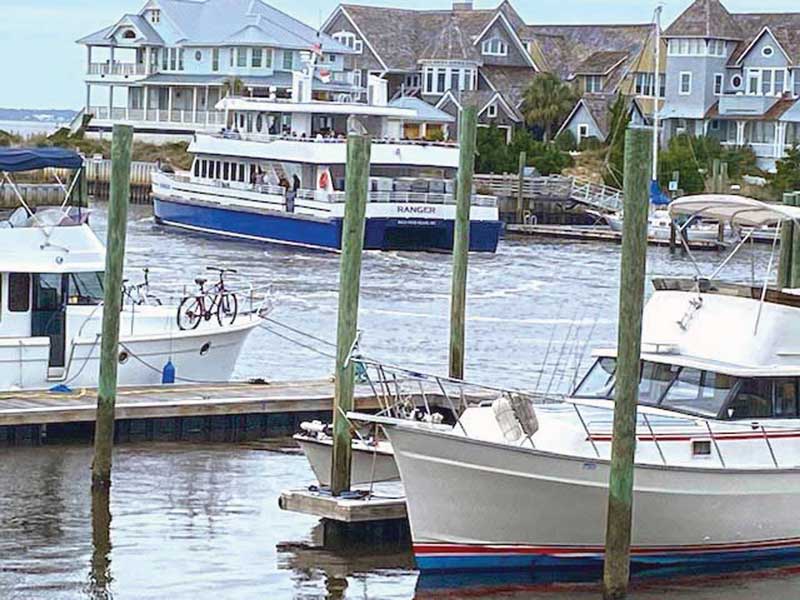 My wife and I departed the Belvedere Yacht Club on November 14, 2020. I was extremely buoyed by the new tablet and apps that I had downloaded: Navionics, Predict Wind, and Aqua Maps with the USACE's most recent soundings, the Bob423 tracks, and thoughts of how great it would be spending time in the warm, sunny climes of the southern Atlantic states. I promised Sharon, my wife, that this was a "trip" not a "delivery" and that we would run three to four hours a day, and then dock or anchor out. 
Predict Wind said the winds would be out of the south at 10 to 15 knots, with a wave model of one to two feet as we cleared the green number 3 daymark at the mouth of the Magothy and headed for Craighill Channel South. We started to take a little spray up on the flybridge, and after two or three waves, we retreated to the lower station, slowed our speed, and made for Annapolis in some of the biggest "one to two footers" I've ever seen. 
We departed Annapolis the next morning and headed for Solomons Island and Spring Cove Marina where we spent a quiet evening. The next day, we motored to the Rappahannock River and spent the evening at the Rappahannock River Yacht Club, as they were gracious enough to offer reciprocity to us as Belvedere Yacht Club members. In the morning we made the trek back out to the main shipping channel and headed to Portsmouth, VA. It was quite a sight to see all the U.S. Navy ships as we motored by them on our way in. As we passed Hospital Point, we were officially on the ICW!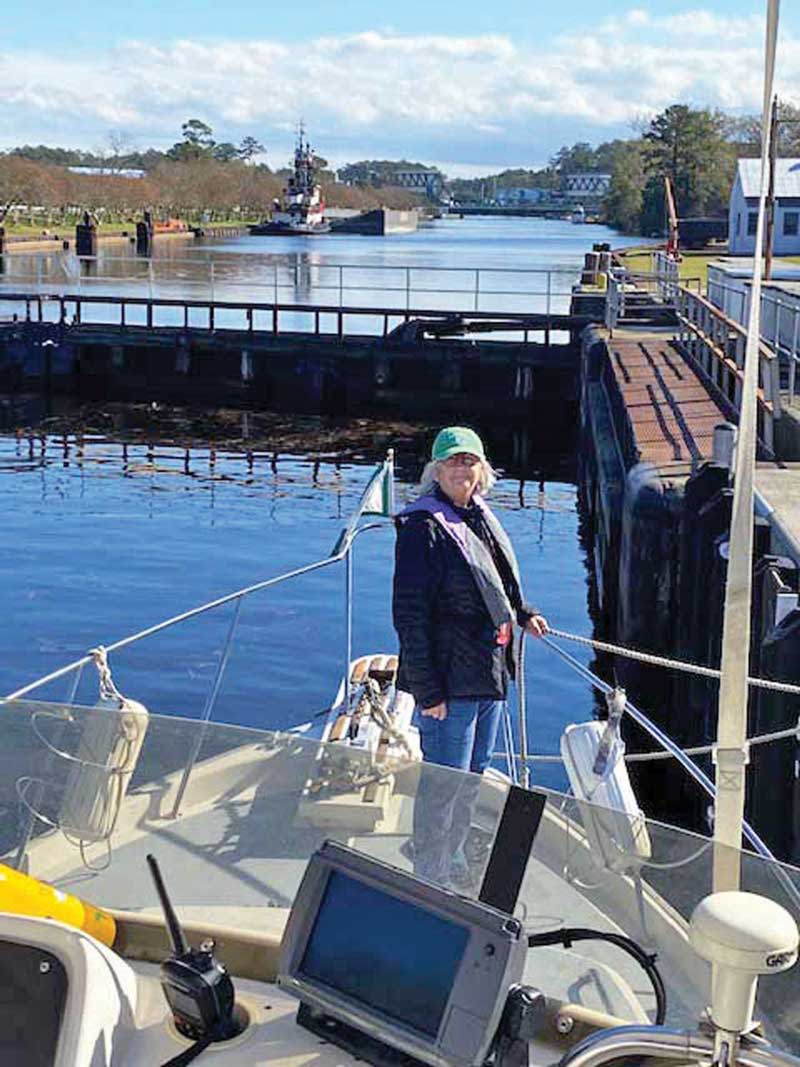 On our way
The next morning, we made the decision to take the Virginia Cut versus the Dismal Swamp Route and into Albermarle Sound with a steady two-to-three-foot beam sea, which was a lot less disconcerting than the sudden change in depth, from 20 to barely six feet beneath the bottom. We made it to mile marker 51 and Coinjock Marina, where after securing the Sharon Rose, a 1982 Mainship 34 MK 1, we enjoyed an appetizer of Red Neck Egg Rolls (pulled pork with collard greens in a large eggroll wrapper with a sweet chili thai dip) and a delicious piece of prime rib. After coffee dockside and showering we departed for Oriental. However, time was not on our side, so we opted for Belhaven and the Belhaven Marina. We enjoyed a cheese and sausage roll at a local breakfast spot and got underway for Oriental. 
On our run to Oriental, we "slow passed" the Navigator, whom we'd slow passed the day before, and as we were backing into our slip at the Oriental Inn and Marina, a guy on his road bike, decked out in cycling jersey, shorts, and cleats, stopped and caught our stern line. As I said thank you, he said, "I'm Navigator." So, the message is simple. Always slow pass; you never know when you'll run into the same people again. 
We stayed in Oriental for two days, celebrating Thanksgiving aboard, while creating a small galley feast of turkey cutlet, green bean casserole, homemade cranberry relish, stuffing, and potatoes.  
Friday, we made our way to the Beaufort (pronounced Bowfort) City Docks, enjoying an alfresco cocktail with our wooden nickel you get for staying at the restaurant located at the marina. Beaufort, NC, is a neat place to walk around with shops and food options galore.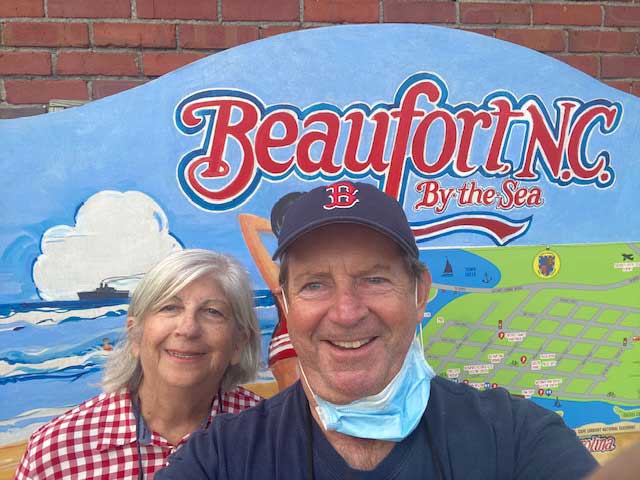 As we got underway on Saturday, we made our way down Bogue Sound, the back side of Atlantic Beach and Emerald Isle, a site of some family vacations with Sharon's family years before. While not paying attention, I missed a turn and proceeded down a channel that got very shallow, stopping and checking the track on the tablet and charts and realizing the error of my ways. Carefully backtracking and getting back on the ICW we started to lose daylight. My first mate was concerned, so we consulted the "Great Book of Anchorages," and found a very quiet and picturesque anchorage behind Topsail Beach. In the still of the evening, enjoying our sundowner, you could hear the waves breaking onshore.
We had been following the weather reports regarding some weather coming our way with some strong winds and wanted to find a safe spot to ride them out. Heading through Snow's Cut, Sharon was calling the marinas in Southport for dockage only to be told they were not rebuilt from the tremendous damage that Isaias had caused earlier in the year. We reached out to the marina at Bald Head Island, and the dockmaster, Joene, said that she had dockage for us, but after tonight, the restaurants were all closing until after New Year's. I told her no worries; we were well provisioned. In fact, when Joene forgot her lunch two days later, we were happy to share our leftover pasta puttanesca with her.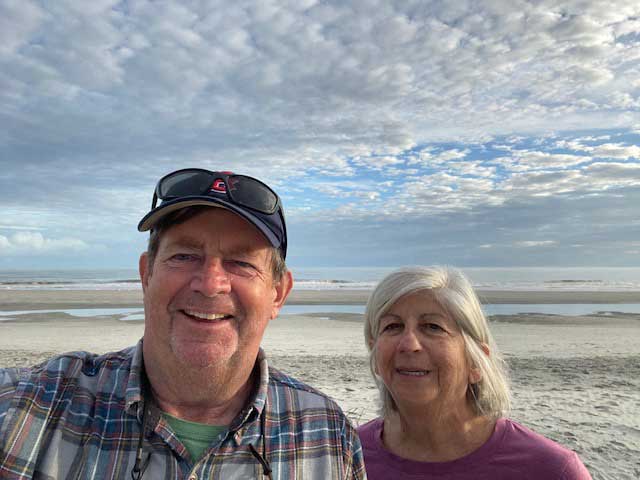 Further South
After three days we left Bald Head Island, heading for South Carolina. Did you know that the Myrtle Beach Yacht Club is not a yacht club, and it's not in Myrtle Beach? After tying up and plugging in, who did we run into, none other than Dee Smith and Jocelyn Thompson of the Navigator, who invited us to have a socially distanced docktail.
The next day we passed through the "Rock Pile" without any challenges or opportunities on our way to Beaufort (pronounced Bewfort), South Carolina, another great town to walk around. From there we headed down the Waccamaw River to another picture postcard town, Georgetown, SC, and some great sushi at the Rollin Local. 
As we were making our way down the Intracoastal, my sister Anita, brother-in-law Jimmy, and niece, Abby, and their dog Wally, wanted to meet up with us, and we picked Charleston, SC, as our rendezvous spot. Spending the night at Isle of Palms allowed us a very short run the next day to Charleston. While the Charleston Maritime Center can be a bit lumpy at times, it is so close to everything, it makes it tolerable. We spent a really fun four days touring and eating our way around Charleston (try Leon's for oysters, fried chicken, and great beverage choices).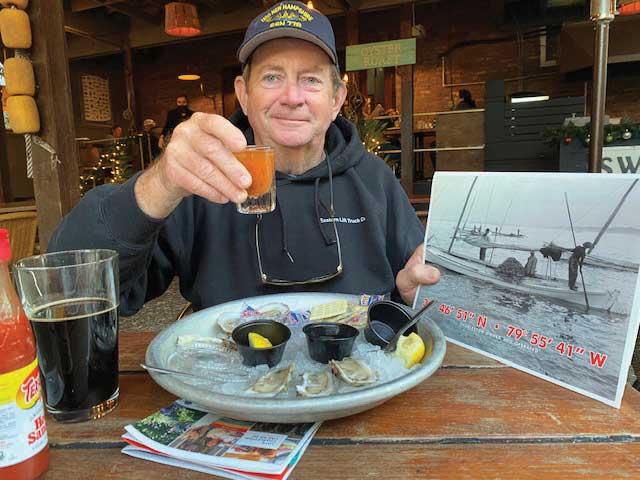 From Charleston, we headed to Thunderbolt Marine, in Thunderbolt, GA, to see the sights of Savannah with the Aldens and enjoy the Krispy Kreme's delivered early every morning. 
We departed Thunderbolt with Anita and Abby aboard as crew after explaining to all that what they can cover in an hour or so in their car takes us four or five hours. As a result, we agreed to meet at the Sunbury Crab Company in Sunbury, GA, for Anita and Abby to go ashore, agreeing to meet the next day at St. Simons Island. We bid the Aldens adieu as we headed out the next morning after a delicious dinner at the Coastal Kitchen the night before. We passed by the "World's Largest Chainsaw" as it was cutting up the car carrier Golden Ray on our way to Fernandina Beach, FL, to leave the boat and return home for the holidays.
Stay tuned for Part II of this ICW journey in the December issue of PropTalk.
By Sam Moynihan