This is an ICW journey in three parts. In leg one, we covered the journey from Arnold, MD, to Fernandina Beach, FL. Leg two covered Fernandina Beach to Ft. Pierce via Lake Okeechobee and the Everglades, and then back on the ICW to Ft. Pierce. This is leg three covering the journey home.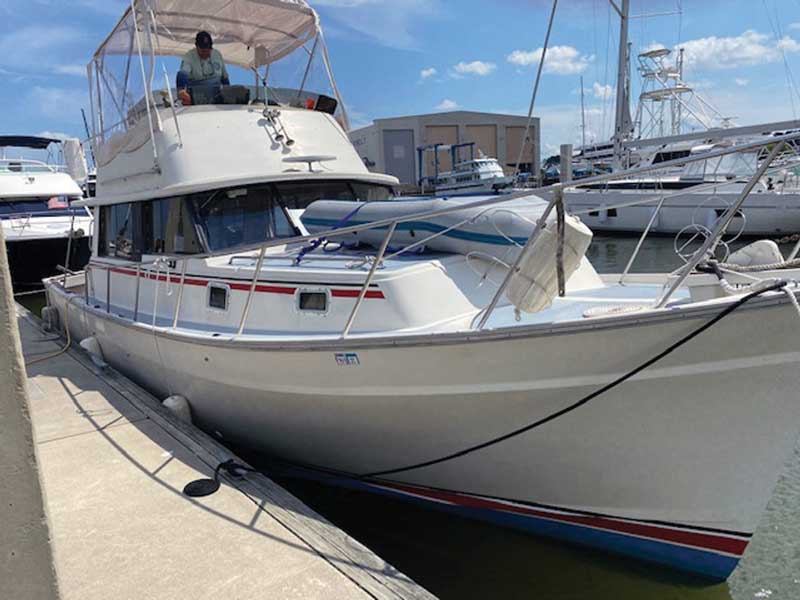 Returning home and receiving both of our Pfizer vaccinations, Sharon let me know that she wasn't interested in making the return trip from Fort Pierce to the Belvedere Yacht Club. Based on the number of comments that I was getting from friends and family on social media, I put out a message saying I was looking for a crew to bring the boat back up.  
Crew Wanted
Our friend Dean Scarborough (Annapolis) expressed interest, as did Sharon's brother, Pat McNamara (Strongsville, OH), along with brothers-in-law Dean Wunderle (Broadview Heights, OH) and Jimmy Alden (Kittery, ME). Each crew member surprisingly had a window that worked best for them which made it easy to put together a loose schedule after consulting my Magic 8 Ball. 
On April 13, Dean Scarborough and I departed BWI for Jacksonville, FL. This was a continuation of a flight that departed Cleveland that morning and Pat McNamara was already aboard. We arrived in Jacksonville, met with our driver, and did a solid grocery run before heading to the boat for offloading and stowing groceries, gear, and supplies. We performed systems checks and assigned inflatable PFDs and went for a relaxing outdoor dinner at Cobb's Landing after a long day. 
Having Dean aboard on this leg was invaluable in providing Pat with resources and knowledge necessary to help operate the Sharon Rose. Dean has an impressive resume—a USCG licensed captain, an EMT instructor, a retired Major with the Maryland Department of Natural Resources Police, and an all-around good guy, just to name a few.  
The next morning after coffee and breakfast, we topped off fuel, pumped out, and departed Fort Pierce City Marina and started north. With the days getting longer and having crew that were excited to take turns at the helm, we covered 121 statute miles up the ICW to New Smyrna Beach, a record for the Sharon Rose!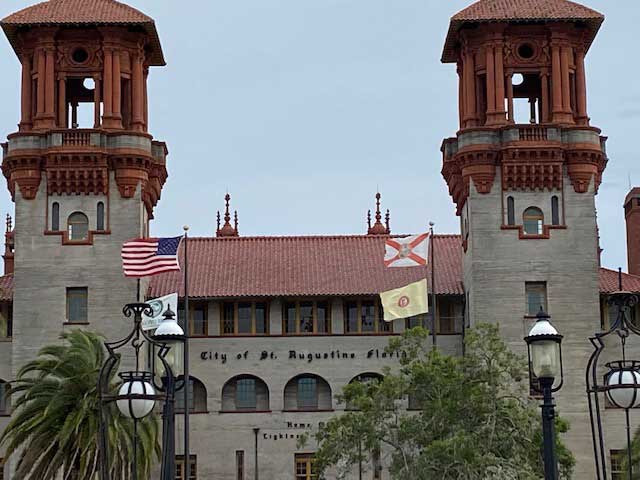 Departing New Smyrna Beach the next morning, the crew was complaining about the quality of cushioning on the back to back seats on the flying bridge when they weren't driving. In between creating a healthy lunch and providing snacks, water, and seltzer to the crew, I called the Sailor's Exchange and "reserved" two type IV throwable cushions, one blue, the other red. We arrived at St. Augustine Municipal Marina, secured Sharon Rose, and I told the crew I had a treat for them, but we had to get going, as the store was soon closing. We made the mile and a quarter hike in record time, and Dean and Pat were delighted with the cushions for the rest of their time aboard. 
After a quick breakfast, we departed St. Augustine with the hopes of reaching St. Simon's Island, GA, by day's end. We were successful and managed to stop in Fernandina Beach to take on a quick 140 gallons of fuel, which translated into 253 statute miles at consolidated fuel. Additionally, the crew got plenty of photos of the "World's Largest Chainsaw" as it was cutting up the car carrier, Golden Ray, which capsized on September 9, 2019. 
Docking on the face dock at the Morningstar Marina, we enjoyed a delightful dinner at the Coastal Kitchen. This was my second stop here and both meals were delicious! 
With little wind or current the next morning, I let Pat take the Sharon Rose off the dock. He was really a quick study. Of course, he did mention a few times that when I gave instructions, it was like drinking from a fire hose and he was glad Dean was aboard to decipher and explain the task.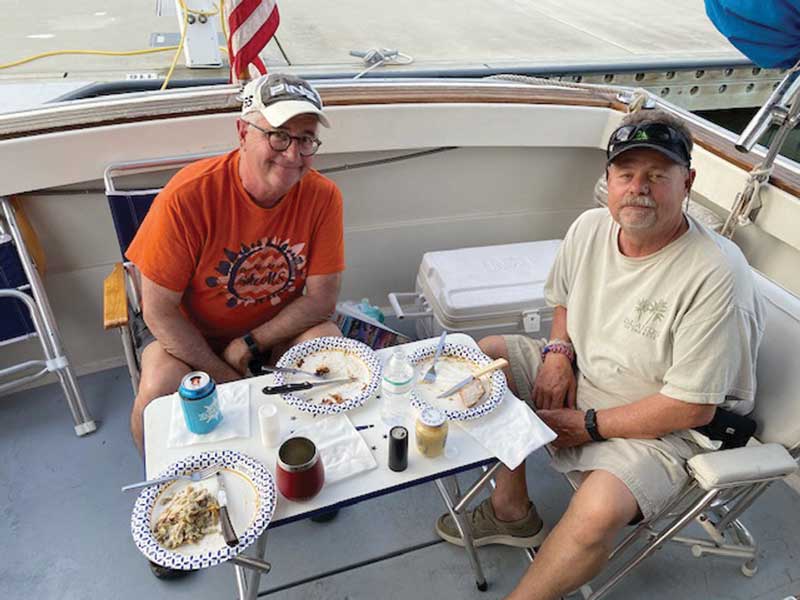 While underway, I surprised the crew with grilled Italian sausage sandwiches with sauce and mozzarella cheese for lunch (I wanted to keep morale high for the next couple of days). As the day progressed and we were looking for a place to stop for the night, we bypassed the Sunbury Crab Co. in lieu of Halfmoon Marina, in Midway, GA.  
The marina had just been purchased by two friends, who were also county police officers, and they could not have been more friendly. We arrived just before the weigh-in of a fishing tournament that a local fishing club was sponsoring. The most impressive sight was, without a doubt, Katelyn, a high school student who's worked there since eighth grade. Katelyn's job was launching and loading boats on their trailers with a double hoist trolley style lift, as the shoreline was too steep for a ramp. She was impressive to say the least, guiding the owners to position the straps properly on their boat's lifting rings and having them back their trailers into the correct position. 
Dinner onboard that night was in keeping with the Italian theme—spaghetti, meatballs, salad, and garlic bread. We decanted a bottle of Chianti to help enjoy the evening. Dessert was dark chocolate and walnut brownies, and yes, I did burn the edges a bit…
In my quest to get off the beaten path, we touched several times on our way up the Timmons River to Halfmoon Marina. Consulting local knowledge, we chose to go out the North Newport River into St. Catherine's Bay the next morning and saw plenty of water. 
While underway, I contacted Richard at Thunderbolt Marina and reserved dockage. I chose Thunderbolt Marina both going south and north, based on reports from various sources about dockage in Savannah. Additionally, the Krispy Kreme donuts delivered every morning might have had a slight influence in my decision making.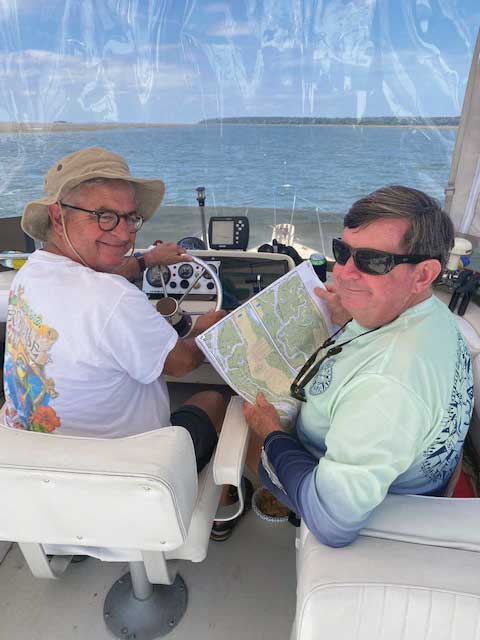 Because we had made such great progress, we had a day to explore Savannah before Pat and Dean departed. We Ubered to Savannah and spent the day seeing the sights, had a delicious lunch and a late afternoon drink before heading back to crockpot chicken thighs that were put on before we left. 
Changeover Day
April 20 was crew changeover day. Pat and Dean Scarborough were flying out and Dean Wunderle was flying into Savannah/Hilton Head Airport, all within an hour of each other. The loaner car from Thunderbolt made this as easy as could be. 
Dean Wunderle came aboard, and we spent some time going over safety equipment and systems, sized and labeled an inflatable PFD for Dean, had dinner aboard, and turned in. We pumped out after breakfast and departed Thunderbolt, crossed the dredges at the Savannah River past Hilton Head and Dafuskie Island into South Carolina, motoring past the USMC Base Paris Island in Beaufort. We made great time and covered over 114 statute miles: another huge day! 
We were looking for a dock for the evening before reaching Charleston; however, my luck ran out and we had to keep going, where we spent a rough bouncing night at the Charleston Maritime Center. We topped off again, taking on 143 gallons, and covered 258 statute miles since fueling in Fernandina. For those of you keeping score at home, we are cruising, when possible, at 14 or 15 mph, and not really calculating what the Northern Lights Generator consumes when on. I'm really impressed with the Yanmar 6 LPT engine's miserly fuel consumption. 
Departing Charleston, we set our sights for Georgetown, SC. While monitoring Channel 16 on the VHF, I thought I heard my eye doctor, Ray Atcherson, requesting a dock assignment, at the Charleston Harbor Resort and Marina. We were unable to raise him on the radio, but a quick call confirmed he was in the area. After securing dockage at the Harborwalk Marina, we had a delicious meal at the SoCo Grille. The next morning necessitated a hike to the auto parts store to replace a broken grease gun. There is a carrier bearing that the propeller shaft goes through that needs to be greased regularly, and it was time to grease it and the old grease gun decided to pack it in.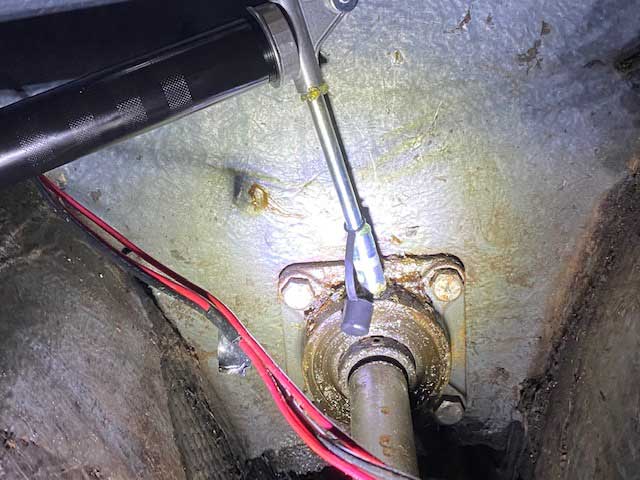 After a 96-statute-mile run from Georgetown, SC, to South Port, NC, I reached out to Joene, the Dock Master at Bald Head Island, as we were a day ahead of some deteriorating weather and looking for a place to hunker down. Unfortunately, they were full, but she called their sister marina at Deep Point Marina and secured us dockage for two nights. While waiting out a strong blow with some rain, Dean and I ventured to downtown South Port to sample some local flavor and seafood. A stop at the North Carolina Maritime Museum provided us with a wealth of history about the area, and the Moore Street Oyster Bar provided the seafood fix. 
After getting back to the boat, I heard a loud thumping noise, almost like the sound of a crab trap hitting the bottom. Upon closer inspection I discovered that the port trim tab had come loose from the hydraulic cylinder. Lying down on the swim platform as the boat yawed with the wind and waves as they came into the basin, I was able to get a line around the tab and secure it from slamming. Any thoughts of making this repair myself were quickly banished by how cold the water was and how much I was shivering after securing the trim tab. 
I called BoatUS, and they said diving was not part of my membership, but they would call their local captain. Literally less than five minutes later, I received a call from Captain George who said, "I don't dive no more, but one of my captains does. I'll have him call you." Ten minutes after that, Captain Evan called. I sent him a pic of the exploded diagram and my diagnosis of the bolts backing out. He said he'd be there around 10 a.m. the next morning. When he was done, he climbed up on the swim platform, took off his gloves, mask, pulled his wetsuit hood off, stroked his chin, and said, "Is $100 too much?" Needless to say, I gladly paid him the 100 and tipped him an additional $20 for such quick service. 
We got underway from Deep Point heading up the Cape Fear River to Snow's Cut, and then continued to Harbor Village Marina in Hampstead, NC. Harbor Village Marina is a nice clean marina, which looks like a really large, neighborhood marina, though it's not near anything that you can walk to. But as the day was winding down, we were happy with the choice. 
As I was in the galley preparing dinner, I heard Dean talking with someone, and the conversation was: "Are you from Annapolis?" "No, but the guy who owns the boat is." Recognizing the voice and using the sun in their eyes to my advantage, I said, "You don't recognize the boat name?" and "We tried to call you when you were in Charleston, on Channel 16, but you didn't respond." Then I stepped out so Dr. Ray and his wife, Holly, could see me, and we shared a laugh. 
The Final Crew Change
The next morning, we left Harbor Village heading north, waiting at the Surf City and Onslow Beach bridges, as we made our way to Bogue Sound and Morehead City Yacht Basin for a crew, oil, and filter change! 
Dean's mom and dad live about 20 miles from Morehead City where he left his car before coming to Savannah, and Jimmy Alden was flying into New Bern, where Dean was kind enough to pick him up and bring him to the boat. Crew changes don't always go so smoothly! 
The next day, we departed Morehead City full of great expectation to make it to Coinjock, NC. Jimmy Alden, AKA "The Lefty," wanted to know if we were going to that "prime rib place" when he agrred to crew. I assured him that, yes, we would indeed make a stop there. Unfortunately, we didn't make it as far as we hoped; we had the wind and chop in the Neuse Rive and Pamlico Sound to thank for that! We took a dock at the Alligator River Marina and Shell Gas Station, enjoyed a quiet dinner aboard, and the next morning dropped lines and called the Alligator River Bridge for their next opening as we made for Coinjock.  
We got to Coinjock early and enjoyed lunch and dinner, with Jimmy initially leaning towards the Admiral's 32 oz. cut but called an audible as our server came to the table. He made the right call going with the Captain's 16 oz. cut, since we had enjoyed an appetizer beforehand.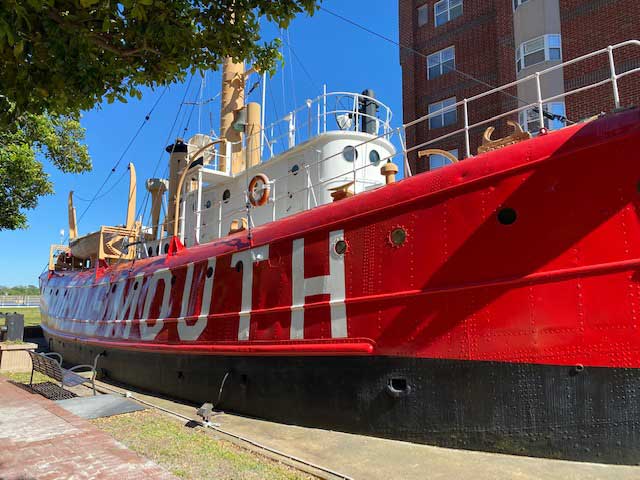 We left Coinjock Marina heading north the next morning in a light rain for Portsmouth, VA. The wind was picking up and we wanted to get across Currituck Sound before it got ugly. The weather channel was calling for a gale with wind gusts over 40 knots early the next day. We arrived at Tidewater Yacht Marina in the late afternoon. The wind was piping up pretty good, and I was glad for the help from the dock staff to catch our lines. Jimmy and I wandered around Portsmouth after securing the boat, taking in the sights, a flight of beers at the Legend Brewery, and dinner at the Bier Garden for some outstanding German fare. The next day, the wind came as promised, and I used the time to work on rubbing out a little dock rash from the rubber bumper around the piling at the end of the dock when we came in.  
The wind died down in the latter part of the day, and we took advantage of it to fuel up at the Scott Creek Marina in anticipation of getting an early start the next morning. Sunday, May 2, we dropped lines and got underway at 6:42 a.m. and cleared the Thimble Point Light a little after 8 a.m. By 1 p.m., we were going by the Target Ship northwest of Smith Island. At 4:40 p.m. we were abeam of Bloody Point Light, under the Bay Bridge by 5:25 p.m., and at 6:28 p.m. we were back in our dock at the Belvedere Yacht Club. A new one-day distance record of 139 and a half miles!
The end of fantastic trip, but the memories will remain forever! 
By Sam Moynihan
---
To catch up on Part One of this ICW journey, visit Cruising the ICW Part One.