There I was in a pre-World War II Century ski boat. She was a 16-foot Century, a favorite brand for waterskiers.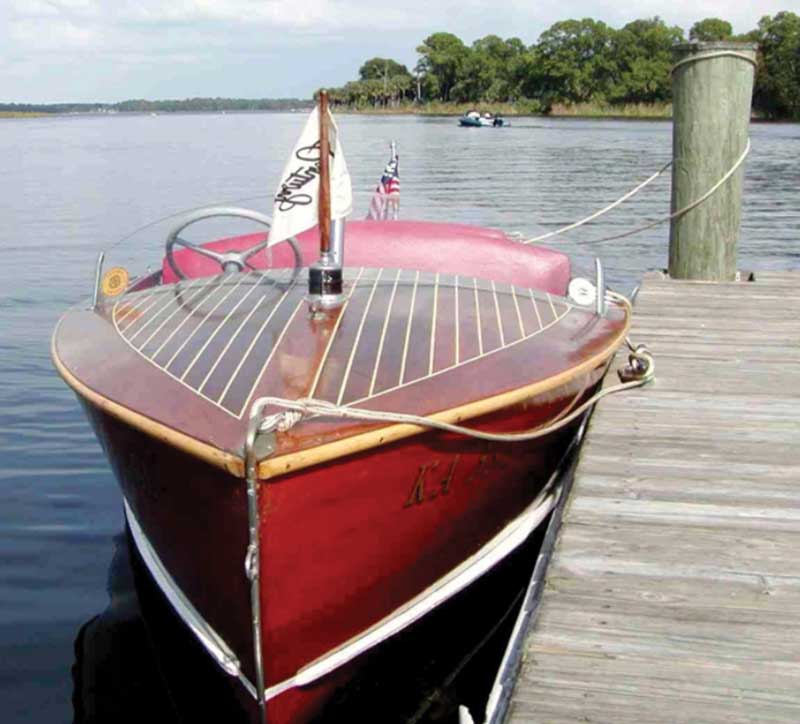 Waterskiing itself has quite a history. It was invented in 1922 in Minnesota, a natural location for the sport since the state is well-known for more than 10,000 lakes. Just six years later, Century Boats was founded and became a big part of this sport's evolution. The American Water Ski Association was formed in 1939, and trick skis were first used in 1940. A 21-foot Coronado model Century was reportedly capable of pulling 10 skiers. 
It was a perfect autumn day. The 350-cubic-inch Chevy V-8 engine started right up. Its mahogany-planked hull was watertight with a natural varnish that shone in the sun. The deck stripes were white and straight in the seams of the deck's planking. The seating was neat and clean, the lines and boat gear spiffy. 
Mr. Breeze is a much-loved user boat owned by Dave Bernard. It's definitely not a trailer queen reserved exclusively for classic boat shows. This 16-foot by five-foot-eight-inch traditional wooden boat has a center-mounted engine. It has a sharp vee-bottom at the bow with an almost-flat, very shallow vee at the stern and is a hard chine skiing machine. 
The boat was originally built to be powered by a four-cylinder gas engine. Today Mr. Breeze is on its third engine. The second engine was good until one recent winter: the block cracked when the storage building heat failed during a deep freeze.
Dave and his friends installed the current 330-horsepower engine in this Century. Dave does all the mechanical work on the boat; he and his wife Nancy share all the varnish work. The throttle and shifting were redone to use a modern starboard, inner-sideboards side-shifter. The current V-8 delivers plenty of power, control, and a relaxed cruising engine rpm at skiing speeds.
Century Boats started designing and building wooden boats in 1928. After two years in Wisconsin, the plant moved to Manistee, MI. The operation was later moved to Panama City, FL, in 1983 and produces fishing boats now.
Prior to providing turnery for the World War II effort, Century built 85 boats of this model Century in 1941. Century went on to manufacture 3600 boats for the military and received the Army-Navy E Citation for its efforts.  
Dave Bernard is a Master Mariner. He handled the 1941 Century ski boat with aplomb, crisscrossing sportfisher boat wakes without any of the expected pounding. Dave knew instinctively what steering wheel adjustments were needed. We didn't get wet from the bow or other spray, as normally happens. He also knew which No Wake barrels were legal, not just unofficially erected by homeowners.
We launched at Kennedy Park in Sommers Point, NJ. The pilings at the ramp presented no problem to Dave. We were two in the front cockpit and one in the aft cockpit on this part of the cruise. We quickly got settled in with our gear and the boat's necessities without a hitch.
We headed north on the Great Egg Harbor River at 10:30 a.m. The sun was warm with temperatures in the 60s with a light wind. The Century's low windshield blocked some of the wind generated on plane at 2800, 3000, and 3200 rpms. We rarely needed to reduce speed for cruiser wakes, as Dave masterfully steered to take them at another angle for a perfect ride. We picked up his wife Nancy on the way to lunch.
The saltwater changed to freshwater and was tea-colored from the tannin of fallen trees and leaves and the so-called "bog iron" along the shoreline and byways. There was a marked channel and several side channels along the way. Dave knows this area well and had picked the date of this ACBS Mid-Atlantic Chapter's cruise based on the tides that day during the hours we were cruising. 
It was a 90-minute cruise to our lunch stop at the historic Inn at Sugar Hill, where we dined on a waterfront patio. We enjoyed delicious hoagies served several ways in addition to pizza and a very tasty cheese bread before riding back on the smooth-as-glass river.
By Chris "Seabuddy" Brown