Century Coronado is a mighty name among classic boaters. These boats are known for their long and stylish design life during both the wood and the fiberglass hull eras. This article showcases an unrestored fiberglass standout that provides a luxury boating experience when riding across the waterways.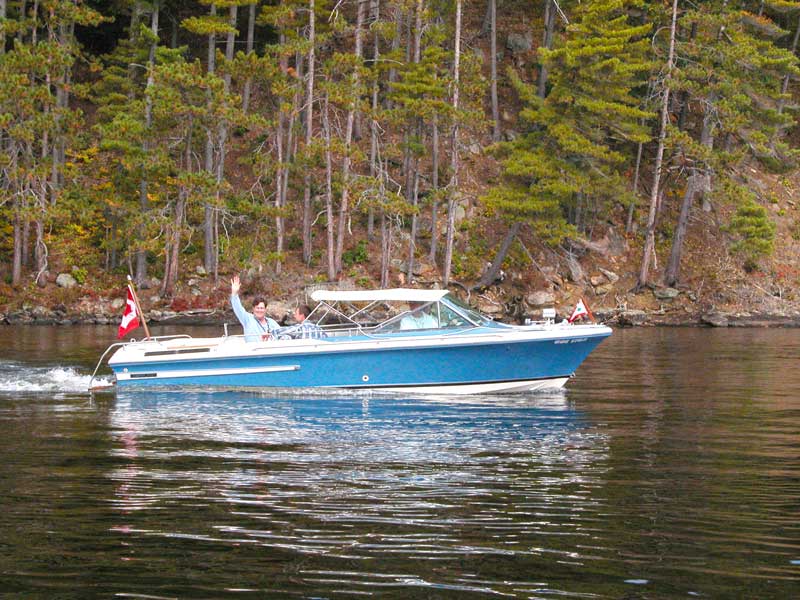 As a general rule, the Coronados have more glitz than almost any other runabout. For many years their windshields were fashioned from automotive industry glass. And often they were highly styled by Richard Arbib, who previously worked for both General Motors and Packard. For styling clues on the Coronado, reflect back to the Chrysler Imperial between 1959-63, when cars were heavy with chrome trim. Styling was always a calling card for the Coronado, regardless of the model year.
The Coronados are recognized as substantial boats with plank-on-frame wood or fiberglass-reinforced resin. In addition to their ability to transport many passengers, they're heavily built with lots of woven roving. 
Years ago, I interviewed Al Hegg at his Century Boat plant in Panama City, FL. He told me that he preferred lots of woven roving in his boats' lay-up. He was even fond of its subtle "print-through" on shiny finished boats. He liked to point out that the quality of his fiberglass work was revealed by that occasional weave's print-through. 
So, are the Coronados fast? Yes, when tuned up and lightly loaded. Although one can expect to achieve speeds between 50-60 mph, speed alone was not what they were all about. A Coronado built on a wooden hull could reportedly deep-water start a dozen water skiers.
Yes, I know this open cockpit model is best called a utility design within classic boating terms, as a true runabout is decked over between its seat rows such that changing seats is often only done at dockside. Despite choppy water and other boat wakes, our ride was unfazed in a fiberglass-hulled Century Coronado that was actually one of the Cardel models, a production line that was given separate hull codes by the factory even though they were built on the same mold. She gave us all a great, almost cushy ride. Coronados are also famous for their over-padded interior amenities. For a moment, you might think you're sitting on an over-stuffed living room sofa when you're in any of the Coronado's three rows of seating.
The Cardel model is distinguished by a layout with a different engine location. A traditional Coronado has a center engine location and a straight shaft down to the prop. The Cardel version, however, has a stern engine location and uses a stern drive or a vee-drive behind all the cockpit seating.
What a ride! Above the waterline this boat is styled like the luxury Coronado runabouts of her lineage, yet this fiberglass model sports a different underwater running surface. That difference is manifest in a deeper vee, so she takes wakes and wind chop better than her wood predecessor.
Although the Century Boat Co. was founded in 1926, it wasn't until 1955 that it debuted a longer and very highly styled boat. The company made 196 examples that model year. Not every year was that good for sales, and in several other years it sold even more. The model was essentially in production until 1986. These Coronados still carried the DNA of the Century Resorter (the predecessor model), which was recognized as the ideal water ski boat. Resorters offered cushy luxury and very high style, too, but in different lengths from 16 feet long to 19 feet long.
Much like the auto industry at that time, Century restyled its boats every two years, but kept the basic hull dimensions and features for the wooden hull models. The fiberglass models noted in this article were typically longer by several inches.
There are 53 sister chapters of the Antique and Classic Boat Society (ACBS) that host shows throughout the year where Century Coronados and Cardel models can be seen, appreciated, and enjoyed. One to check out with more than 100 collectible wooden and fiberglass boats is the Antique and Classic Boat Show June 19-20 at the Chesapeake By Maritime Museum in St. Michaels, MD. 
By Chris "Seabuddy" Brown