"If you were anybody in the '60s, you had a Glasspar G-3."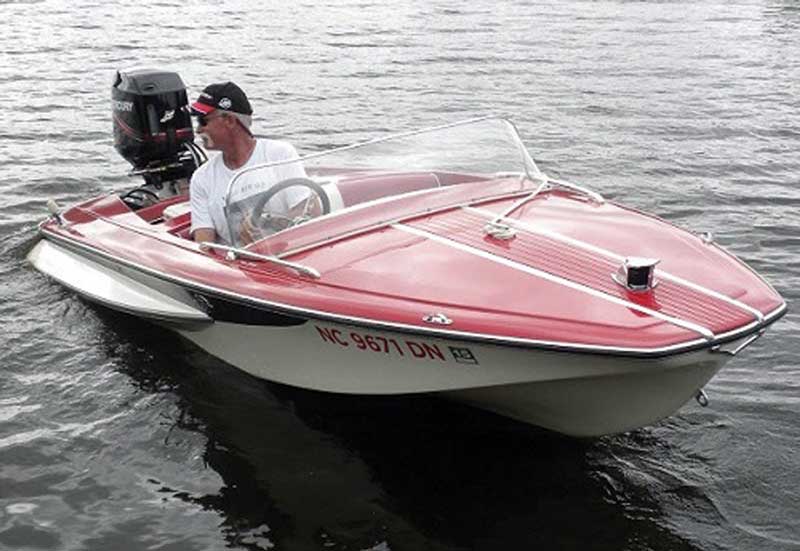 I recently discovered this bold statement online, most likely made by a serious fan of the brand, (as I am!). After all, the Glasspar G-3s outboard-powered ski boat design was a milestone in the industry.
When I was a teenager in the 60s, we lived about two blocks from Barnegat Bay in New Jersey. My uncle and I invested sweat as well as money in a series of used Glasspar G-3 ski boats. In those days you could find us cruising them on all the local waters. We enjoyed trips on the Bay, Tom's River, the Point Pleasant Canal, both the Manasquan (typically calm) and Barnegat (typically rough) inlets, and the 21-mile run on the Atlantic Ocean that stretched in between. 
G-3s were nimble sportscars on the water. They had long foredecks and cockpit side openings that tapered like a barrel-back Chris-Craft from the 1940s. The maximum passenger weight was listed as 600 pounds. Although the cockpit opening narrowed, the aft end of the boat did not. The boats featured anti-trip chines under a projecting sponson design. That feature made a G-3 wider at the stern than at the end of the long deck, which ends past amidships. The sponsons also allowed for the weight of a big outboard engine. This is a major design feature among fiberglass boats, not just in the 1960s but right up until today. They were powered by the top outboards of that time: either a 40-hp Evinrude or a 45-hp Mercury. 
The early G-3s (model years 1959-1961) accommodated three across a single seat in a model now called the Center Deck, which was their first deck design. Later models (during 1962-1963) offered passenger-side, flip-around seating—now called the Open Deck version—that only seated two. Since no G-3s were produced in 1964, the next changes appeared when Glasspar introduced a revised Open Deck version (1965-1967) that seated four in two back-to-back seats. 
The G-3 in this photo is a 1960 model that has been in the same family all those years, passed from father to son. Always garaged, she has outlived several outboards. The current engine is a later model 60-hp Mercury outboard rated at the prop, which is about 10 percent higher in horsepower than an outboard rated at the powerhead. This is the top-rated horsepower for a G-3. This model uses a short-shaft transom height, which makes for a difficult repowering engine choice since new, mid-horsepower engines with the 15-inch mid-transom shaft spec are not easy to find. 
She weighs about 390 pounds (without outboard) and is 13 feet, seven inches long with a beam of 73 inches from sponson tip to sponson tip. She's all fiberglass with aluminum trim, including a fiberglass faced wood transom and a quarter-inch plywood floor (fiberglass faced on one side only) with dimensional wood stringers between the inner hull bottom and the cockpit floor. 
The weak link in a G-3s construction is in the transom. Its thick inner core consists of four sheets of 3/8 inch plywood that are fiberglass faced on both sides. The plywood inner cores would rot out and weaken since the plywood top of the motor well is left exposed, not capped by an aluminum strip. The rear of the deck was covered by an aluminum trim, but not attached to the hull. Eventually, rainwater over the years would delaminate all the plywood in the transom. Fortunately, transom plywood did not extend across the sponson backs.
Glasspar boats started in late 1950. Bill Tritt, whose name is most often associated with the G-3, was involved with the company until 1959. 
Glasspar's headquarters was a 27,000 square-foot plant in Santa Ana, CA. Over the years, Glasspar opened additional production plants in Michigan, Tennessee, Washington, Virginia, and Texas.
Although it had sales over six and a half million with a profit of over $460,000 in 1958, Glasspar started to lose money in 1965. In 1966 the company's assets, including its three remaining production plants, were purchased by Larson Industries. 
Every time I see a G-3 I'm a kid again, remembering how liberating it was to explore the waterways even before I had a driver's license. Good times!
 
By Chris "Seabuddy" Brown