Today we look at some of the fiberglass boats designed and built in the era between 1950-1960 that were style leaders in small pleasure boats. Fiberglass boats appeared on the market as the United States' economy was booming. People had money, families had time to spend together on the water, and fiberglass could be molded into shapes that just couldn't be fashioned in wood. All of this set the stage for boating to explode. Some boat builders hired car designers to develop ideas for boat models. Other design influences came from the emergence of space travel. The boats featured here are just three examples of the rich and exciting styling that the marine industry gained in this time period.
Arena Craft Corporation of Richmond, CA
Dan Arena was a boat designer and boat racing driver who competed head to head within the Gold Cup and Unlimited boat racing classes against Harold Wilson, Guy Lombardo, George Reis, Bill Horn, and Bill Cantrell, to name a few. He built the Arena Craft shown here. It's one of a handful of Arena Craft under 20 feet that have been restored. The pictured Arena Craft 19 foot, six inch speedboat was five miles per hour faster at top speed than the Chris-Craft Cobra of the same era with the same horsepower. Both boat builders made their racy designs with a six foot, nine-inch beam.
Some say that the Arena Craft version of this speedboat handles better, too. Both the Chris-Craft Cobra and the Arena Craft models were built with a full-width, single-seat cockpit design. Chris-Craft made its boats from wood with fiberglass in the fins. This Arena Craft boat was made out of a fiberglass hull and deck molding with some wood and Hexcel composite stiffeners, a somewhat typical fiberglass boat construction in the late 1950s. Chris-Craft was the largest boat company in the world at the time with lots of dealers and sold far more of this speedboat model than Arena Craft.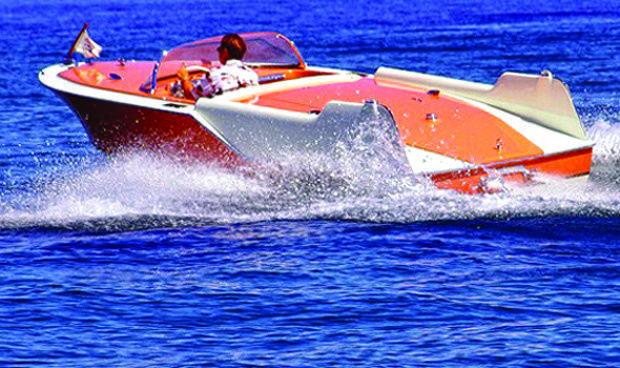 Arena is credited with designing the first Unlimited race boat to win with a modern power source. He added onto what Ventnor did with the three-point hydroplane racing boats by flattening his boat's profile and packing more air between the front sponsons, which further reduced wetted surface compared to other three point hydroplanes. His prop and sponson innovations led the way from the tail-dragging Ventnors whose transoms always had their props submerged to his race boats that sporadically rode on their prop as one of their three points, which led to Ted Jones' race boats that always were prop riders after his Slo-Mo-Shun IV. His 1953 Hydroplane design was built later, line-by-line, by Les Staudacher, which resulted in the boat that set the fastest straightaway Unlimited Piston Engine Hydroplane record speed of 200.419 miles per hour.
Arena was a racer first and a pleasure-boat builder second. He started building one-off race boats in the 1930s and expanded into building pleasure boats around 1953. He formed the Arena Craft Corporation in 1955. It seems that he made the transition from wood to fiberglass boats around then. He sold that business to Reinell Industries circa 1969. All Arena Craft boats after that date were made by Reinell, not Arena. Arena's love of the sport kept him in the boat business nonetheless.
About a year later, the Dan Arena Company was born. This was a low-production boat builder that primarily catered to Lake Tahoe water demands. Due to the high altitude of the lake, a "fast boat" there was simply not that fast, and the ability to handle well in rough water ability was valued. As a result, many of Dan Arena's boats were capable of speeds up to 75 miles per hour at sea level when powered up. Such a boat usually had a V-drive 425 Horsepower Chevy engine. Howard Arneson threw a turbine into his and went over 100 miles per hour.
This was a family business. Dan's son, Chris "Kit" Arena. started right out of high school with his dad and eventually ran the production floor. Almost all pleasure boat models that Arena had a hand in were named Barracuda. He liked that name. Both Arena Craft and Dan Arena Company boats have Barracuda-named boat models, and they came in 18, 20, 21, 23, and 24-foot sizes. They offered single, twin, and open cockpit runabouts. Boats were made with and without opening windshields. Some even sported Corvette car windshields. They also made cuddy cabin boats. Arena's cuddies were deeper (higher hull-sided) than his runabouts. Since the decks were molded and he often used the same hull mold for both models, it was his son's job to scribe, cut down, and hand fit a cuddy hull molding to a runabout deck, among many other jobs in manufacturing the boats.
Arena had a stroke in the 1980s and died in 1995. His son is still messing with boats.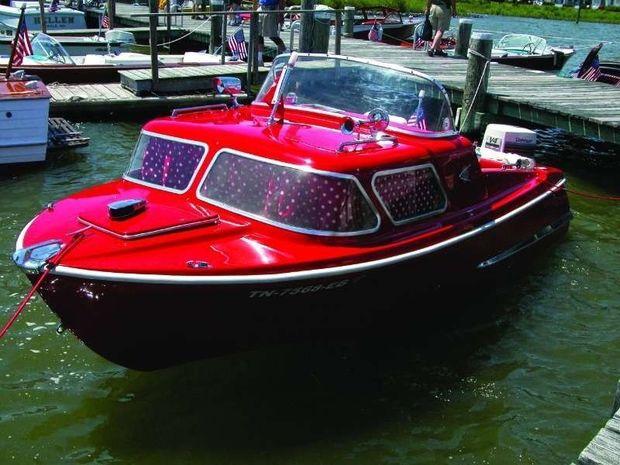 Dorsett Boats of Cambridge, MD
In the late 1950s Dorsett hired Raymond Loewy, the auto designer who later styled the Avanti and several Studebaker models, to design fiberglass boats. An excellent example of Loewy's work is Sunburn, a 1960 Dorsett that has cruised the lakes and bays of Maryland and Florida in recent years. This 16-foot, eight-inch LOA Catalina cuddy cabin with a six-foot, six-and-a-half-inch beam was and still is a capable small cruiser, boasting a modern, streamlined look at the pier or on the waterways. This outboard-powered Catalina has been perfectly restored. As an added plus, her owner displays this Classic Fiberglass entry in boat shows with an in-the-water, ready-to-go-boating style. There are great details like an "iced" drink cooler sporting the memorable "Coppertone girl and her dog," along with games and functional items like a spotlight. The boat is a show-stopper that brings smiles and sparks conversations among many show-goers.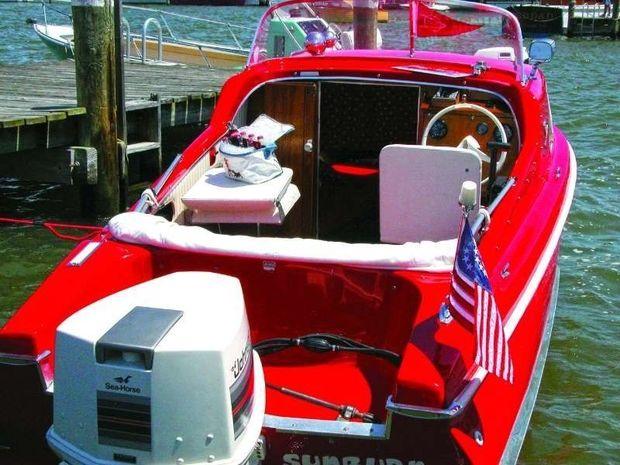 Sunburn is finished in Pennant Red, one of the five colors Dorsett offered in 1960. This classic small cruiser sleeps two down below out of the weather. Dorsett Plastic Corporation started making Endura Craft boats in 1955. By 1958, all of their boat designs were marketed as Dorsett Boats. In 1960 the company was sold to Textron, Inc., which kept the Dorsett name. By then they were selling about $3,000,000 in boats, built in three plants located in Maryland, California, and Indiana. The company was sold again in 1964 and then in 1968, after which the name "Dorsett Boats" disappeared.
Glasspar Boats
This company and its G-3 model had many locations including the main one in Santa Ana, CA, and one in Petersburg, VA. Shown here is a custom / modified Center Deck model G-3. Her owner took all his years of knowledge working in the marine industry for a major south Florida boat builder, added his boat racing experiences, and used some styling from G-3, Chris-Craft, and drag racing boats to mix them into a V-drive inboard that stops traffic in a big Classic Boat Festival like nothing else. G-3 Glasspars were made as outboard powered boats. Most were sold with 40 hp. The boat shown has about 375-hp driven to an under-the-boat prop and rudder combo via a V-drive. She has hand-crafted wood touches here and there, as the builder/owner has wood boats, too. She has Chris-Craft styling, too, as Skip owns one of those. She has control cavitation plates from a race boat. Skip owns a Jersey Speed Skiff race boat, as well. Bill Tritt, the inventor, designer, and boat builder of Glasspar G-3 boats produced a far nicer, more durable boat than many. He had a boat building plant in Virginia and California. His boats are still hot stuff today!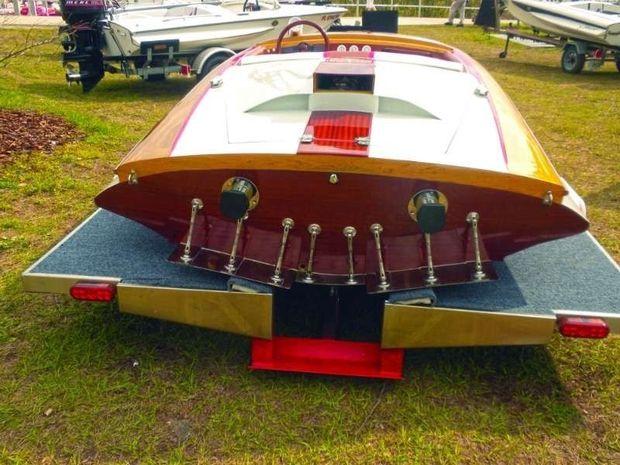 by Chris "Seabuddy" Brown