Finished from bow to stern in pennant red, this classic fiberglass Dorsett Catalina outboard cuddy-cabin cruiser is a showstopper. People always stop to admire this award-winner as they walk the piers at a classic boat show. She shines in the sun.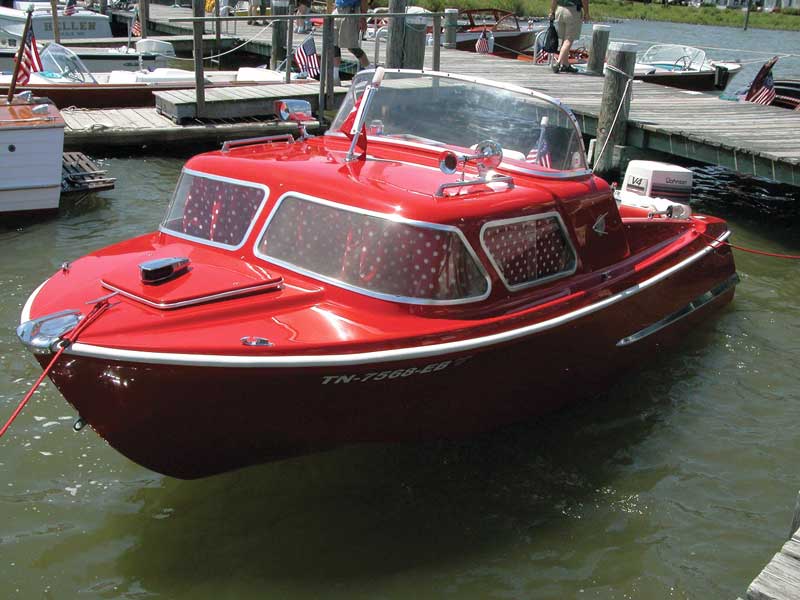 The Dorsett Catalina model sleeps two in her cabin. Her official capacity is a total of 1560 pounds for the cabin and cockpit. She is a high-sided boat.
This Dorsett is outboard powered, rated for up to an 85-hp motor. She is shown in this photo with a "Sea Horse" period-correct OMC Johnson V-4 outboard two-stroke. 
This boat has been repowered since it is used frequently. The newer engine is a four-stroke Yamaha outboard. Before it was mounted on the boat, its gun-metal grey factory finish was re-painted, powerhead to skeg, with pennant red enamel to match the boat. It looks great, as though it is original to the boat. This classy, standout engine has been cleverly nicknamed "Neverude."
Owner Stephanie Ryan from Virginia named her boat Sunburn, a play on the classic 1959-era Coppertone advertisement of a sunburned little girl with her one cheek partially exposed from her puppy tugging at her bathing suit. Rounding out the look are the red with white polka-dotted fabric touches on the cabin curtains and pillows. The theme carried through from the boat to the motor makes quite a statement.
She displays the boat pier side with a small cooler of bottled Cokes, classic boat fenders, and a period-correct transistor radio in the cockpit. She also has a spotlight mounted on the cabin top. Even her red dock lines carry out the color scheme.
Ms. Ryan has displayed Sunburn in two Antique and Classic Boat Society (ACBS) shows in St. Michaels, MD, at the Chesapeake Bay Maritime Museum and in Tavares, FL, at the popular annual boat show hosted by the Sunnyland Chapter.
During those ACBS classic events, she takes her boat out from the piers and/or floats for cruising. She trailers the rig from her home in Virginia.
The Dorsett Boat Company started in Santa Clara, CA, in 1955 under the boat brand name of Endura Craft Boats by Dorsett Plastics Company. In 1958, the company was re-named Dorsett Marine and simply called its boats, Dorsett. Dick W. Dorst was the company president. He was a Navy veteran who earned an engineering degree from the University of California and was an alumnus of the Harvard Business School.
Dick expanded the company by adding production plants in Bremen, IN, and Cambridge, MD. Yes, Dorsett boats were made on the shores of the Chesapeake Bay. The plant was managed by a Naval architect, John Moore, Jr., who earned his degree in Newport News, VA.
In 1960, the company was sold to Textron, Inc. It was sold again in 1964, when the company created a Santa Clara division separate from the other plants. Then 1968 brought another sale. The molds and equipment were sold off individually in 1970, some going to Sierra Performer Boats as well as to Marlin Boats. It's likely there were other buyers, too. 
Much was made of the design partnership with Raymond Loewy that Dick Dorst established in 1959. Since Ms. Ryan's Dorsett 1960 fiberglass Catalina model was already in production when Loewy arrived, he added his style to some of its design details.
Loewy was a powerhouse of design talent. We have him to thank for a classic Coke bottle. His designs extended from streamlined locomotives right down to the JFK postage stamp. He won a $50,000 bet with the president of the American Tobacco Company when he improved the Lucky Strike cigarette package. He even created JFK's Air Force One paint scheme.  
He designed the Studebaker Avanti, Champion, and Starliner cars. He introduced a clever transistor radio case. Greyhound hired him to design its popular bus and logo. Loewy also designed signature logos for both Shell and Exxon. The Coldspot refrigerator he designed for Sears in 1934 caused sales to jump from 60,000 to 275,000 in just two years.
Stephanie Ryan is fortunate to own a boat that this famous designer influenced. She's an ACBS member who enjoys cruising in her boat during boat shows where I took this photo.  
By Chris "Seabuddy" Brown
For more classic boat features and boatshop reports, click here.