This past June, a nine-year itch was successfully scratched when this 24-foot Chris-Craft Sea Skiff found a home on Middle River on the Chesapeake Bay. Her current owner recently transported her "back home" from her prior slip on the St. Lawrence River (up in Gananoque, Ontario, Canada), where she'd previously enjoyed seven years with her second owner.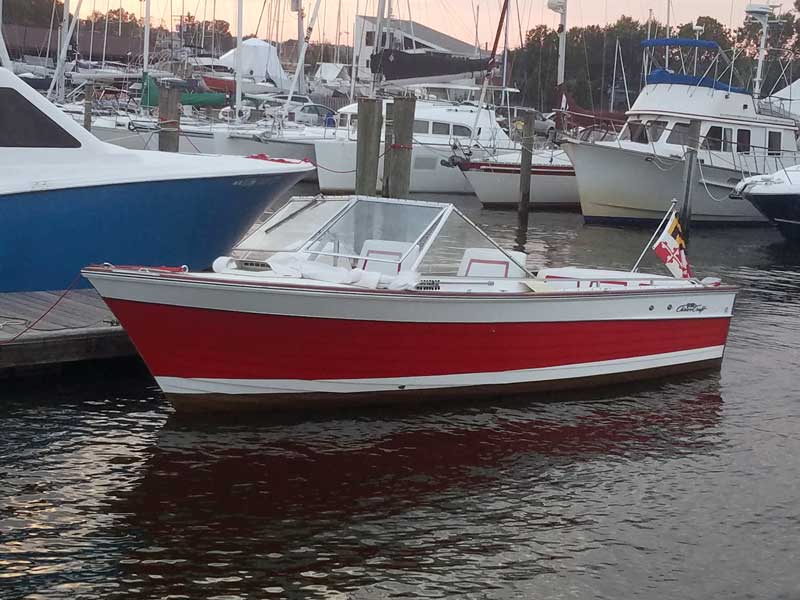 This Sea Skiff is named Judy IV, in honor of four women who were an important part of her early history. Her current owner respects this legacy and has no interest in re-naming the boat. 
At 24 by nine feet and weighing about two-and-a-quarter tons, Judy IV was the 60th Ranger produced by Chris-Craft that model year, out of 70 that were built from a three-year run of 170 hulls. 
Here's the interesting twist: Her bill of sale lists the Chris-Craft headquarters in Algonac, MI, as the manufacturer who originally sold this boat to a Canadian dealership. But the boat that was soon to become Judy IV was actually manufactured in the Chesapeake Bay Area. Here's why...
The Sea Skiff lineup of boats with clinker-built, lapstrake, round-chine planking was Chris-Craft's attempt to capture its share of the Lyman Boat Works' sales success. Lyman became well-known for this process after building about 5000 boats in 1955. Lyman's continuous success produced nearly 60,000 boats during the company's 100-year history.
Wikipedia describes the differences in these two types of boat construction: "Clinker-built (also known as lapstrake) is a method of boat building where the edges of hull planks overlap each other... A contrasting method, where plank edges are butted smoothly seam to seam, is known as carvel construction."
Chris-Craft's version of the clinker-built process led to the introduction of a new adhesive, Thiokol, which was later renamed "Chris-Craft Sealer." The sealer was said to add about four times the strength to a clinker-built hull. It was discovered during World War II when Chris-Craft was building boats to support the war. The sealer was so successful in strengthening those hulls that Chris-Craft received several government awards for their war boat efforts.
But the clinker-built Sea Skiffs required more to build than just a strong adhesive. Since the clinker-built construction was a significant departure from building carvel boats, Chris-Craft opened a 339,963-square-foot plant in Salisbury, MD, in 1954, dedicated exclusively to the lapstrake boat-building process.
So, back to Judy IV... The Canadian dealership that Chris-Craft sold her to in 1964 was S. F. Crate and Sons. This brand new boat was soon owned by a resident of Big Rideau Lake, where this first owner enjoyed fishing and waterskiing activities. Judy IV also did a lot of cruising through the Rideau Canal System's 45 locks and across the 1610 surface acres of that lake in her early days. Her cuddy cabin provided convenient overnight accommodations during trips. Judy IV was shipped to the Lake Simcoe town of Keswick in Ontario, Canada, in April of 1964.
Fast forward to today, where Judy IV is now back home on the Chesapeake. Middle River is about four miles long and has 448 acres of water. Folks waterski, fish, and cruise their boats along this fun-loving waterway that leads to the Bay. Judy IV is very seaworthy for Middle River, with 45 inches of freeboard forward and 32 inches aft.
And she's still a very original boat! She has her original 327 Chris-Craft marinized Chevy V-8. It was upgraded with an over-bore when it was rebuilt. It now produces an estimated 290 horsepower. 
Judy IV also has her original canvas up at the windshield, coupled with new canvas that provides slant-back cockpit coverage. In fact, she even has her original paddle as well as shaft, prop, and rudder. In the near future expect a re-covering of the cockpit floor in new, old-stock nautilus vinyl flooring. 
This is the type of classic boat (preserved), that you could expect to see at the Chesapeake Bay Maritime Museum's Classic Boat Festival in St. Michaels, MD in June. However, due to the coronavirus, this year's festival has been canceled.
By Chris "Seabuddy" Brown