The BoatU.S. Foundation is the proud new owner of a 1953 17-foot classic Chris-Craft Sportsman that was acquired through the foundation's boat donation program. We recently caught up with Ted Sensenbrenner, development director at BoatU.S. Foundation, who filled us in on the exciting news.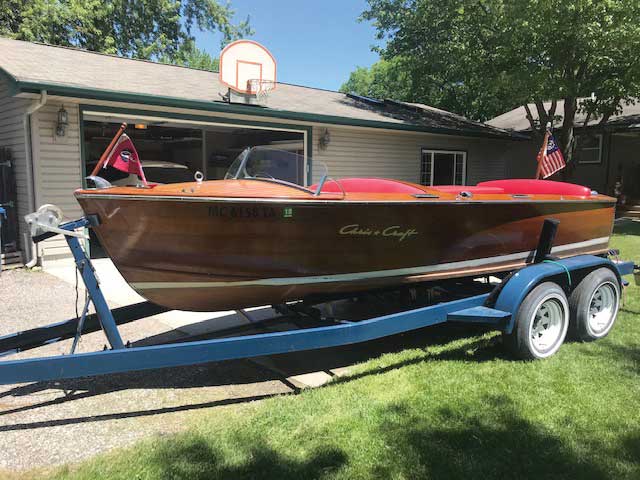 The foundation depends on boat donations to support its programs and services. Some boats are then sold, while others are used to further the BoatU.S. mission of promoting safe, clean, and responsible boating. Those boats are used to test products, produce videos on safe boat operation, and teach on-water boating safety classes. So where does a classic wooden Chris-Craft fit into this mission?
Ted says, "This Chris-Craft is unique to us. Not a lot of people are necessarily interested in owning antique wooden boats, so this boat was just another niche we would like to be a part of. Our primary goal is educating boaters, and wooden boats have their own set of maintenance and safety requirements."
In February, the foundation took delivery of the boat, which was donated by a freshwater boater in Michigan. Currently she is being kept at Severna Park Yacht Basin on the Severn River where repairs can be made. The goal is to have her on the water this summer. 
The boat just underwent a thorough survey by Todd T. Taylor Marine Surveying & Consulting, LLC and was found to be almost all original. The vinyl had been reupholstered at one point and the windshield replaced, but the engine and the main components are all original. It appears to have been refinished but not completely restored. And the engine turned over right away on land, which was a good sign. The real test will be the sea trial later this year. 
"I'm told we've got a good boat representative of the period with only a few minor changes," says Ted. "We're going to try and keep it as close to original as possible, but plan to make a few safety upgrades that were not available at the time she was built. These boats were not built with a blower for the engine in 1953, so we can add that, update the wiring, and make sure there's an adequate bilge pump.
"Our objective is to make the boat usable. Can we put it in the water and use it as a runabout as it was originally intended? We need to make sure she is seaworthy and reliable, and then help educate other owners of antique boats of the safety upgrades we've made.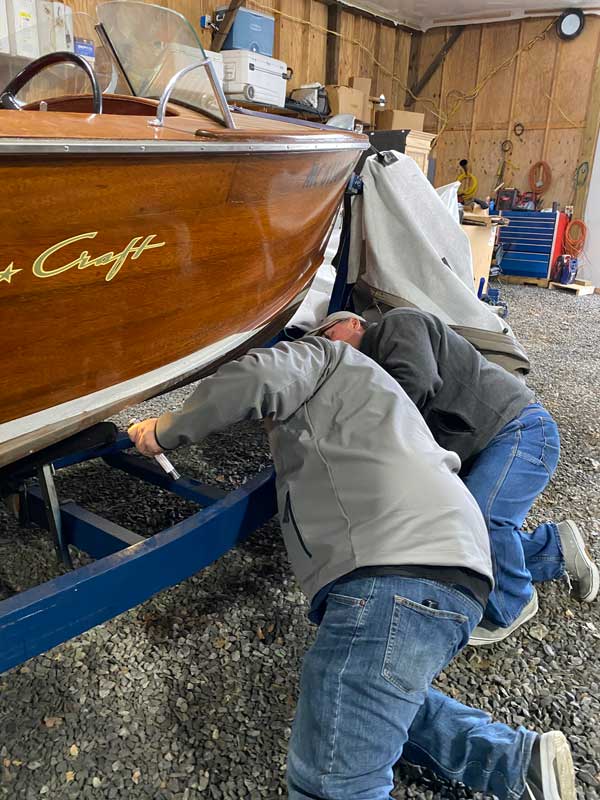 "We want to keep her as original as possible, but make usability and safety upgrades," adds Ted. "We want to really use the boat; it's not going to be put away for a rainy day."
Ted admits that they are by no means experts on antique boats, so they are reaching out to maritime museums and their surveyor for guidance. This put him in contact with the Mariners' Museum in Newport News, VA, which has an extensive Chris-Craft archival collection. Back in the 1980s, the owners of Chris-Craft donated a backlog of historical materials to the museum, including sales literature, period manuals, old photographs, and drawings. They are a great resource for anyone who acquires a classic Chris-Craft and wants to learn more about its history. 
"You can order a period hull card for your boat from the museum for a small fee," says Ted. "This card went with the boat when it left the factory and contains the hull ID number for the boat and the serial number for the engine.
"I brought the card to the surveyor, and complete verification came with putting eyes on the hull number. He said, 'You've got an original Chris-Craft.' A lot of people replace the engines at some point, but we were able to confirm that ours was original. That was really good news, and a great place to start the survey. If you're really into these classic boats, there's a support system out there, and the Mariners' Museum is a great resource."
More than anything, Ted feels very fortunate that this particular donor looked to the BoatU.S. Foundation. The donor later told him, "I do look forward to the boating season to come so I can hear how you are enjoying the boat."
"We want to do the right thing by this donor and this boat. We want to share it with people," says Ted.
BoatU.S. Foundation Seeking Boat Donations
The BoatU.S. Foundation is actively seeking a donation of a center console boat between 21 and 26 feet with modern, twin outboard engines for on-water training courses. Ted says that this particular boat model is often the most requested. It needs to be a safe, stable platform for teaching, and donors will receive the maximum legal tax deduction for their donation. Learn more at boatus.org/donate.
On-Water Training
The BoatU.S. Foundation also hosts on-water training classes on the Chesapeake Bay. Classes are limited to three to four students and include three hours of on-water time. Class options include Intro to Boating, Women Making Waves (for female students only), and Precision Docking and Boat Handling. Classes are $149 per person. Learn more and register at boatus.org/on-water.
---
Interested in learning more about classic boats and restoration work around the Chesapeake Bay? Check out our Boatshops Reports page!