Boaters' heads turn whenever a Chris-Craft Cobra runabout is on display. Two boat shows where that occurred would have been in New York City (1955) and most recently in the recent Annapolis Powerboat Boat Show (2019) in the booth sponsored by the Chesapeake Bay Chapter of the Antique and Classic Boat Society.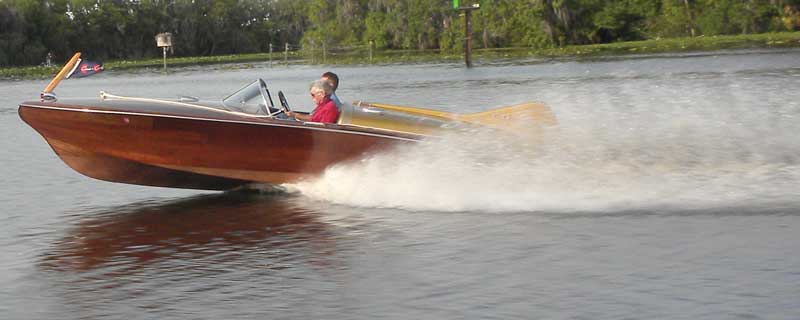 When entered into a show, a boat is usually land-displayed on a trailer. In other words, the boat is out of her element since she's designed to be seen on the water. The Cobra's lines are so captivating that they stand up well in this less-than-artful presentation. This is the mark of an exciting design.
The metallic gold fin is the first to catch the crowd's eye and dominates the boat and the booth at any show. It was Chris-Craft's first attempt to incorporate the streamlined look of post-war airplane design coupled with the use of fiberglass on its wooden boat runabout lineup. 
Next is the woodwork that's bright-finished as a stained and varnished piano. She has a proud "bull nose" shaped bow that sits high and bold and shines in the sun.
From the bow she tapers to an extended, very low aft-end stern station. The deck planking has white accent striping. The hull is carvel-planked with the planks color matched and tightly fitted to each other. 
The interior has a special alligator pattern dashboard and a "crash pad" cockpit surrounds it. A floor shifter provides access to forward, neutral, and reverse gears.. The seats are gold vinyl for three or four passengers to sit in one row. Compared with an open cockpit that has two rows of seats that can sit more people, the single row of a Chris-Craft Cobra limits its usefulness. 
In fact, its single row of seating (rare except for race boats) wasn't the only issue. The prominent gold fin got it the way of a waterski line, making the boat even more impractical. And then there was the inclusion of high-end wood and vinyl finishes that made the boat more exotic. For Chris-Craft it was a limited and definitely risky venture.
This Cobra model created a halo-vehicle for Chris-Craft and the entire boating industry. At each major boat show, Chris-Craft wanted kids stopping in awe, women remembering its elegance, and men absolutely in a "gotta-have-that-boat" mindset. Profit from other Chris-Craft models would have to cover any Cobra production losses.
At the time, A.W. Mackerer led the Chris-Craft naval architecture team. Mackerer had successfully designed a hull that was introduced in 1948 for the 19-foot Racing Runabout, known as Chris-Craft's "sports car" boat. That runabout's production stopped in 1954. By then it was clear that sales and image required forward-looking styling. 
Mackerer's team collected design ideas and styling cues from Don Mortrude, a freelance Chris-Craft industrial designer. Writer Jack Savage says Mortrude was responsible for the blond king plank on decks, as well as the bull-nose shape "that no wooden boat builder would even conceive, as fashioning it inside a production boat plank would be so difficult." Savage says the Cobra tail fin also resulted from Mortude's work.
For production year 1955, Chris-Craft kept the hull of the 19-foot Racing Runabout and added new styling to the deck and hull design above the waterline to create the first Cobras. This new boat was larger as a result of the restyling: The 21-foot Cobra was eight inches wider and 23 inches longer than Chris-Craft's 19-foot Racing Runabout, although they shared a common hull below the waterline. Then, the company added either a big block Cadillac or Hemi Chrysler V-8 engine. It was one fast classic boat!
As an aside, the 18-foot Cobra was built on a different hull, was 17-feet and eight inches by six feet and two inches, and came with a six-cylinder engine. Those modifications made the 18-foot cobra 600 pounds lighter than the 21-footer.
Only produced in 1955, the Cobras were rare. Chris-Craft made just 55 of the 21-foot Cobras and 51 of the 18-footers. Few have survived. 
Pictured here is the 21-foot Cobra. Both the 21- and the 18-foot designs stop people in their tracks. If you spot one, try becoming a quick friend of the owner and get a ride! 
By Chris "Seabuddy" Brown