Wooden boats are basically screwed together. Unscrew them and you can replace worn out parts and/or restore them to like-new condition.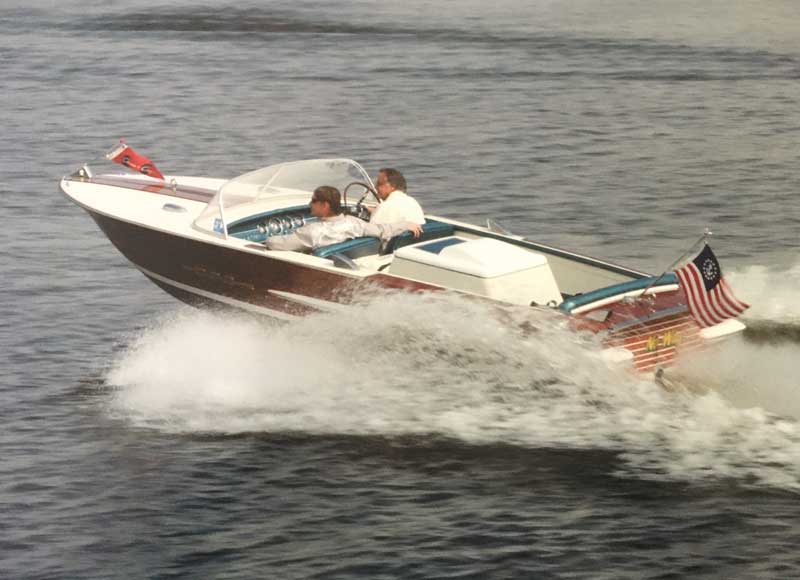 After seasons of use, what started out in this 56-year-old classic as a tired engine replacement ended up in a partial boat restoration and a like-new feeling for the 2020 East Coast boating season. 
No Way was ordered by her original owner back in 1964 with a 283-cubic inch, Chevy V-8 made into a marine engine by Chris-Craft industries and rated at 185 horsepower. Eventually, after many hours of use, the first engine was replaced by a second 283 Chevy that was marinized by Chris-Craft as a rebuilt engine. That second engine proved to be less than reliable over time and developed an oil leak.
Adding to all the unscrewing and reassembly in No Way's life was an update to her interior back in 2001. Now we enter her story in the winter months of 2019, as the third engine was about to be put into this classic speedboat. 
This time a 350-cubic-inch rebuilt engine would be installed. But a lot of this boat had to be unscrewed (again!) to make it all happen. 
For starters, the boat's entire interior had to be removed, with the front and rear benches, engine box, and cockpit flooring all set aside in the restoration shop. Although the flooring also needed to be replaced, the seats were fine except for a deep cleaning. This restoration was being done by Chad Brenner of Classic Restoration and Supply, who also did the interior work in 2001. 
The oil leak required cleaning the bilge, along with replacing two frames beneath the area where the engine sits in the boat. The frames were made from white oak wood and were set in 5200 Epoxy and stainless-steel screws. The engine area and the entire bilge were cleaned and then painted with Chris- Craft red bilge paint.
After dropping in the replacement engine, next up was a new drive shaft. But first, the old shaft had to be cut out of the boat. This third engine required a one-inch shaft at a different length that had to be "fitted" to the boat. Plus, a new keyway, lock nut, cotter pin, shaft coupler, and propeller were required. All of these parts were shipped in from California.
The process of replacing the engine was complete after it was painted and then decaled to mimic the 283 V-8 original Chris-Craft engine. Although the new engine easily achieves 225 horsepower, the valve cover decals reflect the original 185-HP rating.
But No Way wasn't quite ready for launch. The varnish also needed touching up, although it wasn't a complete re-do like the finish work done in 2004. The white fiberglass sponsions were repainted during the winter, and the new engine's exhaust tips were re-plated. This boat enjoys both fresh and salt water, so the chrome over brass can turn and wear away quickly.
No Way is the second 20-foot Holiday that Chris-Craft built out of 10 boats made for the 1964 model year. This carvel-planked mahogany speedboat with white oak frames has a six-foot, seven-inch beam and weighs just over 2.5 tons. She carries a 30-gallon gas tank. The freeboard forward is 26 inches and 19 inches aft.  
Carmen has quite the speedboat now that No Way has been repowered and refreshed for the 2020 season. An active member of the Antique and Classic Boat Society (ACBS) Mid-Atlantic Chapter, he's looking forward to enjoying No Way this summer as the Covid-19 restrictions lift. The chapter has a full schedule of boating activities, including river and bay cruises—in Pennsylvania and New Jersey, and on the Chesapeake Bay—as well as local boat shows.
First up is the Lake Wallenpaupack cruise: a joint effort organized by three ACBS chapters (Lake Hopatcong, Harvey's Lake, and Mid-Atlantic). Next up is a Delaware cruise past the Battleship New Jersey and the SS United States steamship. Then there's the annual Mullica River cruise near the Viking Yachts plant. Last but not least: The Antique and Classic Boat Show at Point Pleasant/Bayhead and a Sommers Point/Barnegat Bay Boat Show and Cruise. 
Here's to a great summer on the water!
By Chris "Seabuddy" Brown